From drag racers to Le Mans winners, the Petersen Vault has something for every race fan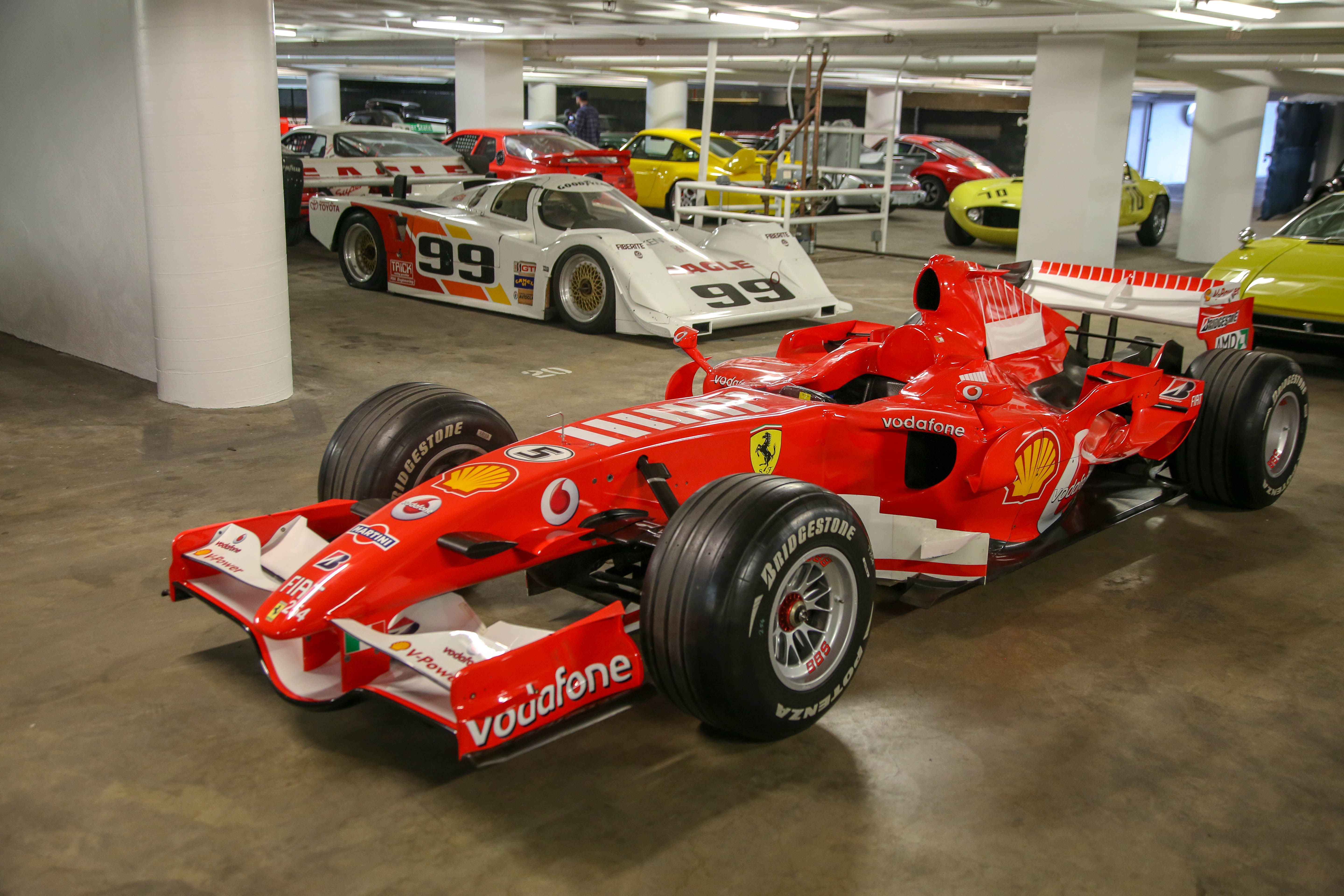 The Petersen Automotive Museum has been busy the past few years. An extensive remodel and several new exhibits have been on display in the beautiful new galleries, attracting new visitors and enthusiasts. The latest news is that Hagerty has joined with the Petersen Museum in a 10-year partnership on an expanded storage vault, a sprawling underground lair full of incredible cars that was formerly off-limits but is now open to the public.
The cars in the Petersen Vault are grouped by era and country of origin, but cherry picking individual cars from each group would make for an impressive display of racers. Whether you're a land speed fan, drag aficionado, or a Le Mans junkie (the race is this weekend, by the way), the vault will have something that delights you.
Below are just some of The Vault's notable race cars that you can get up close and personal with.
1932 Ford Roadster
The Ray Brown highboy roadster was used as a dry lakes racer in 1946 and '47 and was restored in 1991 to its former glory. Its Ford Flathead V-8, along with know-how from Eddie Meyers, Tom Sparks, and Brown himself, led to 11 records.
1947 Ferrari 125 S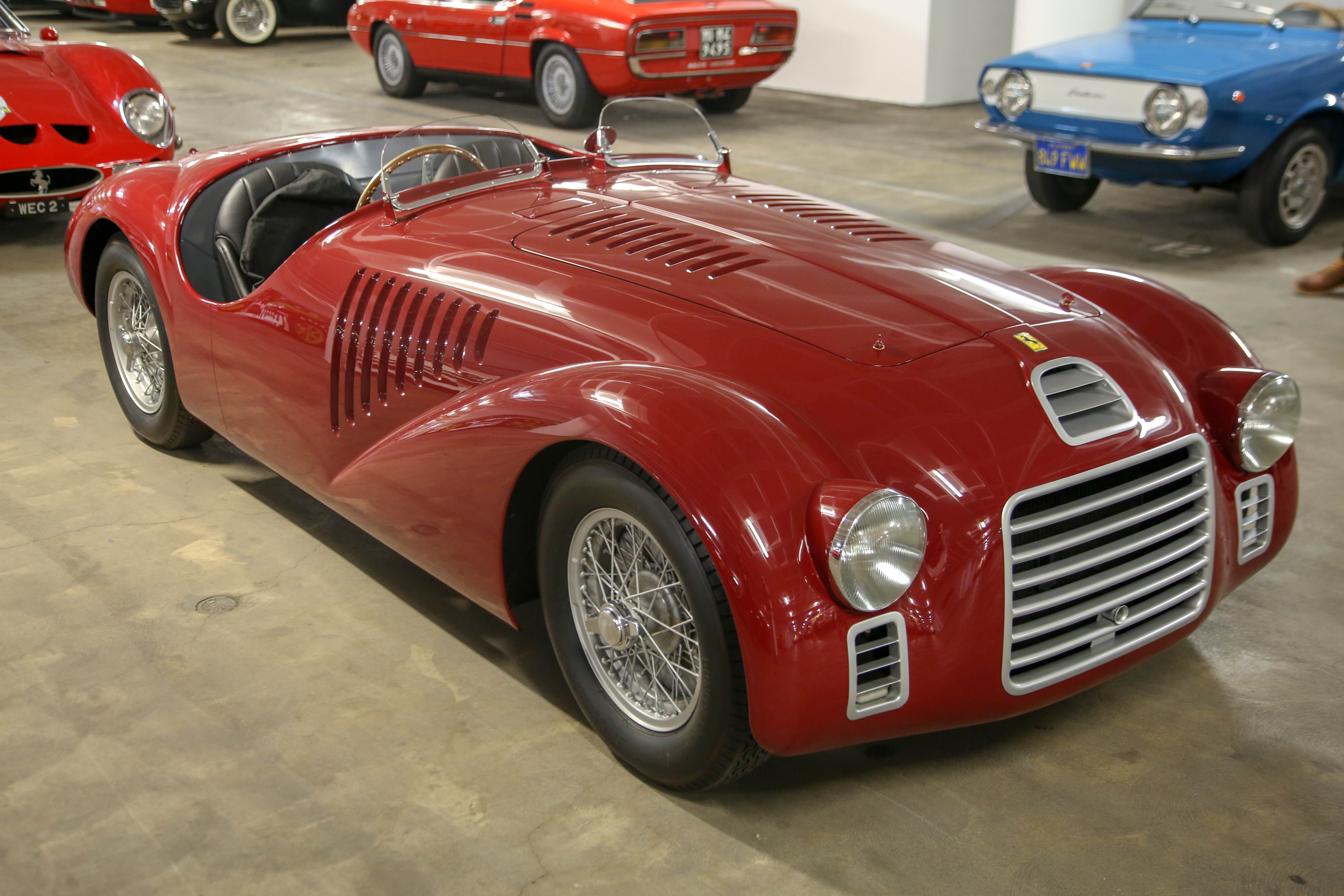 A recreation of the first car to wear the Ferrari name, the 125 S made quite a splash in the process. It won six of the 14 races it entered in 1947, including Ferrari's first win at the Grand Prix of Rome, all while powered by a 1.5-liter V-12.
Collectors dream of owning a Ferrari 250 GTO, and this one is even more special. It took first in the GT class and second overall at the 1963 24 Hours of Le Mans when it finished between two prototype Ferrari 250Ps. Its 300-hp V-12 is fed by six Weber downdraft carburetors.
1967 Ford Mustang the Malco Gasser
Not all of the race cars in the vault are concerned about cornering. "Ohio George" Montgomery shocked the drag racing world when the Malco Gasser debuted at the 1967 NHRA Spring Nationals. Powered by the 427-cubic-inch SOHC Ford V-8 that had been banned for use in NASCAR in 1964, Montgomery's SOHC was supercharged and good for 1200 horsepower. It was campaigned for several years, winning the 1969 NHRA's Spring Nationals Super Eliminator class and running a best E.T. of 8.12 at 173.07 mph.
1968 Ford GT40 MK1
This is the JW Automotive Engineering Ford GT40 that won the 1969 24 Hours of Le Mans with Jacky Ickx and Jackie Oliver behind the wheel, narrowly defeating a Porsche-backed team in a 3.0-liter flat-eight-powered Porsche 908. The 302-cu-in Ford small-block triumphed on the world stage for the second year in a row, following two years of Ford big-blocks taking the win.
1971 McLaren M8E/F
Before it was competing on the street with Lamborghini and Ferrari, McLaren wielded all-aluminum Chevy V-8s with mechanical fuel injection in gorgeous open-cockpit Can-Am racers. Denny Hulme took second place in the 1971 season, just 10 points behind his American teammate Peter Revson, also in an M8f. Third place in the Chevrolet-powered Lola was Jackie Stewart, but more than 50 points behind. The 750-hp V-8s used as stressed members of the chassis were naturally aspirated but would soon be forced to switch to turbocharged induction, as Porsche's big-dollar racing program shook things up in 1972.
1991 Eagle HF90
Built by Dan Gurney's All American Racers, the Eagle HF90 was powered by a turbocharged 2.1-liter Toyota four-cylinder and had a bit of racing success with drivers Juan Manuel Fangio and Willy T Ribbs. It was known for its finicky handling and was eventually retired in favor of the next evolution of Eagle chassis, the Mark III, which won 21 of the 27 races it entered.
2006 Ferrari 248 F1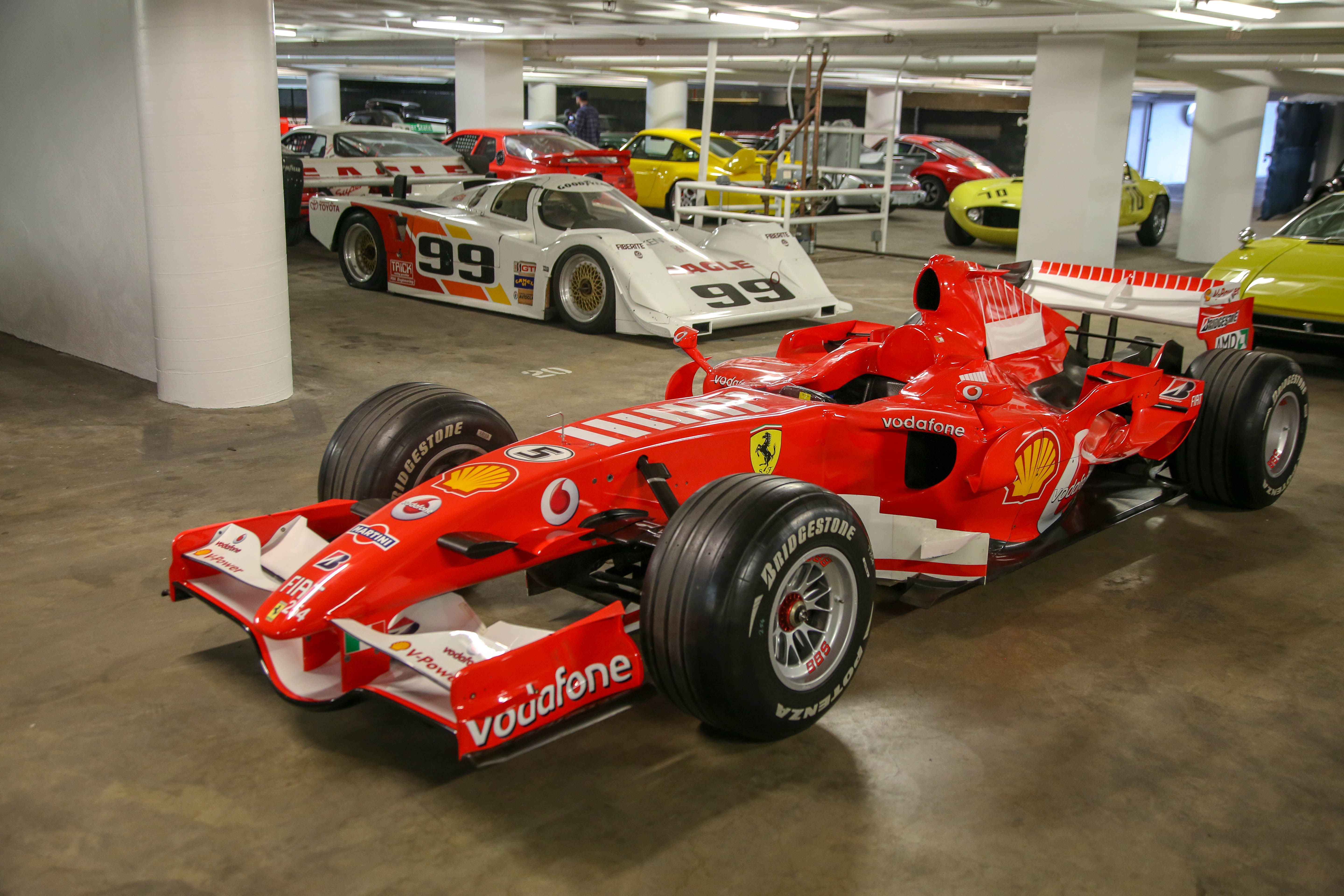 Michael Schumacher piloted this 2.4-liter V-8 racer to seven F1 wins in the 2006 season, narrowly missing the team championship by five points. If you'd like to see more Ferraris from the vault, you can find two more here.
2011 Porsche 997 GT3 RSR
A vivid orange flying lizard livery by Troy Lee Designs celebrated the 28 drivers that had taken the checkered flag at Le Mans behind the wheel of a Porsche, and many of the surviving drivers signed the car on their matching flag of their home country. It still wears the race damage proudly, as it finished 18th overall and 6th in the GTE Pro class.
2013 Ford Mustang Funny Car
Wearing livery celebrating the 25th anniversary of John Force Racing, this supercharged, nitromethane-swilling, 500-cu-in Hemi is by far the most powerful car in the Vault. At around 10,000 horsepower, it would still be the most powerful even running on only two cylinders. John Force won the NHRA Funny Car championship with this car, his 16th and final as a driver.
***
If you'd like to see the treasures in The Vault for yourself, you'll first need to have a General Admission ticket to the Petersen Museum, which is $16 for adults and a few dollars less for seniors, children, and students. Once you're in, an additional $20 grants you access to a 75-minute guided vault tour, and another $10 scores an additional 45-minutes worth of facts and stories about the amazing cars stored and displayed there. Tickets can be purchased by visiting the Petersen website.