Talladega Nights: Ford's Fairlane Torino dominated NASCAR
The Ford Torino Talladega and its namesake Alabama racetrack were both born in 1969. It was the height of NASCAR excitement, and the Big Three sunk untold amounts of time, energy, and cash into a fierce rivalry dedicated to kicking each other's asses.
This 50-year-old Ford harkens to an era when Stock Car racing really did mean stock car—and the "win on Sunday, sell on Monday" ethos was more than just a marketing ploy. It was a time when NASCAR still employed homologation rules, and each manufacturer had to build at least 500 examples to be sold to a lucky few. General Motors pulled out of NASCAR in 1963 as part of its corporate racing ban, leaving Ford and Mopar to duke it out. NASCAR in the '60s is best known for Dodge, Plymouth, and the mighty 426 Hemi, plus the rise of Richard Petty. But Ford had its own bright spot at the end of the decade.
In 1968, Ford introduced an entirely new Fairlane lineup, and the company's racing fortunes changed for the better. Dave Pearson won 16 races and enough points to wrest the Driver's title from Petty. For 1969, Ford went even further (and managed to snag Petty as a driver to boot). The Blue Oval enlisted Holman-Moody—fresh from helping Ford conquer the 24 Hours of Le Mans—to build a dominating car. Using Ford's corporate wind tunnel, the Holman-Moody team designed a Ford Fairlane Torino with a nose six inches longer than its plebeian counterpart. Look at a Talladega and it might seem like a regular Torino: four sets of headlights, wide chrome grille, same "Sportsroof" fastback styling. It's all there. But if you parked the two next to each other, you'll spot the gently sloping nose, the overhang, new ultra-short chrome bumpers that served as spoilers themselves, and the unadorned grille—mounted flush with the headlights and sealed with a rubber gasket for airflow. Strip a Talladega down to its bare metal and you can easily spot the original seam, cut and welded by Holman-Moody's metalcrafters in Atlanta.
That "drop snoot" nose, in fact, was estimated to add 5 miles per hour to the top speed, "the equivalent of a 75-hp gain," according to Hemmings. Another neat trick: lower rocker panels effectively made the car's body an inch lower to the ground than before, while still adhering to NASCAR's usually well-broken rules.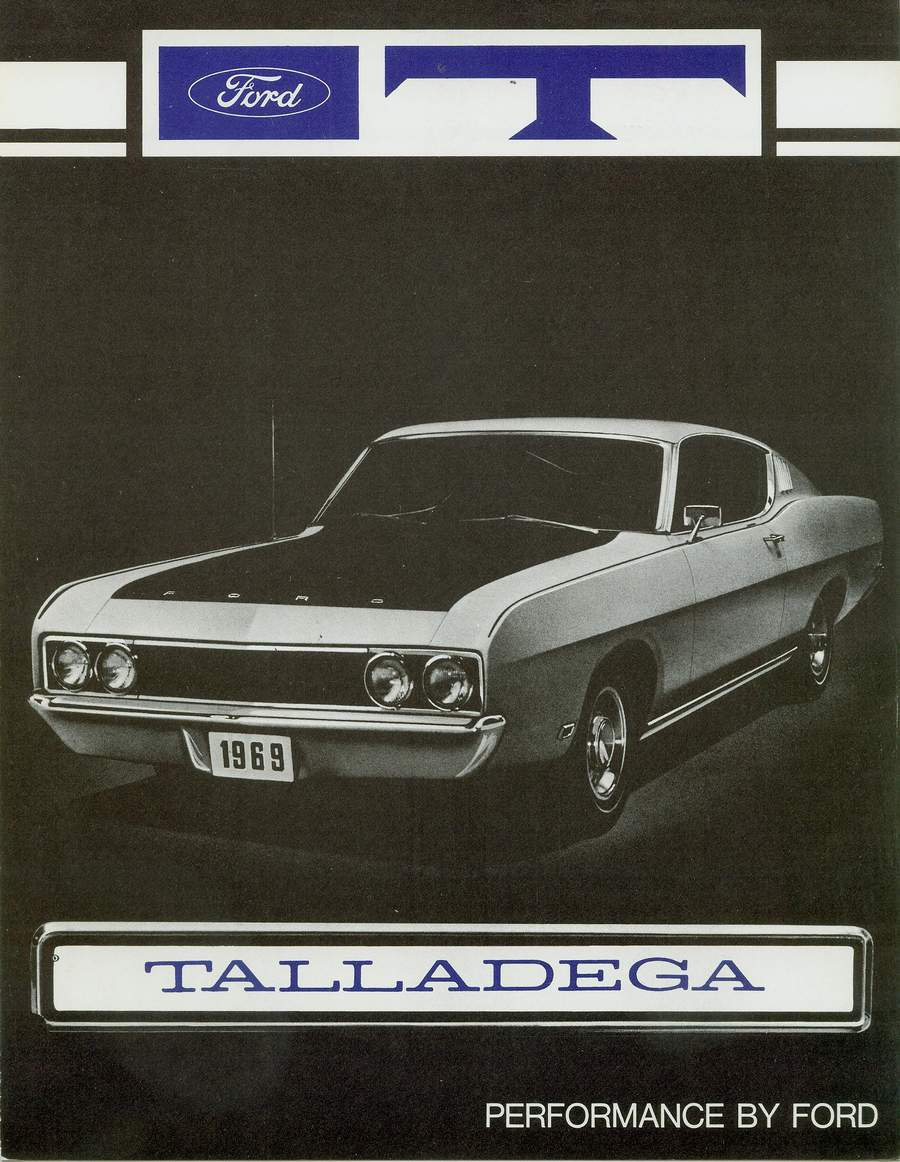 The other piece of the puzzle was the engine, and Ford homologated a new Boss 429 powerplant in the eponymously-named Mustang so that Ford and Mercury could use it in Grand National cars. But Ford needed more time to build enough 429s, so the Torino started the season with the stalwart 427 engine carried over, as it had since 1963. Meanwhile, all street-bound Talladegas came with a 428 Cobra-Jet engine and column-shifted C6 automatic transmission. That mighty Cobra-Jet was rated at 335 hp—by some accounts underestimated by more than 100 hp. And it started at $3,456 on the showroom floor, a heck of a bargain considering a Mustang Boss 302 was $3,529. The Talladega also came generously equipped with Holley four-barrel carburetor, 3.25:1 9-inch rear end, engine oil and power steering oil coolers, and Competition Suspension with staggered shocks. An AM radio was the only option. And you, dear consumer, could have one in any color … as long as it was Royal Maroon, Wimbledon White, or Presidential Blue.
NASCAR President Bill France Sr. loved it. Certainly France was agreeable to Ford naming the new super-stock slayer after his brand-new Alabama track. Ralph Moody tells the story of how France was fooled into thinking Ford had built all the Talladegas they needed to go racing: Moody sat France down at the factory, and told him to count all the examples that drove past him, one at a time. Out of the 500 total, Ford needed to build 100 examples before it could start the 1969 NASCAR season. Ford had just built 40. But as the Talladegas drove past, they looped back around. France couldn't help but accidentally count the same cars three times over.
By February 1969, Ford had built around 750 Talladegas. (The Talledega/Spoiler Registry has identified 738 production Talladegas.) And by the end of the 1969 NASCAR season, it all paid off.
Ford won 26 Grand National races, the Manufacturer's Cup, and the season championship with David Pearson—all with the new Talladega. While Talladegas were still rolling off the line that February, Petty won the season-opener at Riverside International Raceway. Pearson and Petty won race after race in their new Fords, and the races that Ford didn't win, its sibling Mercury did. The dominance lasted until Sept. 14, 1969, when Dodge debuted the Charger Daytona for the first event at France's new superspeedway, the Talladega 500. The Dodge won at Ford's namesake racetrack, and in 1970 Plymouth wooed Petty back with the Superbird. Ford didn't win another driver's championship until 1988, and by then Bill Elliott's car was nothing like the Thunderbird at your local dealership.