4 of our favorite motorsport moments at Monza
When the stands at Monza flooded pit lane underneath the podium this Sunday, giant yellow Prancing Horse shields rippled atop the cheering sea of red. Sunday, September 8th, 21-year-old Charles Leclerc won the Italian Grand Prix for his second career win with Scuderia Ferrari and Ferrari's first Monza win since 2010.
The celebration for Ferrari fans at Monza was well and truly justified. Monza isn't hallowed ground simply for Ferrari. Not even counting the Formula 2 and Formula 3 tiers of open-wheel racing, MotoGP bikes and Mini Coopers have raced at the "Temple of Speed" for years, and DTM (German touring car racing) added the Autodromo Nazionale di Monzo to its calendar for 2020.
The 3.6-mile, 11-turn circuit alternates between howling straights and with tight chicanes, juxtaposing both extremes of the speed spectrum. No team knows the nuances of this track better than Scuderia Ferrari, which has raced F1 at Monza since 1950, when the FIA oversaw the first drivers' championship. Formula 1 has staged races at Monza more than at any other track and is scheduled to return each year for the next five seasons (at the very least).
It would take far too long to showcase the whole rich tapestry of racing history at Monza—its tragedies and its triumphs—so here are four of our favorite moments from Monza in recent memory. May it spark your imagination and inspire you to leave us a note in the comments about the Monza scene that resonates with you most.
1976: Lauda races six weeks after accident
The 1976 Italian Grand Prix marked the resurrection of Lauda's career in Formula 1 racing—almost literally. Six weeks before he eased that specially-fitted helmet onto his head and tucked into his Ferrari 312 T2 on the grid at Monza, Lauda sat trapped, engulfed in flames on the side of the Nürburging Nordschleife. One vote stood between Lauda and that crash, since he had suggested boycotting the 1976 German Grand Prix at the Green Hell because of overwhelming safety concerns such as limited ambulance accessibility… not to mention the rain that marched in that first of August, 1976. The vote went to the drivers, Lauda's motion lost by one vote, and the 1976 German Grand Prix went ahead—until the flaming wreckage of Lauda's car stopped it.
Lauda's fourth place at Monza, then, represents a caliber of strength and courage worthy of standing among the first places of other drivers on this list. Many drivers have had their hells, and kept going—few were this literal.
Superlatives aren't everything. Lauda crawled his way back to health and into the cockpit to win the 1977 drivers' championship—but this fourth place at Monza, and Lauda's bloodily bandaged head, proved unquantifiable courage.
1990 Senna collects holy trinity of F1 stats
In 1990, Senna snagged the holy trinity of Formula 1 statistics: pole position, fastest lap, and race win—start to finish. While he's among the top eight Formula 1 drivers to punch this stat on his proverbial dance car, Jim Clark's eight "grand slams" stands alone. Senna finished his career with four—and this grand slam, at Monza in 1990, was his last. Senna's McLaren MP4/5B does the honors, on this list, of standing for Britain's success; although, given the revolving variables of driver, team, and car in a given Formula 1 race, it's relatively rare that an Italian driver in an Italian car wins the Italian Grand Prix.
2010: Alonso wins from pole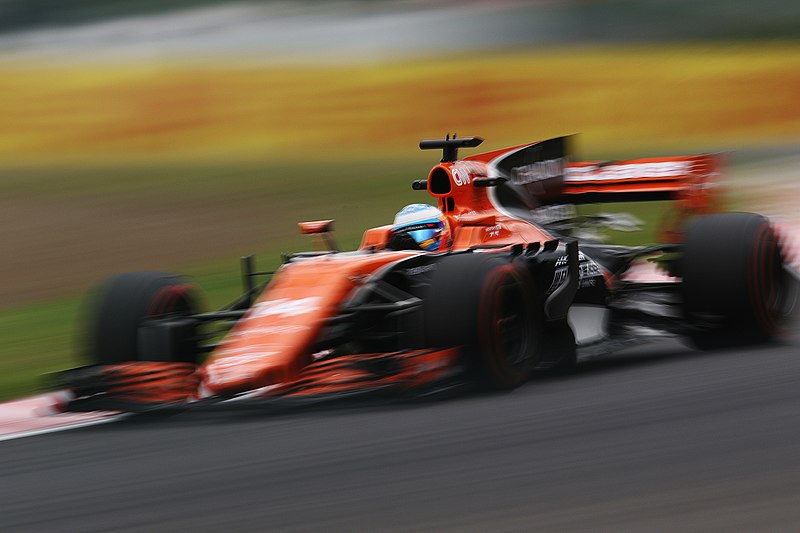 Until this Sunday, Alonso's win at Monza for Ferrari in 2010 was the last time the team won on its home grid. 2010's Italian Grand Prix marked Alonso's first Monza GP with Ferrari, however, and winning for Ferrari at Monza provided some much-needed moral support for the team.
Alonso's win was far from the statistical simplicity of Senna's 1990 win, falling under the shadow of FIA accusations that Ferrari fixed the 2010 German Grand Prix. In a similar hotly contested rhythm, Alonso dogged McLaren's Jenson Button for the lead in Monza before squeezing ahead of Button after the mid-race pitstop.
The 2010 iteration of the Italian Grand Prix took 76 minutes to rack up 53 laps, bearing witness to the blazing speeds common at this low-downforce track.
2019: Leclerc wins after nine-year Ferrari famine
Talk about years of plenty and years of famine. There's no dampening the ecstasy of the tifosi with a Ferrari win at Monza, especially after a nine-year wait. On the flip side of the equation, though, nine years is the longest the longest Ferrari's ever been forced to wait for an F1 victory at Monza—the last time was between 1979 and 1988—and Ferrari remains the winningest manufacturer at Monza.
Back to 2019, though, and the year of Ferrari plenty in question. Leclerc's swap to the hardest available tire compound paid off this dry, warm Sunday, even as spin-plus-collision drama kept Ferrari teammate Vettel from helping to slipstream Leclerc and left the younger driver exposed to both Mercedes drivers, Hamilton and Bottas. In the end, Ferrari had the straight-line speed and the tire strategy it needed to win—possible thanks to some serious mental toughness from 21-year-old Leclerc in his debut Ferrari season. And that was with five-time champion Hamilton filling his mirrors almost the entire race.
Who wasn't around for the celebrations? The last Ferrari winner at Monza, Fernando Alonso. Maybe, in his current role as McLaren ambassador, Alonso thought he should keep appropriate distance between McLaren and Ferrari, in light of the manufacturers' historic F1 rivalry. Have your own thoughts? Leave them in the comments below.