Scoop up these 8 cars before they take off
As much as we'd like to have the power to predict the future, we can't. Before air-cooled 911s and E30 BMW M3s went berserk in value, there were signs, but nobody could have said for certain what was going to happen. Our best course of action, however, is to rely on data that indicates what's most likely to occur down the road. Nobody likes the feeling of missing the boat.
With the right information—insurance quote data, the frequency in which cars are added to policies, auction activity, and more—we can start to paint a picture of when prices for a particular model are on the verge of ticking up. After crunching the numbers, we've put together this list of eight cars that are overdue for a price bump.
Median value for cars in #3 (Good) condition: $57,350
If you still love the '80s Ferrari look but want something with a bit more performance than the 308, without spending Testarossa money, the 328 is a happy medium. The highest-quality cars have no rust and were maintained meticulously, but if you go in with both eyes wide open, there are enough examples out there that sooner or later you'll find one that's the right mix of price and condition.
These cars essentially doubled in value since the early 2000s. Still, any "affordable" Ferraris can be a dangerous trap—the repair bills for a beat-up example could equal half what you paid. That reality makes any "cheap" Ferrari a difficult investment, even if the car appreciates 25 percent in a reasonable time span.
Twelve-month average auction sale prices for the 328 GTB/GTS peaked in August 2016 at $116,078. Today, that figure is down 31 percent to $80,592—equal to four years ago. It's possible that buyers who were previously priced out 3–4 years ago can now get back in the game. Quote activity was up 11 percent in the final three months of 2018, which is a good sign for current demand, and quote value was up 3.8 percent in that period.
Median value for cars in #3 (Good) condition: $51,000
What we wouldn't give for crystal ball that clarifies when Ferraris will bottom out in value, making it a lot easier to get in on the ground floor. Many say that the F355 doesn't have much lower to go. Built from 1994–99, the F355 has the visual appeal of a more vintage Ferrari, along with relatively modern internals. You have your choice of a gated six-speed manual transmission or F1-style shift paddles, and the car doesn't have the typical 1980s Ferrari reliability stigma. (It does still consume belts, though, and some services require the engine to come out.)
In early 2018, quoted values ended their long decline and since then the number of quotes grew to increase 20 percent over the last year. At the same time the percentage of Millennials quoting the F355 started to grow, and that demographic now makes up 15.5 percent of quotes—up from 10.75 percent a year ago. The car now has a median #2-condition (Excellent) value of $59,900. It's hard to imagine it dropping any lower given the increased interest in '90s cars and the other positive data points. Our money is on the six-speed F355 seeing nice growth in the next couple years—perhaps starting with the 1995 cars, which had OBD1 electronics, Bosch 2.7 engine control units, and slightly higher power figures.
Median value for cars in #3 (Good) condition: $16,700
North American Miatas from the early '90s are increasing quickly in value, and the Alfas are their prettier (and heavier) Italian cousins. As very clean and low-mile Miatas get expensive, it's not a stretch to consider an Alfa instead. They are stylish roadsters with the classic look of older Alfas, albeit with relatively modern technology like electronic fuel injection.
Young buyers don't seem to love the Spider S4, with 76 percent of quotes coming from Boomers and Pre-Boomers over the last 12-months, but that doesn't mean it is doomed.
Spiders are being added to insurance policies at an increasing rate—between January '18 and Jan '19 the number added to policies increased 38 percent. Meanwhile, the average sale price at auction over this period increased 19 percent. The average quoted value of the car has been very consistent over the last 10 years, ranging only from $12,800–$15,800. It's fair to say that these roadsters are due for value appreciation, after many years of chugging along in the background.
Median value for cars in #3 (Good) condition: $16,200
Surprisingly, 85 percent more Mercury Cyclones were added to policies in this past year than in the one prior, and the quoted values were up 33 percent over the same period. Additionally, the average auction sale price over the last 12 months is up 37 percent compared to the previous year. The median #2-condition value has remained unchanged for the last four years, which is a good indicator of stability.
Based on the Torino, the non-GT Cyclone with the 429 Super Cobra Jet engine is the second-cheapest Super Cobra Jet car you can buy. (The 1970 base Ford Falcon is the cheapest.) Affordable horsepower does not go out of vogue, especially in market where the main growth is in the lower sectors of the market, where downside is minimal if anything goes wrong.
Median value for cars in #3 (Good) condition: $14,900
VW made millions of these, they're totally lovable, and they were very well built. Due to their longtime popularity, Beetles aren't likely to suddenly see a large increase in value. You can, instead, expect more steady growth. Beetles are loved by young buyers despite the car's age, and they make exceptional entry-level classics for people who want to learn to wrench on their own. On top of that, there is a certain appeal to the simplicity and sound of VW air-cooled engines, along with a mystique underscored by the Luftgekühlt crowd.
Amongst cars with 100 or more annual quotes from Gen X and Millennials, the 1949–67 Beetle is the only vehicle generation from the '40s or '50s with more than 60 percent of quotes coming from these younger demographics.
When we updated prices last September, median prices for #2 (Excellent) cars increased 26 percent. As those price creeps past the point where buyers are willing to throw money around, and big sales start happening more frequently, expect Excellent-condition cars to become more desirable than ever before.
Median value for cars in #3 (Good) condition: $12,850
The Chevelle and Cutlass are essentially the same car, but the Cutlass has generally lagged 10 percent behind the Chevelle in median value. Buyers often gravitate towards the more affordable of two very similar cars; the Cutlass is often more luxuriously equipped, and after stagnating for so long buyers could be reconsidering the Olds. The 1971 Cutlass Coupe SX with the 455-cubic-inch, 320-hp engine carries a #2-condition (Excellent) value of $21,300, which means you can enjoy a lot of car without paying for a 442 badge. By comparison, the 1971 Sport Coupe Chevelle SS with the 454-cubic-inch, 365-hp engine has a #2 value of $60,600.
The Cutlass is tracking in the middle of the road for quote activity and the frequency in which it's being added to policies, but the auction and private sale activity are strong. Why? Mainly because Barrett-Jackson offered a ton of them in Scottsdale this year (the 12-month count of cars coming to auction increased 33 percent versus when factoring in January results). Over the last year, average sale price is up 22 percent.
Considering what you need to pay for similar horsepower and styling, the Cutlass offers a lot, and the Scottsdale auctions made sure people knew that. In times of uncertainty, when buyers don't want to risk losing too much, the less expensive car with similar fun ratio is going to get the attention. Expect to see the Cutlass increase in value, or the Chevelle drop.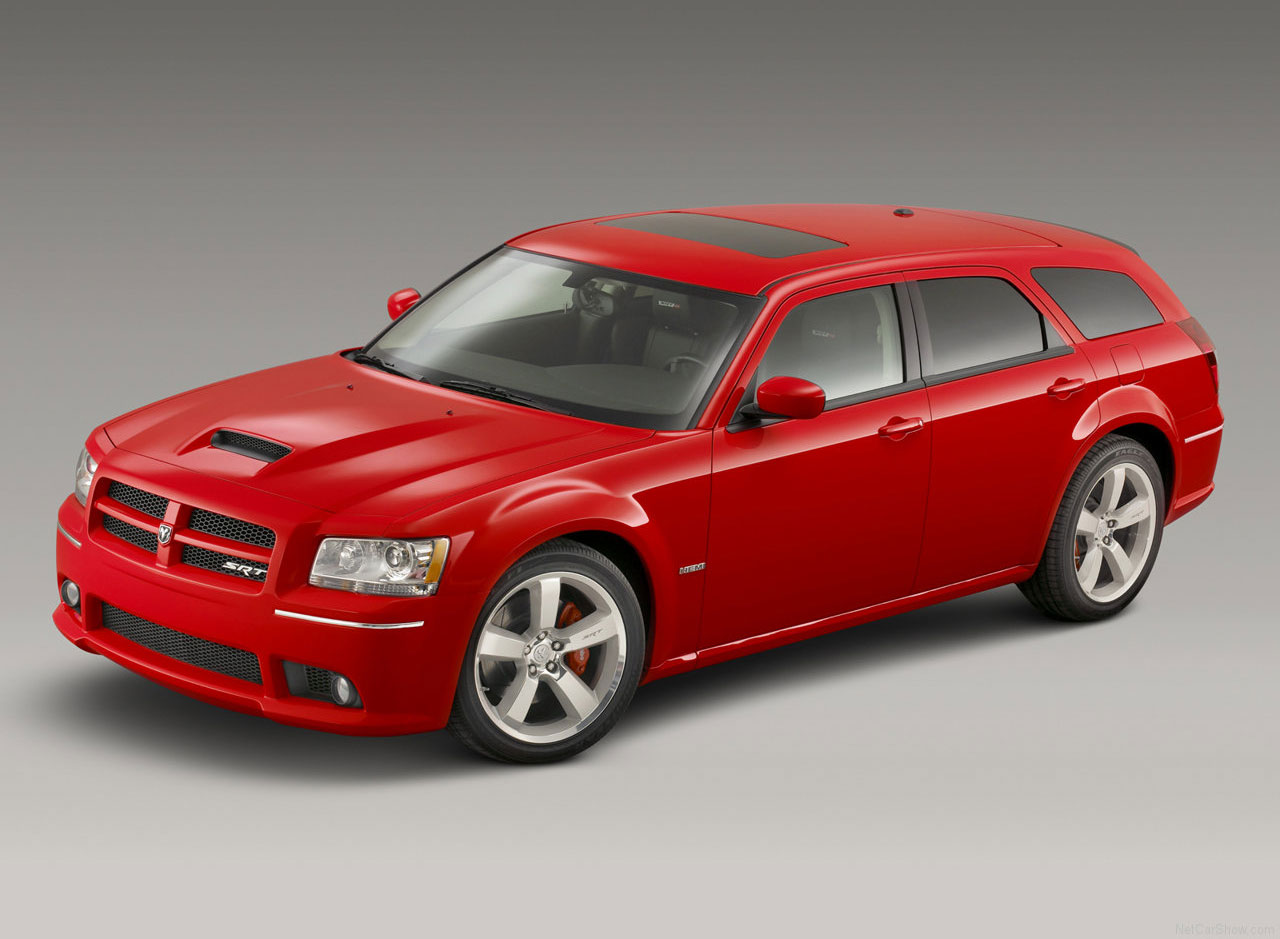 Median value for cars in #3 (Good) condition: $11,100
Around early 2017, auction prices for Magnums bottomed out, and the 12-month average sale price was $9682. Given the low price, these Dodges are flipping the script, possibly because of the rarity and appeal of a full-size family-hauler wagon with rear-wheel drive, available all-wheel drive, and up to 425 horsepower.
Insurance quote activity was flat until auction prices bottomed. Since January 2017 the 12-month sum of quotes increased 84 percent, while the average quoted price dropped 23 percent. Those are signs that more people are interested in the car because of its bargain value, but the buyers that are buying for collectibility and true value have yet to join the fray (and drive up prices).
We're starting to see people pay more at auction, though. Between February '18 and Oct '18 the average sale price at auction increased 50 percent, and the number of Magnums coming to auction is holding steady near the highest it has been (17 per year). As more and more people realize that Magnums are relatively affordable, look cool, and are very practical, expect demand to push prices further. Aside from the Cadillac CTS-V, which is already commanding big money, this is the only modern-age American RWD V-8 wagon. Just make sure you avoid the 2.7-liter V-6 at all costs.
Median value for cars in #3 (Good) condition: $4900
At a time when buyers are gravitating towards affordable, reliable, and fun cars from the '80s and '90s, the VW Golf is in a good position to appreciate. The positive data is rampant with quotes dominated by Millennials, who make up 56 percent of the requests—up 22 percent in just three months. That's translating into more Golfs being added to policies, and that number is twice what it was this time last year. These increases have not yet translated into increased quoted or purchase values, which shows that buyers are still seeing them as bargain cars and trying to get in early. It shouldn't be long before reality sets in and prices rise.