Graph of the Week: Italian cars lead 2017 Scottsdale catalog sale consignments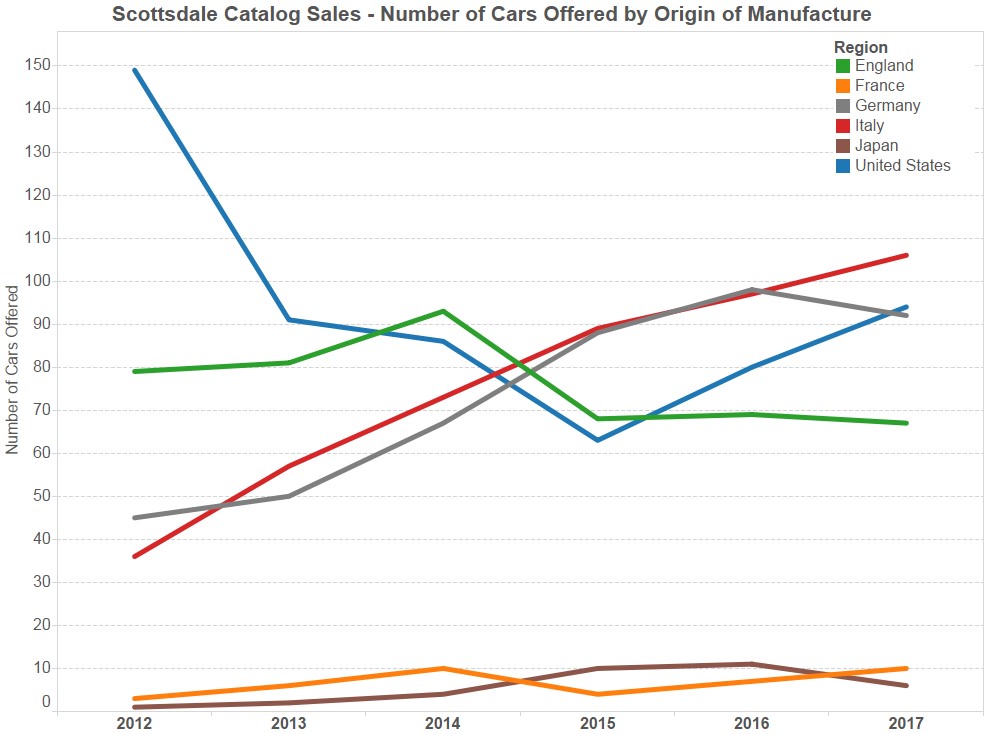 Auctions differ in many ways. At the Scottsdale auctions, catalog sales (RM Sotheby's, Bonhams and Gooding & Company) are quite distinct from the auctions that Barrett-Jackson or Russo and Steele host. Catalog sales have fewer cars, but on average their consignments are more significant and valuable. They also serve a different type of collector for the most part, and an accordingly different part of the market.
The total number of cars offered at these Scottsdale catalog auctions is up 4 percent over last year, and 2017 has the highest number of cars ever offered at these sales. That's largely driven by an increase in the number of modern classics offered, which is up 17 percent over last year.
Regarding what types of cars are being offered, it's a bit surprising to see that the number of German cars offered is down 6 percent. This is largely thanks to fewer Porsche 911s coming to Scottsdale, as the market for those cars has finally softened. American cars actually saw the largest increase in number offered at 18 percent. In addition to the usual prewar American classics, all three catalog sales also have a surprising number of muscle cars, especially the six-car Mopar (Chrysler, Dodge, Plymouth) collection consigned by RM Sotheby's.
Italian cars remain the most common at the Scottsdale catalog sales. This is the top end of the market, and Ferrari drives the top end. They've remained the most common marque at these sales for the last four years, and growth in the number of newer models like the F355, 360 and 575 characterizes 2017's sales. The number of Ferraris from the 1990s offered is up from six to 10 compared to last year, while the number of Ferraris from the 2000s is up from four to 12. Remember that increase in modern classic consignments?