SOLD! These are the most expensive cars sold at auction in 2017
Looking back at 2017, there was good news and bad news in the collector-car market. Overall, auction totals in North America were down two percent, and fewer cars were offered at auction, but the average sale price was up by two percent and the sell-through rate was at its highest since 2011. And while we've noted that most of the movement in the market over the past year has been among more affordable vehicles, especially trucks and SUVs, there were nevertheless plenty of mouth-watering cars on offer at the very top of the food chain.
Among the top auction results last year were several record prices, and half of them were Ferraris. Two were sold in Europe, and all of the top 10 cars were consigned by Bonhams, Gooding & Company, or RM Sotheby's, which tend to be the key quality-over-quantity players in the auction business. Together, these 10 make up nearly $130 million worth of cars.
Here are the most expensive auction cars of 2017:
10. 1937 Bugatti Type 57S Cabriolet, RM Sotheby's Amelia Island
Sold price: $7,700,000
Hagerty Price Guide: N/A
A carefully maintained, unrestored example, and supposedly one of four bodied in this style by Vanvooren of Paris, this gorgeous Bugatti was the top sale at Amelia Island and the most expensive prewar car in 2017, despite falling short of its $8.5M low estimate. It previously sold for $1.4M at Rétromobile in 1991.
Sold price: $8,000,000
Hagerty Price Guide: $4,400,000–$11,500,000
There were only a dozen of these factory Lightweight E-Types built for international competition, and years go by without one ever hitting the market, but in 2017 Bonhams actually consigned two examples. One sold in Scottsdale for $7.37M, and this more desirable Cunningham team car sold postblock for an even $8M. While it never won anything, it ran at Le Mans, Elkhart Lake, and Bridgehampton. Its service with the Briggs Cunningham's famous team also makes it one of the more desirable of the 12 Lightweights (Cunningham ran three of them), and it would be eligible for most of the world's great vintage racing events.
Sold price: $8,305,000
Hagerty Price Guide: $8,400,000–$11,600,000
Ferrari only built 167 examples of the gorgeous 250 GT SWB (short wheelbase), and this one ticked all the right boxes for deep-pocketed collectors. It has matching numbers, is Ferrari Classiche certified, comes with all its books and tools, and won at the Cavallino Classic. It's also a proven runner, with two entries in the Colorado Grand under its belt. The price wasn't all that strong, but all SWBs are special, and even the cheapest ones are far beyond what most of us can dream of.
Sold price: $9,504,550
Hagerty Price Guide: $11,400,000–$15,500,000
Its name may reference the West Coast of the U.S., but this California Spider sold new in oil-rich Venezuela. Unfortunately, its first owner didn't get to enjoy the clean Scaglietti lines or the 3.0-liter V-12 for very long. A few months after taking delivery, he was gunned down in this very car. With the bullet holes patched up, it made its way to the States and sat for many years before getting a concours restoration in the late 1980s, which won it awards at Pebble Beach, Meadow Brook, and the FCA National Concours.
6. 2017 Ferrari LaFerrari Aperta, RM Sotheby's Ferrari Leggenda e Passione
Sold price: $10,043,000
Hagerty Price Guide: N/A
Ferrari slated 209 examples of the LaFerrari Aperta (Italian for "open"), but a 210th car was commissioned as part of the company's 70th anniversary celebrations and offered at the RM Sotheby's all-Ferrari sale back in September in Maranello. The proceeds went to charity. That makes it the most expensive LaFerrari by a measure of $3M, as well as the most expensive car built in this century sold at auction.
5. 1970 Porsche 917K, Gooding & Company Pebble Beach
Sold price: $14,080,000
Hagerty Price Guide: N/A
Although this Gulf-liveried 917K had no race history aside from being used as a test car at Le Mans, it was used as a camera car for Steve McQueen's film about the race—and that counts for quite a bit to collectors. It is the most expensive Porsche ever sold at auction.
4. 1966 Ferrari 275 GTB/C, Gooding & Company Pebble Beach
Sold price: $14,520,000
Hagerty Price Guide: N/A
Alloy bodywork, extensive period race history, and a Ferrari badge. That's the recipe for eight-figure price tags, and this car had all the right ingredients. One of only a dozen 275 GTB/Cs, it was raced quite a bit around Italy during the late 1960s and racked up several class and overall wins. At the Gooding Pebble Beach auction, it deservedly sold toward the high end of its presale estimate range of $12M–$16M.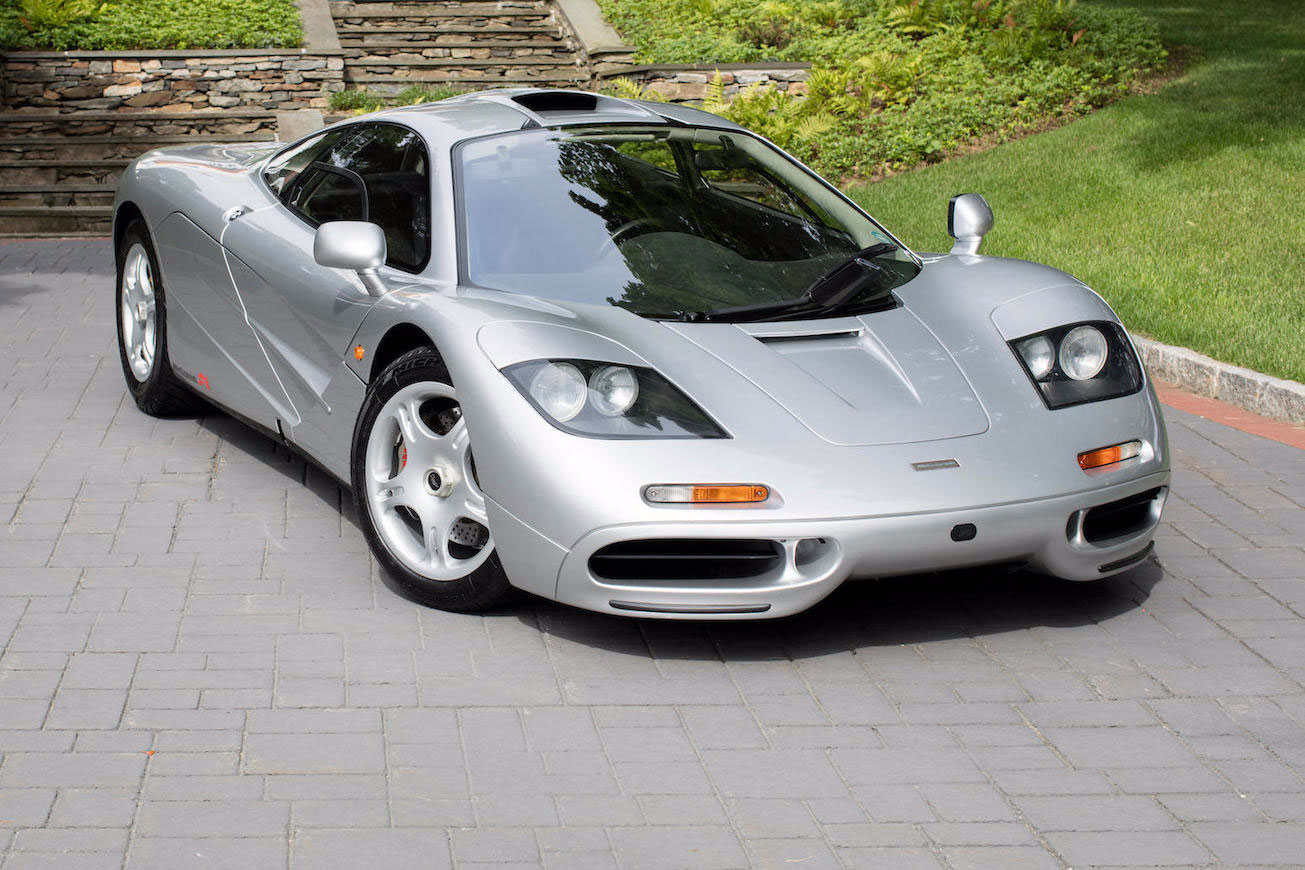 Sold price: $15,620,000
Hagerty Price Guide: $10,700,000–$15,700,000
The McLaren F1 has been called the Ferrari 250 GTO of our time, and that's a fair comparison when you look at the rarity, competition chops, and extreme value of each car. The one sold by Bonhams in 2017 was the first one imported to the U.S. and had fewer than 10,000 miles on the clock at the time of the auction.
2. 1959 Ferrari 250 California LWB Alloy Spider, RM Sotheby's New York Icons
Sold price: $17,990,000
Hagerty Price Guide: N/A
The Cal Spider was never really intended for racing, but there were plenty of owners who just couldn't help themselves, and Ferrari even built a handful of special high-performance Californias. This one was one of the most special, wearing an aluminum body and powered by a competition-spec engine. It took fifth overall at Le Mans in 1959, before racing quite a bit in the United States and the Bahamas.
1. 1956 Aston Martin DBR1, RM Sotheby's Monterey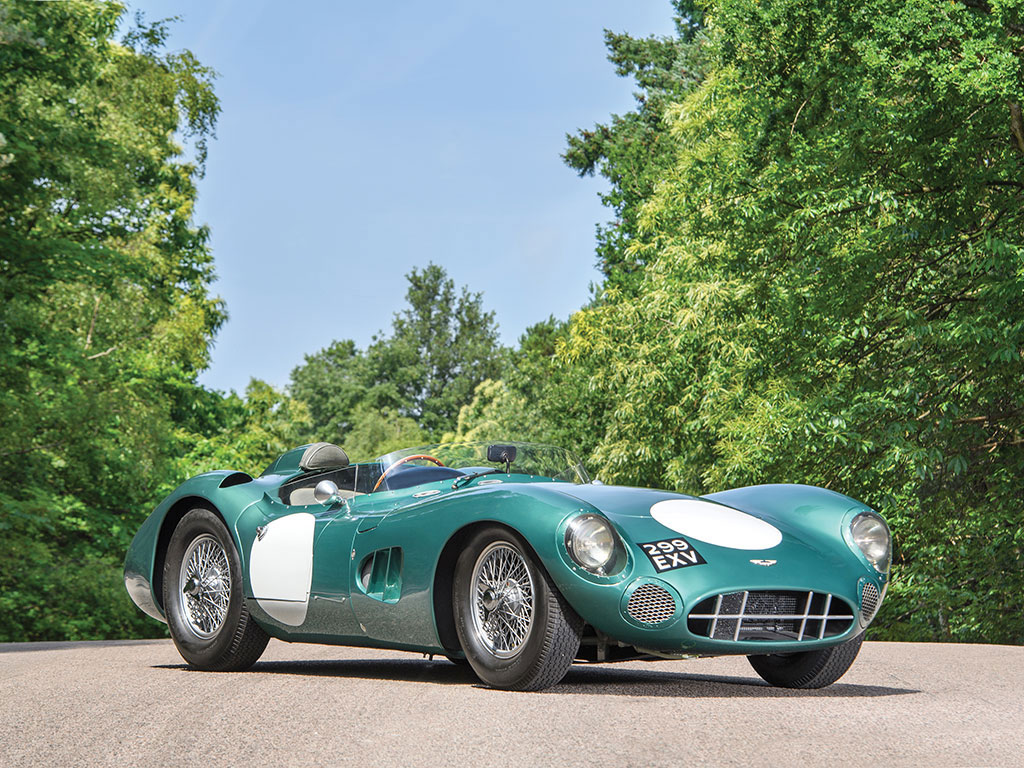 Sold price: $22,550,000
Hagerty Price Guide: N/A
The most expensive British car sold at auction and the seventh-most expensive auction car ever, this Aston won at the Nürburgring in 1959 and beat the previous record price for a British car, set by the Jaguar D-Type that RM Sotheby's sold for $21.78M in 2016. Among Astons, only this example's sister car, which won Le Mans in 1959, is considered more desirable.