Missing link: MVC 575 may be the most significant car that Triumph ever built
There aren't many bits of early Triumph TR history left these days. Considering the genesis of the Standard Triumph range of sports cars—from TRs to Spitfires, Stags, and GT6s—we have little to point at and say, "That's the start of it all." So the lovely, geranium-green, speed machine known as MVC 575 is an important car merely in its role as a prototype TR2 and speed record breaker.
However, like the recent discovery of a rare and previously unknown portrait of Mary Queen of Scots beneath a later painting of a Scottish nobleman, there's more to the 1953 record-breaking prototype TR2 than meets the eye.
I had the pleasure of sitting in the MVC 575, extraordinarily restored by Glen Hewett of Triumph specialist Protek in Wallingford, England. Hewett tracked it down and purchased it from its reticent owner in 2015, and over the following 18 months painstakingly restored it.
Unlike its brave test driver, Ken Richardson, I have a seat, but the wind-cheating tonneau feels like a metal guillotine, ready to lop off my head just like that of the aforementioned Scottish Queen in 1587. Getting into MVC 575 involves swinging a leg over coachwork, standing on the seat, and wiggling past the old Bluemels steering wheel. Your head sticks out like a magician's assistant in a saw-the-lady-in-half trick and you feel around under the scuttle for the standard controls. It was those old-fashioned black pull switches which Richardson used back in May 1953 when—sitting on a cushion, with no seat belts, and crouched behind a small aero screen—he set a two-liter class record of 124.899 mph at the Jabbeke highway in Belgium.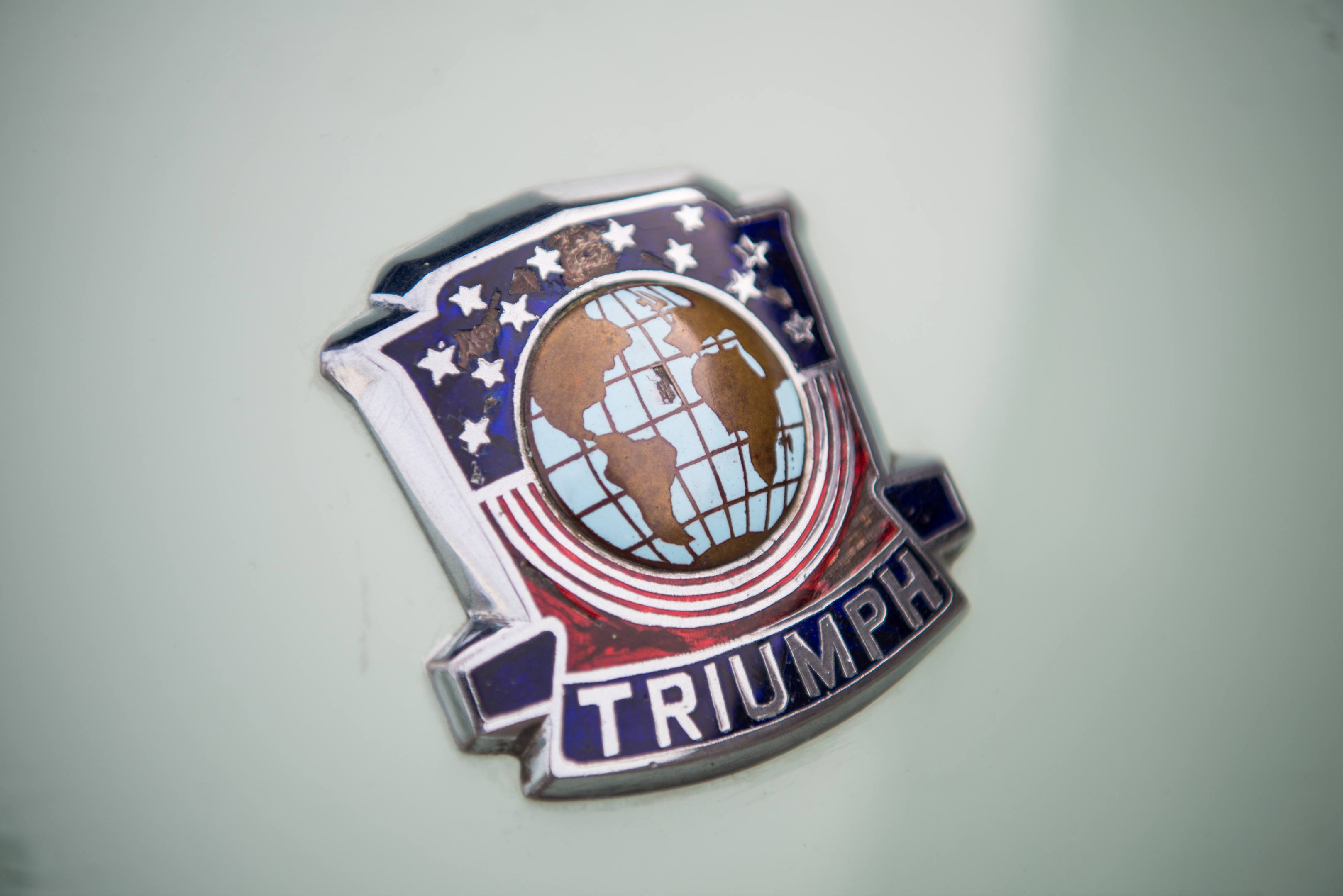 Jabbeke was a bit like today's Nürburgring Nordschleife for hot-hatchback makers: a place to set bragging rights to a post-world-war-two public desperate for some excitement. It was effectively a motorway-graded road with two lanes in each direction and no central barrier. Normal traffic was contra flowed into one set of lanes and record breakers took the other two lanes. There were fewer health and safety considerations in those days.
All the accouterments of record breaking turned up for Richardson's run: timing experts from the Royal Automobile Club of Belgium, a film crew, a suited-and-booted press corps, and Sir John Black, chairman and majority shareholder of Standard Triumph. You can see a film of the run commissioned by Standard Triumph on YouTube. This was almost two months before production of the TR2 began at Canley in the West Midlands, and the car's only modifications were those optional streamlining parts: aero screen (under shield), rear-wing spats, and that potentially lethal metal cockpit cover.
"MVC 575 is an important car, not least because it proved that a production two-liter sports car could do preposterous speeds," Triumph historian Bill Piggott says. "One-hundred-twenty-five mph is a speed that not many cars can do today. And it gave credibility to Triumph's sports-car project, something it hadn't had a lot of up to that point."
Sitting in the cockpit, I note the contrasting blue upholstery (Hewett is convinced that MVC 575 was originally painted blue) and a blue-trimmed dashboard straight out of the production brochure. There are four domed-glass ancillary instruments in the center, a big speedometer, and rev counter in front of the driver, an indicator quadrant on top of the wheel boss, and—in splendid isolation on the left—a push/pull overdrive switch operable on second, third, and fourth gears; original early TR2s had the optional overdrive only operable in fourth gear. It's all pretty much as standard, but with a value of around a £250,000 (just under $338,000) and that evil metal tonneau tickling the back of my neck, I'm somewhat circumspect about driving it.
I needn't have worried. A bit of choke and a press the starter, and the old Standard Vanguard engine burbles into life. The all cast-iron, bathtub-head unit has overhead pushrod-activated valves and was also used in the Ferguson tractor. It sounds soft and breathy, and Hewett confirms that it's in virtually standard 90-bhp form, just well balanced. Engage first through that carbine-bolt-precise four speed and let up the light clutch. Small bore SU carbs and soft camshaft profiles allow it to pull hard from about 1,500 rpm, and it feels quite brisk without taking the revs above 4,000 rpm, though the red line is at a low 5,000 rpm.
At medium speeds, the TR2 floats delightfully along on Excelsior cross-ply tires, with a directness and lightness to the worm-and-peg steering. The throttle is very close to the transmission tunnel, so you have to twist your foot sideways to get the full beans, and the gearbox synchromesh cones don't like to be rushed. MVC 575 rides well and although it rolls through the turns; it's well damped and comfortable. If you push it hard, however, the heavy front end rolls, the steering feels discombobulated and vague, and the limits of grip are soon breached with loud squawking protest from the tires. Similarly, all-round drums provide gentle stopping power, but that's about it. Hard stops need a balancing push first, and the system quickly locks a wheel. Anticipation is key to driving this old lady briskly.
These are observations rather than criticisms, however. If MVC 575 feels somewhat vintage, that's just how it was. And in every aspect, it feels like a well-maintained original TR—even the wind blast is familiar, as aero screens were an option on TRs all the way up to late TR3A models.
But as well as being an interesting precursor to the TR series, this car has a significance that goes beyond mere record breaking. And it is here that you have to go back to the immediate post-war years, when the British motor industry was beset by rationing, steel shortages, and the need to "export or die." Standard Triumph's Sir John Black was brilliant but moody, and his long-held ambition to challenge MG, Austin Healey, Sunbeam, and even Jaguar in the lucrative sports-car market, had—up to that point—less-than stellar results.
Triumph's first post-war model was the 1946 1800/2000 Roadster (as driven by BBC television detective, Bergerac), which was slow and ponderous as well as being old fashioned. It was the last all-new car to have a Dickey seat. Black's second attempt was the 20 TS prototype (erroneously called the TR1). Most historians concede there were at least two 20 TS prototypes though only one was completed. These Manx-tail sports cars were based on the flexible Standard 8 chassis, with suspension derived from that of the Triumph Mayflower and a sleepy Vanguard engine. First shown to the public at the London Motor Show in October 1952, early press reports were not flattering, and after driving the one completed car, Ken Richardson, hired from BRM by Black, described it as "bloody awful."
Black called a halt to the 20 TS project and instructed Richardson to work with a talented team of engineers to dramatically improve the car. Harry Webster's engineers improved the chassis, Lewis Dawtrey coaxed a reliable 90 hp out of the wet-liner Vanguard engine, Walter Belgrove redesigned the body with a longer tail, and Richardson drove the results and shared his thoughts.
The aim was to show the resulting TR2 in March 1953 at the Geneva Show, but early in the same year, Black read of Sheila Van Damm achieving a speed of 120 mph over a measured mile at Jabbeke in a two-liter Sunbeam-Talbot Alpine. Concerned that this would adversely affect his launch, Sir John told Richardson to organize a rival record attempt. A few days later, Black summoned Richardson to tell him he booked the Jabbeke highway for just one day, May 20. Richardson was "flabbergasted." He thought that the risks of car problems or bad weather meant a two-day window was the bare minimum for such a speed-record attempt. Typically, Black brooked no opposition, saying, "Well, everything's organized now, so we've got to get on with it."
"When Sir John says 'Get on with it,' you get on with it," Richardson recalled in Triumph Over Triumph magazine in 1998.
Richardson and his small record-breaking team stayed at the Queen and Castle pub near Kenilworth (it's still there), and would rise early for what they called "red-eye special" speed tests on the Bicester road near Oxford. This involved measuring up the road and sticking in marker posts, although the freezing temperatures almost caused a disaster, according to Richardson. "Those icy roads were damn dangerous," he recalled. "A patch of ice caught me out on the Bicester straight, which caused a bit of a moment."
But it was the unauthorized modification of the engine breather in Belgium which could have spelled a much bigger calamity. The shepherd's crook-shaped engine breather pipe had been extended downwards below the level of the under shield, where the low pressure created a siphoning effect, sucking out the sump oil.
So the record breaking run, Richardson recalled, "was very nearly ruined by inept interference. The whole of the underside of the car was plastered in oil… Had the oil reached the rear wheels on my practice run, I could have lost control of the car and shot over the central reservation and into the oncoming traffic."
"They had wanted to let the press drive the car after the run," Glen Hewett says, "but they couldn't because the engine was knocking for all it was worth, and there was oil all over the rear bodywork and even on the rear tyres (sic)."
Like so many prototypes, after gaining the record MVC 575 was then used as a test-department hack in the factory (it was also Richardson's personal car for a while) and was sold on in October 1956 to a John Hedger. Hewett has the original bill of sale for £650 from Welbeck Motors of London W1, where it was in part exchanged for a Ford Popular. But through two more owners and the passage of years, it was driven into the ground until it was eventually dismantled with the intention of a restoration in 1976, which is how—spread around in several garages—Hewett recovered it.
But a couple of questions remain. From where did Richardson get the donor car for his record breaker, and just what became of those two 20 TS models? This is where the two stories become intermingled, and it helps to have an understanding of the pressures on the development teams at the time.
"They wouldn't have thrown anything away," Hewett says. "There simply weren't the resources, and they had no money."
So, was one of the 20 TS models used as the donor for MVC 575? Hewett suspected as much when he began the restoration. The bespoke coachwork and lovely special bonnet badge revealed it as MVC 575, but the riveted parts, special panels, wooden bits, and hand fabrications (including a cover plate for the 20 TS' strange single-sided rear trailing arm), convinced him that MVC 575 had in fact, been built up from a 20 TS model with a fabricated replacement rear body.
Piggott, too, is convinced and confirms that Hewett's car was, in fact, the second of the two 20 TS models to be converted into a prototype TR2—the first being MWK 950, which used the uncompleted second 20 TS as a base.
"That other prototype also exists," he says, "and we know that it was the first car to be converted, as its surviving log book shows it as being first registered in January 1953, two months before MVC 575 was first registered.
"When I spoke to Ken [Richardson], he couldn't remember which one was the Geneva Show car, but it was, in fact, MVC 575, which was also the one he'd jollied up with an aerodynamic kit to get the record. There is a third prototype, as well, ORW 666, but that right-hand-drive car wasn't based on a 20 TS. And no one is sure exactly what happened to it."
He isn't alone. Introducing MVC 575 at the RAC Club dinner held in its honor earlier this year, Tom Purves, chairman of the RAC Club, introduced it as "the most significant car Triumph ever built."
It's rare that a single car can point to the start of an automaker's legacy. MVC 575 does that and illustrates just how important that sporting car maker once was. Developed in super short time by a talented and dedicated team, this car provides a missing link, as well as being a speed record breaker and prototype of a successful range of sports cars. And thanks to Hewett, MVC 575 is now a piece of living history.