The 9 best Audi coupes of all time
August Horch founded his first car company in 1899. You probably don't know much about that one. After some disagreements with his board of directors, Horch left the company that bore his name in 1909 and started another one that has become slightly more renowned: Audi.
"Because his surname was already in use and was protected by trademark, he chose its Latin translation for the new company. So "horch!"—or "hark!"—became "audi!" According to Audi historians, "It was a brilliant idea that came from the son of one of August Horch's business partners."
In 1932, Audi joined forces with three other independents—DKW, Wanderer, and Horch—to form Auto Union. Although three of the manufacturers do not survive today, Audi's emblem of four rings dates back to that merger of the four.
With rally victories in the 1911–14 Alpine Runs, success in motorsports came quickly to Audi, and Auto Union would go grand prix racing in the 1930s and make history with radical machines like the supercharged V-12 and V-16-powered Silver Arrows with drivers Hans Stuck, Tazio Nuvolari, and Bernd Rosemeyer.
After another merger with Volkswagen in the mid-1960s and another with NSU in 1969, the automaker began selling cars in the United States, including sexy coupes which have always been an important part of Audi's image and success both in Europe and America. Here are our picks for the nine best Audi coupes of all time (presented chronologically).
1969 Audi 100 Coupe S
Although this model was never imported into the United States, there are a few on these shores, including a 1971 model that was looking for a new home on Bring a Trailer and eBay back in 2010. Although it was designed in-house, the front-wheel-drive coupe has an Italian style with a fetching fastback, a long 100.8-inch wheelbase, and a 173.1-inch length. Under its hood is an overhead-valve 1.9-liter four-cylinder engine designed by Mercedes-Benz with two Solex carbs. Initially it made 115 horsepower and was backed by a four-speed manual. This model bowed at the 1969 Frankfurt Motor Show and was produced until 1976. According to Hemmings, 30,787 were produced.
1973 Audi 80 L
Smaller and less delectable than the 100, the Audi 80 was a more basic model and quickly became a bestseller in Europe, with more than a million sold by 1978. It was Audi's smallest and most affordable offering and the automaker's answer to the world's energy crisis, although like the 100 coupe it wasn't imported to America. The front-wheel-drive Audi 80 shared its platform and engines with the Volkswagen Polo. It launched with a 1.3-liter four-cylinder with 55 hp, which eventually grew to a 110-hp 1.6-liter. The 80 GT hit in 1973 and the optional sport package added dual carburetors for 100 hp, a black hood, and alloy wheels.
1980 Audi Quattro
According to Audi, this car was the world's first volume-produced all-wheel-drive high-performance car. The Quattro was a hot rod version of the front-wheel drive Audi Coupe GT, which was a coupe version of the Audi 100 sedan. The long two-door hatch with a large greenhouse was an instant success, both in the showroom and on the world rally stage. In 1981, an Audi Quattro became the first all-wheel-drive rally car to win in the WRC, and the manufacturer would go on to dominate the sport for much of the 1980s.
In 1983, the Quattro became the first all-wheel-drive Audi in America. Priced around $35,000, sales in the U.S. would end in 1986, although production continued until '91. The Quattro model had a turbocharged single-overhead cam 2.2-liter inline five-cylinder engine with 160 hp in U.S. spec, backed by a five-speed manual. It could run 0–60 mph in about 8 seconds, which was quick for the day, but turbo lag was an issue. Fewer than 1000 were sold in America and values are up radically over the last five years, with the finest examples now worth more than $80,000.
1985 Audi Sport Quattro
This car has become an icon. Audi says it was the world's fastest production car until the Porsche 959 arrived in 1986. A homologation special, put on the road so Audi could continue its domination of rally competition, the Sport Quattro was a shortened and more voluptuous version of the Quattro, with 12.6 inches cut from its wheelbase (now just 86.8 inches) and radically flared bodywork. Much of the body was plastic to save weight, and the double-overhead-cam 20-valve inline five-cylinder was turbo-boosted to 306 hp in street tune.
Audi had to build 200 to homologate the car for competition, but the world ended up with 224 of these special machines constructed in 1983 and '84, although 20 went to Audi's competition department to become race cars. They were offered in red, white, blue, and green, but according to Hemmings, two were finished in black, one for rally champion Walter Rohrl and one for Ferdinand Piech. They all got a five-speed manual transmission. These cars were big bucks when new (about $80,000), although none were officially imported to America. Today they are serious six-figure collectibles and the best examples are fast approaching a half million dollars.
1992 Audi Coupe S2
After selling a high of 74,241 cars in the U.S. in 1985, Audi sales began to plummet due to reports of safety issues with the vehicles. Volume bottomed out in the late 1980s, with Audi selling fewer than 20,000 units annually. But that didn't stop the automaker from creating cool cars. One of the first was the Audi Coupe S2. A hot rod version of the Audi 80 Coupe, which was introduced in 1988, the S2 packed Quattro all-wheel drive and a 2.2-liter five-cylinder with ancestry back to the Sport Quattro. Power was a heady 220 hp, which would increase to 230 hp in 1993. The same year the gearbox went from five speeds to six.
These were the first cars to wear Audi's S badge, and they got VDO gauges and Speedline wheels. Unfortunately, the S2 version of the Coupe was not imported to America, but the U.S. would get the S4 sedan (powered by a twin-turbo V-6) by the end of the decade. Last year, Audi's sales in the United States totaled 226,511 cars and SUVs.
1999 Audi TT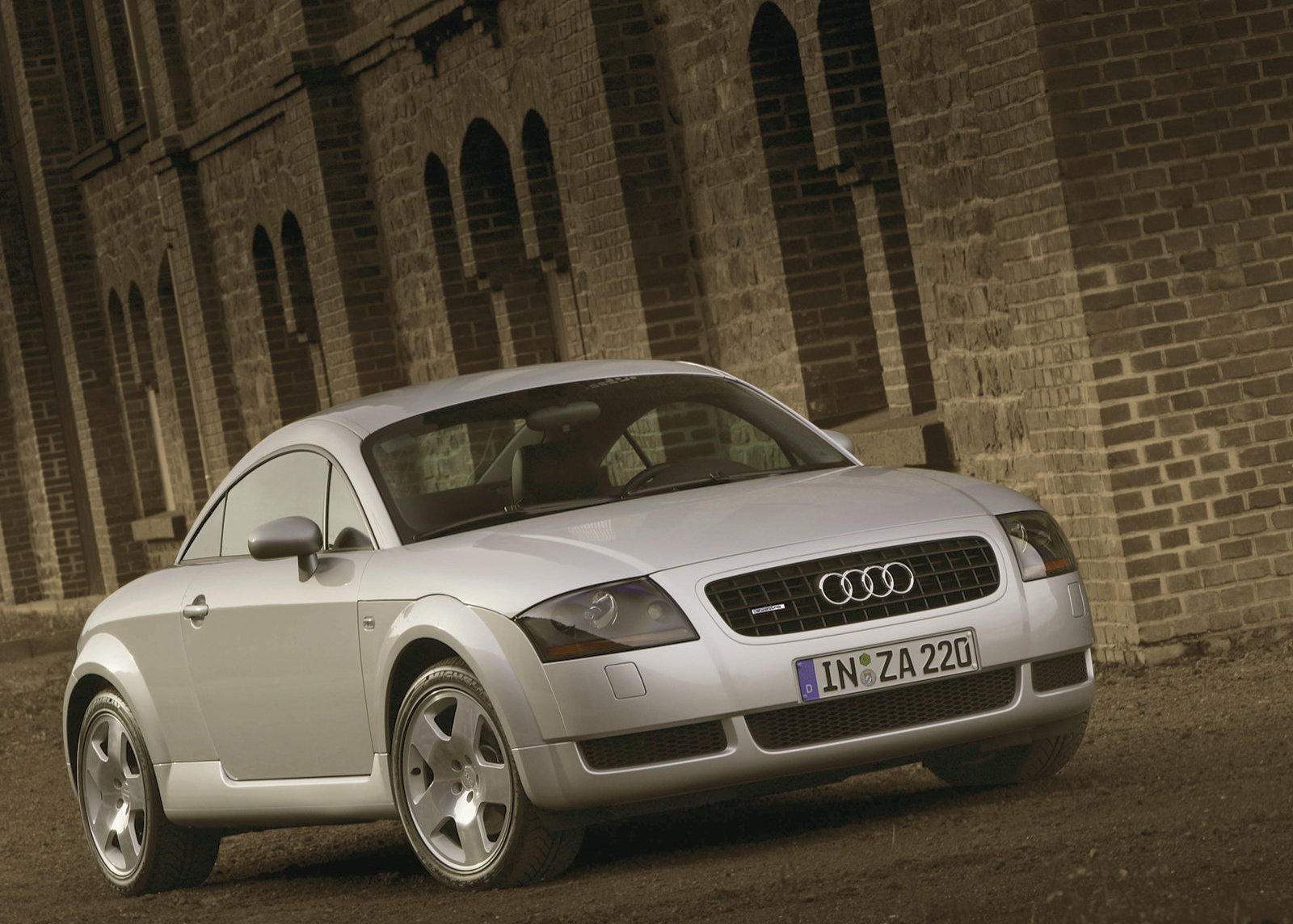 Revealed as a design study at the 1995 Frankfurt and Tokyo Motor Shows, and the Audi TT was a game changer for the entire industry. When the production TT Coupe went on sale in late 1998 (followed soon by the roadster), it looked just like the concept and featured 2+2 seating (the TT roadster was a two-seater). The cars were designed by American Freeman Thomas, with inspiration from Audi race cars of the 1930s, and featured standard front-wheel drive and turbocharged 1.8-liter four-cylinder engines with 180 or 220 hp. Quattro was optional with the more powerful engine.
The TT's platform was shared with the Mk4 VW Golf, and production would run to 2006 when a second-generation TT debuted. Now in its third generation, introduced in 2015, Audi offers Americans the all-wheel drive 400-hp TT RS for about $65,000 to start. It's the most powerful TT ever and also the quickest, running from 0–60 mph in just 3.6 seconds.
2008 Audi A5 and S5
Audi's first true four-seater coupe since the 80 Coupe production halted in 1995, the Walter de Silva-penned Audi A5 was basically a sleek and smart two-door version of the A4 sedan. It was also an armor-piercing bullet aimed right at the twin-kidney grille of the BMW's 3 Series. Quattro was offered, along with a 3.2-liter V-6 with 265 hp, and the combination was good for 0–60 mph runs in 5.8 seconds. But savvy enthusiasts went for the V-8-powered S5 model.
From 2008–12, the S5 was powered by a sweet, high-revving 354-hp 4.2-liter V-8, and it sounded like the car deity's personal hot rod. Quattro was standard, and buyers could choose between a six-speed automatic or a real deal six-speed manual transmission. Fewer S5s were sold with the manual and today they demand a premium. In 2013, the S5 ditched the V-8 and much of its soul for a 333-hp supercharged 3.0-liter V-6, and the A5 and S5 are now in their second generations, which debuted in 2017.
2011 Audi RS5
When production of the V-8-powered RS4 sedan ended in 2008, Audi needed a new home for the 450-hp version of its 4.2-liter V-8, an engine with a 12.3-to-1 compression ratio and 8300-rpm redline. The result was the 2011 RS5. Although the engine was backed by a six-speed manual in the RS4, it was not to be this time around.
Every RS5 got a dual-clutch seven-speed automatic. Quattro all-wheel drive was of course standard, but it had a new center differential that could pump 85 percent of the V-8's power to the Coupe's rear tires. Carbon front brake rotors were available, 20-inch wheels were standard, and Audi said the RS5 could hit 60 mph in 4.6 seconds. Distinguishing the RS5 from lesser A5 models were broader bodywork, a retractable rear spoiler, and two massive exhaust pipes. Price was about $71,000 to start.
2018 Audi RS5
With a top speed of 174 mph and the thrust to hit 60 mph in just 3.7 seconds, the new Audi RS5 may not have a V-8, but it's easily the quickest and best-performing Audi coupe on this list. Based on the sleeker second generation of the Audi A5, the RS5 shares its 2.9-liter twin-turbo V-6 with the Porsche Panamera.
Thanks to 21.6 psi of boost, the engine makes a bit more power in the Audi, 444 horsepower at 5700 rpm and 443 lb-ft of torque at 1900 rpm. That's 110+ lb-ft of torque more than its predecessor's V-8. To better handle that twist, Audi chucked the seven-speed dual-clutch for a traditional eight-speed automatic with a torque converter. It also lowered the launch control rpm from 4000 to 3300. Nineteen-inch wheels are standard, but 20-inchers are available. With a base price right around $70,000, it's real competition for the BMW M4 and Mercedes AMG C63, and the only one with all-wheel drive, if that's your thing.