Eight baby V-8s that show displacement isn't everything
From the 1950s through the 1970s, "V-8" became synonymous with "big engine" in America, with 400+ cubic-inch displacements as common as flies. But not all V-8s are giants. Just ask Gary Conley, whose company, Conley Precision Engines, builds the Stinger 609 V-8. That's for 6.09 cu. in., or just 100cc of cylinder displacement. The Stinger weighs 11 pounds and makes 5.5 hp, or 9.5 hp for the supercharged version.
"It is the smallest 'production' V-8 in the world," Conley tells Hagerty. "There have been many miniature V-8s made, but they are normally one-off, or maybe two." OK, but the Stinger is too small even for your Crosley Pro-Touring project. Here's a look at eight "baby" V-8s used in production cars since the 1930s.
Ford 136: French connection
Ford's 1932 side-valve V-8, better known as the "flathead," became a sensation as the most affordable V-8 on the market and a hot rodding icon. The initial version displaced 221 cu. in. and in 1935 offered 85 hp. For 1937, Ford introduced a 136 cubic inch (2.2-liter) version in a smaller block with a 2.6-inch bore and 3.2-inch stroke.
The smaller engine, known as the V8-60 for its meager 60 hp, proved unpopular. Ford dropped it from the U.S. market after 1940, since the '41 Ford would offer a new 90-hp inline-six as a base engine.
That wasn't the end for the baby flathead, though. In America, the engine became a popular and less expensive alternative to the Offenhauser four-cylinder in midget racers. In Europe, the little V-8 lived on in French and British-built Fords into the 1950s. When Simca took over Ford's French operation in 1954, V-8 models continued under that brand until 1961 using new cylinder heads that converted the engine or OHV.
Fiat 8V: Like a baby Ferrari
Postwar Europe was buzzing with gas-sipping minicars in the early 1950s, including Fiat's 500, yet that Italian carmaker reasoned that a sports car could raise its profile. The 1952-1954 Fiat 8V, known by the Italian "Otto Vu," had a tiny V-8 engine in a body even a Ferrari buff might envy.
Fiat's 2.0-liter (1,996cc) V-8 was an unusual 70-degree overhead-valve design with a forged crankshaft, dual two-barrel Weber carburetors, and 8.5:1 compression. Exhaust ports exited vertically from the aluminum heads. The Otto Vu made 105 hp, later increased to 115 hp and finally 127 hp with cam and carburetor changes.
If you've never seen an 8V, it's because Fiat built just 114 of them. Specialty builder Siata built the tube frame chassis, which featured four-wheel independent suspension. In addition to offering an in-house design, Fiat 8Vs were bodied by Italian coachbuilders Ghia, Vignale and Zagato. Today, an 8V can bring $1M+. Siata used three-dozen leftover engines for its own gorgeous 208S Spider.
BMW 2.6 and 3.2-liter: Not-so-ultimate driving machines
In 1957, Elvis Presley treated himself to a swanky V-8 roadster during his U.S. Army stint in Germany. A T-Bird? A fuelie Corvette? Nope. Elvis leased a BMW 507, one of just 252 made. The 3.2-liter V-8's overhead valve, pushrod design was similar to American V-8s, but on a smaller scale and rendered in aluminum. Its 150 horsepower gave modest performance for the not-immodest $8000 price. The drop-dead gorgeous 507 today can be a $2M+ car.
The BMW V-8 had started out as a 2.6-liter, 100-hp unit in the 1954 502, a flamboyant luxury sedan sold in relatively small numbers. The engine continued in limited-production BMWs, ending with the pretty 3200 CS in 1965. BMW would not make another V-8 until 1992. Known as the M60, it came in 3.0- and 4.0-liter displacements.
Tatra 2.5-liter: Yup, that thing's got a Hemi
Before WWII, Czechoslovakian carmaker Tatra began building streamlined rear-engine cars that seemed like spaceships compared to anything else on the road. The T87, with less than 3100 made before and after the war, featured a 3.0-liter 75 hp V-8 that was not only air-cooled, but had hemi heads, too. Jay Leno owns one.
In 1956, Tatra introduced the 603, its most prolific model, with a 2472cc air-cooled V-8. Produced for 20 years, the 603 offered up to 105 hp. The 2.5-liter V-8 was light at 373 pounds, but the somewhat bulbous car weighed over 3400 pounds. Excellent aerodynamics, however, let it hit 100 mph.
In 1966, a trio of race-prepped 603s swept their class in the Marathon de la Route, an 84-hour endurance race that covered both loops of the Nürburgring. The lead Tatra drove nearly 5500 miles to take third overall.
Tatra made 22,400 603s, replacing it in 1975 with the 613 featuring a DOHC 3.5-liter air-cooled V8 making 166 hp—one more than that year's base Corvette 350.
Daimler 2.5-liter: Just another 1000-hp Hemi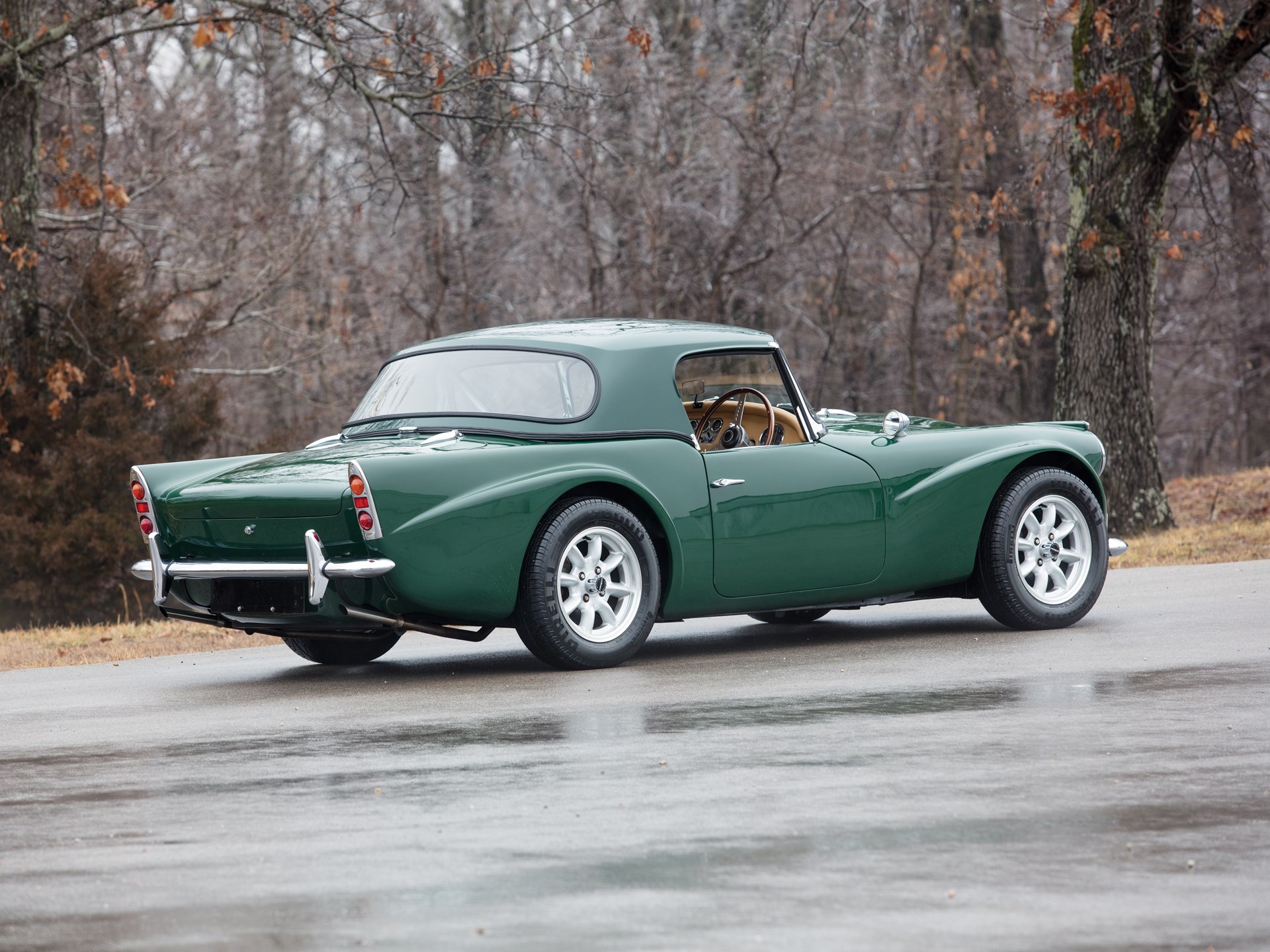 When British luxury sedan maker Daimler fielded a sports car in 1959, the result was the revolting Dart, with a mutant fish-like fiberglass body. But under its hood was a gem, a 2.5-liter (150 cu. in.) V-8 with hemispherical combustion chambers. Externally, it even resembled a smaller Chrysler Hemi. (When Chrysler objected to the Dart name, Daimler changed it to SP250.)
With 140 horsepower, the ugly duckling roadster could do 0-60 mph in about 9 seconds. Just over 2600 were made. Jaguar took over Daimler in 1961, and the little hemi V-8 lived until 1969 in a rebadged Jaguar Mk. II sport sedan, called the Daimler 2.5 V-8. The engine weighed about 110 pounds less than Jag's inline-six.
In the 1970s and 1980s, the Daimler V-8 became a drag-racing legend in Europe when a Brit, Russ Carpenter, built a blown, nitro-fueled version. His "Glacier Grenade" dragster made over 1000 horsepower and ran a best of 7.20 sec. at 180 mph.
Buick 215: American-English Revolution
In 1964, England sent America The Beatles, and in 1965, America sent England a V-8 engine. Both left a long-lasting impact.
The Buick-developed aluminum 215 cu. in. V-8 debuted in the 1961 GM Y-body "senior compacts," which included the Buick Special, Olds F-85 and Pontiac Tempest. (It was a rarely-ordered option on the Pontiac.) At about 320 pounds, the Buick 215 was a featherweight. Output ranged from 150-200 hp, though Olds alone built a 215-hp turbocharged version for its 1962-1963 Jetfire.
Casting and service problems, along with high production costs, drove Buick to rush-develop a cast-iron 90-degree V-6 as a new base engine for 1962, derived from the V-8. (The V-6's final version was used until 2008.)
Also in 1962, Dan Gurney, in his first Indy 500, drove Mickey Thompson's mid-engine, stock-block Buick-215-powered Harvey Aluminum Special 92 laps before transaxle failure sidelined it.
GM replaced its Y-bodies with larger mid-size models for 1964 and mothballed the 215. Britain's Rover bought the rights and tooling, and its upgraded versions of the V-8 powered a variety of sedans, sports cars, SUVs and specialty models for more than three decades. Among those imported to the U.S. were the Triumph TR8, Rover 3500 sedan, and many Land Rover models.
Ferrari 2.9-liter: Magnum's V-8
Ferrari powered its 1964 Formula 1 race car, the 158, with a 1.5-liter V-8, but it would be another decade before Maranello's first V-8 production car debuted, a wedgy mid-engine 2+2 called the 308 GT/4. The 90-degree DOHC engine displaced 2927cc, though Ferrari's naming convention for V-8s rounded it to 3.0 liters. The engine became best known in the 308 GTB and GTS sports cars, the latter propelling TV private eye Thomas Magnum (played by Tom Selleck) to fame in Hawaii.
The flat-crank V-8 buzzed rather than burbled and could rev to 7500 rpm. Intake was by four two-barrel Weber carbs at first, but fuel injection arrived for 1980, followed in 1982 by four-valve heads for the 230-hp 308 Quattrovalvole models. The V-8 also went into the Mondial 2+2 and was later enlarged to 3.2 liters for the 328 models.
In Italy, Ferrari offered a short-stroke 1997cc version to beat a tax on engines over 2.0 liters, and it was the basis for Ferrari's first production turbocharged cars. Later, boosted variants of the 2.9 powered the 288 GTO and F40 supercars.
Ford Taurus SHO 3.4-liter: SHOdown
The 1989 Ford Taurus SHO was a BMW challenger with a Yamaha-built 220-hp 3.0-liter V-6 and five-speed manual transmission. The V-6 continued in the facelifted 1992 SHO, but Ford went to a V-8 in the fully redesigned 1996 version, with mixed results.
The 3.4-liter V-8 was derived from Ford's 2.5-liter Duratec V-6 used in the Contour, including its bore and stroke dimensions and DOHC valvetrain. Sharing the V-6's 60-degree cylinder bank layout, the V-8 needed a balance shaft to smooth out vibrations.
Ford cast the aluminum engine blocks and cylinder heads at its Windsor, Ontario, plant using a Cosworth process. The castings were shipped to Yamaha in Japan for machining, and fully assembled engines were returned to the U.S.
The SHO V-8 made a healthy 240 hp and 225 lb-ft of torque. A four-speed automatic was the only transmission choice, blunting performance; the earlier V-6 SHO was quicker. Cam sprocket failures infuriated owners, and after 1999, the SHO model went on a decade-long hiatus.