These 4 small-block screamers tackled muscle car brutes
There's something fantastic about good ol' big-displacement American torque. Is there anything more fun than smashing the gas pedal and glancing back to see the rear scrambling to gain traction while smoke billows out like a chimney?
But there's also something to be said about high-winding revvers that evoke our inner road-racer. They generally were at a disadvantage in a 400-cubic-inch world, but several stand out as fully capable of handling much more substantial machinery:
1965-68 Chevrolet L79 327
When Pontiac introduced the GTO in 1964, the best Chevrolet had for the Chevelle was a 300-horsepower 327. For 1965, Chevrolet introduced the 350-horse L79, which featured 11:1 compression, domed, forged-aluminum pistons, forged steel small-journal crankshaft, a 585-cfm Holley carburetor on an aluminum intake, and high-performance hydraulic camshaft. A three- or four-speed manual was the only transmission available thanks to the camshaft's generous overlap at low rpm. The L79 took a hiatus from the Chevelle in 1966 but became available for the Chevy II, giving Grumpy Jenkins a way to take on Hemi Mopars in competition. The L79 returned for the Chevelle for 1967 but was down 25 horses on paper; for 1968, the L79 lost its aluminum intake. Canadian Beaumonts and Acadians also were built with the L79.
1968-71 Mopar 340
Perhaps the granddaddy of all giant-killers, the 340 was nothing special upon first glance: no solid lifters, no aluminum intake, and no sexy horsepower rating. But anyone who was part of the scene soon learned that any 340 Mopar was something that should never be discounted, with mid-14-second quarter-mile E.T.s not being unusual. Rated at 275 horsepower with 10.5:1 compression, this dedicated performance engine featured a forged crankshaft, double-roller timing chain and sprocket, and special camshaft (with four-speeds receiving a more radical bumpstick only for 1968). From 1968-69, the engine was only available for certain A-body Barracuda and Dart models, but for 1970 the 340 was expanded to the new E-body Challenger and AAR 'Cuda, plus the Duster 340. For 1971, the Demon 340 replaced the Dart Swinger 340 (aside of a few special-order Canadian Dart Swingers). Plymouth and Dodge also offered 3×2 induction for the Trans Am versions of the E-body in 1970.
1968-70 Oldsmobile W31
Notice something different about this one? The W31 package was only available in mid-size F85 and Cutlass two-doors. It never had the luxury of being available in a lightweight compact, yet it was up to the task of handling heavy artillery, especially on the track. The package consisted of the 325-horsepower Ram Rod 350 with 10.5:1 compression, special heads with 455 valves, 308-degree duration camshaft, aluminum fan, HD clutch, and a special air-induction system with scoops under the bumper. Standard was a three-speed and 3.91 gears, with wide- and close-ratio four-speeds optional (an automatic joined for 1969). Magazines of the day ran solid mid/high-14-second ETs, but slap on some headers and the Ram Rod really reached its potential. Somewhat nondescript for 1968, with side-marker Ram Rod 350 decals and ram air scoops being the only visual cues; for 1969, bold hood stripes and W31 decals on the front fenders gave some show to go with the go. With a restyle for 1970, the F85/Cutlass looked even racier, now with a striped and scooped fiberglass hood and thick longitudinal side stripes—Dr. Oldsmobile at his finest.
1971 Ford Boss 351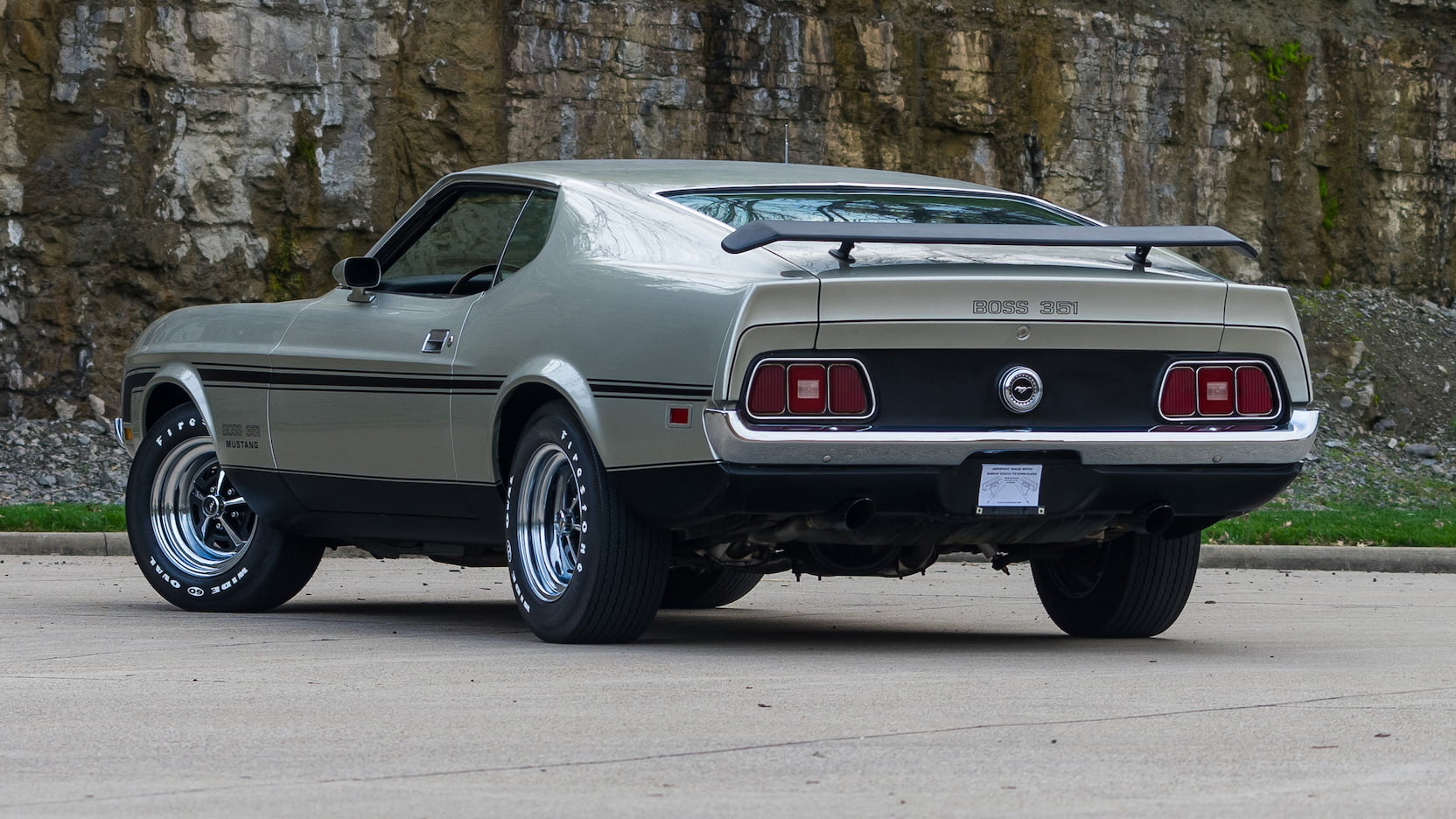 The early years of the '70s were tough on Detroit. The death knell of the muscle car era was within earshot, and sales were just a fraction of what they were in 1970 (which wasn't a strong year to begin with). General Motors had lowered the compression for all its engines, but Ford decided to build high-compression performers until the bitter end and created what may be the fastest small-block of them all. The 330-horsepower Boss 351 Mustang featured a nodular iron crankshaft with four-bolt mains, forged, magnafluxed connecting rods, forged-aluminum 11.7:1 pistons, an aluminum intake, and solid lifters. Ram air, Toploader four-speed, nine-inch Traction-Lok rear with 3.91 gears, Competition Suspension, Mach I grille, power disc brakes, chin spoiler, dual racing mirrors, and special paint and stripes were all included. High-13s were cake for the small-block, with some enthusiasts feeling the Boss 351 was faster than the 429 Super Cobra Jet Mustang. For 1972, the Boss lived on as the much-rarer low-compression 351 HO.