Behind the scenes of SCCA's struggle to endure
The club endures. Eighteen years ago, when I was just a rookie autocrosser attending my first Sports Car Club of America event, one of the old hands took me aside and offered a few words of wisdom regarding the club and its unique qualities. "The SCCA rulebook, like the operations book of the transcontinental railroads, is written in blood," he told me. "Every safety-related rule you see in those pages, even the ones that seem silly or paranoid—hell, especially the ones that seem silly or paranoid—those rules are there because someone was hurt or killed. Respect them."
On February 26, The Sports Car Club of America and its 50,000 members celebrated 75 years of endurance and change. The endurance aspect is obvious; the change, somewhat less so. This club thrives, though, because it has always managed to strike at least a passable balance between respect for tradition and enthusiasm for the future. Founded in 1944 as a deliberately exclusive and patrician organization, without a particular focus on competition, the SCCA expanded its remit almost immediately to include hill climbs. In 1948, SCCA member Cameron Argetsinger proposed the "Watkins Glen Grand Prix" to the chamber of commerce of that city in the Finger Lakes region of upstate New York. Three years later, the 1952 national championship season boasted 11 events, ranging from hill climbs to public road-course races to the Sowega National Sports Car Races at Turner Air Force Base in Albany, Georgia.
There was no general consensus at the time as to where, when, or even how sports-car races should be run, so the pace of change was much like that of the Jaguar XK120s favored within the club: thrilling, loose, and occasionally deadly.
"Many of us raced the cars we drove every day on the street. And most of us drove them to the track and—hopefully—back again," said historian Art Evans in a Sports Car Digest article about early races at Pebble Beach. "One of the racing rules then was that competing sports cars had to be licensed for the road and include such items as a passenger seat and spare tire," he continued. "It was like a fraternity or maybe akin to a military unit that saw combat. Owning a sports car then put us in an exclusive society."
The excitement and glamour of that society proved irresistible to the dashing young gentlemen of the day. Miles and Sam Collier, heirs to and administrators of their father's Florida real estate fortune, shone brightly even in that distinguished company. Their first race cars were built for them at home by the family chauffeur, but the brothers soon expanded their purview to include sporting endeavors as diverse as operating the country's sole MG importer and racing outrageous contraptions like the flathead-Mercury-powered Ardent Alligator in the early 1940s.
Both Colliers survived the war, but neither would long survive the peace. During the 1950 Watkins Glen Grand Prix, Sam lost control of the Ferrari 166 Inter he had borrowed from Briggs Cunningham and suffered a violent ejection from the cockpit. He was pronounced dead that evening. To honor his brother, Miles organized a six-hour endurance race at a converted airport road course in Florida. Over time, that event became the 12 Hours of Sebring we know today. Four years later, Miles succumbed to polio.
Not all of SCCA racing's early victims were so aristocratic, or so well-known. In the 1952 Watkins Glen event, the Cadillac-Allard driven by SCCA president Fred Wacker, Jr., veered off the road into a group of spectators. Twelve adults were injured, and a child was killed, setting a chain of events into motion that would eventually culminate in the establishment of a permanent road course outside Watkins Glen. The SCCA endured—despite the uncertainties, despite the controversies, despite the loss of life—and the rulebook, written in blood from the earliest days, continued to evolve.
America's booming postwar economy and the U.K.'s "export or die" trade policy meant that sports-car ownership would eventually spread far beyond the patrician circles of drivers like Art Evans and the Colliers. Squadrons of small-bore roadsters deployed from ramshackle, fly-by-night dealerships, roaming the countryside in search of adventure and the occasional spot of roadside service. Many sports-car owners considered an SCCA membership to be as indispensable as a flat cap and string-back driving gloves.
By the early '60s, the SCCA had experienced a complete change of purpose. No longer was it a club for the well-todo, one in which prospective members were "sponsored in" by existing ones after satisfying a committee as to their vehicular and personal bona fides. It was now a de facto competition sanction, welcoming all and sundry. Miles Collier's son, also named Miles, began racing about a decade after his father's passing. "SCCA had this misapprehension, early on, of being some kind of snooty social club," he recalls. "Well, they figured that problem out pretty quickly, and it wasn't like that by the time I started racing. You'd hear all these rumors about people being denied membership because of their class or color or religion, but nobody could ever point to a specific instance of that happening."
Another form of inclusion practiced by the SCCA at the time: the introduction of the low-cost, Beetle-based Formula Vee series in 1963. Anyone with a welder, a set of wrenches, and access to a nearly worthless used Volkswagen could build and enter a car. The class was a roaring success, often forming the largest race group at an SCCA weekend.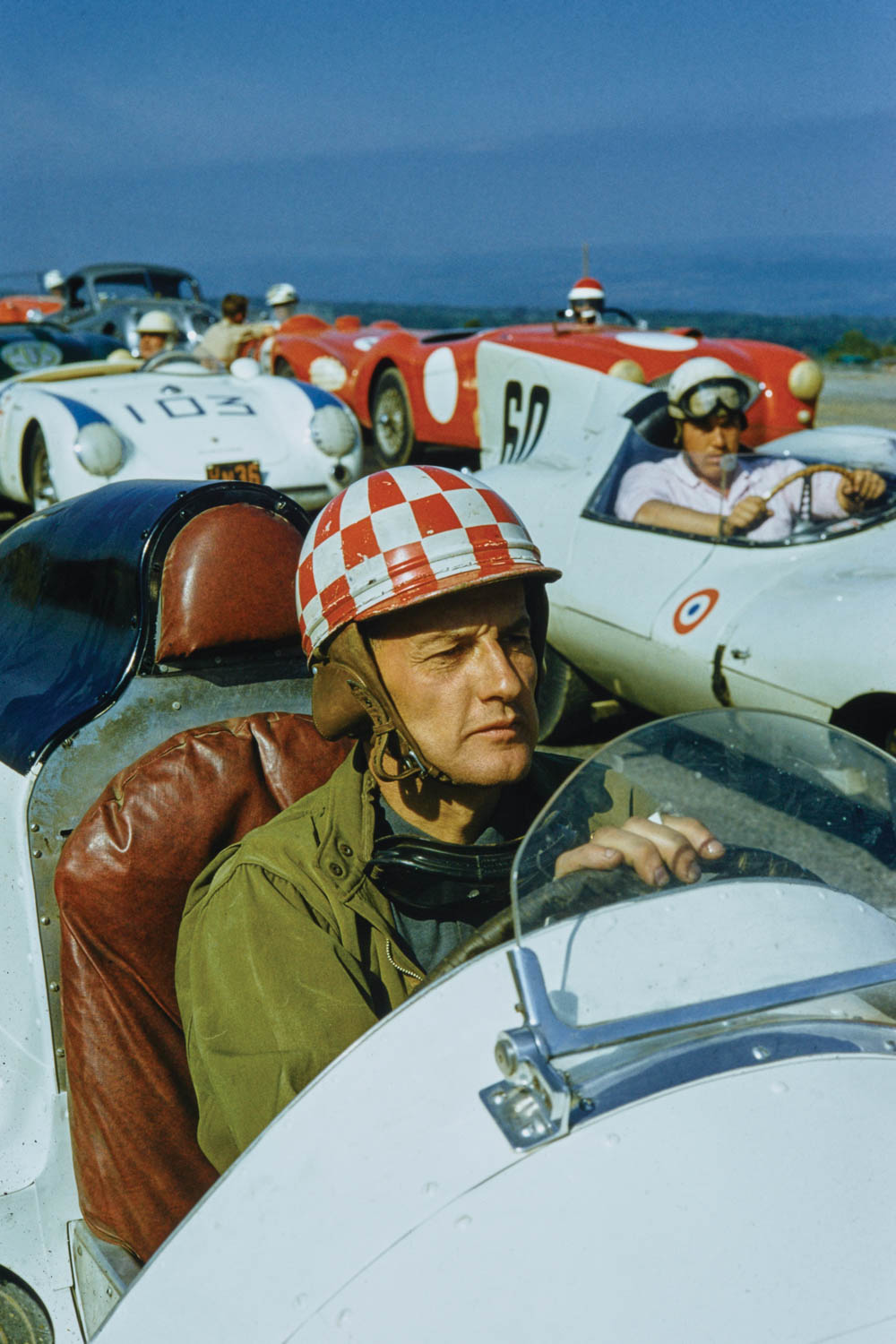 Yet the club was not entirely satisfied with mere expansion of its traditional programs. Although sports-car racing had become enough of a spectator attraction to warrant its own professional presence, this was an era when pro sports were often considered the moral and competitive inferior of their amateur equivalents.
"I feel this organization should be a simon-pure amateur organization," wrote SCCA board member Jack Hinkle in a 1958 letter to members. "Let us be the best racing outfit in the country," he continued. "Our personnel, our flags, our ambulance, our everything, puts on the race.…This is an amateur club, and for my vote it should stay an amateur club."
Hinkle's position, however eloquently stated, eventually became the minority one. The SCCA jumped with both feet into the active development and sanctioning of professional competition. Although the racing was often spectacular, the business side was fraught with disappointments for all parties. The partial collapse, and eventual restructuring, of SCCA Pro Racing in the mid-1970s obscured an even more troubling problem: A growing number of members could no longer afford to contend at the amateur level. The post-Vietnam recession had significantly impacted the ability, if not the desire, of members to compete regularly. A sharp rise in fuel prices did little to help the situation.
The root of the problem, however, lay in what Miles Collier calls "the human impulse to compete and win." In the early 1970s, his E-Production Porsche Speedster effort benefited from his wealth and his not inconsiderable talent behind the wheel, but the stakes were rising quickly. "Ninety-five percent of the class was trailering in by 1969," he tells me. "You could still drive your street car to the race, but you wouldn't get anywhere. That transition really took place in the early '60s, when the SCCA adopted the production-car spec. That spec was honored more in the violation than the observance."
Having abandoned the idea of racing their street cars, members began pushing the rules. "You could go from a 4.5-inch wheel to a 6.0-inch wheel," Collier notes, "but the stock fenders wouldn't cover them. So everybody made these subtle fender modifications. The motors became nothing more than hand grenades ready to go off after a relatively short time because they were tuned so extensively." The best go-fast trick, however, involved a little bit of backward thinking. "Somebody figured out you could put what amounted to a second-gear ratio on the first-gear shaft," recalls Collier. "Well, if you do that, the car will stall almost every time."
The solution? "People drove around the paddock in reverse. Costs went through the roof," says Collier. "It started a battle the SCCA has been fighting ever since. Everybody wants to get the advantage through spending money. That's a lot easier than becoming a better driver."
Part of the problem was that it was hard to determine who was spending obscene amounts of money and who was just scraping along. There was a common race-rig format: a single-axle trailer being towed behind a station wagon that could be brand-new or half a decade old. But the cost was going up in places you couldn't see just from walking the paddock and looking around. Not just the cost of parts; the cost of labor was rising, and quickly.
SCCA Showroom Stock classes, which debuted in 1972 and use barely modified street cars, were a reaction to this. The rules were significantly tighter than those of the Production classes. The old hands liked to say that "you can't even take the knob off the radio." During the Carter administration, however, the price of new cars started to climb out of proportion with inflation, and by 1985, significant increases in the value of the yen and deutsche mark had made the prices of new imports daunting. A 1973 Datsun 240Z cost $5100 with all the options, but a 1985 300ZX could ring the register for 20 grand. Compensation, particularly blue-collar compensation, hadn't kept pace.
At the same time, the club was learning more about safety, particularly in the area of rollover protection. Well into the late 1950s, it was still possible to buy a new MG at a dealership, slap on a few numbers, and run in a Production class. A rollover death in competition during the 1956 season no doubt changed a few minds. By 1965, the rulebook specified a roll hoop with minimal bracing, but the increased pace of Production-class cars was turning a lot of heads. By January 1, 1979, a fully braced cage was required for closed-cockpit racers. Since few states permitted the operation of such a vehicle on public roads, the club had inadvertently started a new tradition: The cars that won on Sunday sat idle in garages on Monday.
The solution adopted by many SCCA regions was a new group of classes called Improved Touring, which consisted of used cars with minimal upgrades, usually four-cylinder economy cars like the Renault Encore, Ford Escort, and Honda Civic. The racing was often rough-and-ready stuff that bore a distinct resemblance to the "compact class" at dirt and asphalt ovals around the country.
Shortly afterward, the low-cost Spec Miata series, which offered drivers a chance to compete in inexpensive used Mazdas with a standardized and cost-controlled package of modifications, arrived and quickly became the most popular class at many SCCA local races. As the number of "SMs" headed toward four figures, the club had no choice but to make it a national championship class. Yet this, in turn, caused the cost of competitive cars to leap to $50,000 and above. The infamous Sunbelt motor, a perfectly prepared Mazda engine with five or six more precious horses than the competition's, could cost $12,000. Prices of front-running Improved Touring cars also soared, perhaps because Miatas were appearing there, too.
Phil Alspach, an 81-year-old club racer who has competed in five separate decades, sums it up well: "In every class, even the regional ones like Improved Touring, you're going to have people who bring major prep time and budget to the party." The 1994 Dodge Neon ACR in his driveway is a sort of SCCA history lesson. It was competitive in Showroom Stock as a new car, then it was competitive in Improved Touring, then it was simply left behind by the Miatas and hot Civics. The SCCA safety regulations made the Neon's simple bolt-in roll cage obsolete years ago. It's now a winter beater with Krylon white paint covering the old "SCCA Club Racing" stickers that were too firmly bonded by time and weather to be easily removed.
Alspach speaks freely about what he calls the "graying of the SCCA." Walking through a room lined with trophies, plaques, and fading photos, he points to one picture of a mid-'90s race. "All those guys are still racing probably," he says, laughing. "But I don't know how we are going to find young people to join us." It's a concern that is echoed at every level of the club. With real-world wages sinking even as the expense of racing soars—not to mention competition from low-cost alternatives like the lighthearted 24 Hours of Lemons series and the National Auto Sport Association (NASA)—what is an organization like the SCCA to do?
Heyward Wagner has the answer. A former national-caliber autocrosser who left the sport after 10 years due to "significant burnout," he fled to Northern California to teach summer camps and operate part of a ski resort. When his club called him, he returned as SCCA's Director of Experiential Programs. What does a ski resort have in common with a racetrack, you might ask? More than you'd think.
"Here's the thing about a ski resort," Wagner explains. "It's designed to let people enjoy themselves. I like to say that if the SCCA ran a ski resort, we'd slap a number on your back before you went down the hill for the first time, and when you got to the bottom, we'd hand you a slip of paper showing you how terrible you were at skiing." Wagner clearly has a sense of humor.
He also has a lot of ideas for making the SCCA relevant to young drivers. His first major program, called Track Night in America, offered thousands of people the opportunity to drive their street cars on racetracks in a friendly, nonthreatening format. The follow-up, the SCCA Targa, combined a variety of time trial, autocrossing, and road-rally activities in a sort of barnstormer's tour around the American Southwest. His newest baby, a revamped Time Trial program, held its first national championship last year. All of these programs are designed to let people experience the SCCA on their own terms.
"The SCCA has been process driven, measurement driven, competition focused for a long time," says Wagner. "That's great if you're that kind of person, but programs like Formula Vee and Improved Touring didn't address the real problems facing the SCCA. They addressed the symptoms of the problem, cut the costs for a bit, and then it was back to business as usual.
"Our goal now is to create events that generate great experiences for everyone. It's a fundamental shift. We are no longer interested in creating a culture where we value the winner of an event more than the other competitors."
Although he is a change agent, Wagner hastens to make clear that he's not ditching everything you think of when you think SCCA. "Programs like the Runoffs, National Solo," he assures me, "are never going away. Never."
Accommodations to traditionalists aside, Wagner imagines an SCCA that caters to people who won't or can't commit to a complete racing lifestyle. He is well aware that the nine-to-five fellow with a D-Production roadster in the garage of his single-family home has been largely replaced by gig economy participants parking a Subaru WRX in the multistory lot of their apartment buildings.
"I envision that our participants, when you see them away from the track, aren't completely wrapped up in racing," Wagner says. "They don't have a primary identity as race car drivers, at least not like the old club hands do. Instead, we offer a sort of alternate reality to our participants. A barista at a coffee shop is perhaps a chief steward on weekends. The doctor you saw yesterday? On Saturday, he's the hot shoe of the hottest Unlimited Time Trials class. These people will come to us and experience something great. Then they'll go home and not think about it all week."
The astounding success of the Time Trials' first year suggests Wagner is on to something. The national championship was a sold-out show that contained everything from a McLaren MP4-12C driven by a multiple SCCA national champion to a 25-year-old, automatic-transmission Civic hatchback that crashed on day one and returned for day two with duct-taped bodywork and an undaunted novice driver behind the wheel. In an era when many amateur racing programs are struggling for funding, Time Trials is welcoming a slew of new partners, including Hagerty, which offers insurance specifically to cover the events.
And that fellow with the automatic-transmission Civic? Last week, he dropped off a 2009 Civic Si at the shop of noted Honda tuner Tailored Chassis Solutions. "I'm going to keep that car for as long as I can," he says, "and I hope I can show that grit matters at Time Trials Nationals."
What will become of the experiential programs down the road?
"I can't tell you what will happen 20 years from now," Wagner says, "but in the short term, we are going to bring everybody we can into this program and make sure they have the time of their lives." He acknowledges that the rulebook might thicken over time and costs might rise, as they have done in the past. It's okay. The club has always suffered that push and pull, the unavoidable conflict between the needs of its entry-level members and the desires of its aristocrats.
After I witnessed the deaths of two drivers in other, more footloose organizations, I finally understood how right that grizzled fellow at my first SCCA race had been about the SCCA rulebook. Again and again, I saw brand-new clubs, businesses, and racing sanctions promise a "reasonable and rational" rulebook. Each group subsequently experienced raw tragedy or mere liability, and each eventually adopted a set of regulations remarkably similar to those written, in blood, by those old fuddy-duddies in the SCCA.
The other thing that veteran told me, back on day one: "You won't believe it now, but this club will outlast your participation. It will outlast your enthusiasm. It will even outlast your marriage. You'll have ideas about changes. Try to assume you're not the first smart guy to hold a membership card. The club endures, I think, because we are patient about change. Be patient with us, too, and the club will endure. Even as it changes."
Again, he was right, at least when it came to the part about outlasting my marriage. The remarkable virtue of the SCCA, at its heart, is that the club endures—and thrives—even as it changes.
[This article originally ran in Hagerty magazine, the exclusive publication of the Hagerty Drivers Club. For the full, in-the-flesh experience of our world-class magazine—as well other great benefits like roadside assistance and automotive discounts—join HDC today.]