Before Citroën's My Ami concept, these 5 beach combers made their mark
It won't get you to the beach in a hurry, but Citroën's latest concept car, the My Ami, will certainly get you noticed.
Based on the push-me-pull-you box on wheels that is the Ami electric city car, the My Ami gets wider wheels and chunky tires to skip across the sand, wider wheelarches, and extra body protection. By contrast, passenger protection is rather reduced thanks to the disposal of the doors. Should the weather take a turn there are zip-in plastic panels to keep the water out.
Night time needn't stop the fun, as the My Ami comes with a roof-mounted light bar that can also provide mood lighting at a beach party. The little car's two seats can even be removed to provide campfire seating, while custom bags that slot into the door apertures can hold all the gear you need for you excursion. And, seeing as no travel today counts unless it's document on Instagram or YouTube, the My Ami also has a number of camera and smartphone mounts built in.
Mechanically it's the same as the regular Ami, which means it packs a 5.5 kWh battery capable of zipping along at up to 28 mph for 44 miles on a full charge. So you can forget any ideas of epic adventures and think of the My Ami as just the tool take you from hotel to beach, be that the French Riviera or, as the name suggests, South Beach, Florida.
The My Ami is not, of course, the first of its kind, so let's also take a look back at the beach combers that came before it. If you fancied a drive with sand between your toes and tires, which would you choose?
Citroën Méhari
The My Ami's spiritual predecessor is definitely the 2CV-derived Méhari of 1968. Powered by a 602-cc flat-twin air-cooled engine from the 2CV6 and Dyane, the Méhari also shared their essential underpinnings but its few body panels were made of ABS plastic instead of sheet metal. That gave the Méhari a remarkably low weight of just 1179 pounds, allowing it to skip over all manner of terrain—just like the camel it was named after. It was designed (and we use the word loosely) by a French fighter ace name Count Roland de la Poype as a French version of the Mini Moke, and over 7000 examples were ordered by the military. Most versions were front-driven just like the 2CV, but a four-wheel drive version was introduced in 1980. Amazingly, a handful of the nearly 145,000 Méharis made were sold in the U.S.A. and if you can find one today you can expect to pay up to $35,500 for a perfect, #1-condition (Concours) car.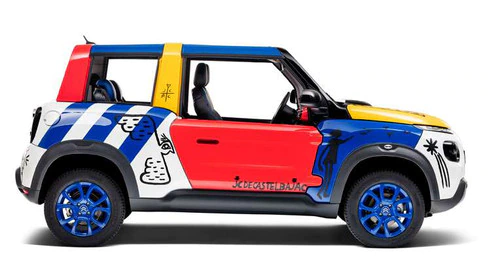 In 2016, Citroën followed up with a small run of electric E-Méharis with a rather more zippy 70 hp. Unfortunately, they costed almost as much as a BMW i3 and were a lot less sophisticated. This French fancy was quite quickly forgotten, unlike the original.
Renault 4CV Jolly
Credit for the beach car concept is widely attributed to Ghia's Gigi Segre, who came up with the idea after visiting Capri and Ischia, but it was actually a French car that would become the first to receive his Jolly treatment. That car was the Renault 4CV, and Ghia got out its angle grinders to remove the roof, threw away the doors, ditched the original interior for wicker or plastic seats and rigged up a makeshift sunshade. It's estimated that only 50 were made and maybe twenty or so remain, which explains why one sold for $55,000 at Bonhams Quail Lodge auction in 2019.
Fiat 500/600 Jolly
Across the border in Italy the sun-worshippers of Amalfi began cruising the coast in Fiat's 500 Jolly in 1957. Also designed by Ghia, the car was commissioned by Fiat boss Gianni Agnelli as shore transport for his yacht Agneta. The car needed to be light enough to hoist aboard, yet have enough poke to explore beyond the Mediterranean harbours where he docked. The result was a Nuova 500 with the doors removed, the roof lopped off, and most of the car's rear as well. Weatherproof wicker seats were fitted along with comedic canopy to keep the sun off. It wasn't just L'Avvocato himself who got his jollies from the Jolly, Princess Grace of Monaco, Elvis and Aristotle Onasis were among the 400 buyers. Even President Lyndon B Johnson had one. Today Fiat Jollies are among the most collectible beach mobiles, with the rarer water-cooled 600 version worth as much as $145,000 if it's in shipshape condition.
Mini Moke
Sir Alec Issigonis didn't set out to make the Mini Moke as a car for beach bums. It was actually designed to be a military vehicle, light enough to be dropped by parachute that could carry four soldiers into battle. While the original concept, known as The Buckboard, was certainly light, its small wheels and diminutive engine didn't give the car the all-terrain ability that the British army wanted and the only military service the car managed was as a runaround on aircraft carriers. So instead the stripped down Mini-based machine ended up as an entertaining leisure vehicle which stayed in production in one form or another for 30 years (and has recently been revived again). It was built in Britain, Australia, Portugal, and France and the Moke has the honor of becoming the most remote vehicle on the planet after being hoisted onto Pitcairn Island—the only car ever to drive there. Mokes in marvelous #1-quality condition can fetch in excess of $50,000 today.
VW Acapulco Thing
For many Americans the Myers Manx would arguably be the ultimate beach car. However, that buggy's ability to drive over dunes and send plumes of sand into the sky make it ineligible for this life in the slow lane list. Instead, we turn to the 1974 VW Acapulco Thing. Based on the military-spec Type 181 the Acapulco version was built as a resort car for the famous Mexican resort. Some 400 cars were assembled in VW's Puebla plant, most with a nautical blue-and-white paint scheme. The doors were removable and a "Surrey' top was available instead of the normal convertible roof. Otherwise, it was regular Thing spec with power from a 1.6-liter boxer engine. If you can find one in flawless condition it will set you back over $50,000.