11 of the craziest factory steering wheels
Steering wheels have an important job to do. However, like the cars they control, steering wheels are more fun with some extra flair. Since the interior is sheltered from wind and weather, designers of the past let their imagination run wild with shape, color, texture, and style. While the array of aftermarket steering wheels is mind-boggling, we've focused this investigation on 11 of the craziest designs that made it to series production. The list covers more than 50 years of automotive history, but we'll give it away now—one is the clear winner.
1957–69 Citroën ID19
First tip of the hat goes to the one-spokers, a cohort championed by Citroen. Master of brilliantly off-beat designs, Citroën rolled out the ID19 in 1957 to bridge the price gap between the outgoing Traction Avant and the exotic DS. The ID19 featured the same eye-catching curves as the revolutionary DS19, and boasted the same hydraulic suspension, but made do with a more conventional clutch and only received power steering as an option from 1962. It might not have been as innovative as the DS underneath the sheetmetal, but the ID19 was surely a full-fat interpretation of Citroën's quirky French style. We're especially a fan of the contrasting finishes in this one: a chrome-trimmed spoke paired with a ribbed leather rim.
1976–85 Aston Martin Lagonda (S2)
Citroën isn't the only proud member of the one-spoke brigade. Aston Martin's second-series Lagonda sported a less glitzy, more minimalist interpretation inside its snazzy, high-tech cabin. (After 1985, the Lagonda wheel developed a highly un-rad second spoke.) The 1976–85 Lagonda bucked the trend of Aston's subtle, evolutionary design language—it looks more at home on a Bladerunner set from 1982 than a sprawling country estate. The Lagonda catered to a wildly different audience than the DBS; pop stars, Arab sheiks, and the nouveau riche decked out their four-doors in eye-popping color schemes and laughed away its 8-mpg average. Though the example above wears an understated palette, that one-spoke wheel pairs perfectly with its out-there LED screen. Want a glimpse of what it's like to cruise in one of these? Check out this video.
1960 Plymouth Fury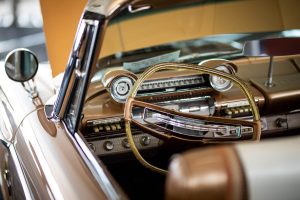 Before "fury" conjured cinematic images of nitrous-boosted Mitsubishi Eclipses and Dodge Chargers leaping in front of trains, it stood for a whole lot of fabulous. The 1960–61 Fury was the king of Plymouth's lineup. Designers would tame the Fury's fins and sweeping chrome eyebrows for 1961, but the 1960's tailfins rose tall and proud, preceded by chrome eyebrows that swept from the middle of the grille over the headlights and behind the front wheels. Acres of glass, covered rear wheel wells, and a wealth of engine options—topped by the Sonoramic Commando V-8 for 1960—rounded out the package. A car this exuberant couldn't bear anything as pedestrian as a round steering wheel, clearly. A hexagonal, two-spoke, gold-infused resin unit was more the Fury's style in 1960.
1985–91 Subaru XT
This steering wheel packs a bag of tricks to match its funky shape. Grab a lever to the left of the wheel under the dash, and the instrument cluster tilts along with the steering wheel. (The 2.7-liter six-cylinder XT6 models, introduced in 1988, didn't pack the tilting dash.) The cockpit set up was hardly the XT's most unconventional feature, though; its incredibly slim snout—and accompanying 0.29 drag coefficient—were possible thanks to the low frontal aspect of its overhead-cam flat-four. The early, non-turbo models needed that slippery profile, since they were blessed with only 97 horsepower. Turbo-equipped models were more punchy and boasted seriously cool (or seriously gimmicky, depending on your tastes) instrumentation including an artificial horizon and a 3D instrument panel backlit in orange. If you needed further proof of the XT's eccentric personality, check out the single front wiper blade, headlight washers, adaptive power steering, and, on manual-equipped cars, the hill-holding brake system.
1944–66 Volvo PV444
Consistency was truly a virtue for Volvo's PV444, visually if not mechanically. While the PV444 was Volvo's first unibody car, Volvo decided to carry over pre-war styling cues—like a split windshield and bulbous fenders—for its first post-WWII model. When it debuted in 1944, the PV444 looked right at home on European streets; however, when Volvo finally imported the car into the United States twelve years later, it retained an uncanny resemblance to a 1942 Ford. Ruffling feathers was not Volvo's way.
However, the PV444 fulfilled its task of upholding the Volvo name, shuttling families around safely and reliably thanks either to a 1.4-liter, twin-carb four-cylinder (B14A) or to a 1.6-liter B14B. (Models after 1958 received the bulletproof, 1.8-liter four-pot designated B18B, which would carry over to the nearly-identical PV544.) Whether you rode in a fastback coupe PV444 or the station wagon version (the PV445, in good Volvo nomenclature), you got the joy of spinning this trash-can-lid-size wheel—which is more fun than you might expect. Despite packing fewer than 100 horses, the PV444 only weighs 2100 pounds. Besides, those slim metal spokes and colorful horn button are just classy.
2000–09 Spyker C8 Spyder
Spyker probably owns a generous swath of property in the land of flamboyant design statements. You know, if that were a thing. The Spyker name has been linked with the transportation industry since 1880, when Jacobus and Hendrik-Jan Spijker founded the company (Spijker being an alternate Dutch spelling of Spyker). They made the teak and golf-leaf Golden Coach for the Dutch royal family and, in 1903, built the Spyker 60HP race car—the first ever powered by a six-cylinder engine and also the first with a permanent four-wheel-drive system. The company didn't stop there, extending its efforts to WWI-era biplanes as well.
It's this glitzy, aeronautical heritage Spyker Cars sought to invoke with its first modern car, the 2000–09 C8 Spyder. The convertible was followed by a slew of road-legal race car iterations, fixed-roof models, and long-wheelbase versions, but the original Spyder is the king of ostentatious, steampunk-ish details. The exposed shift linkage could only be upstaged by a truly extravagant steering wheel—one that mimics an airplane propeller.
1956–60 DeSoto Adventurer
Two spokes, two slim, neutral-hued rimes … you might be feeling a bit underwhelmed after the Spyker's outrageous setup. Look closer, however, and you'll spot a clock where the horn should be. Still not impressed? This 1956 Adventurer's clock winds itself using an automatic movement and the steering wheel's rotation. Oldsmobile was the first to show off this steering-wheel-mounted tech, which had the added allure of being gyroscopic. Chrysler populated its brands with steering wheel clocks from 1954–58, featuring highly original titles like the Moparmatic, the Chryslermatic, the Plymouthmatic, and the Dodgematic. We'll give you one guess what this pictured clock is called.
1989 Pontiac Turbo Grand Prix ASC/McLaren
This Pontiac Turbo Grand Prix ASC/McLaren, despite being a mouthful to pronounce, represents the happiest outcome of special editions (of a sort). Pontiac's 1988 Grand Prix was already among the best-driving of GM's W-body models, and Pontiac took it over to the people responsible for the Buick GNX (ASC and McLaren–not the British one) to beef up its performance and jazz up its technology. The resulting 1989–1990 Grand Prix Turbo boasted 205 hp from a turbocharged and intercooled iteration of GM's 3100 V-6, which sucked in air via a revised front fascia and functional hood louvers. In addition to an appropriate sprinkling of turbo badging, the cars also received tweaked rear bumpers and a cabin filled with leather and buttons and … more buttons. The steering wheel featured 12 of them, offering you the option of controlling not only your horn, radio channel, and speaker volume, but the balance of those speakers as well.
Wondering how this got past NHTSA? With its last model year in 1990, the Grand Prix Turbo squeaked in just ahead of regulations mandating steering-wheel-mounted airbags in the early '90s.
1996–2003 TVR Cerbera
British sports car maker TVR is currently numbered among the mighty who have fallen. TVR started by building Cobra competitors, segued into a rather raunchy period in the 1970s, and rounded out the 2000s with wild-looking, big-engined beasts with mythical names: the Chimaera, Griffith, Tamora, Sagaris. The Cerbera, named after the three-headed, canine guardian of the Roman underworld, featured an alloy V-8 built in-house—marking a high point for the small manufacturer's ingenuity and capability. The "Speed Eight," as the naturally aspirated 4.2-liter V-8 was called, used a flat-plane crank to produce 360 hp, a figure that rose to 440 hp in later, 4.5-liter iterations. Thankfully, engineers didn't take the Cerbera's triple-headed namesake too literally, but its steering wheel does have three circular insets: a clock, a fuel gauge, and an air vent, best we can tell.
1955–64 Messerschmitt KR200
The "KR" in the name of this pop-eyed bubble car stands for Kabinenroller or "cabin scooter." (Think "scooter with a cabin," rather than a log building so large you need motorized transportation to find the marshmallows.)
The KR200's manufacturer is the same Messerschmitt that equipped the Luftwaffe in WWII with its infamous Bf 109 fighters (and their numerous variations). Messerschmitt was banned from manufacturing aircraft after the war, and so turned its attention to highly un-intimidating bubble cars. Despite its quirky looks, the KR200 was extremely aerodynamic, squeezing nearly 60 mph out of its 9.9-hp engine and tiny four-inch-wide tires. Perhaps the aeronautical influence trickled into the KR200's cabin, though, with its strange, yoke-style "wheel." Still, it's a more direct interpretation of aeronautical influence than the Spyker C8's.
1949 Delahaye 135M Cabriolet by Guilloré
Clearly, this 1949 Delahaye—owned by Brooks Stevens, the designer of the Oscar Meyer Wienermobile himself—sports the winning wheel here. Lest you degrade this fabulous French steering wheel by calling it "plastic," know that the transparent material before you is Lucite, a trademarked brand of acrylic resin. Lucite is often used as a lighter, shatter-proof alternative to glass, often in home furnishings like door handles and curtain rods. Since military applications had exhausted glass resources after WWII, Lucite enjoyed its time in the sun, and its inclusion in this coach-built cabriolet shows it was fashionable, in addition to being cheap—and safe. (Think about a glass steering wheel for five seconds. Yikes.)
Does your classic's steering wheel merit a place in the annals of Craziest Factory Steering Wheels? Drop us a comment and a picture in the Hagerty Community below.