Righteous rides of Radwood
The Brits have swanky, posh car shows that we love, but when there's a chance to ratchet it up a notch, there's a Yank out there who'll give it a try. While the Goodwood Revival celebrates the British invasion-era 1950s, '60s, and '70s—dropping jaws with Ferraris, Jags, and Ford GT40s galore; Harris tweed left and right; and Spitfire planes circling overhead—Radwood takes a different tack. It's all about the '80s and '90s, from boxy cars to boxes of hair spray.
Now in its second year, Radwood came complete with a BMX bike demonstration, Nintendo cartridge trophies, and an attendee who was stopped by the TSA for a briefcase full of fake money and baggies of white flour.
Radwood is the headbanging brainchild of Bradley Brownell, Rick Deacon, Art Cervantes, and Lane Skelton, an automotive media motley crew who host the podcasts Driving While Awesome!, Clutchkick, and Cammed & Tubed. All are self-diagnosed car addicts with a love of sheet metal from both the David Lee Roth and Sammy Hagar decades of Van Halen. In keeping with beloved cinematic stoner duo Cheech and Chong, Radwood parties hard in the neon era of Reaganomics, glam rock, and Aqua Net.
"We definitely revere what [the folks at Goodwood] have done with that event, and hope to one day be as big," Brownell says.
Only six months ago, the first Radwood show took place in northern California. With 170-ish cars and about 350 attendees, organizers had a feeling they were at the tip of the iceberg.
Flashdance forward to Radwood 2, which recently took place in Anaheim, a suburb of sunny southern Cal, where the show ballooned to approximately 360 examples of badass steel with more than 1000 participants, a large number of those showing up in their best taffeta prom dresses, and Don Johnson Miami Vice linen suits.
As is the case at Goodwood, the parking lot was arguably full of better, more interesting cars than the show itself. That's a pretty strong gauge of public interest, and so two events are being planned for next year, split between northern and southern California, and conversations continue about a possible event on the East Coast. At this rate, the whole nation will be headed, ahem, back to the future.
Black gold
If the Solid Gold dancers had driven a car on stage, this would have been it. This 1980 Datsun 280ZX 10th Anniversary Edition, which shows fewer than 10,000 original miles, is one of only 3000 produced. Except for the silver and gold rims, which the owner had reproduced so the real ones don't get banged up, everything on this 2.8-liter six-cylinder example is original, including the tape deck that still cranks out Hall and Oates.
Sailing, takes me away
Taking cruising to a new level, the 1995 Lincoln Town Car Signature Spinnaker Edition is a luxury yacht on wheels. All 219 inches and 4,056 pounds of vinyl-topped two-toned leather interior luxury begs to be driven by a deck-shoed driver named Biff and his popped-collar-wearing wife, Muffy. With the second-generation Town Car's new rear air-suspension on the Ford Panther platform, we bet this thing rides like the sweet boat it is.
Time machine
No '80s car show would be complete without the beloved DeLorean DMC-12, made famous by the Back to the Future movie franchise, and by the infamous troubles of its creator. Of the 8583 examples produced, eight showed up to Radwood. In dealerships between 1981 and 1983, the rear-mounted V-6-powered, gullwing sports car sold for between $25,000–$30,000, depending on options. Now one will now cost you anywhere from $30,000 to $80,000, depending on the condition of the car. Flux capacitor and plutonium are not standard.
Legendary
Grunge rock defined the '90s, but there's nothing remotely grungy about this pristine 1994 Acura Legend LS Coupe. Even with more than half a million miles on the original engine, transmission and clutch, this full-sized luxury car is so clean it might make Pearl Jam want to take a shower. Equipped with a six-speed manual transmission, the only "blemish" on the car wouldn't be considered that by the owner—it's legendary Honda designer Shigeru Uehara's signature in silver pen on the dashboard.
China white
Built by specialty auto builders Styling Garage, out of Pinneberg, Germany, this 1983 Mercedes 500SEC Gullwing stole the show. It's said to be one of only 57 examples made, and we're guessing they all landed in the hands of Roger Moore-era Bond villains. This white shadow's W126 chassis is mounted with a M116 3.8-liter V-8 engine. While not an original 1950s Mercedes 300SL Gullwing like the kind you'd see at Goodwood, we dig Radwood's interpretation just fine, down to the in-car telephone.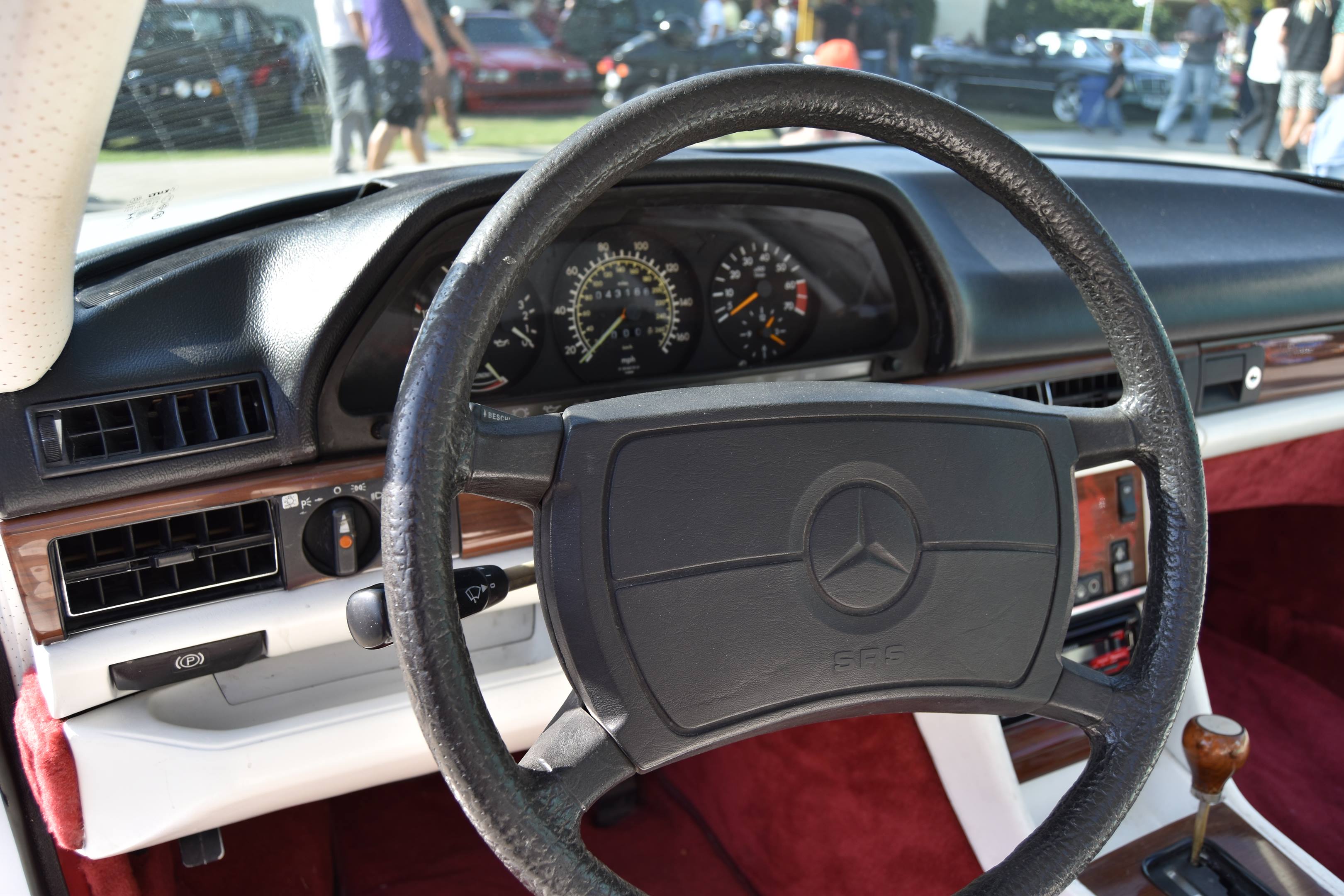 CRX
Purchased new in 1987, this Honda Civic CRX Si was so clean it didn't leak a drop of anything on the required cardboard floor protector all entrants were instructed to bring. This example is all original down to The Club that locks its steering wheel. It's never even had its 1.5-liter four-cylinder engine taken apart, and other than routine maintenance such as brake pads, tires, and a light bulb replacement, it's needed zero restoration work. With just over 100,000 miles on the odometer, we'd expect to see this CRX at Radwood 2027 looking most excellent.
Trans Am GTA
We'd squawk louder if this Pontiac Trans Am GTA came with the more rare five-speed manual transmission, or was a notchback, or one of the 105 convertibles made this model year, but as it is, this is one good-looking purple bird. Paired to a 5.7-liter TPI (Tuned Port Injection) V-8, all that's missing is an owner with a sweet motorcycle cop mustache. All Radwood entrants are asked to complete the following sentence on their information sheet: "My car is rad because…" This GTA's owner wrote simply, "it moonwalks." Indeed.
Red hot
It's not Magnum P.I.'s Ferrari 308 GTS, but this 1985 Testarossa is one of 121 made for the U.S. market in that model year and is one of 88 known to exist. A rare prancing pony indeed, with fewer than 30,000 original miles, the Testarossa once was the fastest production car of its time. While 0–60 in 5.2 seconds seems a bit dated by today's standards, the Subaru Forester 2.5 XTE clocks that same time these days, the Testarossa does it wearing a lot more gold chains and Drakkar Noir. Capisce?
Run to you
Top Gun was to Navy recruitment what the Toyota 4Runner was to this generation's love of trucks. This 1986 example tried hiding off to the side at Radwood, but no one puts baby in a corner. From its 2.4-liter 22R-TE turbo engine, to its Hi-Trac independent front suspension, to the plush Garfield stuck to the side window, this beauty makes many a 40-something surf-rat, or wannabe, have serious truck envy. Perhaps I'm partial because my high school crush drove this exact model. Jon Dennis if you're out there, call me!
Desert oasis
Named after the Mediterranean word for wind, the Scirocco looked to replace the Karmann Ghia as VW's new sports car in the mid-70s. First-generation Sciroccos from the Radwood era came with either a 1.8-liter diesel or a 1.7-liter gas engine, the latter available in 1981 as an option. The five-speed manual transmission, optional in 1980, became standard in 1981. This particular sporty-spice example definitely has some upgrades. With its Momo steering wheel and Recaro racing seats, we're betting the owner drives this one, uh, like the wind?