In his own words: Speed is the New Black's Noah Alexander
Noah Alexander embodies Midwestern car culture. Raised in the Chicago and St. Louis areas, he attended the University of Missouri before realizing that he could make a living in the car world, first by buying and selling classics and then by restoring them.
Since 2006, his St. Louis-based Classic Car Studio has made a name for itself as a builder of high-performance machines that combines classic lines with the best modern technology. More often than not, Alexander and his CCS team find themselves looking across oceans and to far-flung corners of the United States in search of inspiration.
In 2017, Velocity made Alexander and his CCS team the focal point of their TV series Speed is the New Black.
What car first captured your imagination and sent you down this path?
When I was about 3½ or 4 years old, I saw my first 911. I don't know what it was about that car, but something about the shape was exciting to me. Then I learned that they were capable sports cars and from then on it was just all about performance for me. I became obsessed with cars. I wanted to sit in them, I wanted to be driven around in them and meet people who had them. Since then, I've been into pretty much everything and have owned a little bit of everything—which is good because we work on a pretty wide variety of cars here in the shop.
Classic Car Studio has been around since 2006. What were those early years like and how have you managed to survive?
We've been through some interesting times. When we first started in 2006, we were buying and selling a lot of cars—a lot of Mopars, classic European stuff, muscle cars—and the market was great, but we didn't do restoration. We'd just gotten into business; we were in our mid-20s, not too far out of college; and we were just killing it. We had a pretty legit credit line, didn't own a lot of stuff personally, and the banks were just lending us money because we'd shown that we could pay it back. At the time, I couldn't believe I was able to put all this together.
And then the whole market crashed.
Our business has always followed the stock market pretty closely. When times are good, people are feeling good, and they're buying cars and growing their collections. So there I was, watching the market fall and watching us make less and less money as fewer people called the shop. Once [the Dow Jones average] got down to about 6000 or so we didn't have a way to make money. We did have lifts and equipment, though, and we had guys around the shop, so we just started restoring cars. Of course, that was absolutely the wrong time to start restoring cars, but we love the business and we love the hobby.
Around that time, we had a couple customers who walked through the door and they said they were looking to build two Camaros. They were brothers—one lived in California while the other lived in Boston—but they were from St. Louis, and they were just looking to kick some business back to the area. We hadn't done any crazy restorations at that point, but they started showing me pictures of these crazy, over-the-top pro-touring cars and asked if I knew anyone who could do it. I just said, "I'll do it!"
They must have had their doubts, but they gave us a chance and we built the Camaros, which were awesome. It was that one little turning point in our business where we could have gone out of business or just continued to flounder. From that point on, though, we really focused on developing the restoration side of the business, and we've invested heavily to continue to grow it. It has taken a long time to develop, but we've done it slowly and cautiously, and we've hired the right people, and I think we've been able to build a good thing. People who like cars always say to me, "Man, that has to be the coolest thing ever! You get to work on these things all day long." I have to stop and remind myself that, yeah, it is pretty cool. It's hard to call it a job.
With such a wide array of builds going on at CCS, what's your own personal passion these days?
We did a Porsche 356 last year for a family and I absolutely loved it. It was for a father and son who had started with 911s and then Mom caught the bug. She was born in 1964, so we built her a 1964 356 in slate gray over red interior—a really striking car.
I also love all the high-performance muscle cars we get to build. I get excited about anything with a great shape that we can gut down to the shell and then indulge our design process to reinvent it. I don't really believe in messing with the outside appearance too much, and I really like preserving those original lines that people love, but I like making everything else brand new and giving people, say, a Camaro with a new interior and 700–800 horsepower on a high-end coilover suspension.
Ultimately, though, the older I get the more I love the diversity in our shop. I used to think it'd be the opposite—that I'd get more and more specialized—but it's actually gone the other way. There's just so much cool stuff in the automotive world, and I keep gaining appreciation for a lot of different things.
What defines a CCS build?
For us, the process involves sitting down with a client and identifying how they're going to use it, where they're going to use it, and what they're going to do with it. From that point on, we don't sacrifice quality on any part of the build. So if you want to drive across the country, or if you just want to cruise around town, or you want to do some track days—OK, we will build that kind of car for you.
From there, everything we do is about cleanup work in design and from a mechanical standpoint. Clean is our deal. We want to build something that is clean and high-end, but it also has to be functional. You have to be able to drive it. It has to be fun. All of our engines sit in the engine compartment without lines running everywhere, and we hide as much stuff as we can while still making it serviceable and accessible.
We also don't push colors too much. Most of our cars consist of about three colors: you have your primary color, your interior color, and you might have an accent color somewhere. Without realizing it, we started to develop kind of a signature look with this approach.
We have the huge benefit of being able to build these cars almost entirely in-house, which allows us allows us to do them as efficiently as possible. This really speeds up the process and helps us meet our customers' expectations, which is important because we're turning something over to them that they're going to use a lot and which is a nice rolling advertisement for our company.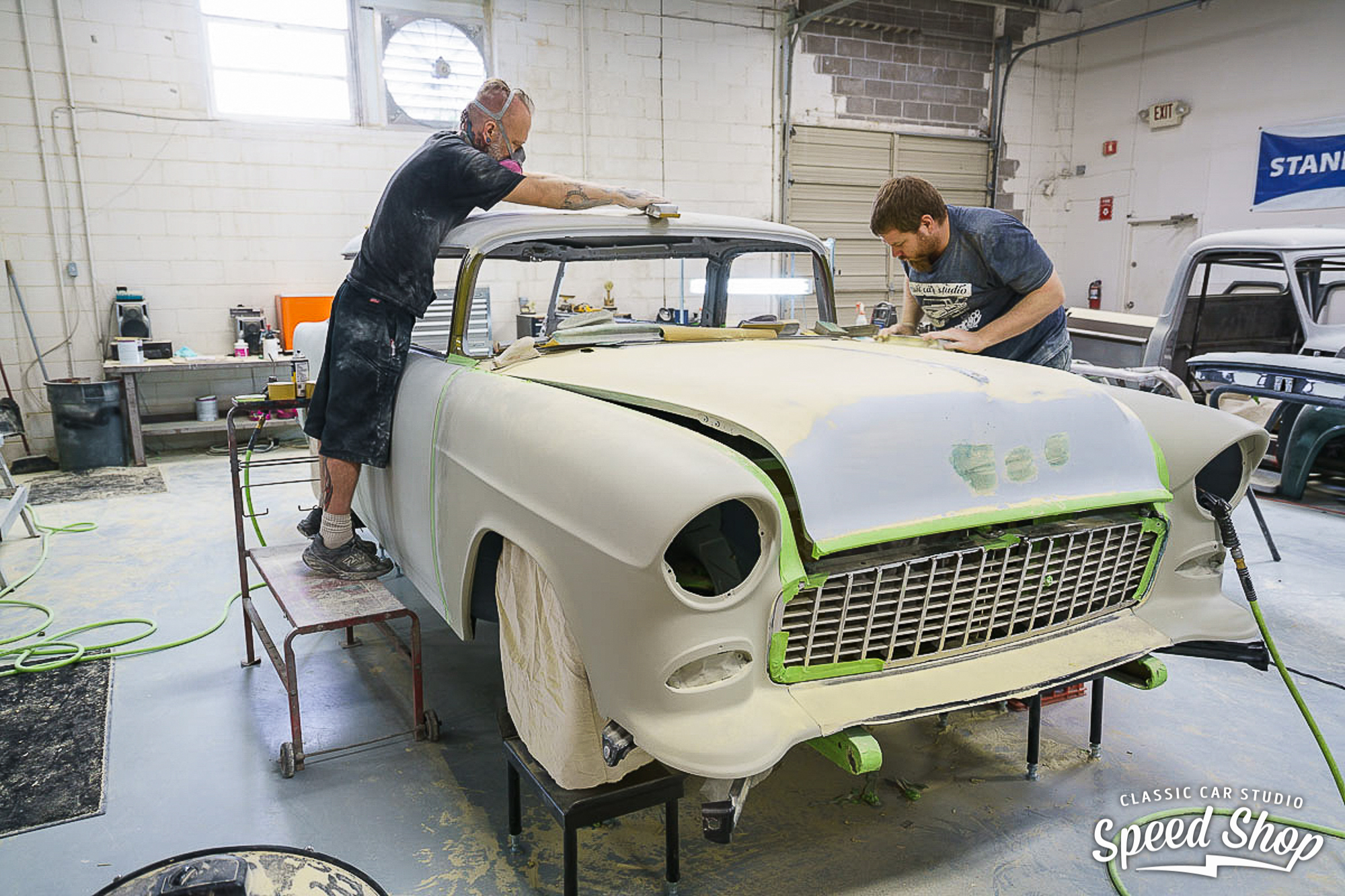 How do you approach the challenge of creating a timeless build that doesn't look dated within a matter of years?
That's a question that's on my mind a lot, and I can't say that we've always built cars that are 100-percent timeless, because they're just not always going to be. At the moment, nobody is really doing much chrome on custom pro-touring muscle cars. Chrome is gone. All the chrome is painted, all the stainless steel is painted, and you'll see a lot of mattes and semi-gloss paint placed next to gloss for contrast. Right now, we're seeing a lot of worked sheet metal and industrial-looking stuff. We are doing that stuff for our customers now and it does look cool. And you know what's going to happen? A few years from now people are going to look back and say, "That thing was built in 2017. Remember when people were doing that and everybody had to have matte cars?"
SEMA is a pretty good place to see trends shaping up. A couple years ago, we went to the show and everyone there had anodized wheels on their cars. I remember thinking, "Oh, my gosh, everybody is going to be asking for anodized wheels on their car next year."
We have managed to build a few timeless cars around here, but it's hard to know what you have while it's being built. If you're using modern components you have to make them look like they're old. With the interior components, you try to follow original style lines and to improve the original materials to make your work timeless. For the exterior, you don't mess with the grilles or the trim on the sides too much. Maybe you mess around with the stance a little bit, but wheels are a really easy place to date yourself.
This is all an ongoing challenge, though; we just try to push ourselves and our customers into stylistically good directions. At the end of the day, you might just end up building something that's a little different than what you wanted to build.
From what non-automotive sources do you draw inspiration for your builds?
A few years ago, we built a 1955 Nomad. The customer wanted to do a very custom car that still kept the original lines, so we didn't change the body lines or chop the roof, but we made everything else drastically different. The owner wanted a red-over-black car and, at first, we just thought, "Oh, man…"
But then we started thinking about it. I'm always looking at different designs in all kinds of places, saving pictures to notebooks or Pinterest or whatever, and about a year earlier I'd been looking at these old Italian speedboats, thinking to myself, "Man, if I could just have a Riva someday, I'd be a happy man."
So I put together some mood boards for the customer, who's this conservative old guy who would never have thought to build this kind of car. My photos were all of old cigar lounges and Aquaramas, and he went for it. We ended up building this car that had a lot of stylistic features of old Italian speedboats, and the whole interior looked like a cigar lounge. It was the coolest, chilled-out car ever—you just kind of wanted to hang out in the interior.
It's hard to get that from most customers and have them trust you when you want to go in such funky directions. But hey, we're in the custom car world, so let's think differently and build something that people will remember. Sometimes you get a customer who will let you do that, and you end up building some really cool stuff that puts you on the map. We were certainly able to achieve that with this Nomad.
To what extent, if at all, do your builds embody a Midwestern ethos? What is that ethos?
Growing up, all the guys I admired were out in California. All I ever heard was California, California, California. And then suddenly the Ring Brothers popped up in Wisconsin, and I thought, "Who the hell are these guys and what are they doing?" They were pushing styles of cars up there and had everybody following them.
Nowadays, out on the West Coast you have a lot more clientele who are going in the original direction and restoring classic Ferraris, or you have guys who are willing to spend $600,000 or more on a custom Porsche from Singer—and those shops out there are doing incredible work.
Here in the Midwest, though, that's not really what it's like. We don't have that same clientele, but what we do have is a seriously committed demographic who like the classic American stuff and are willing to do whatever it takes to have the nicest, best-performing car. We also get a lot of people from all over the country coming to us here in St. Louis to have that sort of work done.
Look, this is not an inexpensive process, so even if you're in California and you want to work with the Ring Brothers, you're going to spend the money necessary to have that work done in Wisconsin. The restoration market is pretty cool because we've got so many different shops creating cool stuff with different styles. People from all over the country, and all over the world, are able to get what suits them. In the Midwest, we're deep into that old-school muscle and performance, and fortunately, the aftermarket is there to support our ideas. I mean, you can take pretty much any old medium-sized classic American car and turn it into a race car or a cruiser with all the over-the-top injection systems and crazy wheels and suspension products that are out there. It's really cool to be here in the Midwest and to be a part of this.
I'm always waiting to see what the next big thing is and what's going to push custom building to the next level and where it's going to come from. Who's going to be the next person to set a new standard for what we're able to do? Whenever we see that, we all just play catch-up because it creates a new frontier of what's possible. It's like watching athletes or musicians evolve year after year—everyone who comes after them has bigger and bigger shoulders to stand on because of all the previous advances.
How did Velocity track you down in St. Louis and how did the TV show (Speed is the New Black) come about?
A couple of our customers develop reality TV shows. They'd done Fast N' Loud on Discovery and had some good success with that, so they came to us one day and asked what we thought about doing a TV show. My initial thought was that it sounded interesting, but, as with everything, I had to explore it in my own mind and get a taste of what it's about so it took a little while. But a couple years later we had a show.
It's been pretty neat to be able to break down these builds for people and show what goes into them and to showcase all of our guys who work here and what they each put into the builds. It's been great to see our guys get recognized individually for what they do, and we've gotten a lot of fun feedback.
We're still new to this TV thing, though, so hopefully we can just keep pushing the format and showing the cool technical side while keeping it entertaining.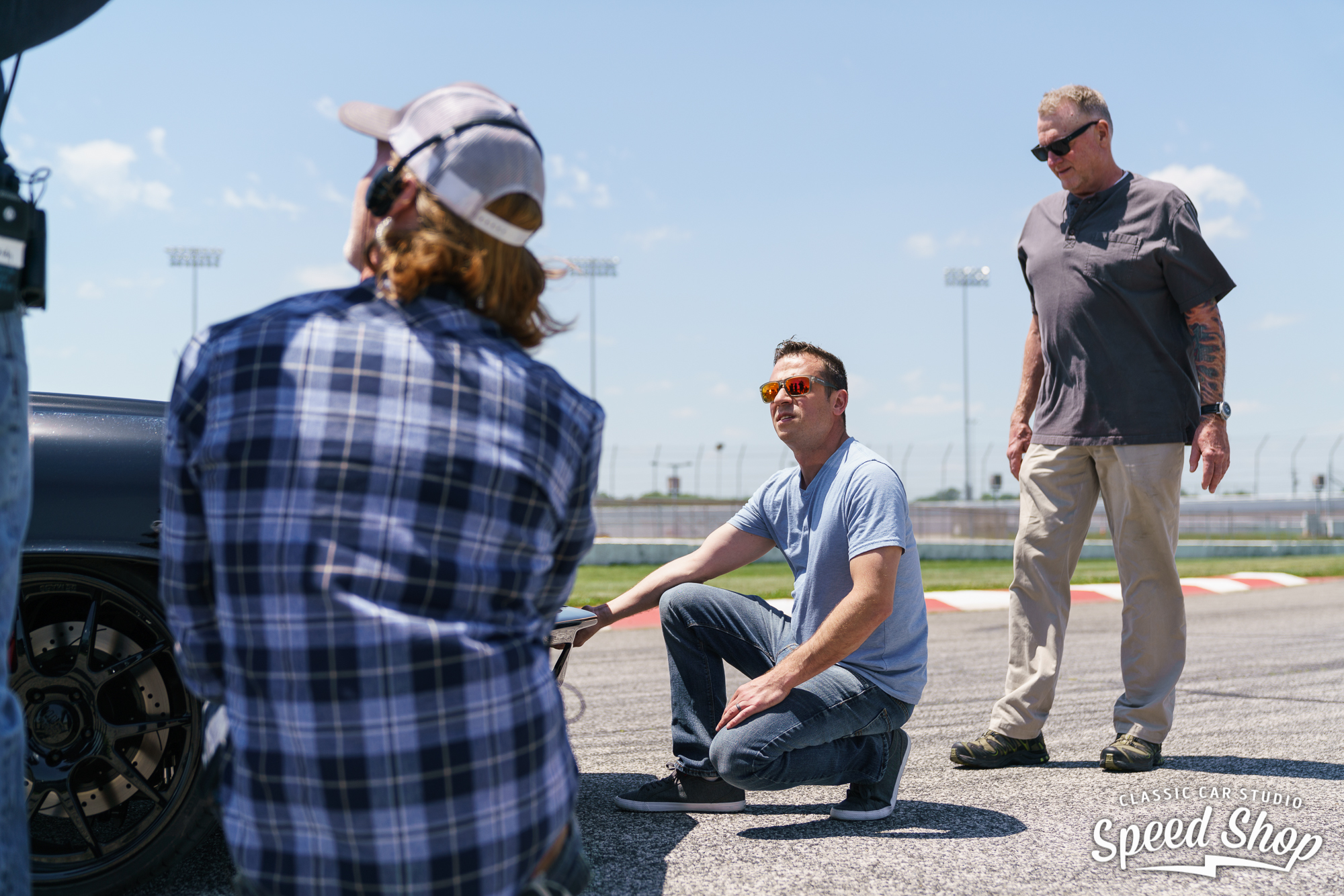 What has most surprised you about the TV show?
I'm not sure I was quite prepared for just how much time everything takes. Between running this company and doing the TV show it turned into a lot of hours worked because I was trying to maintain quality in separate places.
Our guys were also putting in a ton of hours, and I wasn't sure what that was going to do to the morale of the shop, but we pulled off a large number of builds in a very small amount of time. They all ended up being high-quality because our guys pulled together and made it happen. It was incredible to experience that amount of creation and even now we stand back and wonder how the hell we did it. We really don't know. It was just a cool experience to see all these people work together on a daily basis to accomplish everything.
What do you hope people take away from the show?
This is an industry where it's hard to find people who are good with their hands and who can create and build things—and finding these people gets harder every year. Part of the reason for this, I think, is that the education system doesn't really provide a lot of opportunities for kids who might be inclined toward these kinds of skills. I know when I was in school I never knew that this was something I could be doing. I figured I would be in a cubicle somewhere selling life insurance, or maybe I'd be a doctor or a lawyer. I just knew that if I didn't have some kind of corporate future, I'd be a nobody. I really want to inform another generation of kids that they can do this. Let's show kids what's possible. If they want to go to college, great. If not, that's fine, too. They can go become a skilled craftsmen or a tradesperson or an entrepreneur. They can do really well at those things in life.
I also want to show hobbyists at home that they can do this stuff, too. Go buy the tools and learn to weld! Here's how we do this stuff, but it's not about a right or wrong way, so just go figure it out.
I really want our show to entertain people, too, but nobody wants to see grown men fighting, so we've taken all the drama out of it.
Lastly, I wanted people to know that the cars we build here are the real deal. Whenever you watch car TV shows everyone says, "Yeah, the car looks great on-screen but it doesn't run." On our show, I was firm about saying that if we're going to build a car we need to take them out and close a road or put them on a track and drive the piss out of them because this is what we do. This is how we test cars and how we prepare them for delivery to a customer. We test them extensively, and I want to show that process. At the end of the day, we have real customers, and even when the show is over we're still doing legitimately awesome restorations. This testing is all just part of the process, and the show is a way for us to share that with people.
As a business owner, what keeps you awake at night?
I get really anxious if I can't plan stuff out and know what we're doing with internal projects and employees, so it's usually scheduling stuff that keeps me up at the night. I can really drive myself crazy staying up and thinking about all this, so my wife actually recently suggested that I should start meditating, which does help. At some point I realized that I just have to clear my head.
My mind just never stops working, so it's hard for me to stop thinking about the business and what we're doing. We have new customers, new projects, and we're doing a lot of stuff on our builds with new technology like CNC machining and 3D printing that allows us to keep pushing our boundaries and dialing in that next level of perfection. Like I said, though, this is hardly a job, so just being able to wake up and come here every day is pretty exciting—and this excitement shows no signs of wearing off.
Editor's Note: This interview has been edited for content and clarity. All photos are courtesy of Noah Alexander and Classic Car Studio.