You meet the nicest people (and see some cool '80s and '90s cars) at Radwood
Radwood 3, held at Oyster Point in South San Francisco, was not only was the largest one to date, but it took the awesomeness factor to an entirely new level. This is a world where a $1 million Ferrari and a $2500 Cadillac live in harmony. Where the Geo Metro and obscure Alfa Romeos share the same lawn space, and where automotive oddities like the Mazda AZ-1 and BMW M5 Estate wagon (yes, there is such a thing) could possibly mate and have a love child. And while the vehicles of Radwood are a sight to behold, it's those in attendance, both participants and spectators alike, that truly set it apart.
When Radwood was conceived, I doubt its founders knew they'd be creating a cultural phenomenon. We're talking autos, fashion, music, and electronics, along with everything else that was rooted in the 1980s and '90s. Attending Radwood is akin to being thrust into a John Hughes film while holding a boombox over your head and sipping on a Jolt Cola. It's glorious (in ways that Jolt never really was).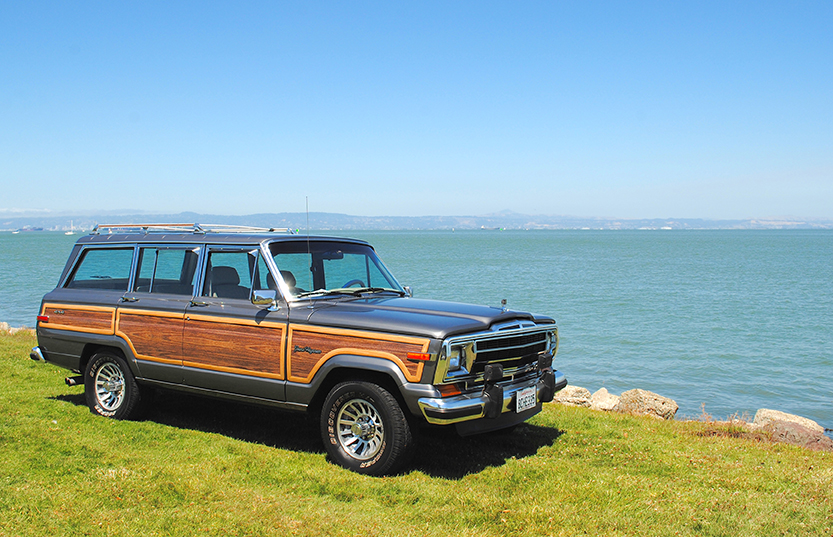 Holding a show like this in the the San Francisco Bay Area also has its perks. There's great weather, amazing food and scenery, along with what may just be the highest cost of living in the United States (that part sucks). What that means, however, is that the folks here have money—a lot of it—and money means access to some amazing machinery. Looking for a Ferrari F40 or Porsche 959? No problem. How about an Escort Cosworth, Maserati Shamal, or Alfa Romeo SZ? Yup, they were in attendance as well. In fact, there were so many rare and exotic vehicles present that trying to take it all in was almost an exercise in futility.
And while the exotics and unobtainium cars were wonderful, it was the oddballs that drew the biggest crowds. Rides like an all-black JDM Toyota Land Cruiser, the tiny right-hand-drive 1992 Mazda AZ-1, Mark Woudsma's "Best of Show" custom DeLorean, or the 1981 Ford Durango of Martin Pond. It's like going to Car Week at Pebble Beach, sans the pompous attitudes and teacup poodles. In many ways, it's just better.
Then there are the people.
Automotive journalist, media celeb, and '80s fashionista Jason Cammisa, showed up with not one but three vehicles from his collection. A stunning 1985 Mercedes-Benz 190E 2.3-16, the rare 1990 BMW 325iT, and his prized 1987 Volkswagen Scirocco 16v, a car he's had for the better part of 21 years. He also brought an original Polaroid camera, for obvious reasons.
Bay Area enthusiast Mike Oroszi also showed up with what is perhaps the finest first-generation Ford Taurus SHO in existence. With perfect interior, paint and just under 46,000 original miles, the world's most powerful front wheel drive sedan for 1989 looked as though it had never been out of the garage. The Yamaha built 24-valve V-6 boasted 220 hp and 200 lb-ft of torque that was sent to the front wheels via a Mazda-manufactured 5-speed transaxle. How's that for international cooperation? For Mike, Radwood represents a much-needed evolution in the car show experience and one that's been a long time in coming.
Then there's Spencer Chaplain, the 22-year old who used Radwood as the catalyst for a month-long adventure around the United States. He arrived in a mint 1993 Cadillac Fleetwood Brougham. Donning alligator skin boots, a pastel shirt/tie combo and carrying a vintage briefcase, the boy looked like a cross between an underage Process Server and a billboard Attorney.
At its heart Radwood is redefining what a car show can be by inviting, and more importantly, promoting individualism. There are no biases here. No one cares about your pedigree, fancy shoes, religion, political views, income, or how you identify as a person. Instead we're talking about a shared passion for a couple of goofy decades that were filled with some of the best (and worst) vehicles ever produced. In regards to where it's going? Honestly, I'm not sure. What I do know is that Radwood has sparked a movement. A movement that's causing people to travel, buy cars, and treat others a little better than they would if it didn't exist. Factor in organizers that are also dedicated to their fans and have forgotten more about cars than most people will ever know, and you have the backbone for an event that may, in fact, grow bigger than anyone could have imagined.