Why the photographers of the Pikes Peak Hill Climb are superheroes
Pikes Peak in Colorado Springs, Colorado, is so high that halfway up the mountain, the trees call their union reps and go on strike. And by the time you reach the top, even the lichens and mosses have tapped out. Practice, qualifying, and the famous Pikes Peak Hill Climb race all begin in the dark, only headlight beams and flashlights lighting up a few feet of rocky ground. It could be any dirt parking lot. What cliffs? What dropoff?
When the sun comes up, it looks you right in the eye. Then, like a cat near coffee and laptop, it tips a cup of light and spills molten gold over everything. The clouds, the rocks, the satin scar of asphalt, every surface that lay sleeping and soft in the starlight comes aflame. It burns away the fog and exposes the city below. 14,115-feet below. Everyone there is still aslumber. Only the racers and crews ever see the sunrise on Pikes Peak. Oh, and the photographers.
To shoot a race at Pikes Peak requires patience and planning. There are no repeated laps to catch a corner if you miss it there first time. No shuttle busses or access roads allow you to jump from apex to apex. There isn't a Ferris Wheel from which to shoot an overview in comfort, or a media lounge to recharge batteries and body. Not only is there only one chance at each shot, you're taking that chance while dizzy from altitude, stupid from sleep deprivation, bundled against snow and rain, and hoping not to bear witness to any driver turned airplane pilot. It is stressful and physically demanding, and yet, a single image from Pikes Peak can tell a story of courage, technology, and skill like no other race on earth.
We spoke with the official photographers of the Broadmoor Pikes Peak International Hill Climb and asked for their favorite shots from the week, and the stories behind them.
Let's start with the boss, Larry Chen. Larry's action and smoke-filled photos of Formula Drift and his self-taught background have won him a loyal audience of automotive enthusiasts. He's been shooting Pikes Peak since 2011, and has been the official photographer of the event since 2017. Larry's pick of pics from the 2018 race starts is a head-on view of the Volkswagen I.D. R Pikes Peak electric car at the line on race day. This car, driven by Romain Dumas, would end up setting a new overall record for the hill climb, a staggeringly fast 7 minutes and 57 seconds, absolutely obliterating the previous record of 8:13 set by Sebastien Loeb in 2013.
H: Larry, this shot is intense. Were there any challenges in getting it?
LC: I was yelled at in the Volkswagen pits by the team manager because I didn't want to risk missing this shot so I was hovering around the car. For a split second I was the only thing in between Romain Dumas and his record with the VW I.D. R Pikes Peak. Aside from that it's so powerful to see the largest budget team ever in the history of the Hill Climb pulling up the line and dodging the crowds just like the scrappy open car trailer team, or even the teams with a single motorcycle in the back of a tiny van. There are few other motorsports where you can compete in the same arena as such a world-class team.
H: How did you get the job of official Pikes Peak photographer?
LC: I've been shooting the race since 2011 and I've really found a second home there in terms of an event that I just can't miss. My first home will always be Formula Drift as that is where I started my career, but I feel like Pikes Peak and the organization really allowed me to shine as a photographer and storyteller. They really are very accommodating to the media, and this sort of freedom lets us be so creative. I am not any more skilled than the other shooters on that mountain, but I think how much I love the actual race shows through the work that I do there. I'm guessing that is why they approached me about this gig two years ago.
H: How did you prep your team for this race?
LC: I yelled at everyone. I prepped myself by getting on European time. [This is Larry's subtle way of sharing that he went straight from the 24 Hours of Le Mans to Pikes Peak].
H: What's your craziest Pikes Peak story, from this year or ever?
LC: I watched a man almost get his head taken off by a guardrail in an old Champ Car. Also I heard someone locked their keys in the trunk of a Toyota Camry at the summit and it had to be towed to a Toyota dealership to get the rear seats taken apart to fish out the keys via a small magnet.
And that last one is a fine lead into the rest of Larry's team. Louis Yio, who was shooting at the summit, and did in fact, lock his keys in the trunk of his Toyota. I would make fun, but the last time I was at Pikes Peak I got my rental car towed and, once recovered, backed it into a tree. Low oxygen intoxication is real, y'all. It didn't stop Louis from getting some incredible photographs.
H: What's this shot of, and why did you pick it as your favorite?
LY: It's Romain Dumas as soon as he was notified that he beat Sebastien Loeb's five-year long record. I think it tells the best story of the team and the event.
H: Where there any difficulties in getting this shot?
LY: In some ways yes, but more for VW than for me. VW had been secretly working for this for well over a year, maybe even two. This was the exact moment they were hoping for and to be able to capture it for them felt amazing. I had a rough idea of the shot I wanted to take, based off of how he was going to hop out of the car, but I didn't expect him to just celebrate on top of it, so I had to move positions quickly to get the photo. No one thought Sebastien's record would ever be broken, especially considering that the road conditions near the summit have been getting worse and worse each year.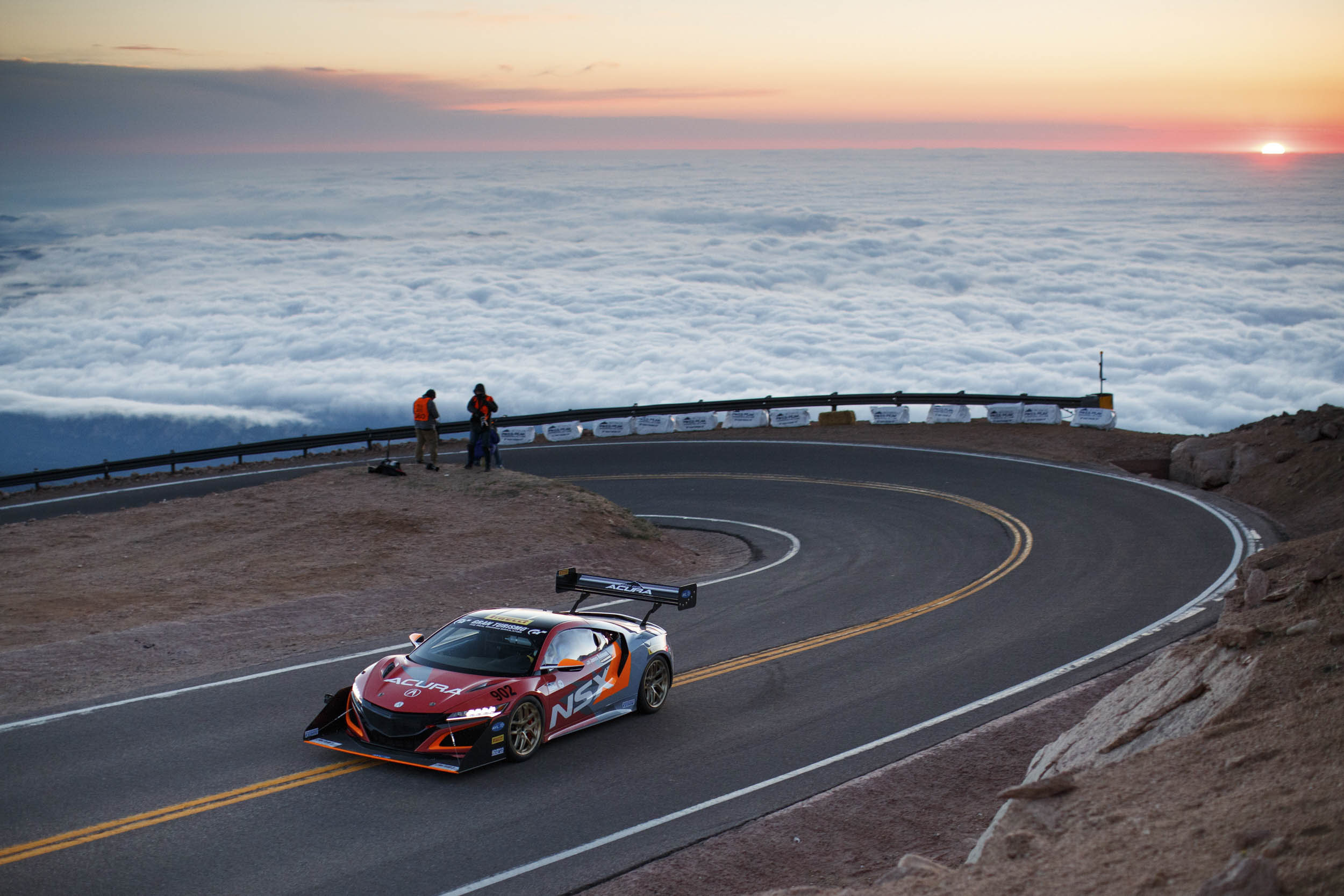 H: How did Larry prep you for Pikes Peak?
LY: He just said it was going to be cold. That's about it. Honestly though, that was enough info.
H: How did the mountain meet or differ from your expectations?
LY: It's almost always colder than I expect it to be because the wind chill can make 40 degrees feel like 25. The altitude always punches me in the face, no matter how much I prepare for it.
H: What is the best gear for shooting Pikes Peak? (Lens, clothing, waterproof bag, extra set of keys for car…)
LY: No extra keys are ever required. Waterproof everything since you never know when it'll snow, rain, and hail.
H: Were there any surprises?
LY: The mountain goats on the track near the peak are cool.
H: Do you have favorite cars when you shoot events?
LY: If it looks and/or sounds cool, I'll enjoy shooting it. Kevin Wesley's Hellcat Challenger was definitely the best sounding car out there and it helped that his car had a pretty cool livery. But the yellow 911 that won in the time attack class, without a livery at all was also cool since it's basically Porsche's decommissioned RR 911 that used to compete two years ago. Also, all the Subarus, because I like Subarus.
Speaking of yellow Porsches, the shot Jr. Sang chose was the Yokohama 991 coming up through the hairpins just above half track in a section called Glen Cove.
H: Why do you like this shot, Jr., and were there any challenges to capturing it?
JS: I love the car and the scenery. This is what makes waking up at 2:00 am worth it. I had trouble figuring out how much zoom I wanted to sort of compress the mountains in the background.
H: If I'm not wrong, this was your first year at the race. How did Larry prepare you?
JS: He told me I was gonna freeze even with three layers on. He wasn't wrong. I didn't have snow gear so I brought boots, three jackets, and thermals. Weather sealed lenses are a plus for sure.
H: And, what did you think of the race and the mountain?
JS: It met almost every expectation. I thought I was going to pass out while up there but I never did. It was close though. I expected some super unpredictable weather and it definitely was. I never felt big hail before so I didn't think it was going to hurt if I continued shooting during the hail storm. It did.
The last (but not least) member of Larry's team is Jason Zindroski. Jason's favorite shot was also a Volkswagen, but a very different machine from the record-setter. He chose a sunrise shot of Manfred Stohl's 1972 Volkswagen Bug, a diesel-powered Beetle shot just below the summit in a section known as Boulder Park.
H: Why did you choose this shot?
JZ: The truth is that every photographer that shoots Pikes Peak does it for the four sunrises you get during practice week. Shooting the actual race is just extra. I like this shot because a lot of things came together at the right time to make it happen. The car came by while the sun was still low in the sky giving that amazing orange glow, we got some cloud cover and because I was at 13,000 feet I was looking down on it, and the clouds nearby rolling up the mountain were backlit by the sun. I had the easy part and just pressed the shutter button at the right time.
H: How did Larry prep you for Pikes Peak?
JZ: Larry asked me last year when he got the job as official photographer of Pikes Peak to help him out and didn't really give me much prep. He told me to bring cold weather clothes, which since I've lived by the beach all my life, meant borrowing a snowboarding jacket from a friend. I think he has trust in the team he put together and knew we could all handle the job.
H: What do people need to know about Pikes Peak?
JZ: Now that I've been around it a few times I see the dedication the teams and drivers have in the race and really do enjoy it. The mountain kicks your butt every year but I think that is expected. The biggest surprise is just how fast a week up there goes. You're so busy each day the time goes by fast.
H: What's your craziest Pikes Peak story, from this year or ever?
JZ: This year during the race my job was to walk from Devils Playground to Glen Cove and the hailstorm hit when I was about a mile from Glen Cove. With thunder loud in the background I decided to take shelter in a storm drain pipe next to the road. I quickly realized that they are called storm drains for a reason and that I am an idiot, as a river of water started rushing down the pipe getting me soaked along with all my gear.
Now, I feel downright silly following up these incredible shots with a cell-phone snap, but of all the danger and trials and triumphs of the race, the moment that stood out the most to me was at the very top, after the last car had finished—in this case down below us, as weather forced a shortened run for the final third of the competitors. The peak of Pikes Peak is a small space, and all the competitors park together no matter if they are factory-backed machines with semi-trucks waiting below or independents who plan to drive their race cars home in the evening.
There is no up and down during the day. You finish the race and you stay at the top until everything is over. It's cold and windy and this year, and it snowed. I don't know who started it. It could have been stunt rider and racer Travis Pastrana? Former MLB pitcher turned racer C.J. Wilson? Indycar driver J.R. Hildebrand? Whoever did it, it began with a Whooomp. That's the sound of a snowball hitting the roof of a McLaren. Suddenly the air was a flurry of tiny meteorites. Rhys Millen aimed for Pastrana and hit NASCAR team owner Ray Evernham, who quickly scooped up a handful from the front splitter of his 1936 Chevy and fired back. "Oiy, my Bentley!" cried Rhys as a loosely-packed sphere exploded against the sides of the factory-backed Bentayga with which he had just beat the previous record for a Production SUV with a 10:49 minute run.
It was sweet and silly and over all too soon as the call came to suit up and head down the mountain. The photo is mediocre, but it showcases the joy everyone felt at reaching the top, no matter what the time to get there, and the continued egalitarian nature of the race, where we get snowed on alike, and all share the same thin air.
See more photos from the 2018 Pikes Peak Hill Climb here and follow Larry Chen and his team on Instagram: @larry_chen_foto, @lusciousy, @highrevphoto, and @jrsang_
Learn more about Larry Chen!