Detroit Autorama is a carnival of real-deal car culture
We'll forgive you for thinking the big North American International Auto Show (NAIAS), held every year in Detroit's Cobo Hall, represents the entirety of Detroit car culture. After all, about 5000 journalists from around the world report on that event, and it's a home-turf show for the Big Three domestic automakers that call the Detroit area home.
While the NAIAS and its charity preview are major economic and social events in the Motor City, if you want to see Detroit's real car culture, you have to come back to Cobo in early March for Detroit Autorama.
What started out many decades ago as a hot rod gathering has become, arguably, America's most important custom car show. No disrespect to the Grand National Roadster show in Pomona or the Goodguys gathering in Columbus, but the combination of speed and style you can expect to see at Autorama is evident in the breadth of vehicles vying for the event's marquee competition—the Ridler Award.
For the Ridler competition, all cars have to be operable motor vehicles and driven onto the show floor under their own power. Sunday night, when the show is over, crowds line the staging lanes to watch the cars as they are driven out of Cobo Hall.
The Detroit Autorama is a judged show, spanning three days, with many categories grouped by age, vehicle type, and level of customization. The very best vehicles, regardless of the category, compete for the Ridler Award, named after Don Ridler, who got the show running in its early days. Most of the Ridler competitors are "checkbook customs," fabricated by North America's best professional builders executing the visions of affluent custom car enthusiasts, though some are owner built. They are typically built to a level you'd expect to see at a top concours. In fact, there are car enthusiasts who compete for both a blue ribbon at Pebble Beach and a Ridler at the Detroit Autorama.
Unlike the Grand National Roadster Show in Pomona, which is about traditional hot rods, the Ridler competition is open to a broad range of cars and trucks. That breadth has a historical basis. When the idea of custom cars really started getting going in the late 1940s and early '50s, builders based in California had no shortage of rust-free Model Ts and Model As to choose from. Customizers in the Midwest, where winter and salted roads take their toll on car bodies, had fewer vintage automobiles to work with. In many cases, what was available were late-model cars that required more radical changes, considering the steel canvases were often rusted away up to the gunwales.
Like a top concours car, competing for a Ridler is not inexpensive. Most competitors have hundreds of thousands of dollars invested in their cars. Half a million isn't a bad estimate. One builder told me that the owner of the car had spent about $300,000 with him on the project, but that was after spending $200,000 on an aborted effort with another builder.
The Ridler award doesn't just carry prestige for the owner. Building a Ridler winner can go a long way towards ensuring a builder or designer's success for years to come. If you aspire to be a Chip Foose or Troy Trepanier, you'll want a Ridler Award on your resume. Just participating in a competitive car, like painting one of the Great 8 finalists, can put a shop on the map.
Judging takes place on Friday morning, when the Ridler Award's Great 8 finalists are announced. Here are the Great 8, in no particular order:
First, we have a green-over-green, two-tone 1947 Ford Sedan Delivery owned by Mel Harbaugh of Ottawa Lake, Michigan. It has a color-coordinated engine compartment and a nicely contrasting light brown interior. Power is provided by a 5.0-liter Ford Coyote "Aluminator" crate engine, mated to an automatic transmission. I'm rather partial to postwar sedan deliveries and their similarly cartoon-shaped commercial panel truck cousins. Better that than yet another '57 Chevy.
The 1969 Chevrolet Camaro ZL1 was a factory built, street-legal, NHRA drag racer. It had numerous chassis improvements and a 500-hp, 427-cubic-inch aluminum-block V-8 developed for Jim Hall's racing Chaparrals. Pat and Debbie Moran of Harrison Township, Michigan, who just happen to own a Chevy store, had their fire-engine-red "ZL69" built as a tribute to those storied Camaros. It has a supercharged GM LSA engine that actually produces about 10-percent more power than the original ZL1, a custom Schwarz Industries chassis, and electronics, interior, and dash from a 2012 Camaro donor car.
Phil and Debbie Becker, of Dwight, Illinois, brought their grey 1932 Ford Victoria Tudor named Legacy. As with many Ridler competitors, it has dozens of modifications done so well that only a '32 Ford Vicky expert could identify.
From Ontario, California, came Robert Chapman's 1935 Ford Slantback, named Insaniti. Chapman says it got its name because of how insanely expensive it is to compete at this level. The car has independent suspension with coilovers and disc brakes at all four wheels. The supercharged GM LS engine has a custom front-drive system for ancillaries. The flawless jet-black paint up top contrasts with suspension, while the drivetrain components and exposed gas tank are made of polished stainless steel.
Novas and Chevy II models from the mid-1960s have been popular with Ridler judges in past years. At first glance, it looks like that tradition continues this year, with a white-and-orange car called Anvil. This sedan is neither of those models, though, it's an Acadian, one of General Motors' Canada-specific models from 1964. It belongs to Danny, Sandy, and Cody Jadresko of Victoria, British Columbia. The Acadian was actually entered in the Pro Street Custom category, appropriate for the 2500-hp, twin-turbo motor under the hood.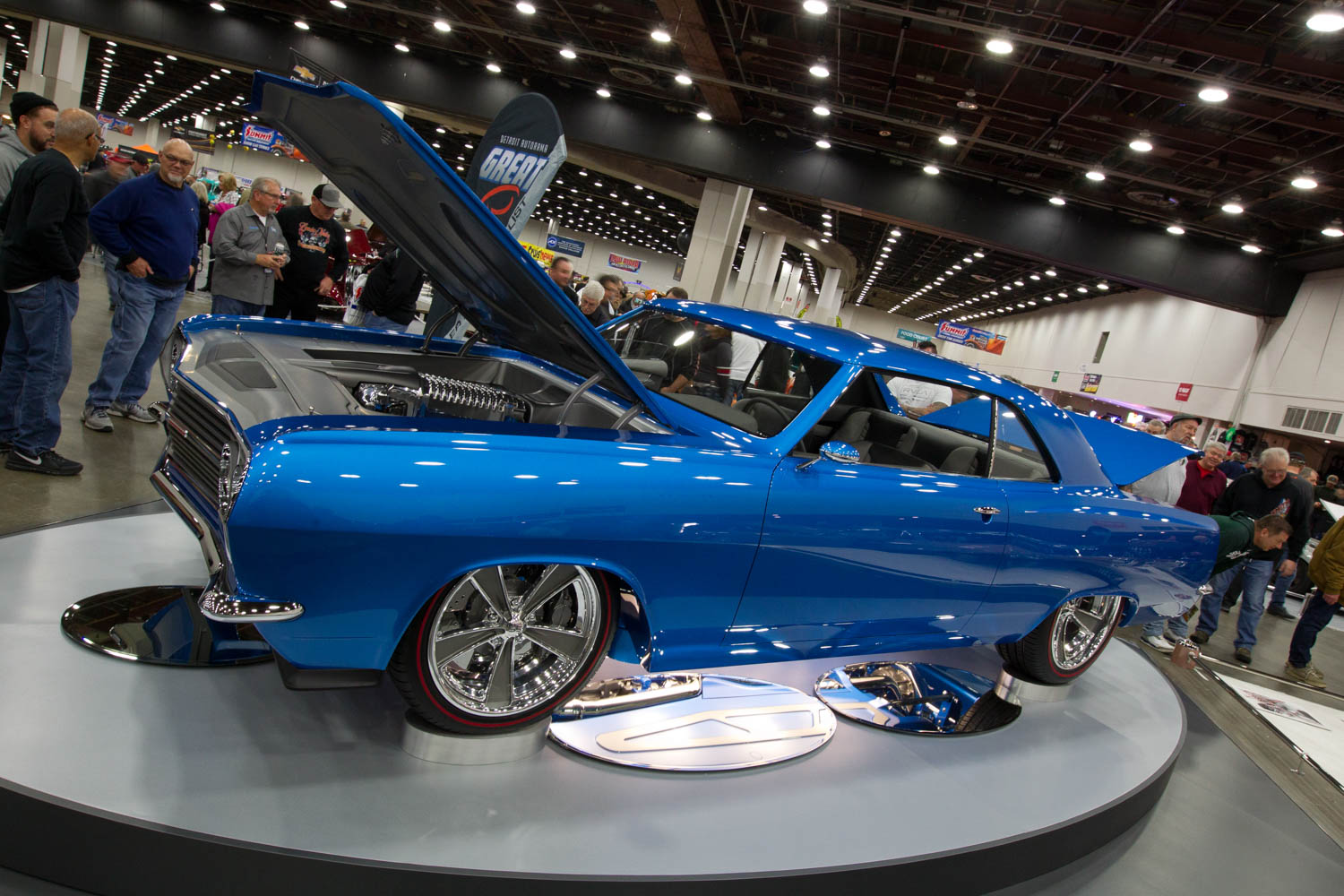 Reflection is a 1965 Chevy Chevelle owned by Sonny Freeman of Lafayette, Louisiana. Freeman provided a helpful graphic diagramming the many changes to the body. The Chevelle is lower and sleeker than the original and finished in a beautiful royal blue. It's built on an Art Morrison chassis powered by a LS7 engine that has 900-hp courtesy of a Whipple supercharger, connected to the rear end via a six-speed Tremec manual transmission.
Quint Walbert's tube chassis 1941 Willys Coupe is so purple that cameras have a hard time capturing just how purple it is. With its big-block Chevy 572 (with 620 hp) and Turbo 400 manual/automatic-valve-body transmission, the Willys is about as traditional a hot rod as you'll find in the Great 8.
Steve Barton of Las Vegas got into the Great 8 with Cadmad. As you might expect from that name, it's a mashup of a 1959 Cadillac Eldorado Brougham with a Chevy Nomad. The resulting station wagon, with a rose-pink metallic body and metallic-grey roof, was stunning—and my favorite of the finalists. It was also the eventual 2019 Ridler winner. The rear floor was lined with strips of exotic wood, a motif that was carried through with trim on the doors and dash. Power is provided by a 632-cu-in big-block Chevy engine with twin 88-mm turbos rated at 1025 hp and 950 lb-ft of torque.
The Detroit Autorama has a broad spectrum of vehicles and interests, from million-dollar checkbook customs to garage-built rat rods, from European exotics to 8-second quarter-milers. There are genuine historic customs and muscle cars, as well as replicas and tributes. Vintage Model A-based hot rods and the latest technology from tuners show up, right along with lowriders and 4x4s lifted so high you can see clear under them.
Autorama is also much more of a grassroots event than the more corporate NAIAS. It was started by the Michigan Hot Rod Association, which still has a strong connection to the Detroit Autorama show, now operated by professional show organizers as part of a circuit of custom car shows across the country. The MHRA and other regional car clubs still make up a critical mass of the people and vehicles at Autorama.
The front section of Cobo's display space features high-price customs from across the United States and Canada, both competitors for the Ridler (which must be premiered at the Autorama) and high-profile winners of other recent shows. Most of the cars up front, whether professionally or owner-built, are there to compete in the Ridler. Owners and/or builders are in discussions with the show organizers many months in advance, providing documentation and photos of the builds.
It's an honor to have your car up front at the Autorama, and some of my favorite cars every year are those that weren't previously known to the showrunners. Other favorites of mine are cars that might not be quite up to the build quality or level of customization expected in the Ridler competition but are indeed based on clever, well-executed concepts. The V-twin-powered roadster featuring many Harley-Davidson allusions and Easter-eggs sticks out in my mind from last year. A copper highlighted "hot rod Lincoln" Model A pickup truck struck my fancy this time around.
Year to year you can see trends developing. For example 1968–70 Dodge Chargers built over modern Mopar mechanicals were almost common this year. There are always going to be a few '57 Chevys, '69 Camaros, and '41 Willys-based customs, but this year there were a greater number of panel trucks and sedan deliveries than years before. Perhaps it's their clean lines or because builders are running out of vintage Mustangs to work with, but Ford Mavericks are getting popular along with first-generation Mercury Cougars.
There were a number of custom cars and trucks painted in medium- to dark-grey colors. That's a trend that started in the early 2010s. Since then some OEMs have introduced similar colors and the look is spreading. Wood also seemed to be popular, with even the fabric roof of a 1920s-era Ford replaced with highly figured sapele.
Beyond the front section, the rest of the main floor is populated with local hot rod clubs and individual car owners. Owners sit in lawn chairs, bench race, and swap car stories with their friends and attendees. Just because they aren't six- or seven-figure customs back there doesn't mean you shouldn't check them out. There are many rare and special vehicles at the show, like one of 100 American Motors Javelin SST cars built for the Trans-Am series.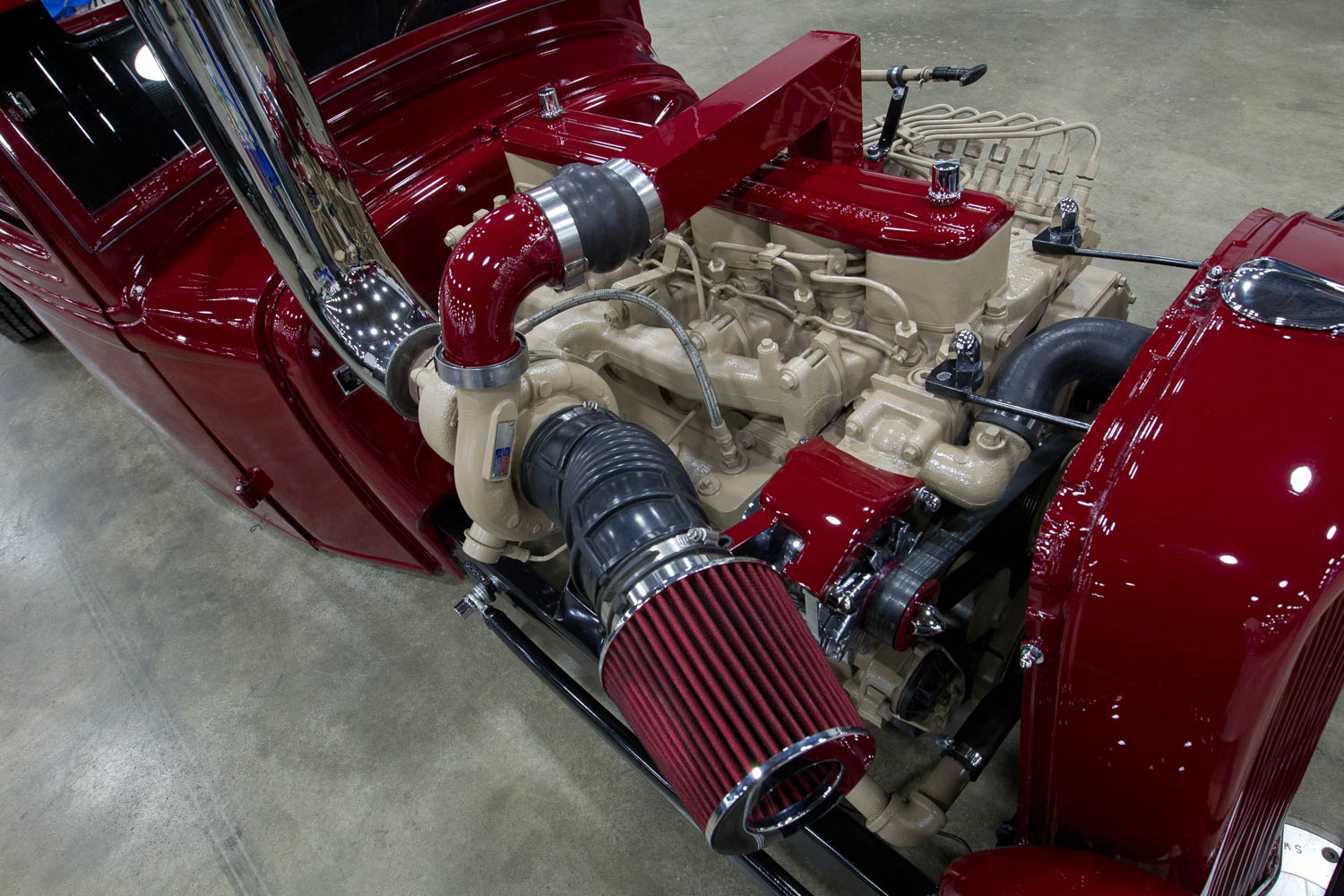 Downstairs, at Autorama Extreme, is where you will find hardcore Detroit gearheads and their rat rods, partially completed cars and trucks, mini-bikes, and other harebrained projects. One trend among the rat rod builders seems to be the use of diesel truck engines.
While there are vendors all over the show, with professional semi-trailer-based displays for Jegs, Edelbrock, and Ford around the periphery of the main hall, the vendors in the back of Cobo and downstairs are more car-culture oriented than the speed equipment or restoration industry vendors in the front half of the hall upstairs. Model cars, action figures, and old car brochures abound. One vendor was selling nothing but hundreds of variants of Von Dutch flying eyeball pins.
The Autorama's general celebration of car culture also includes an extensive display by local car modelers. Area pinstripers and graphic artists put on an auction for the duration of the Autorama, selling items you can watch them paint to benefit Leader Dogs for the Blind.
The Detroit area has an embarrassment of riches when it comes to car events. If you like cars, then the NAIAS, Eyes on Design, the Concours of America, and the Woodward Dream Cruise are all worthy of your time. On the other hand, if you want to get a taste of unfiltered, straight-from-the-tap Detroit car culture, get yourself to the Autorama. You won't regret it.