1989 Cadillac Allante is the best of the worst at Concours d'Lemons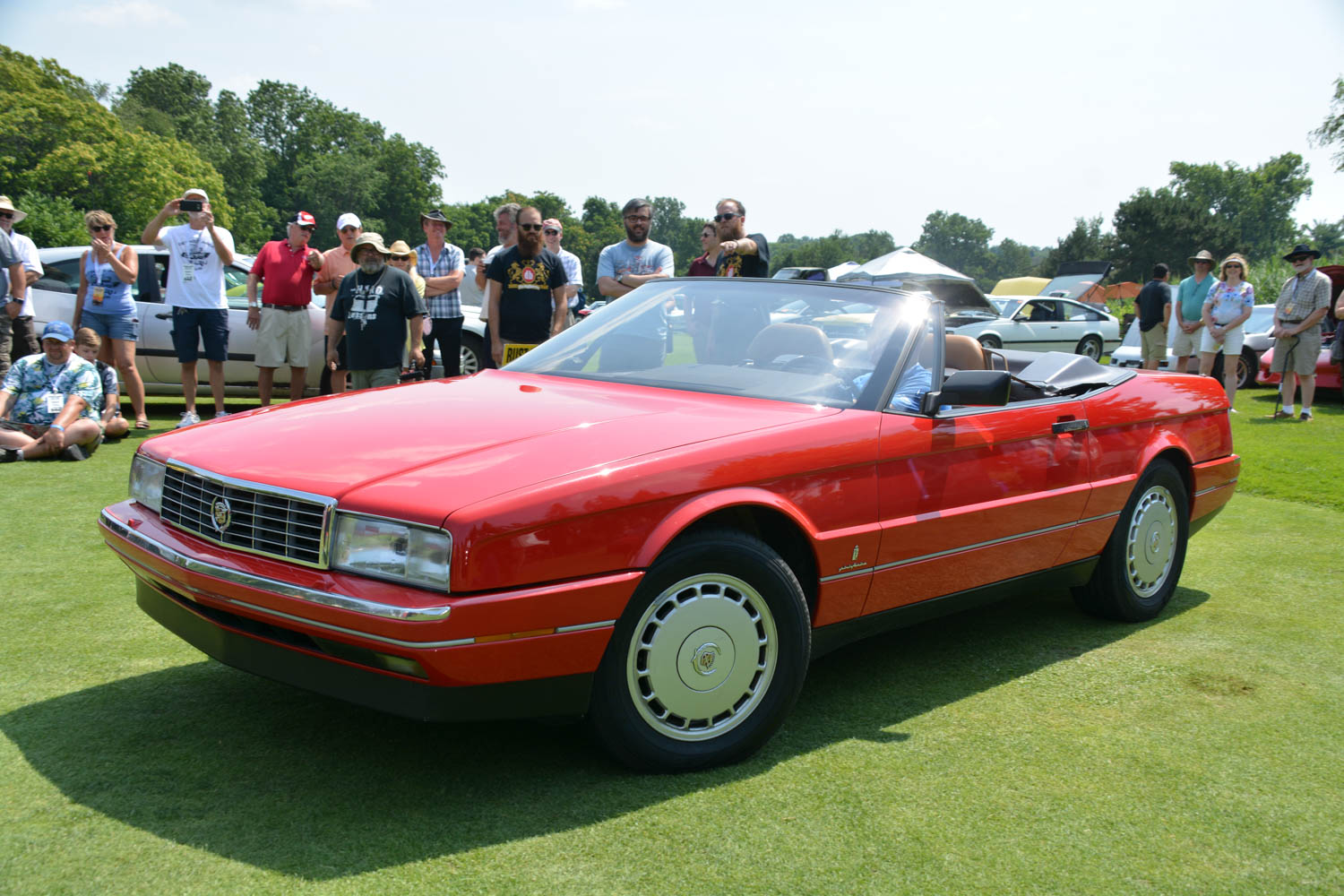 On a manicured fairway near Detroit, pristine Pintos and Allantes took to the hollowed greens of a Concours field. Then Edsels and Yugos followed. A cream puff yellow Buick brought up the rear—literally—when it arrived towing a matching mellow yellow porcelain "throne" mounted on a trailer. It's the call of nature that has become normal behavior at the Concours d'Lemons.
This particular group of automotive misfits took over part of the hallowed grounds of The Inn at St. John's the day before the Concours d'Elegance of America, held earlier this summer.
The oil-dripping, smoke-belching celebration of the oddball, mundane, and truly awful of the automotive world celebrated its fifth year in Plymouth, Michigan, and the growth has been exponential. "It just gets bigger and dumber every year, just like me," says Alan Galbraith, the self-proclaimed "Head Gasket" of the event. "I mean, where else can one appreciate a four-door Corvette, a rare-but-rusty Citroën, and a Corvair side by side?"
More than 100 underappreciated cars registered and a surprisingly large percentage actually managed to make it to the event. Celebrity judges, including Wayne Carini of Chasing Classic Cars and Ken Lingenfelter of Corvette tuning fame, began accepting bribes from owners hoping to be awarded Dollar Store-sourced trophies and goodie bags.
Once the results were tabulated and written down in crayon, the loosely organized comedic awards ceremony began as the best (worst) in each class paraded past an appreciative (sickened) crowd.
A 1989 Cadillac Allante took home the much coveted "Worst of Show" trophy, while the car's owner wished to remain anonymous, lest the somewhat humorless Allante Owners Club boots him. "I need to stay in the club; it's one of the only places I can find parts for the Allante, and I will be needing lots of parts to keep it on the road," the owner said, nervously scanning the crowd for fellow club members. Don't worry, your secret is safe with us.
AWARDS
Worst of Show — 1989 Cadillac Allante, Anonymous
Rust Belt American Junk: GM — 1987 Custom 4 Door Corvette, Gene Swatek, Carleton, Michigan
Rust Belt American Junk: FORD — 1983 Ford F150, Mark Riedel, Beavercreek, Ohio
Rust Belt American Junk: MOPAR — 1984 Jeep Wagoneer, Adam Webber, Madison, Ohio
Rust Belt American Junk: OTHER — 1988 Merkur XR4Ti, Grant Inge, Louisville, Kentucky
Rueful Britania — 1966 Austin Mini, Buck Steele
Soul Sucking Japanese Appliance — 2002 Honda Accord, Brian Bush, Battle Creek, Michigan
Swedish Meatballs — 1985 Saab 900, Ryan Clair, Toledo, Ohio
Der Self-Satisfied Krauttenwagen — 1972 VW Beetle Vandetta, Rich Elliott, Redford, Michigan
Unmitigated Gaul — 1967 Citroën DS21 convertible, "Too Lazy to Register," South Lyon, Michigan
Kommunist Kar — 1988 Yugo GVX, David Lang, Brown City, Michigan
Best Back Seat — 1976 Buick Electra Park Avenue, Stan Ciemerych, Clinton Township, Michigan
Slightly Better Than a Go Kart — 1908 Endurance Racer, Crispin Kangas, Westfield, Michigan
Sight for Sour Eyes — 1979 Ford Pinto Squire Wagon, Debra McDonald, Livonia, Michigan
Participation — 1990 Mazda Miata, Nicholas Vadasz, Linden, Michigan
Chronic Dick Teague Syndrome — 1957 Hudson Hornet, Gerald Mitchell, Southfield, Michigan
Half-Assed, Half-Car Detailing Competition — 1998 Dodge Neon, John Suddeth, Greenfield, Indiana