Mazda's 1985 MX-03 concept was more complex than the new MX-30
Mazda's first EV, the front-drive and Europe-bound MX-30 just broke cover at the Tokyo Motor Show. After Mazda last year promised an internal-combustion ranger extender for such a vehicle, the countdown for longtime rotary believers to get their wish of a new Wankel engine has officially begun. Yet the brand's UK public relations department would also like to remind everyone of visionary Mazda vehicle to wear the MX prefix: 1985's wildly futuristic MX-03 Concept.
The early nature of this mid-engine Mazda concept is important; while the first financial move towards the unsustainable chain reaction that became the Japanese asset price bubble (1986-1991) took place in September 1985, Mazda was ready with its bubble dream car long before the gates opened at the 1985 Tokyo Motor Show:
"The year 1985 marked the 100th anniversary of the production of the first vehicle equipped with a gasoline engine. 'The Culture of Motoring: The New Generation of Vehicles' was chosen as the most suitable theme for an international motor show in this significant year to learn from history and look to the future. The 26th Tokyo Motor Show accommodated a record-high 1032 exhibited vehicles in extended space. Concept cars, the so-called Next-Generation Cars, were displayed by 8 companies. In addition to new technologies such as the DOHC engines, 4-valve heads, AWD and 4WS systems, carmakers showcased many mid-ship and open body models in the exhibits. Meanwhile, Cadillac's right-hand-drive model was the highlight of the popular foreign car hall."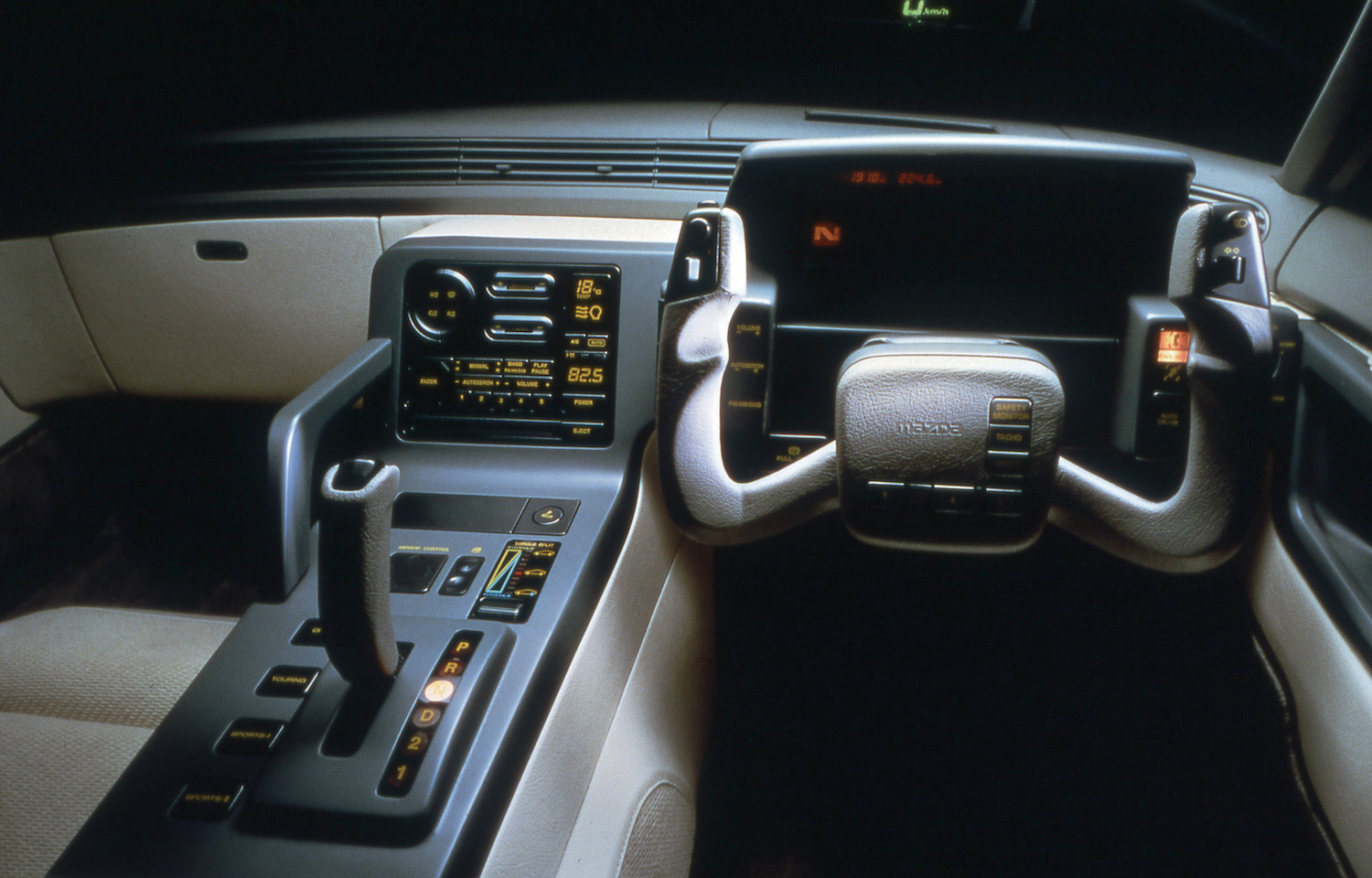 In the middle of all this excitement, Mazda's purely conceptual MX-03 2+2 coupé had a theoretical top speed of 180 mph, thanks to its 1962-cc tri-rotor turbo rotary producing 315 horsepower and its body style granting a drag coefficient of 0.25. Thanks to its single mirror and integrated rear wing, the MX-03 would also reach 60 mph in just 4.7 seconds.
To complete the tech package, Mazda threw in a four-speed automatic transmission, a full-time four-wheel-drive system with an electrically controlled torque-split mechanism, and four-wheel steering, which the driver could enjoy using a steering wheel that put Knight Rider's to shame.
Sharing the hall with the MX-03 and the second-generation RX-7 was Mazda's Familia Turbo Cabriolet, the wild Suzuki RS-1, Isuzu's COA-II and Piazza Convertible, the Daihatsu Mira Cabriolet, Nissan's LUC-2 and Be-1…and a red Ferrari Testarossa, among many others. Talk about an '80s party!