Why the 1949 Cadillac Series 62 still surprises and delights
They say people want the cars they have a personal connection to. If so, there's no way to easily explain why a 69-year-old Cadillac should appeal to someone who is only 48. The car came out of Cadillac's Clark Street plant in Detroit two decades before I was born.
When I was growing up, my dad drove a grab-bag of cheap '70s and '80s cars. I didn't see '49 Cadillacs in the dealerships or going down the street as a kid. I never admired the people who drove them, nor wished I was the one with my hands on that giant Bakelite-rimmed steering wheel, sitting behind that long hood which sheltered a 331-cubic-inch V-8 and crowned by a supersonic winged-goddess ornament. When I was a kid (like every other kid), I wanted a Lamborghini Countach.
But the '49 Cadillac sedan in Hagerty's collection spoke to me as it sat there in the company garage, a fusty old black lump parked among the longer-lower-wider finned dreamboats of the late '50s and the sporty Corvette and Corvair and Chevelle that everyone always wants to drive. It was like the fat kid in gym, the last poor sap to be selected for the kickball team, but I wanted to drive it.
In my adulthood, I've developed a thing for 1940s cars. Why? Well, I like the history of the period, I like the music, I like old-time radio programs like Gunsmoke and Johnny Dollar, and I love the art-deco streamliners that reached their design peak just as the Japanese were sailing for Pearl Harbor and that, after the war, returned to evoke speed and grace without actually being very fast or especially graceful around corners.
They have a kind of 50-mph grace, an unhurried dignity supplied by generous wear-your-fedora dimensions, teardrop lines, and big, low-stress engines that were meant to be felt but not heard. It was before the automakers became obsessed with the slap-dash assembly techniques of later years, with snap-fit pins and blow-molded plastics. Everything is properly screwed, bolted or welded onto a '49 Cadillac. There was still a lot of handwork in the bodies, the seams leaded and ground by workers at Fisher Body's Fleetwood plant and the dashboard a steel and chrome sculpture that more than surpasses in aesthetics what it clearly lacks in safety.
Automatic transmissions were still a relatively new thing, and the '49 is like a modern car in that you pull the long column selector into "D" and just forget about it. The V-8 is a smooth and stout tugboat motor that lacks the thunder and drama of later V-8s but far outclasses the straight-sixes and -eights that dominated the market back then. Suspension and steering that is still in good shape pairs well with the newer radial tires which, if lacking the correct square-shoulder look of bias-plies, does a great job of keeping the Caddy pointed straight down the road. The brakes do a solid job of stopping and the radio even delivers the delights of what's left of the AM airwaves, a little orange pilot light is there in the sweep display to tell you it's on.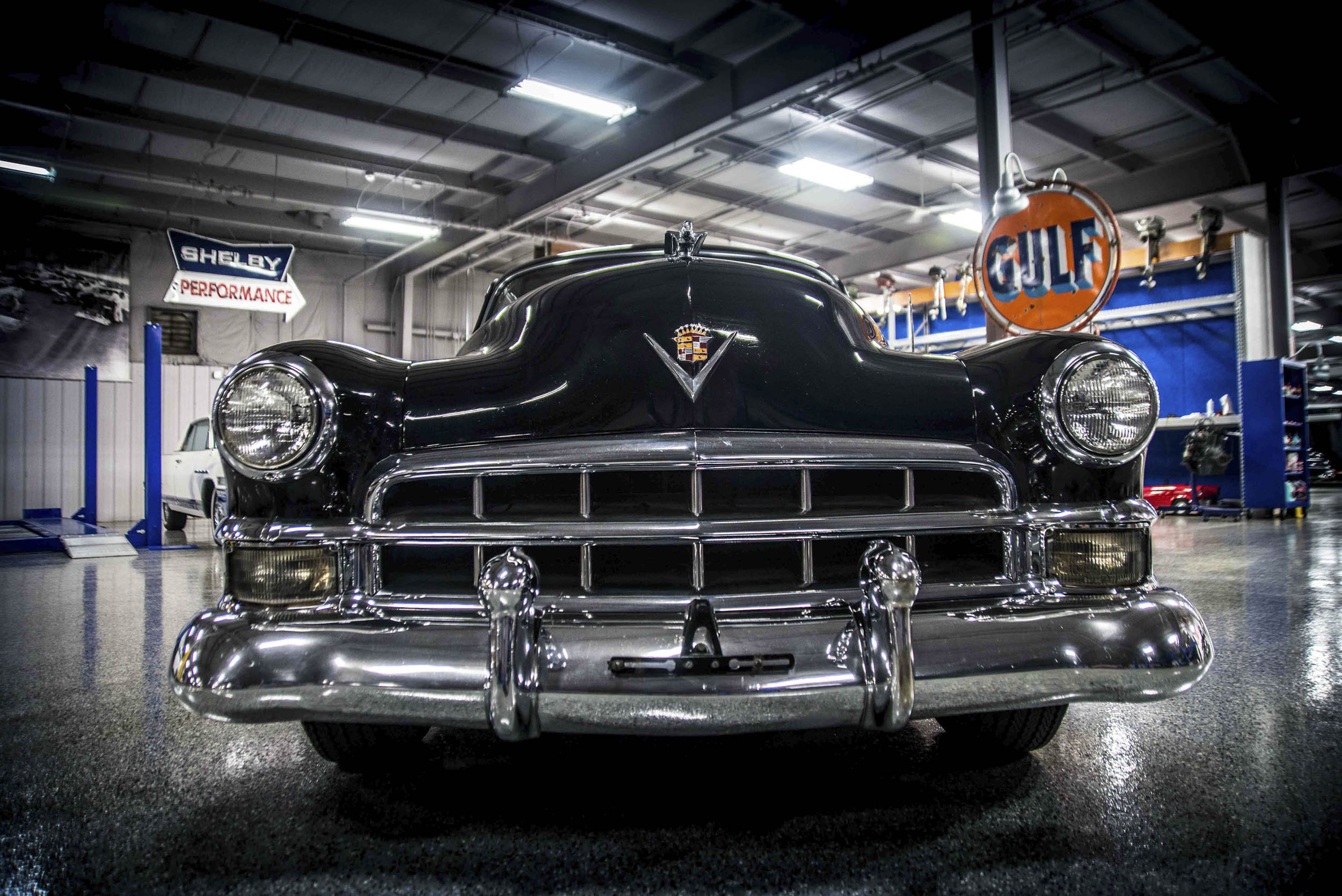 Everyone who piloted the grandpa Cadillac on our group driving tour commented on how nice it drove, which is a way of saying that it drove very modern. It's a highly useable classic for as little as $15,000–$25,000 that you wouldn't mind taking on a road trip, the wind-wings open to scoop up the passing breeze and direct it at your face.
And one thing hasn't changed in 69 years: when you cruise into town in a '49 Cadillac, everyone knows it and approves.