The original mid-engine Corvette was a boat
Excited for the mid-engine Corvette that's finally on its way? Of course you are. But what if we told you that the first production vehicle with a Corvette badge and a mid-mounted V-8 engine was first produced more than two decades ago?
Plot twist: It was built for carving waves rather than tearing up pavement.
In the mid-1990s, the team at Malibu Boats decided to inject some extra machismo into its ski-boat lineup. Considering the vessels' sleek looks and low-slung fiberglass construction, there was no better place to look for automotive inspiration than Corvette. Twice in the last 20 years, Malibu has opted for Corvette engine transplants and styling cues in order to provide the proper attitude adjustment.
The first run of 1997–98 Malibu Corvettes featured the squared-off styling of the C4, while the later 1999–2000 models switched to the oval lamps that mimicked the C5's look. A Callaway-sourced 383-cubic-inch "Super Natural" V-8 producing 400 horsepower provided ample thrust for water skiing, whereas gen-five lookalikes were eligible to receive a 375-hp version of the then-new LS1. There's no question that this boat wasn't meant to be competition for all-out performance machines from Donzi or Skater, but its top speed of 57 mph guaranteed that Bayliners and Sea Rays would be staring at those quad taillamps.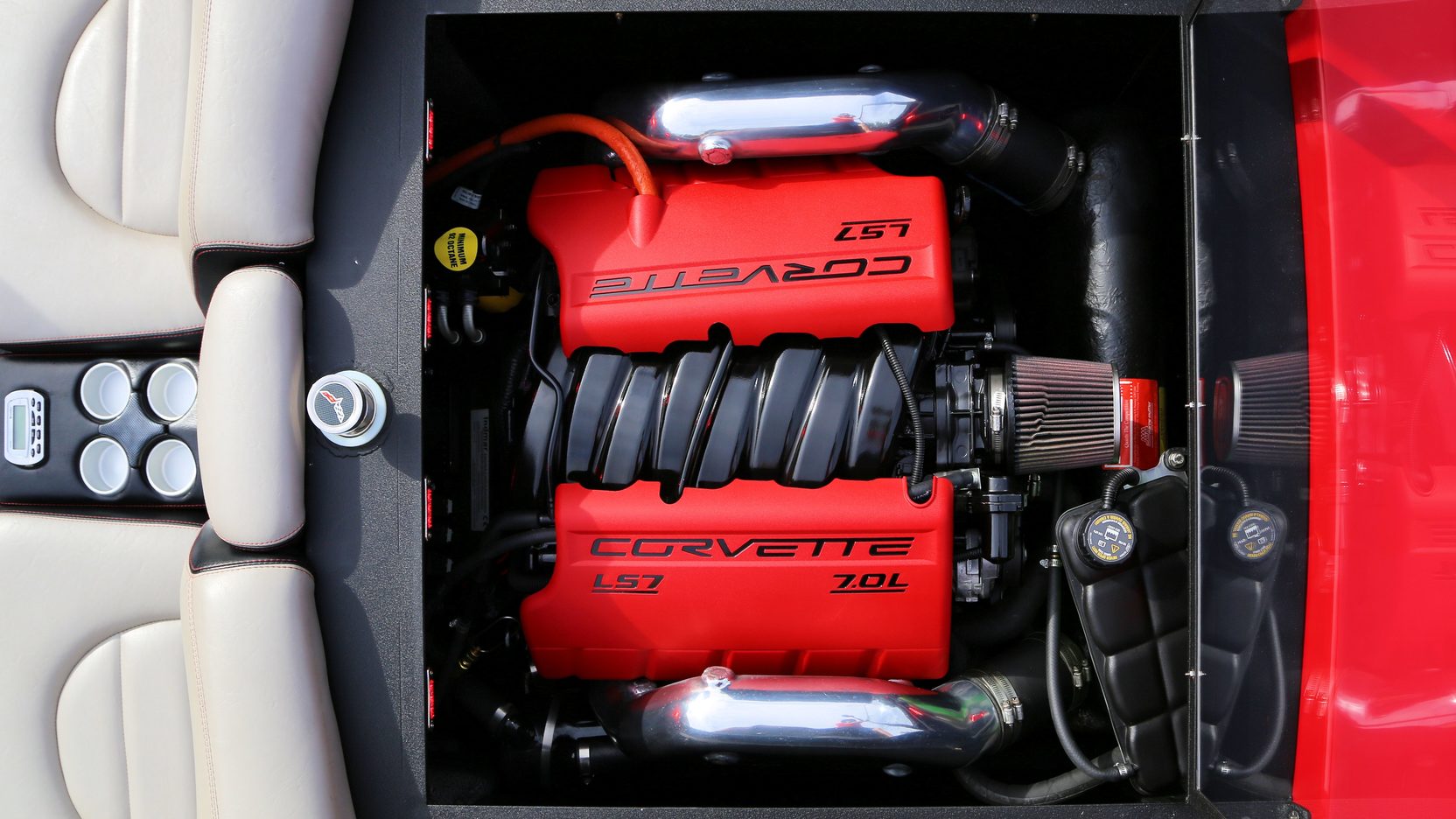 And what's a Corvette without accessories? The purchase price included a matching trailer with the requisite four brake lights, directional alloy wheels, and Z-rated tires (for those trailer-pulling track-day sessions, perhaps?). Combine all of the above with the boat's custom upholstery and a dash layout straight out of its roadgoing counterpart, and it might be easy to forget for a moment which 'Vette you're sitting in.
In 2008, Malibu revived the Corvette model, this time based upon the svelte lines of the C6. The basic "coupe" model provided ample thrust with another 400-hp 383-cu-in engine, and the Z06 upped the ante with the fire-breathing 7.0-liter LS7. This 505-hp mill was plucked directly from the aforementioned super-'Vette and installed nearly as-is into the Malibu, right down to high-lift camshaft and sodium-filled exhaust valves. It was rightfully displayed under a lexan cover in the back, a full year before Chevrolet started doing the same with the LS9 powered ZR1.
When equipped the LS7, top speed climbed to 65 mph and tailpipe count jumped from two to four trumpets out back. Malibu also offered a thumping, eight-speaker Rocksford Fosgate stereo—not that you'd need it with that glorious exhaust note. The matching trailer returned, and once again it (questionably) sported low-profile performance tires wrapped around base Corvette or Z06 rims. Total cost was north of $120,000.
Nine years have passed since the last aqua-Vette, and it begs the question, will we see a proper Stingray revival? One with a naturally-aspirated LT1 or supercharged 755-hp LT5 planted mid-ship would certainly make for a worthy successor to the nameplate. In anticipation of the upcoming C8, the world seems to have forgotten about the first mid-engine Corvette. Perhaps GM will be taking advice from Malibu this time around.