This Studebaker Avanti eats Hellcats
In 1962, President John F. Kennedy declared, "We choose to go to the Moon in this decade and do the other things, not because they are easy, but because they are hard." That same year, the Studebaker Corporation gambled it all on a flagship 2+2 grand tourer with V-8 power. One dream made it, one didn't. Yet Studebaker's moonshot still stokes passion.
Thundering like a Saturn V fallen to earth, Laurie Peterson's Pro-Touring 1963 Avanti sucks down boost and fuel and rockets up the mountainside with alarming pace. It's a chilly British Columbia evening, and a gear-driven Procharger F-1R centrifugal supercharger force feeds the 6.2-liter V-8 cold air. Peterson grabs another gear from the Camaro-sourced Tremec manual transmission and rolls into the throttle, unleashing some 724 hp to the rear wheels, on par with a modern Dodge Hellcat but pushing far fewer pounds. Avanti: Italian for "Forward!" Blown V-8: American for "Let's light this candle."
Quite famously, nearly all the Apollo astronauts drove Corvettes. But in some parallel universe, we've just left the likes of Alan Shepard and Gus Grissom in the dust, scratching their heads and wondering what just blew the doors off their Stingrays.
An experienced mechanic and hot-rod builder, Peterson's custom Avanti is unique and thoroughly sorted. The LS3 V-8 sits well back in the engine bay, taking some weight off the nose. Underneath, the car features an Art Morrison chassis, complete with C6 Corvette-sourced 14-inch rotors and 6-piston calipers. Out back is a three-link rear suspension and a Ford 9-inch rear end. There's a carbon-fiber front splitter. The interior is orange.
"There's not much middle ground," Peterson chuckles, "People either love this thing, or they absolutely hate it."
Fifty-six years after the last Avanti left the South Bend, Indiana factory with a handwritten note in its trunk, you have to think the original Studebaker workers would cheer this ballistic tribute. The Avanti was an audacious undertaking, and building one into a fire-breathing missile puts an exclamation point on the daring of its creators.
Peterson grew up with Studebakers, from the 1963 Hawk GT he learned to drive in, to his father's 1957 Golden Hawk. Roy Peterson, Laurie's father, was a nationally-acclaimed editorial cartoonist, known for the accuracy with which his pen skewered politicians, and both father and son fell for the flowing lines of Studebaker styling. Roy even made a scrapbook of ads when the Avanti came out.
In the early 1960s, however, most of the ink around the Studebaker offices was red. The company had been in dire straits since the mid-1950s, managing to stagger on via a takeover bid by Packard, the American distribution of Mercedes-Benz, and military truck production. A flurry of sales of the Lark compact, introduced in 1959, brought a temporary infusion of cash.
Instead of battening down the hatches and trying to ride out the coming storm, Studebaker's new president Sherwood Egbert was apparently seized with post-war optimism. Egbert, an ex-Marine, was hired on from a chainsaw manufacturer. His mission was to diversify Studebaker and eventually take the company out of automaking altogether. Instead, he surprised everyone. He sketched out a vision on a cocktail napkin and set about making it a reality, defying the cancer spreading through his company, and indeed his own body.
Designer Raymond Loewy was hired and given a nearly impossible mandate: build a complete full-scale model in just forty days. He brought in experienced employees John Ebstein and Bob Andrews, and an Art Center College of Design student named Tom Kellogg. The foursome locked themselves in a rented house in Palm Springs and got to work.
Kellogg would go on to design the original Star Trek shuttlecraft, and his work on the Avanti was likewise cosmic. Instead of a grille, Studebaker's new flagship gulped air from beneath. It was narrow, yet wasp-waisted, featuring the coke-bottle styling that would become so popular through the years. There were no straight lines on the car, the bumpers had the flair of an Art Deco piece, and the hood featured asymmetric badging.
When the car debuted in April of 1962, jaws dropped. Sports Car World said, "The Avanti has caused raised eyebrows among diehards in the American motor industry, who have already nicknamed it America's 'Ferrari'." Road & Track was less effusive, titling its review, "A Lark in a gilded cage."
R&T had put its finger right on the major issue with the Avanti: beneath its avant-garde fibreglass construction was the frame of the compact Lark, a rather elderly design. Still, Ford would later base the Mustang on the Ford Falcon, and few ever complain about that.
European styling, American V-8 power, and seating for four made Studebaker's gamble an attractive alternative to the Corvette or Thunderbird for the family man. And, despite its outdated underpinnings, the Avanti mostly delivered on performance.
Handling was better than average, though more than a step or two behind the likes of the Corvette. The Avanti's real ace in the hole, however, was supercharging. While working for that chainsaw manufacturer, Egbert had been involved in its subsidiary, Paxton Engineering. Studebaker bought Paxton in March of 1962, and that meant you could check a very interesting option box on your Avanti.
The standard Avanti was expensive at $4445, but the 290hp supercharger option was relatively cheap at $210. So-equipped, the Avanti would sprint from 0 to 60 mph in 7.5 seconds, and on to a 120 mph top speed. Drivers could also be confident that their brakes were up to the task, with 11-inch drum brakes out back and 11.5-inch Jaguar-style disc brakes up front. The car could outrun and out-brake almost everything short of a Shelby Cobra.
Then there was the very rare R3 option package. With an engine bored out from 289 cubic inches to 304.5 cu in, this version of the Avanti had well over 300hp. Andy Granatelli, of Indy 500 fame, took Avantis to the Bonneville salt flats and set nearly thirty speed records, including cracking 170 mph in an R3. Egbert himself drove an R3 to 168 mph over the flying mile in 1963. Suddenly, the Avanti was the fastest production car in the world.
It couldn't last. Constant media attention on Studebaker's financial woes had the buying public wary of taking a risk on such an unusual car from a doomed company. Studebaker's own marketing team didn't seem to know how to pitch their creation to people. The Avanti was supposed to lead the way forward, but it was stuck. Egbert's gamble hadn't worked.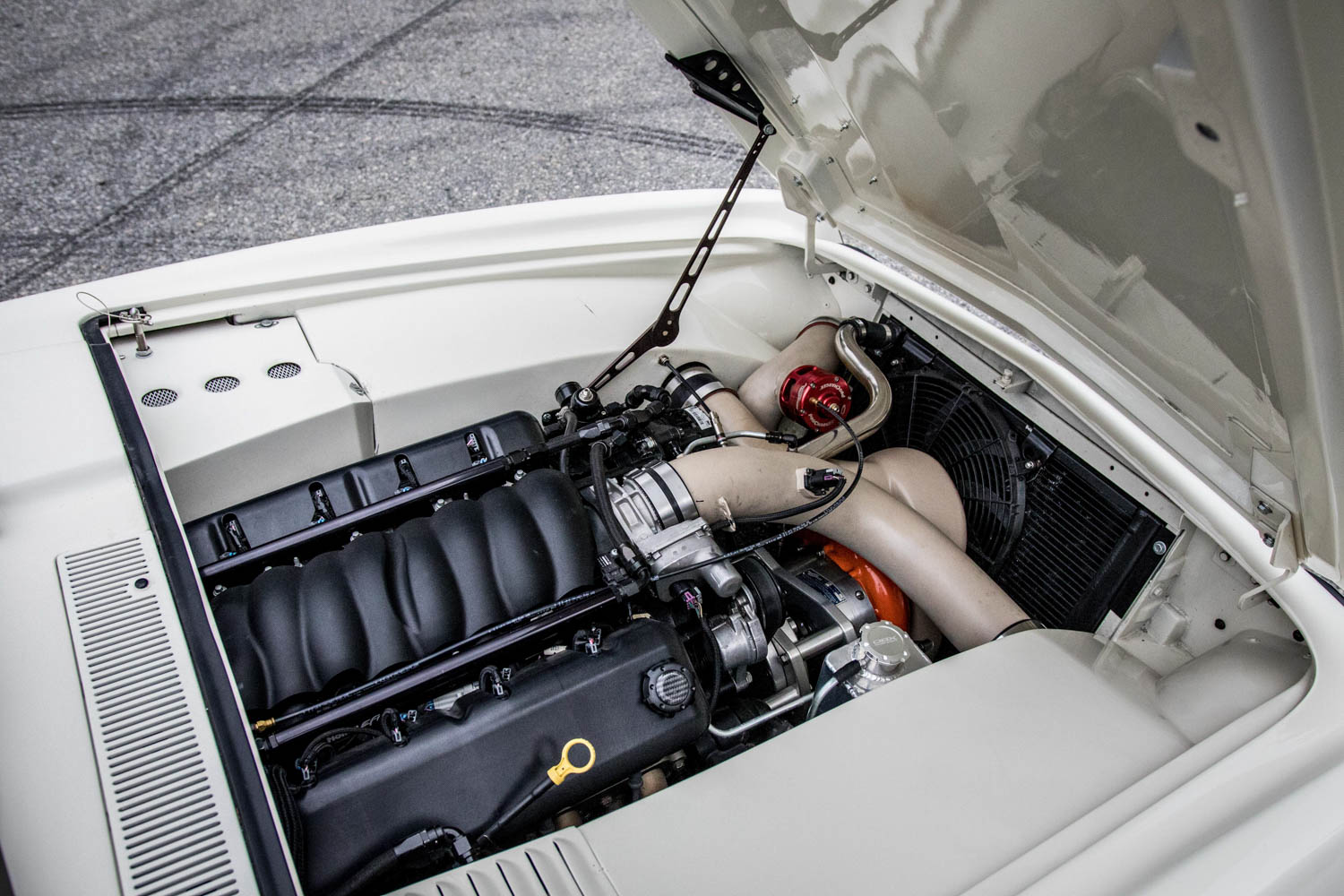 In a sad end to his daring leadership, Sherwood Egbert was forced to resign in November of 1963. He'd been diagnosed with stomach cancer the year before, and his health was failing badly. Studebaker shuttered their Indiana operations in December of that year. Egbert never recovered, and died six years later.
Yet a sliver of his dream lives on here, in this outlandishly modified machine with enough firepower to put the boots to modern age muscle cars. Laurie Peterson's take on the Avanti isn't just his own personal obsession, but a nearly 800 hp love letter to a car that was misunderstood at the time, and is still a bit of an underdog today.
Peterson drops me back off at the foot of the mountain. He's got to get back to his shop, where a '32 Ford build awaits some grinding work. The Avanti rumbles off, then surges forward, coming alive under throttle. It sounds like thunder. It sounds like ground zero at the launch pad. It sounds like one man's giant leap of faith, still driving inspiration after all these years.