The Ford SVT Lightning that never was
We miss the SVT Lightning, the most entertaining pickup ever to bolt off an assembly line. Ford offered the hot truck in two generations: Model years 1993 through '95, and '99 through 2004. A cool concept for a third-generation edition was presented at the 2003 North American International (Detroit) Auto Show, but for a variety of reasons Ford never followed through with production.
The first-gen Lightning was powered by a 351-cubic-inch (5.8-liter) Windsor V-8 tuned to 240 horsepower and mated to a four-speed automatic. While it wasn't as quick as GMC's turbocharged Syclone compact pickup, Ford SVT's first production effort did drive well while maintaining full F-150 towing and hauling capabilities. Since only 11,563 Lightnings were sold over three model years, this truck is on the verge of being highly collectible.
After a three-year break, SVT launched a larger and more potent Lightning for the 1999 model year based on the 10th-generation F-150 pickup. A supercharged 5.4-liter Triton V-8 delivered 360 horsepower, later increased to 380 hp, again delivered via a four-speed automatic. While chassis upgrades even further upped handling capabilities, this truck's claim to fame was all-out speed.  Guinness confirmed its 147-mph top end, making this Lightning the planet's fastest pickup. While the six-model-year production volume of 28,124 Lightnings dented the second generation's exclusivity a bit, these trucks are still highly sought after.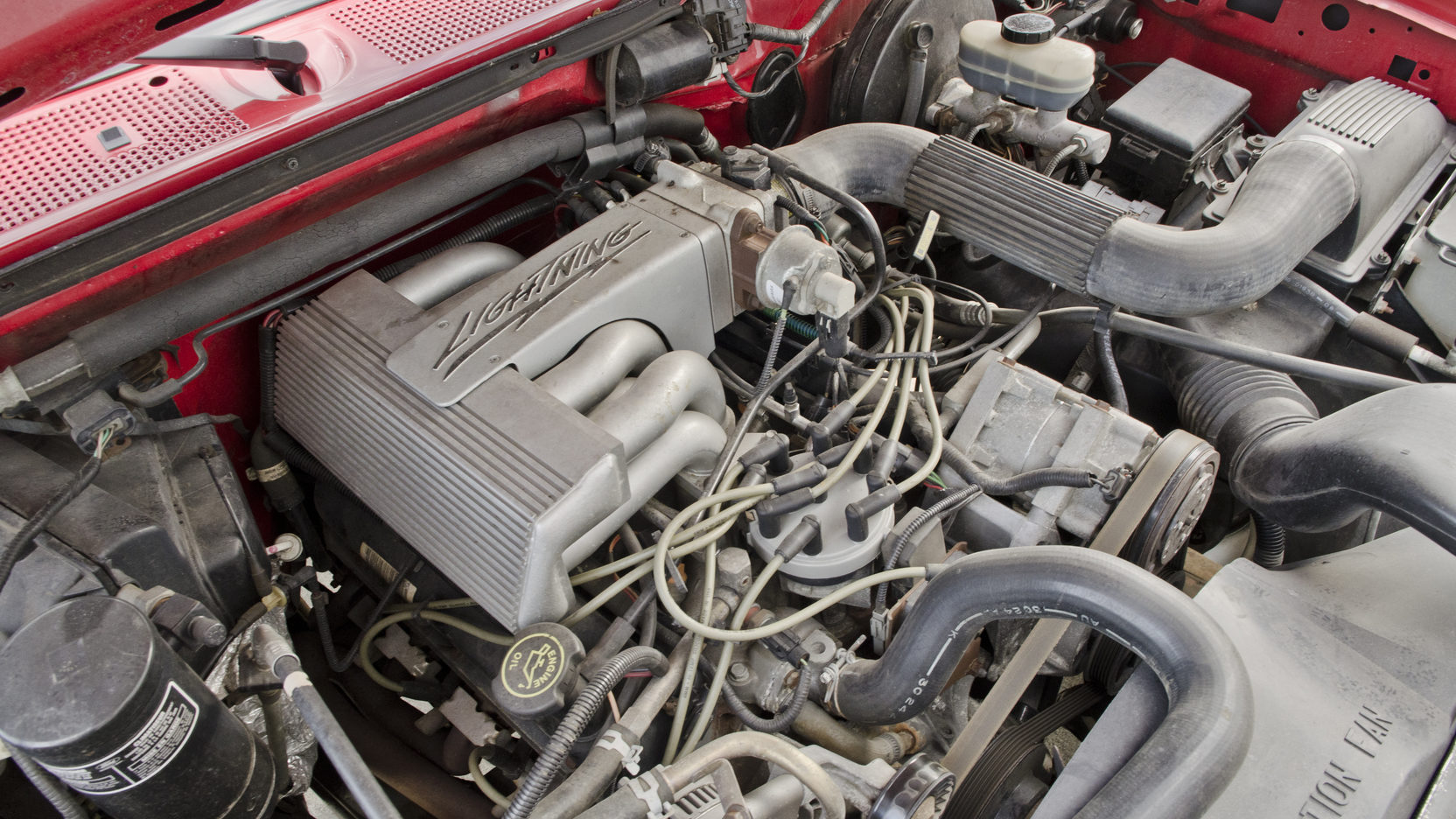 At the 2003 Detroit auto show, Ford celebrated its 100th anniversary with an all-new 11th generation F-150 pickup for the 2004 model year. The tantalizing sideshow was a new SVT Lightning concept boasting several amazing touches. An independent rear suspension borrowed from the Ford Expedition was tuned for ultimate on-road handling. Huge Brembo-vented and cross-drilled disc brakes smiled through 22-inch six-spoke aluminum wheels. Under a scooped hood, a 5.4-liter V-8 was endowed with 500 horsepower and 500 lb-ft of torque, thanks to an Eaton supercharger. A Tremec T56 stick-shaft tranny contained six forward gears.
The most interesting feature Ford previewed was a device called Super Cooler using the truck's A/C system to lower the temperature in a coolant tank to 30 degrees F. On demand, the chilled fluid would be routed through the supercharger's intercooler to remove 20-percent additional heat from the incoming air. SVT boss O.J. Coletti was granted U.S. patent 6006540A for this clever invention in 1999. Naturally, it was nicknamed 'Cool-etti.'
Unfortunately, Lightning never struck three.  Coletti offers insight why: "The new F-150 platform was several hundred pounds heavier than its predecessor. To fulfill our internal requirement to make each new SVT better and more capable than the outgoing model, we would have needed another 100 horsepower. While the Super Cooler helped meet the power requirement, the automatic transmission we had in mind lacked sufficient torque capacity. We presented the concept vehicle with a manual transmission, but SVT's consensus was that the stick was less than ideal for a production model so we placed the program on hold. I am glad that FCA confirmed the Super Cooler's worth by adding a version it calls Power Chiller to their 840-hp Challenger SRT Demon."
By the time FCA took advantage of the technology in 2017, Ford's patent had expired.
After Coletti left Ford, his successors reopened the Lightning portfolio. Ford engineer Eric Zinkosky told a Motor Authority journalist, "In 2006, we started looking at a performance truck built on the new F-150 chassis. It would have required ample power, huge tires, and monstrous brakes. All that posed a huge challenge. To stop a fast-moving truck on a road course, six-piston Brembo calipers would have been required. This drove us to the conclusion that a big, heavy performance truck made little sense."
Ford's Global Performance Vehicle Chief Engineer Jamal Hameedi then stepped in to steer the effort in a more fruitful direction. Zinkosky explained, "None of the original equipment makers were offering a high-performance truck aimed at off-roading. Ford seized that opportunity, resulting in the SVT Raptor which arrived in the 2010 model year to high acclaim."
So, in the world of performance car and truck engineering, when one concept stumbles, there must always be another clever idea to take its place.