The 2019 Scat Pack Widebody is the Dodge Challenger for the Everyman
Hot on the heels of its straight-line-competition-crushing 2018 Demon, Dodge has upped the ante in the performance-car game once again. The new R/T Scat Pack Widebody and Redeye are so good it turns ordinary folks into weekend racers with a push of the starter button. How do we know? Dodge brought a host of new Challengers to Maine and New Hampshire for both street and track testing—and the muscle on tap in either setting packs a serious wallop.
Yes, the Challenger is now entering its 11th year with this look, on a chassis derived from Mercedes-Benz in the 1990s. But it's a silhouette that's kept its appeal, mostly because nobody has embraced the tough muscle look with arms as open as Dodge's.
For my westward 100-mile drive from Portland, Maine, I piloted a 2019 R/T Scat Pack Widebody with the standard Tremec six-speed manual transmission. Power comes courtesy of a naturally aspirated 392-cubic-inch Hemi V-8, which makes 485 horsepower and 475 pound-feet of torque—both best-in-class figures and mightily impressive for a car that lists for under $40,000.
Before I ever drove the car, however, I was curious to see the execution of the fender flares, which add 3.5 inches to the Challenger's width. What I had stuck in my head was Dodge's attempts to augment the Stealth R/T body work with poorly executed "hood bulges" nearly 30 years ago. Unfair, I know. But the flares on these Challengers are slick and well-integrated, including the marker lights, giving the cars a much more menacing appearance than a standard Challenger. They look… track-ready. And the flares' basic function—to house fat new 305-series Pirelli P-Zeroes on 20×11-inch "Devil's Rim" aluminum wheels—serves the Challenger well.
Behind those wheels are SRT-engineered Brembo brakes, with six-piston calipers up front and four-piston calipers in the rear. They provide outstanding, fade-free stopping power. The power-bulge aluminum hood is new, too, with nicely sculpted central air intake flanked by dual air extractors. The illuminated "air catcher" headlamps send additional air into the engine bay.
Inside, the Alcantara-trimmed front seats are emblazoned with the Scat Pack Bee logo, and new dark machined finish covers the instrument panel and console. Compared to a Mustang or Camaro, the cabin feels huge, and the back seats are fully functional for adults. An 8.4-inch central display is home to the Uconnect touchscreen, and there you'll find SRT Drive Modes for Street, Sport, and Track, which allow you to tailor the driving experience by adjusting shift points, steering effort, traction control, suspension settings, and more. A Custom setting gives you full control over each individual setting.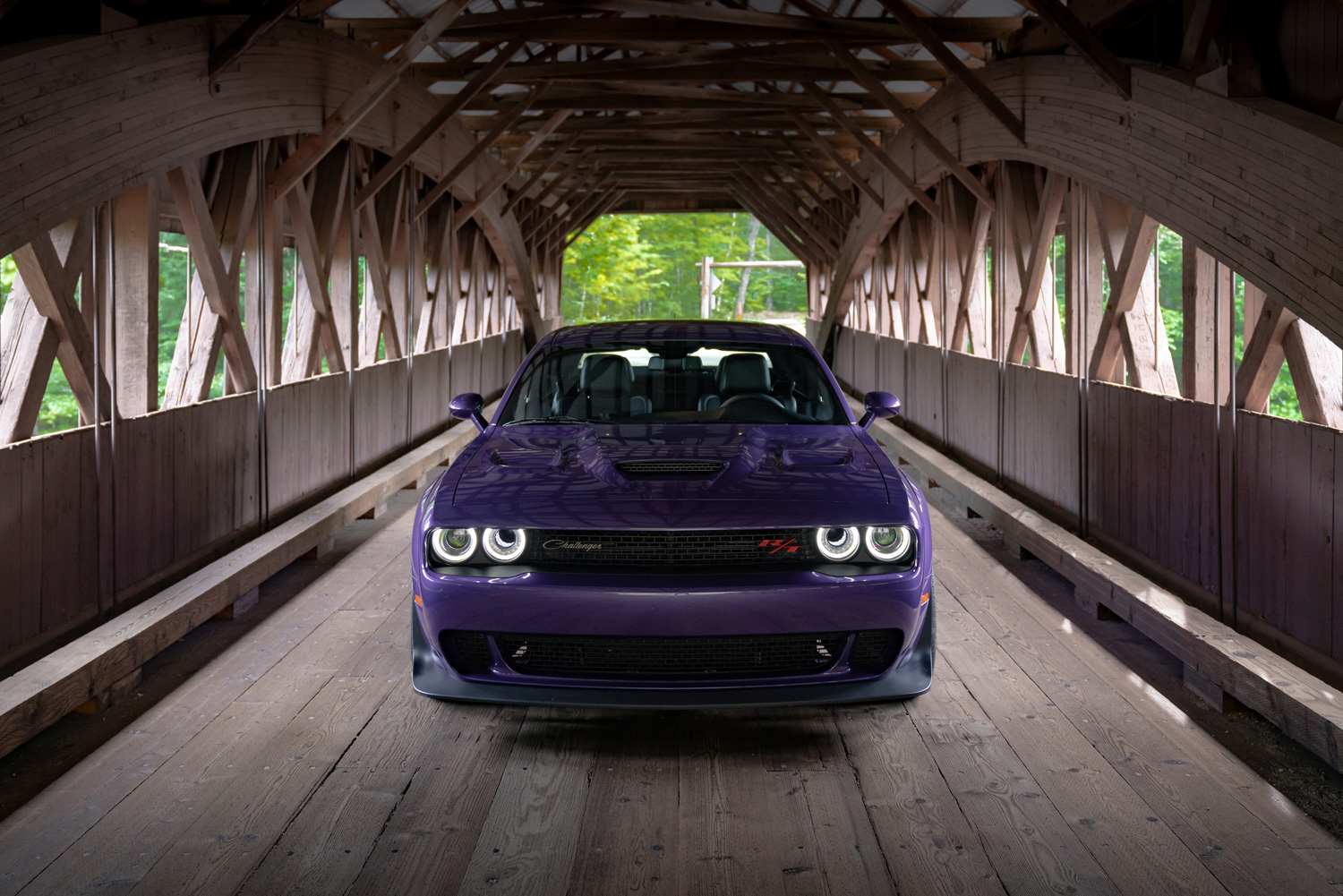 The exceedingly cool SRT Performance Pages give you on-demand metrics of everything happening in, on, and to the car, including a g-force heat map, full gauge display, various timers (reaction time and elapsed times for 0–60, 1/8-mile, 1/4-mile) and a real-time dyno.
On the road, the R/T Scat Pack Widebody is as mild-mannered as you need it to be, happy to meander the curvy but slow-going backroads of central and western Maine. Whatever road noise isn't diminished by sound-proofing is muted nicely by the easy-going burble of the big unstressed engine. Or you can swallowed all sensory input whole with a quick stomp on the gas as the revs climb and the burble turns to a roar. It's clear this car would be easy to live with Monday through Friday.
On weekends, however, the Scat Pack will positively shine as a corner-carving, track-attacking machine. That's thanks to the Widebody treatment, which, along with the bigger tires, brings stiffer front springs, retuned shocks, SRT-tuned adaptive dampers, and larger sway bars front and rear. Rounding out the package are a front splitter and rear spoiler borrowed from the Hellcat, which adds more downforce. The result is a big car capable of surprising you at literally every turn. In real-world terms, it's good for two seconds per lap—12 car lengths—over the standard R/T Scat Pack.
And lucky for me, the undulating 2.5-mile, 15-turn Club Motorsports race track in the White Mountains of New Hampshire was my destination. Dodge had several Widebody Challengers waiting for us at the track, including the 797-horsepower Hellcat Redeye (up from last year's paltry 707-hp Hellcat) and R/T Scat Packs, with all but one equipped with the TorqueFlite eight-speed automatic.
Throughout the afternoon, I was able to jump from car to car, which made for some fun seat-of-the-pants comparisons. As you'd imagine, the new Redeye—effectively the evil lovechild of a Demon and a Hellcat—is the faster of the two. Front-straight speeds easily hit 130 mph vs. the R/T's 115 mph, and the Redeye's extra oomph meant there was no drop-off in speed while attacking the track's big hills. But thanks to its 2.7-liter IHI supercharger, the Redeye carries about 200 more pounds over its front wheels than the R/T Scat Pack, so it never felt as nimble nor as easy to master. The power-hungry among you may crave that challenge, and for a hair under $70,000, you can have at it.
Conversely, when pushed, the Scat Pack instantly behaves in a more balanced fashion, feeling more settled and up to the task of being pushed. It sounds odd to call a 4500-pound car forgiving, but that's what you notice as you turn lap after lap, trying to learn an unfamiliar track and an unfamiliar car all at once.
I tried one session in the manual-equipped R/T, but throwing the added challenge of rev-matching and heel/toe downshifting into the mix was too much and I failed at it. The rev-matching automatics are so smart that there's really no need to even engage the paddle shifters. Instead, I was happy to leave the shifting up to Dodge while I focused on finding the line. Club Motorsports is a lovely track that flows, one turn setting you up for the next, and each session behind the wheel of the Scat Pack got me that much closer to mastering it. (Or at least feeling like I was.)
No, it's not the most powerful Challenger on the market, and it won't top 200 mph like the new Hellcat Redeye will. But for my money, the R/T Scat Pack Widebody, with all its naturally aspirated power, with all its intelligent nannies, with all its excellent SRT goodies at all four corners, is the pick of the 2019 Challenger litter.