Seven generations of the Ford Ranchero
Way before the Chevy El Camino and Ford Ranchero, the idea of car-meets-truck can reasonably be attributed to Hudson, whose Terraplane Pickup Express of 1934 was more of a car with a bed than an actual pickup. Studebaker followed with the 1937 Coupe Express, but it was Ford Australia that took things to a whole new level.
Ford's Model T pickups served as both car and truck from the teens, and the hood, grille, and front fenders were the same on Model A sedans. The designs didn't clearly diverge until 1936. Meanwhile, Aussie farmers requested a vehicle in which they could take their sheep to market and, on Sundays, their wives to church. The result was a Ute—a Coupe Utility "extra cab" sedan-based pickup.
Ford also built Roadster Utilities in Australia until 1937–38, but Coupe Utilities continued until the end of Australian production in October 2016. Ford Australia's 1956 model shows what a prior generation looked like, but the 1957 Ford Ranchero would be the first modern American Ute.
Ranchero production was modest, with 508,355 sold in 22 years. The best years were 40,334 in 1972 and 45,741 in '73, but sales were usually half that. The rarest model is 1958, when only 9950 left the factory—fewer than half the 21,696 sold in the launch year. Luckily GM jumped on the bandwagon in 1959 with the outrageous Chevrolet El Camino, and Ranchero sales rebounded 50 percent.
Both Ford and Chevrolet Coupe Utilities were based on two-door station wagons, which provided long doors, a long bed, and a built-in tailgate. The downside of both designs are removable panels in the beds which weaken as the body flexes—especially under heavy loads—as does the back window seal. American Utes eschewed the Australian 12-inch "extra cab" interior, which didn't appear on U.S. pickup trucks until 1973.
There are seven models of Ranchero, based on corresponding sedans, with Courier Sedan Deliveries built until 1965. Later 1960s Rancheros can be found with muscle car power trains, including 360-horsepower, 428-cubic-inch Cobra Jet and 375-hp, 429 Boss motors.
Introduced in December 1956, the base Ranchero was sold as "More than a Car, More than a Truck!" It was based on the 116-inch wheelbase two-door Ranch Wagon and Courier Sedan Delivery and could carry more than an F150 pickup. The Custom included Fairlane trim, two-tone paint and options and both variations were available with 223-cu-in six-cylinder engine or 272- and 292-cu-in OHV V-8s. The 1958 Ranchero was almost identical, with four headlights and different side trim, but Ford dropped the 272 option and added the larger 352. For 1959, the wheelbase grew to 118 inches, like all Ford sedans. Only the Custom was offered with a 7-foot bed and 26 colors, 15 of which were two-tone combinations.
Facing a recession and a compact car boom, Ford shrank the 1960 Ranchero to the Falcon's 109.5-inch wheelbase, with an 85-hp, 144-cu-in six-cylinder engine. A 101/170 six was added in 1961, a 164/260 V-8 in 1963, and a 200/289 V-8 in 1965. Two- and then three-speed automatics were available, along with a three-speed manual. Like the Falcon, the 1964-65 Ranchero grew larger, with sculptured side panels, and offered a Sedan Delivery.
Basically a one-year model, the 1966 Falcon and Fairlane shared the same chassis. The 1966 Ranchero used the Falcon front clip, though late-1966 cars had the Fairlane clip with stacked headlights. The Falcon name was dropped for '67 and the Ranchero became the Fairlane Ranchero with a 113-inch wheelbase, and 500 and XL models. Muscle options appeared, and beyond the 101-hp, 170-cu-in six-cylinder engine and 120/200 six-cylinder, were a 200/289 V-8 and 315/390 V-8. Both three-speed automatic and three-speed manual gearboxes were offered, along with dual-circuit brakes.
Ford added the Torino to the Fairlane line in 1968, which became the basis for the Ranchero, complete with Fairlane 500 and Torino GT options. It was longer and wider, with four horizontal headlights and four instrument pods with a clock/tachometer option. Muscle car wars added a string of V-8s to the standard 150-hp, 250-cu-in six-cylinder. The 200/289 V-8 was replaced by the 220/302 V-8 in 1969, but the 315/390 V-8 and 340/428 V-8 were available in both years. The new 351 Windsor V-8 appeared in 1969, with 250 or 290 hp, and a new FMX automatic transmission. Options included air conditioning, power front disc brakes, bucket seats, console, rally wheels, hood scoop, and vinyl top.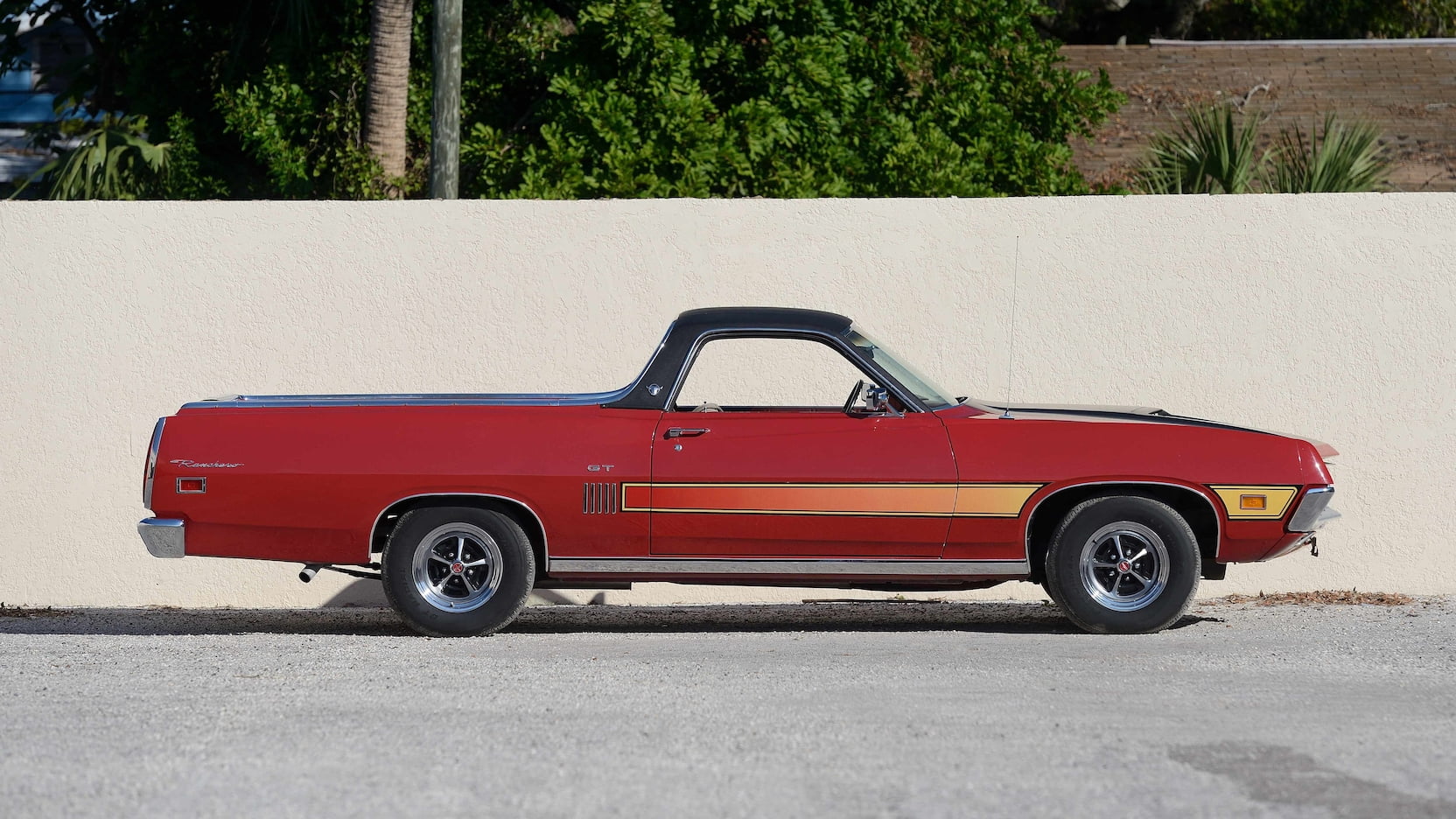 The Ranchero assumed a coke-bottle shape for 1970 with a curved grille. The base engine remained the 150-hp, 250-cu-in six-cylinder, but V-8 options included the 220/302, 250/351, and 290/351 V-8 engines, 265/390 V-8, and 335/428 and 360/428 Cobra Jet V-8s. In addition, two 429 Cobra Jet or Super Cobra Jet Ram-air engines offered 360 or 375 hp, with "shaker" hood scoops. A new Squire model featured woodgrain sides (like the LTD station wagon) and hide-away headlights were optional.
The Ranchero underwent a major styling change with an oval grille and heavier sculptured design on a separate frame. The 500 was now the standard model, with GT and Squire optional. Engines "lost" power with net measurements and 8.5:1 compression, and included the 98-hp six-cylinder, the 140-hp, 302-cu-in V-8, both Cleveland and Windsor 351 V-8s—with 163 and 153 hp—and a new 172-hp Cleveland 400 V-8. The 212/429 V-8 was offered through 1973 and the 224/460 V-8 from 1974–76. A heavy 5-mph front bumper was fitted in 1973 and a rear one added the following year. The 351 V-8 Cobra Jet GT could be ordered with a four-speed through '74.
When Torino production ended in 1976, the Ranchero was restyled on the 220-inch wheelbase LTD II frame, with an exaggerated 3-foot long front overhang and stacked headlights. Ford emphasized luxury, but a striped GT model was offered. Engines included a 135-hp 302 V-8, 150/351 V-8, and 173/400 V-8. Ford began to move into light trucks with the Courier and upcoming Ranger in 1983, but Chevrolet's downsized El Camino lasted until '86.
Rancheros have never been as popular as El Caminos, but share the same virtues and vices, being comfortable and quick but prone to leaking and with limited ground clearance. Collectibility is always dependent on condition, and the rare high-performance variations are prized.