10 reasons why the Ford Edsel floundered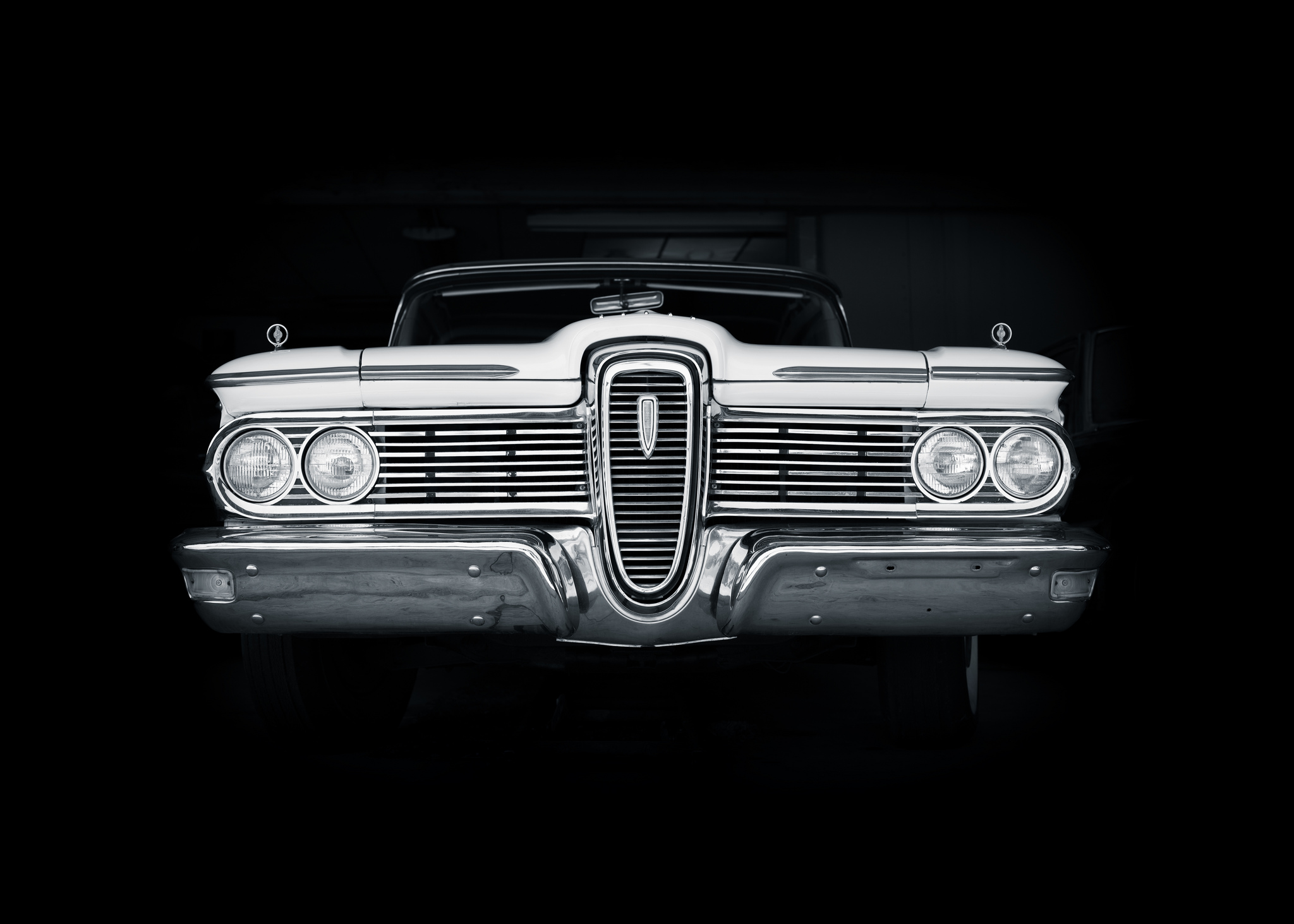 Had Edsel survived longer than three model years, we'd be savoring birthday cake topped with 60 candles on September 4. That's the day, in 1957, when Americans got their first look at the highly anticipated Edsel lineup; a promotion television show would follow about five weeks later. But what Ford Motor Company promoted as "the car of the future" instead became the poster child for commercial failure.
The Edsel's appearance usually gets the blame for the brand's failure. That didn't help, but there's more to the story. Looking back, it's clear that the deck was stacked against Edsel. What follows are 10 reasons why the program crashed and burned in only 24 months:
Bad timing
Economic recession beset the U.S. only a few weeks after Edsel's launch. At least five other upscale brands—DeSoto, Hudson, Nash, Packard, and Studebaker—would succumb as buyer preferences shifted smartly toward economy cars. During the late 1950s, Volkswagen's Beetle gained momentum thanks to its cuteness, cheap price, and exemplary fuel economy.
Insufficient market research
New Edsels were shipped to dealers sealed under wrap to heighten the surprise on announcement day. Ford conducted virtually no test marketing with actual consumers to bolster its conviction that this was the right car at right time. That mistake ended up costing the company $250 million, which is the equivalent of 10 times that amount in 21st-century dollars.
Confusing pricing
The new Edsel Division was part of Ford's grand plan to expand its business into five distinct operating units. In addition to Edsel, the Ford, Mercury, Lincoln, and Continental brands, each had separate sales and marketing organizations. The intention was for Edsel to slip neatly between Ford and Mercury. Unfortunately, the gap between the most expensive Ford and the cheapest Mercury was only $136, much too narrow for the four Edsel series launched for 1958 to enjoy any elbow room, particularly after optional equipment was factored in. Customers inevitably suffering sticker shock sought refuge in well-established brands and more sensible pricing structures. In essence, Edsel's most direct competition was Ford and Mercury cars.
Shaky dealer organization
The Edsel retail organization initially consisted of 1,187 exclusive dealers, part of Ford's effort to match Chrysler's 10,000-dealer count while moving closer to GM's 16,000 retail stores. When the Edsels proved tough to sell, many dealers folded or added Ford or Mercury lines to stay afloat. The parent organization left these businesses in the lurch with insufficient marketing and promotion help to move the metal.
Lack of distinction from other Ford Motor Co. models
While Edsels did introduce a few innovative features—such as the "Teletouch" automatic transmission shifter positioned at the center of the steering wheel—most chassis and powertrain components were similar to hardware sold throughout the Blue Oval empire. Since they were built in existing Ford or Mercury assembly plants, no valid claims could be made about superior craftsmanship.
Quality and reliability issues
Surveyed owners compiled a laundry list of problems, including faulty welds, leaky trunks, and power steering failure. The complex Teletouch shifter was a service nightmare, in part because control wires were routed too close to hot exhaust system parts. Because assembly workers had to use different tools to install some parts distinct from mainstream Ford and Mercury models, it was common practice for dealers to receive unfinished Edsels with the disparate parts chucked in the trunk. Like every all-new car, start-up issues were inevitable during the initial manufacturing months.
Exterior design
Edsel design chief Roy Brown intended the vertical grille feature to be much more slender than what resulted in production. Engineers enlarged his grille, insisting that the original design wouldn't have delivered sufficient cooling air to the radiator. The resulting shape was commonly called the horse collar, an Oldsmobile sucking a lemon, and a toilet seat. Improvements were made for the second model year and the vertical grille was replaced with a horizontal motif for the third year, ironically resembling a 1959 Pontiac.
Corporate discord
Ford's executive vice president, Ernest Breech, in essence the Edsel's father, convinced the company's top management that upscale midsize models would succeed based on early 1950s market research and a thriving U.S. economy. Chairman Henry Ford II was nervous about risking his father's good name with a model venturing into uncharted waters, yet the Edsel label was approved in his absence. Robert McNamara, responsible for keeping Ford financially on track, counseled against so many sales divisions, the Edsel's mechanical distinctions, and the new car's promotion and advertising budget. When the E car didn't fly, he was the first to recommend pulling the plug to avoid deeper losses. The pity is that the brilliant Lee Iacocca's attention was focused elsewhere. Had he provided his astute sense of customer wants and needs, the Edsel program might have fared better.
The 'Forward Look'
At Chrysler, designer Virgil Exner shifted the entire lineup in a new aircraft-inspired direction called the Forward Look beginning with 1955 models. By 1957, Plymouth, Dodge, DeSoto, and Chrysler tail fins, roof lines, and overall proportions were the envy of the industry. Even GM was caught in a catch-up game that yielded wild designs across its entire lineup for the 1959 model year. It's little wonder that the homely Edsel was swamped by the tidal wave of more attractive designs when it came the market in the fall of 1957.
Chained to dealers' showroom floors
The 1958 Edsel lineup consisted of 18 models in four series and six body styles built on two wheelbases. Unfortunately, demand was less than one-third of what Ford executives expected. Worse, sales figures dropped 29 percent for the 1959 model year. Adequate power was not the problem. The top 410-cubic-inch (6.7-liter) V-8, rated at 345 horsepower (gross), provided competitive acceleration but insufficient urge to snap the imaginary restraints holding Edsels securely in place at dealer showrooms.
***
Legacy
Four Edsel nameplates—Citation, Ranger, Pacer, and Villager—were subsequently recycled. Edsel owners and collectors are passionate for the brand that most consumers shunned. Rare models—such as the 1960 Ranger Deluxe four-door hardtop (only 31 made)—command top dollar when they trade hands.
End game
Approximately 116,000 Edsels were built and sold for the 1958-60 model years. After Ford announced production would cease, used values plummeted so fast that disgruntled owners were given rebate vouchers worth $300-$400 dollars. Looking at Edsel with 60 years hindsight, it's clear that no single tactical error can be blamed for the brand's quick demise. Rather, a perfect storm of overwhelming adversity sank this ship.