The Chevy Colorado ZR2 Bison begs to be thrashed off-road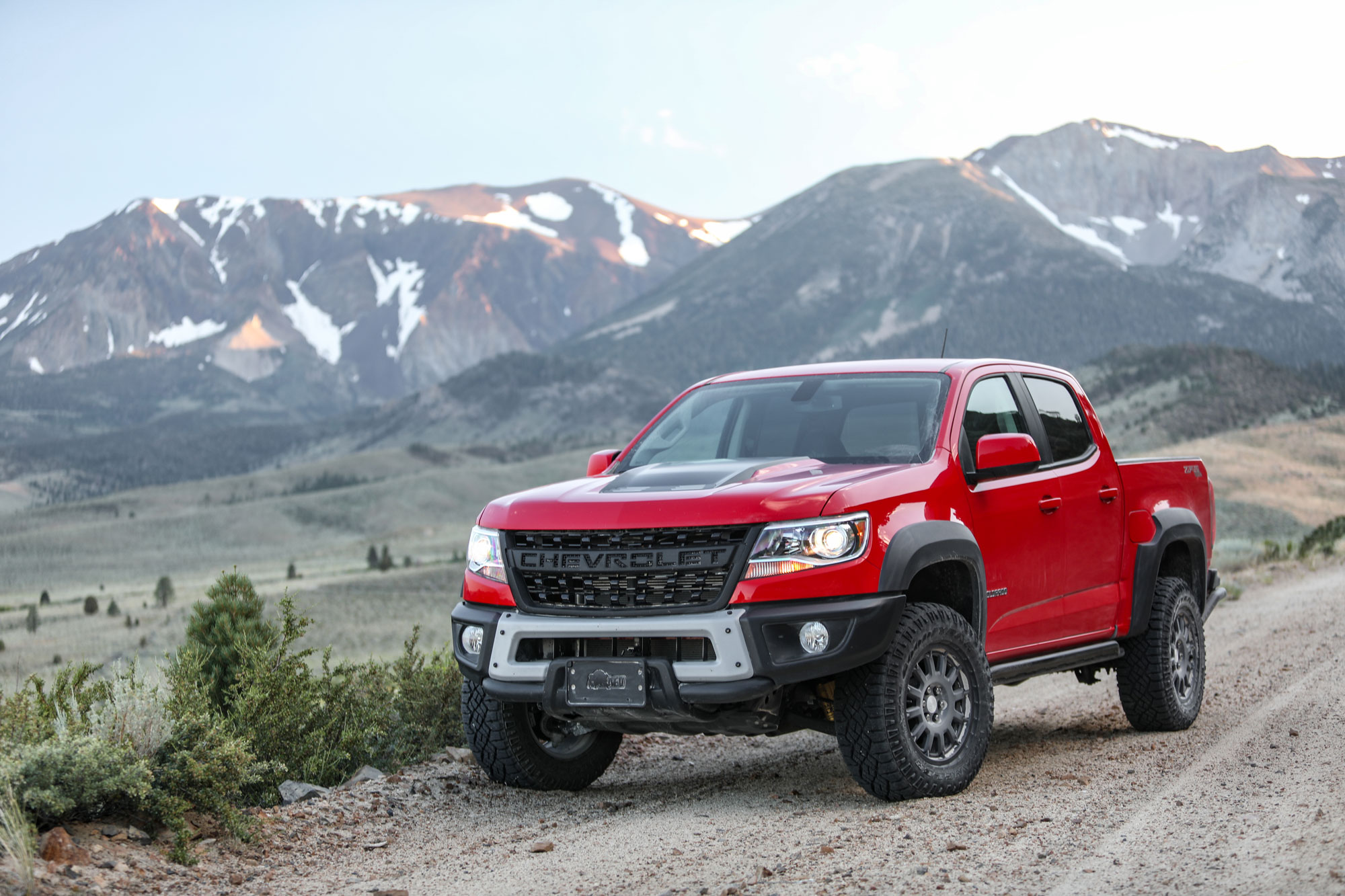 After years of playing second fiddle to full-sizers, the mid-size pickup market is suddenly filled with off-roaders that are more capable than ever. For 2019, buyers have rugged 4x4s from Toyota in the 2019 Tacoma TRD Pro, Jeep's 2020 Gladiator Rubicon, and Chevrolet's Colorado ZR2, now available with the AEV Bison package for 2019 that makes the already capable ZR2 ready for even more punishing trails.
We took a ZR2 Bison for a week and ran it through daily driver duty, along with a weekend of off-road driving and camping, to sniff out its strengths and weaknesses.
For starters, the ZR2 is packed with extra off-road kit. Compared to a standard Colorado, the ZR2 has a factory-installed suspension that adds 3.5 inches of track width front and rear and rides two inches taller. It swaps out aluminum control arms for sturdier iron castings, while aluminum skid plates and steel rocker armor help when dragging the belly over rocks. A stronger rear axle is also included to take the additional abuse of off-camber wheeling and high-speed desert running. The lift allows for 31-inch Goodyear Wrangler tires to have plenty of room to travel up into the fenders and makes room for Multimatic Dynamic Suspensions Spool Valve (DSSV) shocks—the first factory application on an off-road vehicle.
The DSSV shocks are great for taming large jolts and bringing the truck under control after hitting whoops. It's not like Magnetic Ride Control that smooths potholes and expansion joints as if by magic, but it scoffs at speed bumps and just about any kind of off-road trail you can throw its way. On the street, the taller ride height is only apparent during quick cornering, where the increased body roll is noticeable. That said, it doesn't wallow around corners like you might expect from a vehicle that can soak up big jolts. Everywhere we drove the steering felt appropriately responsive to our inputs, rather than overboosted or heavy. The ride on pavement is solid and comfortable. The only real noticeable difference is an increase in tire noise at highway speed.
On top of the already capable ZR2, the AEV Bison package adds boron-steel skid plates at the rear differential, transfer case, front differential, and one up front that bridges the gap between the front differential and the bumper. The most visible difference are a set of beefy new front and rear bumpers with shackle mounts for winching located out back. That rear bumper also incorporates tubular armor to protect the back corners of the bed. Like the standard ZR2 bumpers, they allow for better approach and departure angles, plus they look like they can take a serious beating. A set of larger, molded plastic flares provide more fender coverage and fit the factory sheet metal perfectly.
Rounding out the package are cosmetic upgrades including emblems, floor mats, headrest embroidery, and bedside graphics. An optional snorkel routes intake air through the passenger front fender and helps the air cleaner from taking in water, but, more important in a vehicle so suited for the desert, also brings in cleaner air away from the road dust kicked up by other vehicles.
We took the ZR2 Bison on washboard roads and undulating trails where its longer-travel suspension was right at home. It ate up everything we threw at it. Just as impressive was the Bison's performance in powdery silt. While exploring for a photo location near Mono Lake, we exited the road in favor a trail that was marked as not recommended for cars or 2WD vehicles. We charged off the hard-packed dirt and into a 200-foot-long, deeply-rutted two-track of silt, fenced in on either side by sagebrush. After powering through three such death traps for lesser vehicles, we decided that the terrain would be more of the same and found a wide spot to turn around.
Entering one of the silt traps going the opposite direction at around 10 mph to carry some momentum through the low-traction area, we made good progress until the front tires tossed the powdery silt onto the hood, forming a cloud that totally obscured our forward vision in a beige-out. Stopping in a low-traction situation like that isn't ideal, but rather than crash into brush and have to explain to Chevrolet why the Bison's grille is still somewhere in Mono County, I slowed to a halt. After a few minutes pondering how to extract the Colorado from the silt and where to go to air up the tires if I had to drop the tire pressure (I'd forgotten to bring an air compressor) the air cleared and it seemed like a good a time as any to try the ZR2's locking rear differential. With seemingly no wheelspin at all, the Colorado clawed its way out of the silt and got us back on the road, where we left a slowly dissipating dust cloud in our wake.
Our final test for the ZR2 came as we got stuck in a traffic jam on Highway 395, a two-lane desert highway on the eastern side of the Sierra Nevadas. Plenty of cars were pulling off to travel on the powerline access roads paralleling the highway, including a minivan with a trailer, trying to make it to the next town where the traffic finally broke. These were not challenging roads. Still, what vehicle was more perfectly suited for the task (besides perhaps a Canyonero)?
We joined the motley crew of trail-goers and once the going got tough and the masses headed back to their newly created traffic jam that merged back with the highway, the Colorado charged ahead. We were able to go over obstacles with ease that flummoxed (although only momentarily) a new stock Ford Ranger, and we soon joined a lifted Wrangler on some of the more challenging routes that, again, could have been handled by any stock 4×4 pickup. We didn't push the limits of the ZR2, but we could tackle the ruts and steep climbs much more comfortably and confidently than any of the schmucks stuck in traffic, where we found ourselves again after bypassing a few miles of the gridlock.
Some of the Colorado's other off-road-friendly functions include its 4G wireless connectivity, provided by satellite. Though it's no replacement for a real trail map, it's a huge boon when traveling far from any cell phone signal as a backup form of navigation. We had the 8-inch screen in the dash set to display Google's satellite view map and we had a bird's-eye view of upcoming trail junctions.
The upgraded rear axle in the ZR2 contains the same 3.42:1 gears as any other Colorado with the 3.6-liter V-6 or 2.8-liter diesel four-cylinder. That came as a bit of a surprise to us, as our ZR2 Bison seemed to be quicker than those gears would suggest. Then we remembered the last time we experienced a V-6 Colorado, it was with its previous six-speed automatic transmission. The eight-speed seemed better sorted out and didn't hunt for gears. It quickly and assertively downshifted when called upon and didn't aggressively seek the highest possible gear for the sake of fuel economy. Its wider gear spread allowed the 308-horsepower 3.6-liter V-6 to stay where it makes its best power, and we had no problems merging or keeping up with traffic.
Being taller and wider than the rest of the Colorado lineup does have its disadvantages, and the ZR2 is thirstier than any other Colorado, with EPA ratings of 16 mpg city and 18 mpg highway. We averaged 17.5 mpg in mixed driving that included our off-road exploring, 75 mph highway cruising, climbing highway grades, and a significant time stuck idling in traffic, so it seems as though highway economy is better than advertised, especially if the driver information center is to be believed. As with any vehicle, keeping with the speed limit rather than the much faster traffic flow will yield better fuel economy.
Our list of complaints for the ZR2 is short. First, we had a passenger wish that the seats had more bolstering. That's a legitimate criticism because, remember, this truck is so much fun on loose surfaces, it sort of begs to be drifted around gravel and dirt. Second, with its increased thirst, we'd like to see a larger fuel tank, considering the ZR2 is so eager to go off the beaten path.
Overall, we were very impressed with the ZR2. The ride, handling, maneuverability, and power make it pleasant to drive on pavement, and the Bison package helped deliver an even higher level of confidence off-road. We'd love to see this same suspension in an SUV. Pretty please, Chevy.
2019 Chevrolet Colorado ZR2 base price: $42,900
ZR2 Bison package: $5750
Destination: $1095
Total MSRP: $49,745