Wildcat Auto Wrecking is a living, breathing, Mopar-slinging salvage yard
As far back as I can remember, I thought the coolest thing I could do when I grew up was to work in an old junkyard. As I was growing up in southern Illinois in the late '70s and early '80s, my mom kept a baby book for me from the time I was born to the end of junior high. Starting in kindergarten, she would ask me every year on my birthday, "What do you want to do when you grow up?"
My answer from the time I was five years old was just that: "own and run a junkyard." I had no idea what scrap metal was going for back then; I was just obsessed with cars, trucks, and vans. I wanted to save them all and build them into cool stuff.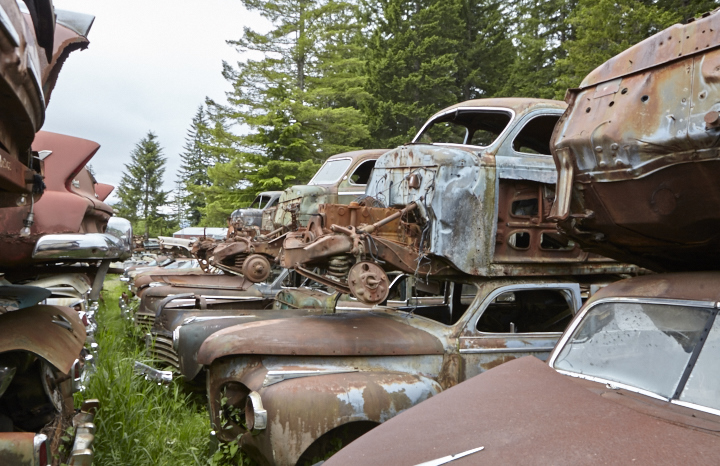 Flash forward to the end of April 2019. I'm sitting at my home one morning in Sunland, California, nursing a gnarly hangover and sipping on a big-ass cup of coffee, just zoning out on Facebook. At this point, Vanessa from Wildcat Auto Wrecking in Sandy, Oregon, is a long-time friend. We've crushed many miles and margaritas together (never at the same time, of course). I notice a recent post on her Facebook page:
WILDCAT AUTO WRECKING IS HIRING!!!!! Must have automotive knowledge. Preferably with classic cars. Please contact me. #wildcatautowrecking #moparornocar @Wildcat Auto Wrecking.
This is where my overly caffeinated subconscious kicks my blurry imagination square in the ass. I realize I actually have some free time to fly up to Portland and help out at Wildcat for a couple weeks until they find a more permanent employee.
I was on it like a hawk on a June bug.
After many days of phone calls and emails, I hopped Southwest flight #820 out of Burbank, flying nonstop to PDX and arriving at 1:50 p.m. Everything was coming together. A good friend offered up an Airbnb in his backyard while I was in town for a place to crash and it was game on. For the next two weeks it would be 9-to-5 at Wildcat Auto Wrecking and I was way stoked.
For those of you in the know, chances are you've most likely gotten parts for your A, B, C, F, M, J, or E body—hell, maybe even truck or van—from Wildcat Mopars.
Wildcat Auto Wrecking is one of the world's largest pre-1985, all-Mopar salvage yards. With over 900 cars, trucks, and vans, Wildcat attracts customers globally—from the U. S. of A., Australia, Sweden, Finland, Germany, Japan, and the UK. They've sold a 1962 Valiant to a guy in Saudi Arabia and a crate full of 1946 Plymouth parts to a fella in Pakistan. Whether it's a part or a complete car, Wildcat sells it.
Right now in the realm of rare cars, they have a 1957 Chrysler 300 and a 1954 Dodge Royal Pace Car. If those aren't your speed, they have a bunch of other cars, trucks, and vans available that are all solid project starting points.
Sitting in the middle of the yard is a row of hard-to-find muscle, each one marked sold: a 1968 Coronet, a 1971 Challenger, a 1970 Charger, and a few others. "What's up with these?" I asked Vanessa one afternoon as we were out walking the yard. Turns out Wildcat has a customer from South Africa who bought them all and he ships them back every so often. These cars need to be completely nut-and-bolt-restored, but from where he is, these cars are total builders and he's very happy to get his hands on them.
Ed and Phyllis Yost, the purveyors of Wildcat Auto Wrecking, turned a passion into a business back in 1989. In their words, "It was a hobby that got out of control, so we bought a wrecking yard to expand into." It's an awesome and rare passion that seems to be dissolving these days. Living in southern California, I see a lot of independent yards bought up by companies like LKQ and absorbed into a salvage yard monopoly, losing that locally-run-yard feel. Not at Wildcat, though.
You can walk right in and see the person you spoke to and pick up the part you bought, though a majority of customers these days are over the phone or via the World Wide Web. During the time I spent at Wildcat, we'd get a few walk-ins over the course of the week looking for that 8¾ backing plate or exhaust manifolds for their small-block Duster; but for the most part, we're packing the parts to ship across the nation or overseas. Come 5 p.m., it's either time to go home or time to crack a cold one. It really just depends on who you ask.
At the end of this adventure, I ended up working at Wildcat from May 23rd to the morning of June 5th. Getting to work alongside some of the most knowledgeable Mopar folks out there was a learning experience as much as it was a good day's work.
Vanessa knows the yard like she knows her Mopar—like the back of her hand. If you call and ask her about a part and she's not sure, she heads out to the yard, walks right to the car, and has an answer for you PDQ. Randy is a plethora of Plymouth knowledge with a wrench for one hand and a screwdriver for the other, and Brad can answer the phones lightning-fast.
I wore a bunch of different hats in just a short amount of time—pulling parts and selling parts and finding buyers for vehicles and helping with social media—and I got only a glimpse of what it takes to keep this ship afloat.
Just getting to know the yard and walking the rows of old Mopars with my coffee was such a cool way to start each morning. Hook a right and there's a tractor-trailer where they have few Dodge Brothers-era wooden-wheel cars stacked so you could put them back together. Cut a left and you see a 340 Duster stacked on a 1973 Challenger.
That's something you normally wouldn't see in a modern day pick-a-part.
Every turn you take, you notice something a little more magical. It was the same awe-inspiring feeling I had walking the temples in Japan when I was over there for the MoonEyes Yokohama Hot Rod Custom Show a couple years ago. I can honestly say working at Wildcat was one of the coolest things I've done in a long time.
When I first moved to L.A. and started meeting other car guys, they all talked about a salvage yard in Sun Valley, California, called Memory Lane and how you could find any old car part you needed there.
Unfortunately, that yard was long gone by the time I got to L.A. But in the shadows of Mt. Hood, down a two-lane country road in Sandy, Oregon, there's a place called Wildcat Auto Wrecking that isn't a memory. It's a living, breathing, Mopar-slinging salvage yard that serves up hard-to-find car parts and fulfilled a childhood dream for this guy.
For more info on Wildcat Auto Wrecking, go to: https://www.wildcatmopars.com/