Why is the 1966–70 Caprice lagging behind the Impala?
Graduating from a trim designation on the 1965 Impala to a separate car line in 1966, the Caprice sat at the top of Chevrolet's full-size car lineup, right under Corvette in the brand's hierarchy. Despite that distinction, the Caprice isn't as strong in the collector car market as its almost identical sibling, Impala.
While Impala got sporty, sloping rooflines, the Caprice got a more formal look that makes it seem, especially in the later, vinyl-topped examples, like a full-size prequel to the Monte Carlo (in a good way). In 1969, with its perimeter bumper melding into the front fenders and hood, the Caprice looks absolutely menacing, an equally impressive muscle cruiser to take on Mopar's stylish fuselage-styled C-bodies.
Looking at the current market, a 1968 Impala with the L36 427 big-block has a #2 value of $49,700, yet a Caprice with the same 385-horsepower V-8 is worth just $28,400. Even a Caprice with the hot, 425-horsepower L72 only brings an additional $3800. That's on par with a '68 Impala with a small-block! So why the big discrepancy considering the cars are so similar mechanically and, besides the roof, visually as well?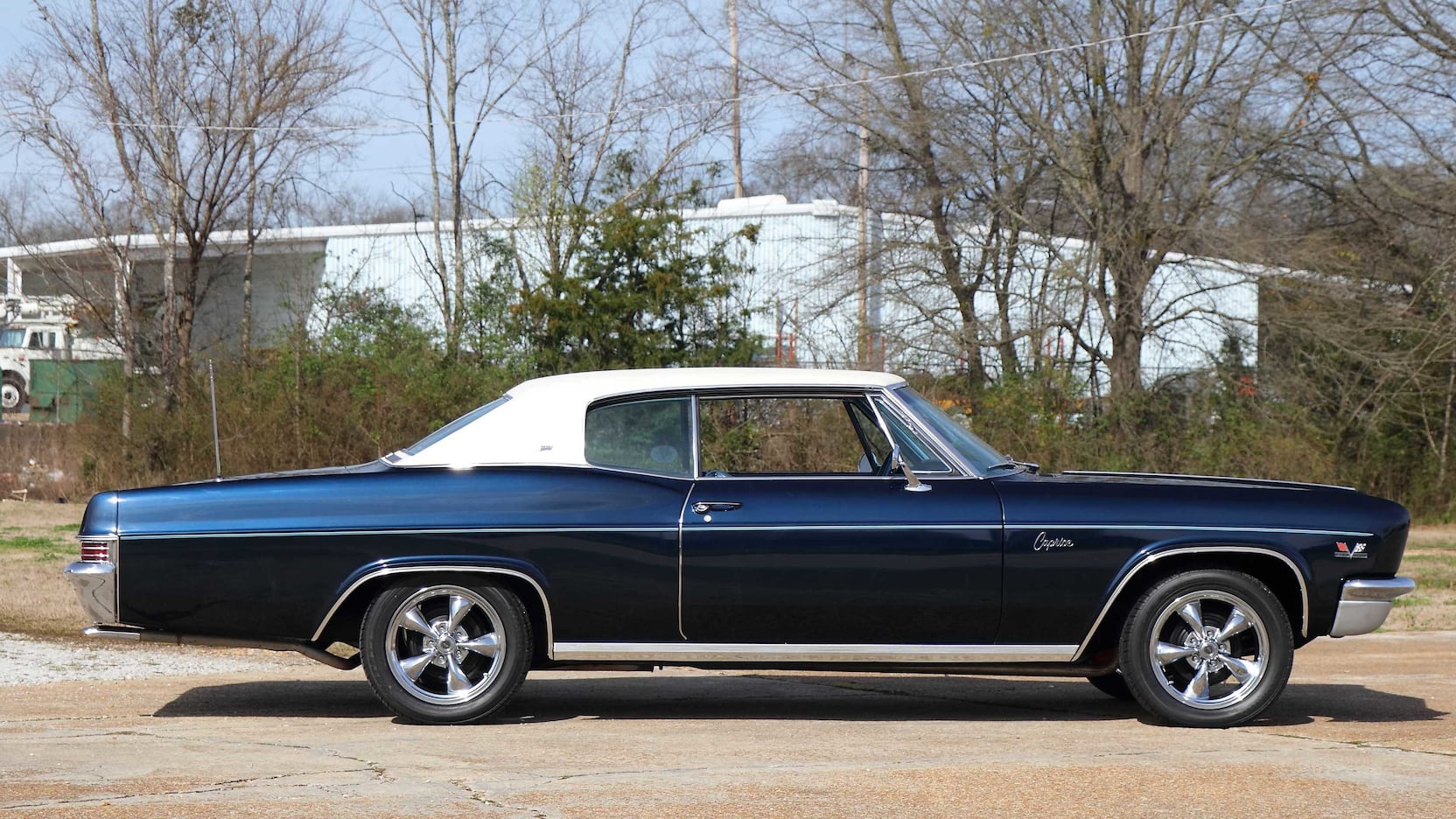 We asked valuation specialist, full-size car lover, and '66 Caprice owner Greg Ingold to weigh in. When trying to sell his own car, he noted that he can't get the time of day from most buyers, as they were only interested in an Impala. "I think the issue is that they never made a Super Sport version, which harms the desirability," he says. It's true, those numbers we told you about before, on the Impala, were values on the SS model, but, as Ingold explained, the SS package wasn't a performance option for the entirety of the Impala's run. As in other models throughout Chevrolet's history, the Super Sport trim was sometimes used only as an appearance package. Which would you put your money on in a drag race, a Caprice with a 425-horsepower 427 or an Impala with a 250-horsepower 327 that has a nice, shiny Super Sport emblem on the side?
Caprice's contemporary advertising highlighted the car's opulent interior and luxury ride and handling. Even the big-block 427 V-8 was lauded as "smooth and quiet." Apparently Chevrolet's marketing worked, as today's collectors appreciate the Impala's sporty nature and have forgotten that the Caprice delivers all of the same performance. It's no help for Ingold in trying to sell his Caprice, as median values are down almost 10 percent in the past year, but for those in the market for a muscle cruiser, a big-block Caprice is a powerful and stylish way into the club that many buyers overlook.