Exner-designed 1960s Duesenberg is, well, a real Duesey
Nostalgia is a powerful lure. It drives Hollywood to remake classic movies (sometimes more than once), and it fuels sales of $500 tickets to see concerts by 70-year-old rock musicians playing 50-year-old songs to middle-age fans (and their children and grandchildren).
Nostalgia is a powerful lure in automobile showrooms, too. From retro-styled pony cars and roadsters to revivals of beloved economy cars and even long-dormant marques like Bugatti, carmakers regularly combine past and present for profit.
If a pre-war American marque deserved a comeback to challenge the world's finest, it was Duesenberg, considered by many to be the finest American car of its time. Five decades ago, Fred "Fritz" Duesenberg, the son of company founder August Duesenberg, gave it a shot. The result was one running prototype, called the Model D, and a whole lot of "What if?" questions left behind.
If you live in the area around Highland Park, Ill., you may occasionally see the 20-foot, three-ton Model D cruising around. The man behind the wheel is Joseph Bortz, noted collector of GM Motorama cars and other concept vehicles.
"The car stops traffic when I drive it," Bortz says. That kind of jaw-dropping attention was part of the vision for the revived Duesey.
Neo-classic revival
In the early 1960s, Fritz Duesenberg and sales promotion executive Milo N. Record formed the Duesenberg Corporation, with plans of building a modern car infused with the grandeur of pre-war classics. Leaking a story about the marque's resurrection fetched interest from designers who wanted to create the new car and from customers who wanted to buy one.
The design assignment went to Virgil Exner Sr., the former head of Chrysler design who broke ties with the company in 1961. Exner was already in a "revival" frame of mind; Esquire had commissioned him to sketch ideas for theoretical 1960s Stutz, Packard, Mercer, and Duesenberg models for its December 1963 issue. He had also started a design firm with his son, Virgil Exner, Jr.
The Esquire sketches exhibited Exner's fondness for retro design themes, including ultra-long hoods; tall, slender grilles; and exaggerated fender lines. Some of the cars were built—a Mercer was made in Italy on a Cobra chassis, and the Stutz would go into limited production in Italy in 1971, built on the Pontiac Grand Prix chassis. Elvis Presley owned five.
Exner's Duesenberg sketch for Esquire was a bit too steeped in the 1930s for the new venture, however, so he proposed a more modern sedan highlighted by neo-classic details. It was, as he told Automobile Quarterly in 1966, "a blend of the contemporary and the classic—a new car but with enough borrowed from the old to satisfy the nostalgic."
The Italian connection
Duesenberg contracted Carrozzeria Ghia to construct the prototype on an Imperial chassis. The renowned Italian automotive design and coachbuilding firm had built Chrysler's Exner-designed concept cars as well as its limited-production 1957–65 Crown Imperial limousines. For the Duesenberg, the Imperial's 129-inch wheelbase was pulled out to 137.5 inches, and the car measured 244 inches long—an inch longer than the Cadillac Fleetwood 75 factory limo. The hood stretched a massive 80 inches.
The Duesenberg's overall shape was crisp and restrained, highlighted by a formal roofline and "suicide" door style inspired by 1930s classics and also the 1960s Lincoln Continental. The tall grille and clamshell-style fenders paid homage to the 1930s cues.
Interior appointments put 1930s opulence in 1960s context, with plush cashmere upholstery, deep-pile carpeting, and mahogany trim. A full array of Stewart-Warner gauges was a throwback at a time when most Detroit instrument panels consisted of a speedometer, a gas gauge and a bank of warning lights. The Model D also has an abbreviated gauge panel for the rear seat passengers. A proposed $1,800 option package was to include a rear-seat TV and small bar.
Although Duesenberg claimed 425 horsepower for the Model D, the 440-cid Chrysler V-8 was rated at 350 hp in the 1966 Imperial. Dayton wire wheels and Firestone 8.90 x 15 tires were made especially for the Duesenberg, and four-wheel disc brakes came from Airheart. Dual 16-gallon fuel cells were a nod to safety, even if their location in the rear fenders seemed somewhat dubious. That arrangement, however, allowed space that Bortz, using Chicago lingo, calls a "four-body trunk."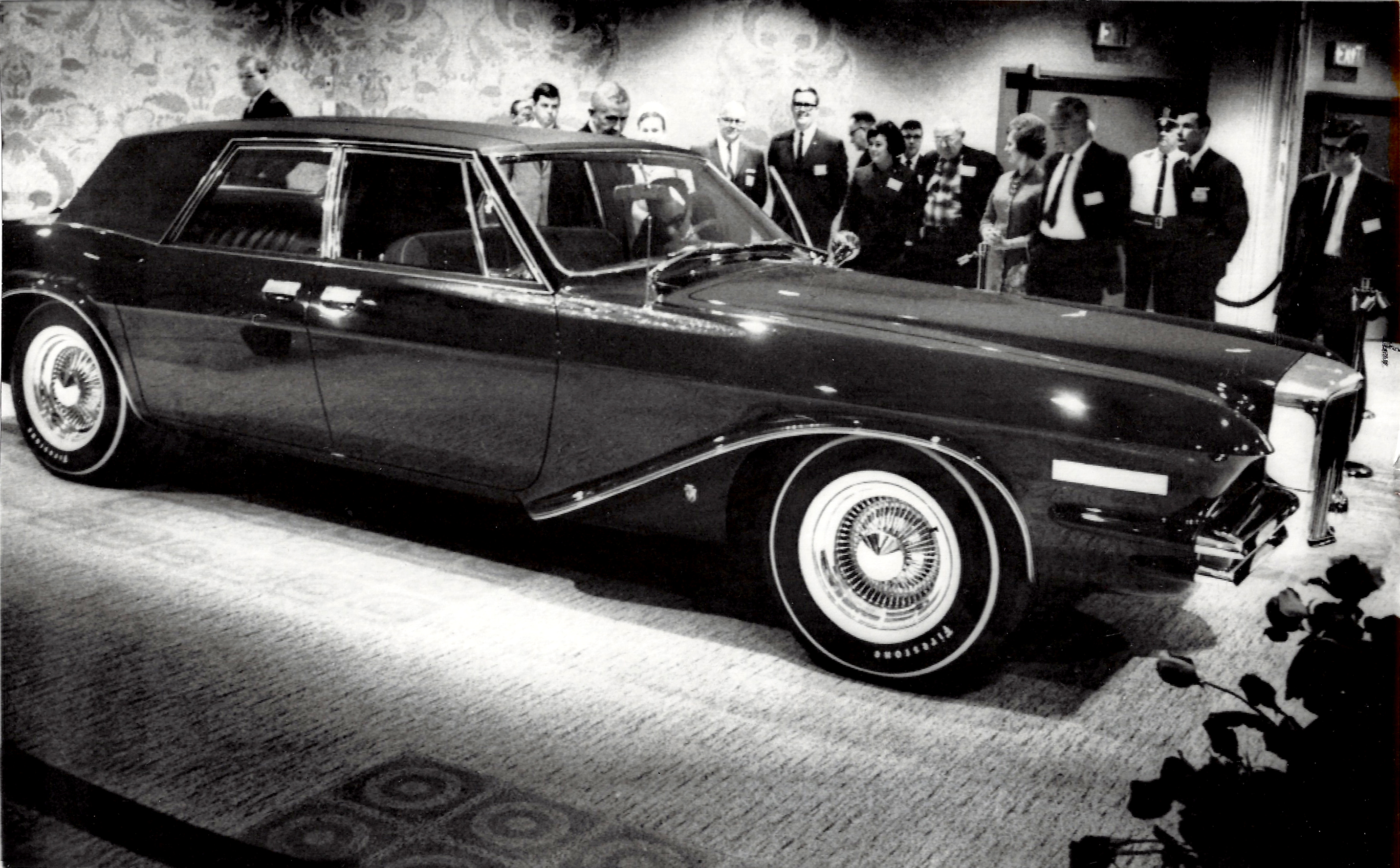 The best-laid schemes
Duesenberg planned to have Ghia build the Model D's chassis and bodies and ship them to an Indianapolis factory where the powertrain and other components would be installed. Whether sourcing Chrysler parts would continue was one of many unanswered questions; Duesenberg's PR machine had made lofty promises of a 500-cid aluminum V-8 and four-wheel independent suspension. The company also claimed each car would be tested for several hundred miles before delivery.
The Model D prototype made its debut to affluent prospects and the media at the Sheraton-Lincoln Hotel ballroom in Indianapolis, and the car was later displayed at other luxury hotels as a sales tool. The $19,500 price encroached on Mercedes-Benz 600 territory and was three times that of a Cadillac Fleetwood 60 Special. Duesenberg said it would build 150 cars in the first year and 500 per year thereafter, but by October 1966, the venture came apart for lack of investment capital.
The Exners had forgone payment in lieu of a royalty-per-car agreement and so received nothing for their work. A court awarded the Model D prototype to a creditor, and a subsequent owner allowed it to remain on display in the Auburn Cord Duesenberg Museum in Auburn, Ind., for 35 years. Bortz says he longed for the car after seeing it there in 1969, when he was 21, and he was finally able to buy it in 2003.
A legacy that echoed for decades
With the Model D, Exner was in tune with where Detroit design was heading—he just beat them to the punch. After the car's debut, he gave a private showing to more than 100 Detroit auto executives and designers. Henry Ford II was said to admire the car. Neo-classic cues would soon sweep through the auto industry; the 1969 Lincoln Continental Mk. III and Pontiac Grand Prix could have been the Duesenberg's coupe cousins. Indeed, Pontiac General Manager John Z. DeLorean had envisioned the new "smaller" Grand Prix as a kind of modern Duesenberg. The Lincoln Town Car retained a neo-classic look through the 1980s.
Fritz Duesenberg's cousins, Kenneth and Harlan Duesenberg, formed the Duesenberg Brothers Company in the late 1970s and built one car that was essentially a heavily customized Cadillac.
Driving the 1966 Duesenberg
Bortz describes the Model D as "99 percent original," right down to the tires.
"Closing the door sounds like a bank vault, like a Rolls-Royce," he says, also praising the car's exceptionally smooth ride and quiet cabin. "It's certainly one of the most refined concept cars. Everything works—the power windows, vents, even the lights under the hood and in the trunk."
In addition to showing the Duesenberg Model D at local shows and national concours, Bortz occasionally drives it, but usually not more than 10 miles per trip. "This car is here to verify history," he says. Better than a Hollywood remake.