The delicious-looking 290 MM brought V-12s back to Ferrari racing
When Mercedes-Benz took the World Sportscar Championship in 1955 on the shoulders of Stirling Moss and the 300 SLR's victories in the 1955 Mille Miglia, the RAC Tourist Trophy, and the Targa Florio, Ferrari was none too pleased. After all, Ferrari had won the championship both of the two prior years. Something had to be done. For 1956 Ferrari brewed up a challenger to ensure victory at the Mille Miglia and beyond—the 290 MM.
Mercedes ultimately did not compete in motorsport in 1956 following the tragic wreck at Le Mans in 1955 that killed more than 80 onlookers, but Ferrari nonetheless got its wish of returning to the top of the podium in '56. With its 3.5-liter V-12 derived from the larger 4.5-liter Grand Prix car, the 290 MM boasted 320 horsepower at 7200 rpm from upgraded cylinder heads, three Weber carbs, a high-lift camshaft, bigger valves, twin spark plugs, a 9:1 compression ratio, and a dry sump oil system. Top speed was 174 mph. It also looks positively spectacular, with compliments to Scaglietti.
Ferrari built four examples of the 290 MM for competition in 1956 and '57. RM Sotheby's is auctioning off chassis No. 0628 at its upcoming Petersen Automotive Museum sale, a car that started life as a four-cylinder 860 Monza. With Peter Collins behind the wheel, the car placed second in the 1956 Mille Miglia, behind driver Eugenio Castellotti in—what else—a 290 MM. Juan Manuel Fangio drove it to a second-place finish at the Swedish Grand Prix a few months later.
For 1957, Ferrari blessed chassis 0628 with a 12-cylinder heart, effectively making it a 290 MM. Castellotti would pilot it alongside Wolfgang von Trips and Alfonso de Portago in the 1000-km Buenos Aires race that year, and Phil Hill would join the mix by running it at the 12 Hours of Sebring. Even Stirling Moss got a crack at it, competing with 0628 in the '57 Bahamas Speed Weeks and winning the Memorial Race and Nassau Trophy Race there.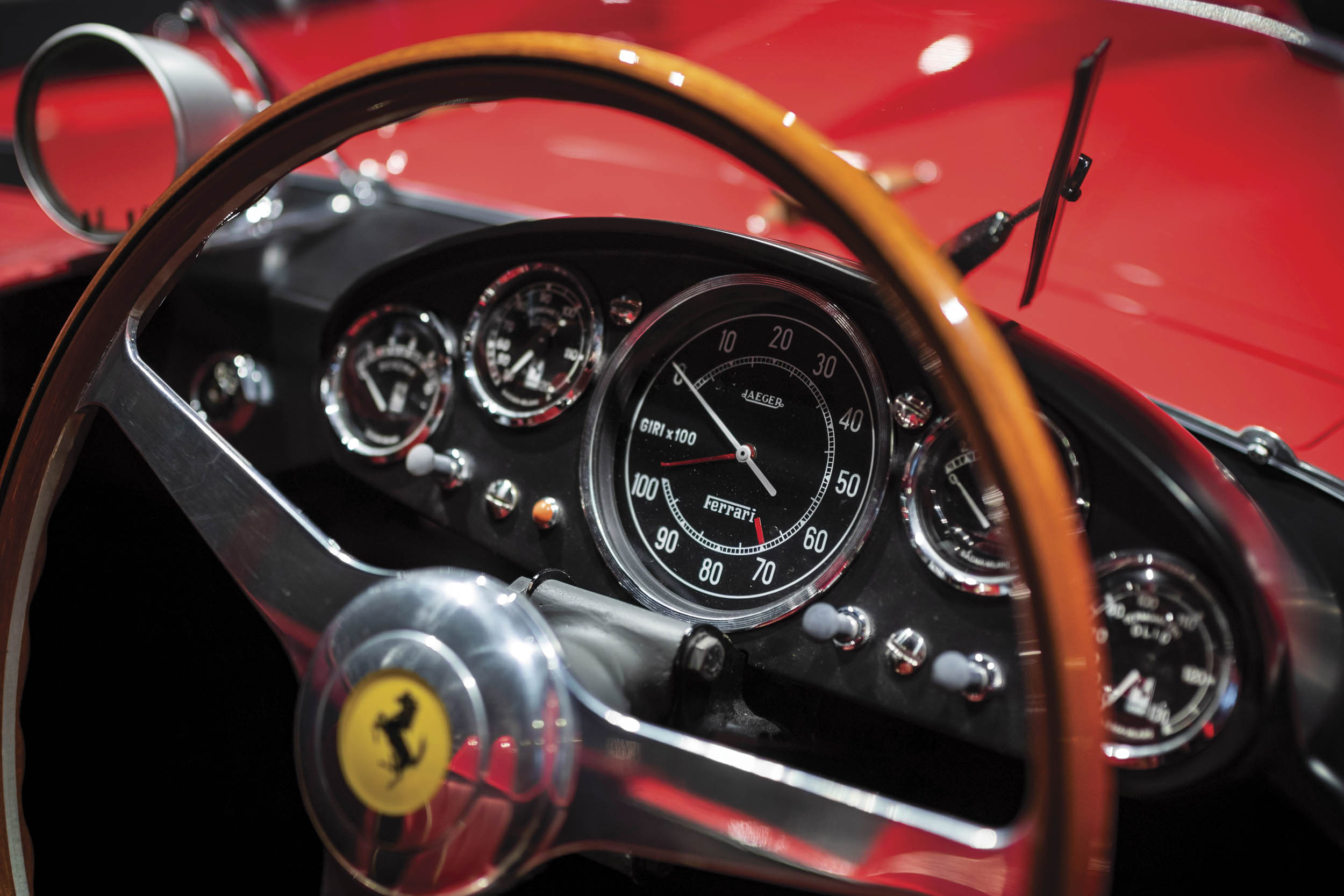 A vintage Ferrari race car crossing the block is always something of an event in the classic car world, and the dazzling 1956 Ferrari 290 MM headed to RM Sotheby's Petersen Automotive Museum auction is certainly cause for excitement. When Ferrari 290 MM chassis No. 0626 crossed the block at RM Sotheby's New York auction in 2015, it sold for $28M. With that said, RM has not yet released an official pre-sale estimate, and we're not extremely confident market conditions are favorable enough for a car like this to even sell.
"After Ferrari's detour in the early 1950s into four- and six-cylinder racers, the 290 MM is significant as the embodiment of Ferrari returning to V-12 power," says Hagerty valuation senior data scientist John Wiley. "Still, it appears unlikely that 0628 will sell—at North American auctions in the past 18 months, $1 million cars have a sell-through rate of 61 percent, but that drops to 44 percent for $10 million cars. For 1950s competition Ferraris, at all auctions in the past 18 months, the sell-through rate is slightly worse at 43 percent."
With that said, 290 MM 0628 is still one hell of a car. It won its class at Pebble Beach in 2001, participated in the 2011 Goodwood Revival Tribute to Juan Manuel Fangio, and later (following a Ferrari Classiche restoration to its '57 Sebring specification) won the Chairman's Choice award at Amelia Island in 2015.
We'll have to wait until the RM Sotheby's Petersen auction on December 8 to see what happens. But until then, join us in imagining the wind assaulting our face, blasting down a country road with 320 hp of V-12 majesty at the fingertips.