These 6 oddball cars are the heart and soul of Paris Rétromobile
With the Rétromobile auctions and festivities right around the corner, prospective buyers are lining up for the chance to bid on some of the most exclusive cars residing in Europe. They also have the chance to bid on unique and oddball cars that are rarely—if ever—seen on North American shores. It is easy to focus on the headline cars and completely miss some of the funky or just-plain-rare gems that are lost in the shuffle. Here are a few cars that are too rare, cool, or weird to ignore.
Lot 112 (RM Sotheby's)
Pre-sale estimate: $102,000 – $137,000 (€90,000 – €120,000)
The Brütsch Mopetta looks like the result of a couple of guys, after a few beers, wondering "Wouldn't it be cool to put a motorcycle inside the sidecar!" That's even reasonably believable, given how absurd the Mopetta turned out. It's powered by a 50cc engine and steers using a set of handlebars.
This diminutive microcar was the brainchild of Egon Brütsch, and despite strong interest and even an attempt to sell through the Opel dealer network, all deals fell through. Production ceased after just 14 examples. The Mopetta's "cute and quirky" factor is off the charts, but with an estimate of $102,000-$137,000, you have to really be enthralled to pay what it's worth. Then again, we've all thought that about the Fiat Jolly at one point.
Lot 85 (Artcurial)
Pre-sale estimate: $1.4M – $2.06M (€1.3M – €1.8M)
A strong case can be made that, independent of the Ferrari brand, Enzo Ferrari's personality influenced the creation of some of the greatest cars of all time. A disagreement between Enzo Ferrari and Ferruccio Lamborghini led to Lamborghini manufacturing automobiles. A failed attempt to purchase Ferrari led to a feud between Enzo and Henry Ford II that eventually gave us the GT40.
Scuderia Serenissima ran afoul of Ferrari after owner Giovanni Volpi backed a company run by former Ferrari workers Carlo Chiti and Giotto Bizzarrini. Ferrari refused to sell any more cars to Serenissima. So what's an Italian racing team owner to do? Build your own. The Serenissima Spyder raced in the 1966 24 Hours of Le Mans, but was retired with gearbox troubles after the fifth hour. The car has seen little actual use since and is in original condition. With so few cars made, this is one of the few opportunities to own a unique car from this little-known Italian auto manufacturer.
Lot 24 (Artcurial)
Pre-sale estimate: $102,000 – $137,000 (€90,000 – €120,000)
World War II pushed a drastic shift towards highly mobile, mechanized warfare which was not possible in previous conflicts. With the fast pace of Blitzkrieg tactics, the German army needed an easy to manufacture, light vehicle for quick troop movement and scouting. The result was the Porsche-designed Type 82 "Kubelwagen" based off of the Volkswagen KdF (Beetle). As the war expanded, the need for an all-terrain command and recon car became apparent. Porsche's solution was to take the basic Kubelwagen idea and morph it into an amphibious four-wheel-drive vehicle, the Type 166 "Schwimmwagen". Much like the Allied Jeeps, the Schwimmwagen was the go-anywhere vehicle the average soldier needed. It's estimated that fewer than 200 of these Schwimmwagens remain today—they're a prized item amongst both serious military collectors and German car enthusiasts.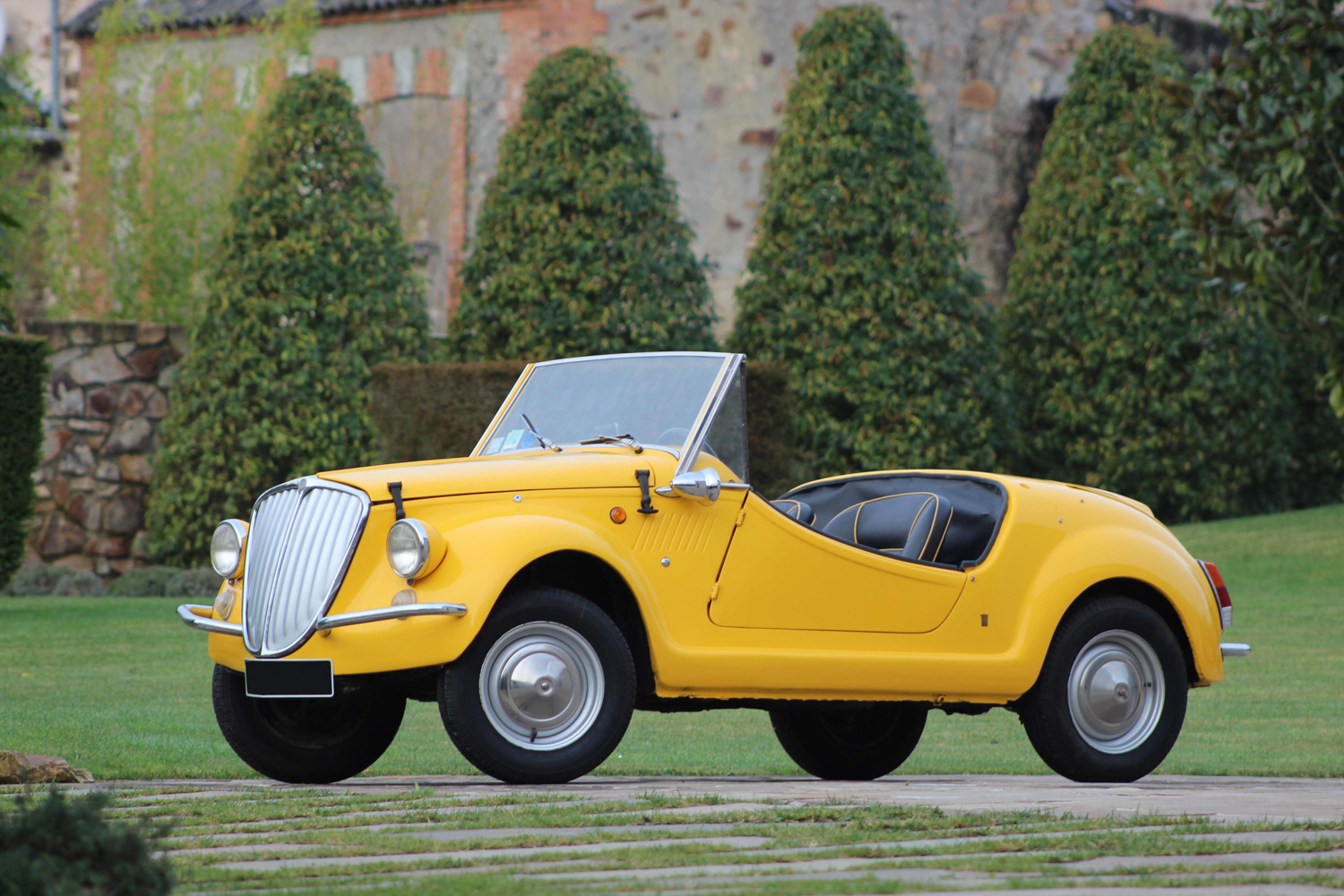 Lot 105 (Artcurial)
Pre-sale estimate: $21,000 – $27,500 (€18,000 – €24,000)
When Italian auto manufacturers combine forces with coachbuilder Vignale, the results are often lovely. Maserati and Vignale worked together frequently during the 1960s, and the 3500GT one of the highlights of the partnership. Alfredo Vignale must have had the same idea in mind when he took the Nuova 500 and turned out the 500 Gamine. The faux grille and flared wheel arches give it somewhat of the appearance of earlier Fiats like the 508, but in modern eyes it is more of a funky curiosity. Very few Gamines were sold, making these rare cars a relatively affordable way to sample the coachbuilt Italian car world.
Lot 339 (Bonhams)
Pre-sale estimate: $51,500 – $63,000 (€45,000 – €55,000)
The Fiat Jolly is all about smiles. In the 1950s, the coachbuilder Ghia took the average man's Fiat 500 and transformed it into a luxury item for the rich and famous—perfect for being carted around in at swanky resorts. In today's collector market, the Jolly is still a luxury item, regularly fetching six-figure sums at auction. This 2015 Fiat 500 was converted to replicate the charm of the original Jollys. Adorned in a pastel blue, it features wicker seats, wood trim, and a striped canopy like the originals. Admittedly, the new Fiat 500 is significantly larger than the originals and the body lines more rounded. This modern take on the Jolly, while a novel idea, fails to capture the spark that makes the original so special. Whether or not bidders will feel the same will be determined when it sells at no reserve.
Lot 62 (Artcurial)
Pre-sale estimate: $34,500 – $46,000 (€30,000 – €40,000)
Most history buffs know the name Messerschmitt for its aircraft manufacturing both before and during World War II. Car enthusiasts know Messerschmitt as a maker of post-war microcars. Immediately after the war, many manufacturers which contributed to Germany's war effort were prohibited from continued production of wartime material. In order to continue business, Messerschmitt turned its focus to manufacturing small cars. If you look at a KR200 and then a BF 109 fighter, its easy to see many design similarities. The body has a fuselage shape, the canopy of the KR200 swings open like a BF 109, and the interior looks quite a bit like a cockpit. This car doesn't follow any of the design rules that most cars adhere to, but then again, isn't that what makes them wonderful?