Lawsuit alleging Jerry Seinfeld sold a fake Porsche for $1.5M is light on facts, says expert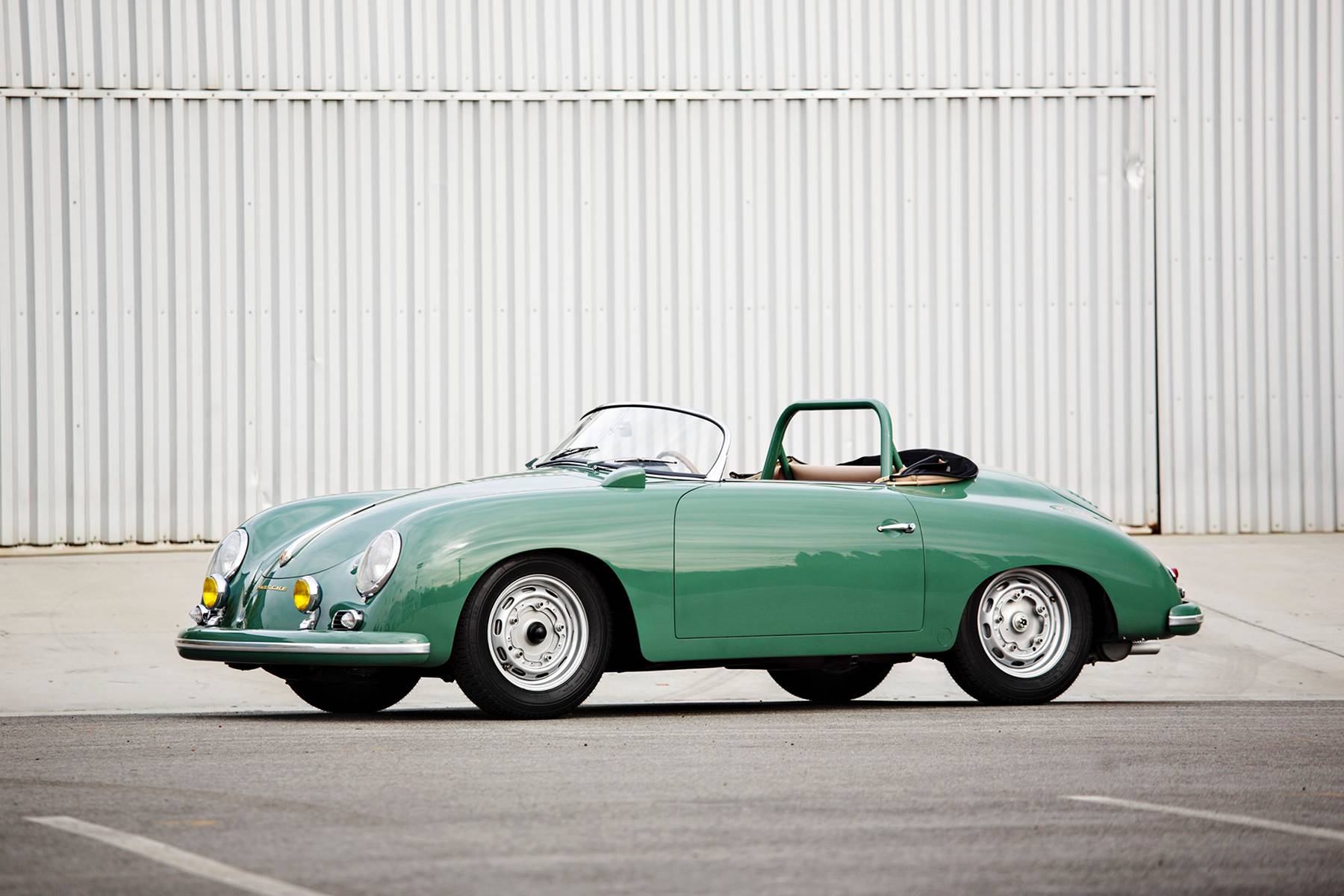 Jerry Seinfeld is one of the world's highest-profile car collectors, widely known for his vast fleet of vintage and modern Porsches. Naturally, it made big headlines in 2016 when he consigned a good chunk of his collection to a Gooding & Company auction at Amelia Island. Now, the buyer of Seinfeld's 1958 Porsche 356 Speedster from that sale—Fica Frio Limited—has filed a lawsuit claiming Seinfeld negligently misrepresented the car's authenticity. In addition to a full refund of the $1.54M sale price, the plaintiff is requesting further, as yet unspecified, damages.
Gooding & Company's listing from the auction catalogue presented the 356 Speedster in question as one of 56 GS/ST models built with an aluminum body, and the only example with Auratium Green paint. Powering the car is an "extremely rare" Type 692/0 four-cam engine. Respected shop European Collectibles of Orange County, California, performed the restoration, and the Speedster received a Porsche certificate of authenticity verifying its status. (The Porsche certificate is a quick-and-dirty process based on matching numbers, rather than a fine-tooth-comb in-person analysis by experts like you'd get with a Ferrari Red Book certification.)
After the sale, Fica Frio took the car to a Porsche dealer in the UK called Maxted-Page Limited to have it inspected and evaluated for future sale. Maxted-Page declined to list the vehicle, citing the car's "limited" vehicle history file and "lack of photographic evidence of restoration work," According to the lawsuit, further investigation by the dealership "revealed that the vehicle is not authentic."
The plaintiff further claims that when Fica Frio informed Seinfeld that the car was not the real deal, Seinfeld agreed to refund the money and all incurred costs in exchange for the car. Evidently that did not happen, and so here we are litigating.
Orin Snyder, Seinfeld's lawyer, told TMZ that "Jerry has been working in good faith to get to the bottom of this matter. He has asked Fica Frio for evidence to substantiate the allegations. Fica Frio ignored Jerry and instead filed this frivolous lawsuit."
So that's where things stand now. But the elephant in this room is that the lawsuit does not specify what evidence indicates the car's inauthenticity. Which is to say: What did Maxted-Page find to so definitively prove the Speedster isn't legitimate?
Furthermore, the claim of "negligent misrepresentation" at least suggests that Seinfeld didn't do his due diligence to verify the car's authenticity. Hagerty auction expert Colin Comer is extremely skeptical of that fact.
"Knowing how Jerry buys cars, and the team of experts and inspectors he employs to make sure a purchase is legit, it's hard to imagine he intentionally misrepresented a car. He wants the best, and he can afford the best, so there is no reason for him to get a car that's at all questionable," Comer says.
The odds of a fake car also slipping through checks and balances at a respected 356 shop like European Collectibles, as well as Gooding & Company's own processes and pre-purchase inspections performed by other prospective buyers, aren't high, Comer says. Bradley Brownell weighed in on the subject over at Jalopnik, citing the extraordinary reputation of European Collectibles should be considered when evaluating the claims,
That the incident has even reached the point of legal action, Comer says, is unusual. "Typically an auction house will help smooth over with all parties any legitimate complaints over a misrepresented car," he says. "But even though they're responsible for the sale, they're under no obligation to return any funds—especially if the claim is unfounded. If you ever read the terms and conditions for buying at an auction like this, if the car you buy turns into a pumpkin two days later, congratulations on your new pumpkin."
Given Seinfeld's extremely high profile in general, along with his expertise within the Porsche community, it seems unlikely he didn't do his homework on this car. At the very least, one suspects that he would just keep the car were he to discover doubts about the provenance. Were the claim of inauthenticity to be proved, it would obviously be in his best interest to do the right thing, rather than have to deal with a lawsuit and a lot of bad press. Until we see the actual evidence for why Fica Frio is convinced the Speedster GS/ST is not the real deal, it's hard to say how this will turn out.