Check out James Bond's Aston DB5 in full gadgetized glory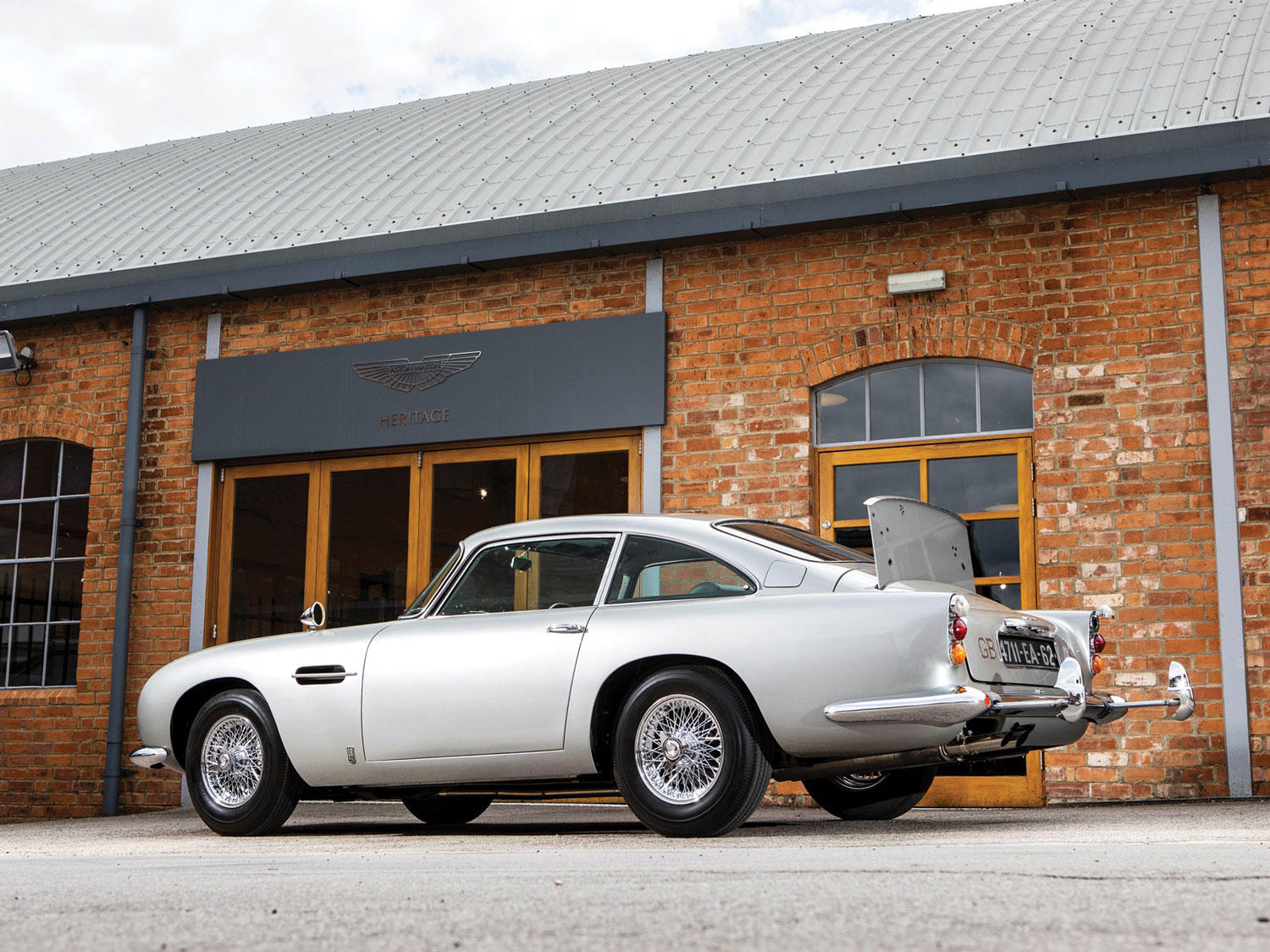 It's the Bond car. The Bond car. One of only four true Goldfinger-spec DB5s produced, three of which are accounted for today, and the only one with fully functioning gadgets.
The Silver Birch DB5/2008/R headed for auction at RM Sotheby's 2019 Monterey sale in August rumbles, flashes, and fires in a recent promotional video released by the auction house, which features the newly restored, "absolutely robust" gadgets the model displayed during its grueling promotional touring circuit in the 1960s. The most ominous features, though, are the silent ones—the four blender blades that swivel slowly, independent of the whirling, intricate spokes of the moving wheels. Though the scything pinwheels mimic the original wheel design, these guys will extend out a terrifying 18 inches. (Maybe those front-row auction spots aren't so comfortable after all.)
While 25 continuation, machine-gun-equipped DB5s will assemble their various glories at Aston Martin Works in Newport Pagnell, Buckinghamshire, the 2008/R hails most recently from Switzerland, where Roos Engineering spent more than four years restoring it to full gadgetized glory. According to RM Sotheby's Barney Ruprecht, Roos earned the privilege of restoring DB5/2008/R through its membership in a network of 13 certified Aston Martin Heritage Specialists. The network centers around Aston's own Heritage Team, from its Aston Martin Parts Operations.
In the video, Aston Martin Works President Paul Spires asks, "Where do you put a price on a piece of history like this?" Amazingly, however, the 2008/R has even more going for it than its peerless resume. Our valuation team notes that 1965 DB5 values have been growing exponentially since 2006, with top sales rocketing from $275,000 to $1.45M. RM estimates the 2008/R will sell between $4–$6 million, but our valuation team believes the car could easily hit eight figures—even as high as $11M.
While two gadget-equipped DB5s were built by Aston Martin for Goldfinger, two more were commissioned following the movie and built to last not only for the film schedule but also for hundreds of miles across the United States for promotional tours. So when you see the 2008/R careening around rumble strips in the video and hear its Browning machine guns flash and pop, that's not a beauty queen wave—it's a veteran flexing its muscles.