Fox-body Saleen Mustangs: Why I'm buying them
Think Carroll Shelby was the only racer who hopped up Mustangs that went on to win championships? Nope. Steve Saleen did the same thing a couple of decades later with his Fox-body Saleen Mustangs. Starting in 1984, and using a similar formula to what Shelby employed on the original 1965–66 GT350s, Saleen focused on chassis, suspension, and braking upgrades to the factory Mustang. Shelby called it making "a racehorse out of a mule."
And once again, it worked.
Steve Saleen and his Saleen Mustangs took home many racing wins, including the 24 Hours of Mosport (an SCCA Endurance Championship race) three years in a row, from 1986–88. The Saleen Mustang team won the 1987 SCCA Escort Endurance Championship Driver, Team, and Manufacturer titles for the series, and in 1993 the Saleen Mustang team placed third and fifth in the SCCA World Challenge championship. Not bad for a racer-turned-manufacturer that started with a car with decidedly humble beginnings. The 5.0-liter Fox Mustang was great, and it brought real performance back to the masses. But at the end of the day it was, well…still a 1978 Fairmont underneath.
In the 20 years between Shelby hot-rodding 1965 K Code Mustangs and Saleen attempting the same with 1984 Mustangs, a few more hurdles cropped up. Gone were the days of manufacturers freely swapping intakes, carburetors, and exhaust systems with any aftermarket parts they wanted. Saleen couldn't do any engine modifications if he wanted to avoid trouble with the EPA, so he left the engine, exhaust, and drivetrain alone during his conversions. The upshot was that this preserved Ford's factory warranty, which was another important aspect. Saleen did add a stiffened Racecraft suspension, custom wheels, sticky General tires, and a body kit that not only looked cool but likely offered some degree of aerodynamic benefit. As the years went on, Saleen slowly ramped up the modifications to include five-lug wheels, four-wheel disc brakes, and further interior upgrades, including trick Flofit front seats.
In its day, the Saleen Mustang was a pretty stout package that also came with undeniable street cred. It earned that reputation in no small part because, like the original Shelby Mustangs, the Saleen was an obtainable giant-killer. An underdog that punched well above its weight. A better, exclusive version of the 5.0-liter Mustang that was already the car everybody wanted.
And I was on that list. In the 1980s there was a Ford dealership situated between my grade school and my parents' house. I wandered that lot at least once a day, oftentimes twice. In doing so I became friends with the lowest men on that dealership's totem pole, guys I thought had the perfect job—the lot boys and the "get ready" car prep guys. These dudes had it made, at least as far as I was concerned. They were the first to drive the new cars in from the transport trucks, and they got to unwrap, clean, and drive them around some more! Well, at least to the front line or up the ramp to the second floor storage lot. Which was conveniently lubricated with years worth of tire dressing. Hmmm.
In 1983, the Mustang GTs started rolling in. In '84, the new "GT350" limited-production specials came out. I was a kid so I had no idea they were a "GT350" in name only, or that Shelby was going after Ford for trademark infringement. Yet as cool as they looked, they just didn't have the bite to match their visual bark. Then came electronic fuel injection and roller camshafts, and the continuous development of the 5.0-liter that made it into a killer. The burnouts these new 225-horsepower cars could do on the ramp made that very clear.
By this time I was off to high school and in possession of a crisp new driver's license. That, of course, heightened my awareness of what car I'd buy if I won the lottery. I got my answer instantly upon seeing an episode of Motorweek in early 1988, when a new Saleen Mustang was tested. It was white with blue stripes, and John Davis couldn't say enough good things about it. It was a "racer for the street" and showed "just how much more a Mustang could be." The Saleen also trounced the new ASC McLaren Mustang the Saleen went up against in the test. And this alone really sealed the deal, since a kid in my high school had received an ASC McLaren convertible from his parents. Oh, to get a Saleen and have the chance to heads-up race that oblivious kid from the other side of the tracks! It was the stuff of dreams. One, like many, that would have to wait.
Fast-forward a few more decades, to the point when I found myself at that certain age when nostalgia suddenly becomes more of an issue. I watched as Fox-body 5.0-liter Mustangs, new cars in my formative years, became collectible, and I started looking for one in earnest. Then I saw a 1988 Saleen Mustang heading to the block at Barrett-Jackson. Not just any Saleen, but serial number 01—the one that was a development mule and appeared in all of the brochures. It was even a magazine test car and then Steve Saleen's personal car. I followed it to the block and stood there as it bounced around numbers I thought seemed very cheap considering the car's pedigree. I bid. And three minutes later the crack of the auctioneer's hammer declared me the owner of 1988 Saleen #01.
They say never meet your heroes, but the Saleen didn't disappoint when I drove it. It was a riot. Everything a good Fox-body car should be but far more raw, with a punishingly stiff Racecraft suspension. It drives just like you'd expect a slightly more modern early Shelby to drive, but with A/C, power steering, and really good brakes. It has just enough power to drive it tail-out almost anywhere you want, making freeway ramps into all kinds of sideways fun. And the car is very well balanced and predictable, at least on smooth roads.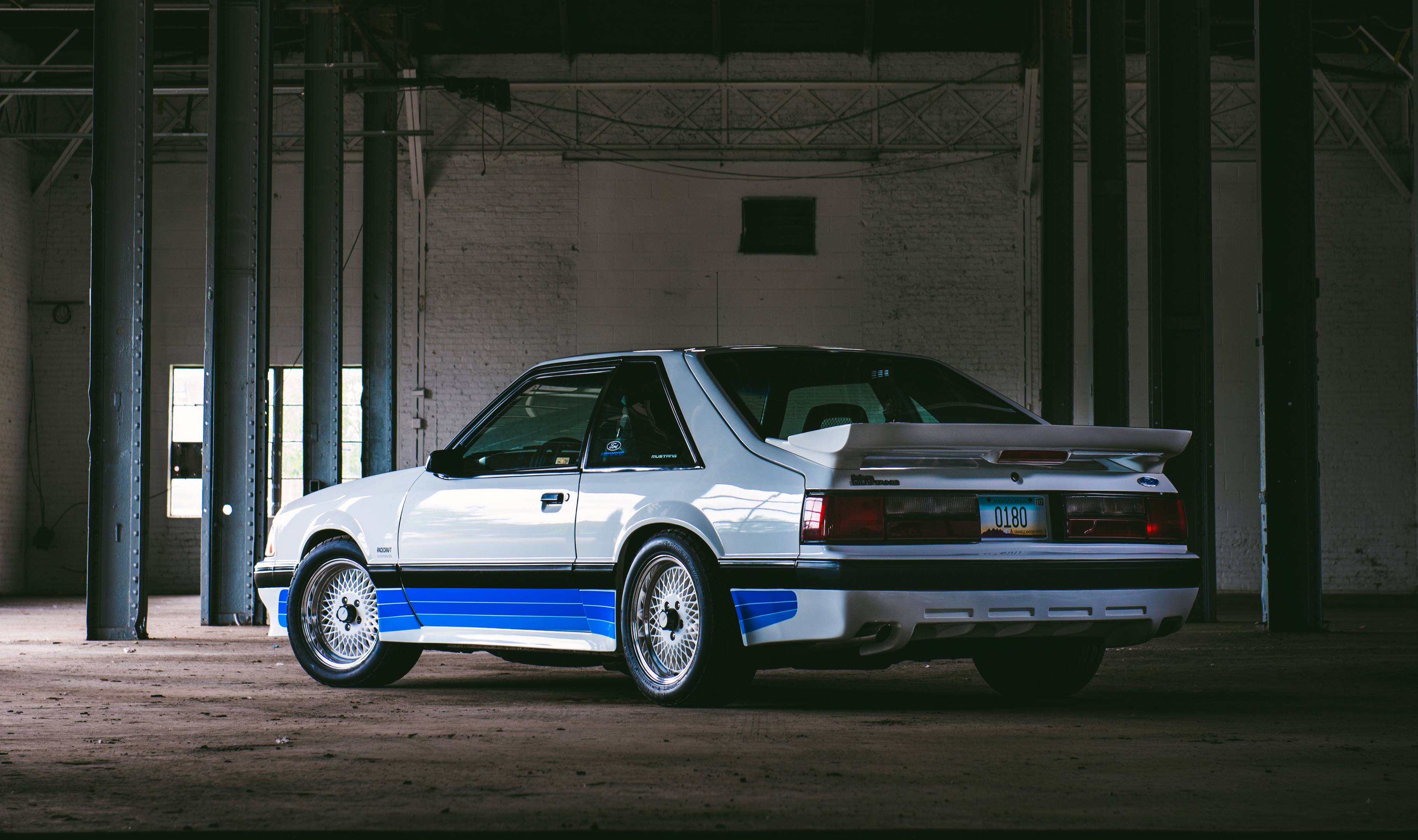 All of this fun with #01 led me to look at other Fox Body Saleens as they came up for sale. For the price of one vintage Shelby Mustang you could fill an airplane hangar full of them. I focused on 1987–89 model years primarily because they combined five-lug wheels, the Flofit interior, and also pre-dated the airbag steering wheel that arrived in 1990. The earlier "four-eyed" Saleen Mustangs from 1984–86, of course, are also desirable because of their even smaller production numbers, unique early features such as three-piece front air dams, 15-inch wheels, and other details that show how the cars (and production) evolved quickly. Plus, the 1984-86 cars feature the arguably more attractive quad headlights with cool Saleen-installed Plexiglas covers.
A handful of years later, the heritage, affordable cost of entry, and off-the-charts fun factor has resulted in a herd of Saleens following me home (six, at this writing, to be exact). Insanity? I don't think so, and here's my defense: Again, much like those first Shelby Mustangs, Saleen was a small manufacturer finding its way with a specialized product. The conversion also wasn't cheap; in 1987 it was a roughly $7,500 more than the base Mustang LX 5.0-liter's $13,000 base price. As a result the production numbers are very low, totaling just hundreds each year. And, very much in parallel with Shelbys, every Saleen Mustang is serialized and can be documented, in this case by contacting Saleen directly. Club support is fantastic as well; Saleen owners are a passionate group who love their cars. Both bode well for the future of these cars because the fakes are being filtered out and the good cars are being cherished.
Which brings me to another point: The attrition rate for Saleen Mustangs is surprisingly high, either as a result of wrecks, thefts, or simply cars falling into the wrong hands or being destroyed by modifications. So as the market matures and collectors seek out truly elite-grade examples, the few examples of great, stock, low mileage Saleens that remain among the original limited production run protect the model's future value.
The best part? Right now a good early Saleen carries a very small premium over what some of the best Fox-body 5.0-liter Mustangs are bringing. It seems as close to a no-brainer proposition as there is, especially in today's increasingly hot 1980s collector car market. Even though prices have noticeably jumped in the last three years or so, you're not too late to the Saleen party. There are still pretty fantastic Saleens for under $30K, and it's possible to stumble on a great deal for much less. I've seen nice "driver-level" cars which sell for as little as $15K, but I have also noticed the supply dwindle considerably in the last two years. And we all know how the law of supply and demand works.
Don't get me wrong, I am not predicting people will get rich off these things in the near future. But I sure think in another 10 to 20 years there will be another comparison to draw between Shelby and Saleen Mustangs—that they both really hit their stride value-wise when they turned 40. And even if I'm totally wrong about that, I don't think anybody who buys one will complain after the fun they'll have with it in the years to come.
And that's why I'm still buying them.
P.S. If you have a really great Saleen for sale, please disregard all of the above. Just contact me so I can buy your car.