Three Porsches that weren't
By the end of the 1990s, in the days of the last air-cooled 911s, most purists would have you believe that Porsche attained perfection. Porsche is first and foremost a sports car manufacturer, and if the last 993-chassis cars to come off the line were tremendously expensive, they were at least pure in intent. There were no sedans, no wagons, and certainly no hopped-up people-movers.
Except that there were.
In modern times, Porsche as a brand has little compunction about slapping its badge on two crossovers, one full-size luxury car, and a 911 that's basically the spiritual grand tourer descendant of the 928. The rationale for why is simple: selling sports cars isn't always steadily profitable. Porsche learned this lesson the hard way, coming up against declining revenues and having a look around for work elsewhere. The result was a couple of little-known production cars that presaged the future, a couple of oddballs, and a concept that boggles the mind. All of them were Porsches, albeit without the badge.
Fittingly, nearly all of Stuttgart's dalliances begin with the Porsche 959. Just as that supercar's all-wheel-drive, all-weather performance presaged what the modern twin-turbocharged 911 would be, it also spawned all manner of unexpected machinery. Think of the 959 as the Henry I of the automotive world—yes, there's a bloodline, but there are also plenty of out-of-wedlock offshoots.
1983-85 Volkswagen B32
The first of these projects was the Volkswagen-badged B32, built from 1983–85. Immediately recognizable as one of the boxy, iconic Vanagons, the B32 would have been a usual sight on the autobahn. Nothing to fuss about. But when one started closing on your BMW's bumper at 120 mph, you lifted an eyebrow or two.
The first prototype B32 is rumored to have been built in the Algerian desert. This was out of necessity, because Porsche's chase vehicles for its Dakar rally attempts couldn't keep up with the rally cars. The production version—only 15 were made, including prototypes—is the complete deal. Instead of the sluggardly 112-horsepower Volkswagen motor, the B32 got the complete works out of a 3.2-liter 911 Carrera. Power more than doubled, Porsche re-tuned the suspension and lowered it over Fuchs wheels, and the brakes came from the 911 as well.
With these upgrades, the B32 was much better equipped for supporting desert rally. But it couldn't match what Porsche did next for the Mercedes G-class.
1991-95 Mercedes-Benz 500E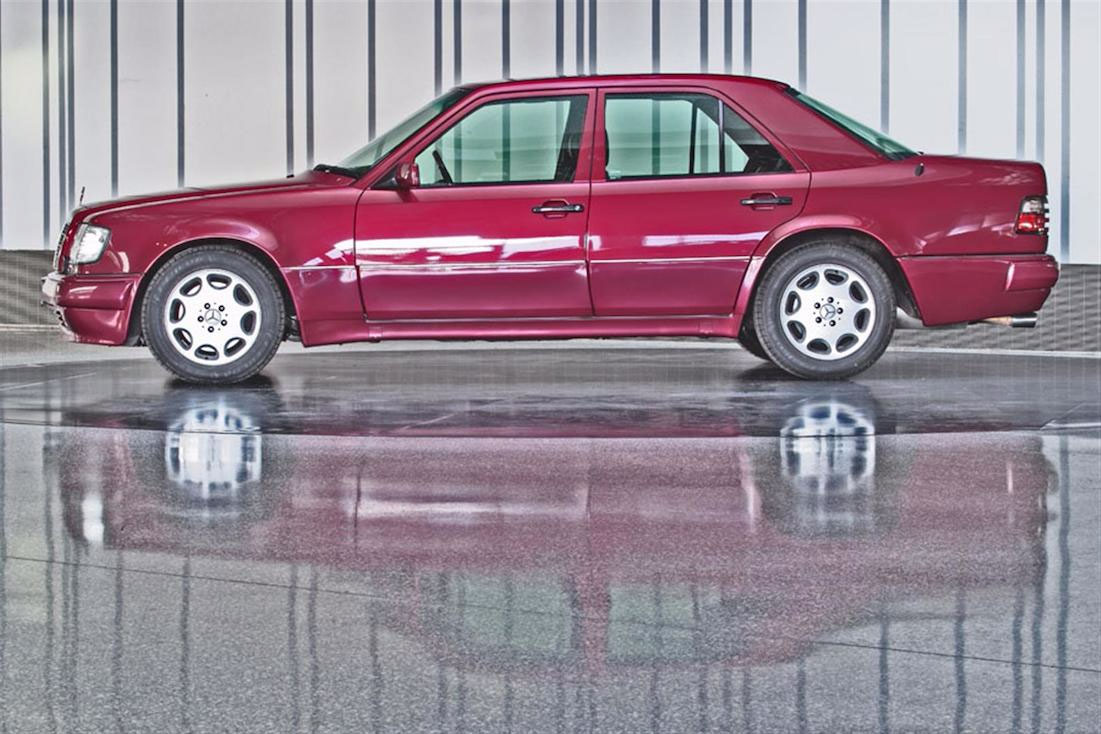 Porsche's first partnership with Mercedes took a strange form. The overpowered, AMG-badged Geländewagen might be a common sight today (especially in Los Angeles, where it seldom gets dirt on its tires), but the production version went from 1979–93 before a V-8 was even fitted. Save for one version, at least.
To support its winning 1986 attempt at the Dakar rally, Porsche crammed a 928-sourced 4.7-liter V-8 under the hood of a G-wagen, and used it as a support vehicle. To say it was successful was an understatement, as the Rothmans-liveried car finished second overall.
Mercedes is also based in Stuttgart near Porsche, and that proximity made Porsche's next cross-breeding experiment feasible: the 500E. With the Rössle-Bau-based 959 production line idled in 1989, Porsche had specialist manufacturing capacity to spare. Meanwhile, Mercedes was tied up developing new products.
Enter the 500E. Under a strictly defined Mercedes directive, Porsche took the W124 Mercedes E-Class chassis, widened the bodywork to accept 16-inch wheels, shoehorned in a 5.0-liter all-aluminum V-8, and reworked the rear suspension. There was a considerable amount of shuttling back and forth; Mercedes produced the body, and then shipped it to Porsche for engine install; Porsche shipped the assembled chassis back to Mercedes for paintwork; then Mercedes sent it back across town to Porsche for final assembly.
From a logistics standpoint, it's a nightmare. However, the 326-hp 500E was as cohesively made as any of the best cars from either of its parent companies. Not an AMG dragster, it was nonetheless both fast and stable at unrestricted autobahn speeds, all while retaining Mercedes-Benz's trademark comfort levels on more poorly maintained roads. The Formula 1 drivers of that era loved them.
Production of the 500E stretched over four years beginning in 1991, with just a handful produced in 1995 by special request. With nearly 3,000 made, it's a unique collectible that many overlook.
Porsche's next attempt would be even more exhilarating, if harder to get your hands on.
1994-95 Audi RS2
Fast Audis are aplenty these days, and the fast Audi wagon is a hot commodity. We all drool over the likes of the RS4 and RS6 Avant, and those bits of forbidden fruit (at least for us in the U.S.) can trace their lineage back to a single apple in Porsche's Garden of Eden.
Why a wagon? Legend has it that Porsche didn't want to build a coupe that might outperform the 911. So when Audi came looking for a halo car, Porsche insisted on a wagon. We're glad for it.
Already turbocharged, Audi's five-cylinder engine responded well to Porsche's turbo knowhow. Porsche fitted a larger KKK turbocharger, massaged the camshafts for better breathing at higher revs, increased the boost pressure, and employed a quintet of 20-psi injectors to ram in the fuel.
It was called the RS2 Avant, and Porsche's fingerprints were all over it. There was no shuttling back-and-forth from company to company this time around, and Porsche was in the driver's seat. It fitted the RS2 with Carrera wheels, 911 wing mirrors, 911-look treatments front and rear, and the brake package from a 968 Club Sport. Pop the hood on an RS2, and you'll see a huge "Porsche" script running down the intake manifold.
Porsche wasn't afraid to sign its name to a different brand, nor should it have been. Pairing a 315-hp straight-five with Quattro all-wheel drive and a wagon body basically amounted to the car equivalent of Walter Röhrl wearing a backpack. For many years, the RS2's 0-30 mph holeshot was quicker than most supercars could muster.
By the time the RS2 went out of production in 1995, Porsche was already considering how best to move from air-cooled engines to wasserboxers, and the future was set. The Boxster came along with its mid-mounted, water-cooled engine in 1996, and began a new chapter.
With that said, there is one ungainly weirdo worth mentioning in passing: the RS1 Varera. Only a concept car, but a semi-realistic one, it was an all-wheel-drive, high-performance reimagining of the Volkswagen Sharan minivan. Yes, really, a Porsche minivan.
Obviously, such a machine never went into production, but the RS1 did prove to Volkswagen that a platform linkup with Porsche would be a good idea. Their first successful product together? The Colorado project, which resulted in the Volkswagen Touareg and the Porsche Cayenne. The transition from sports-car maker to manufacturer of all manner of vehicles was complete, thanks in part to the Porsches that never wore the badge.