Defenders of the Cadillac Allante aren't giving up just yet
The present sharp political divide in the U.S. should be no surprise to dedicated Cadillac Allante owners, most of whom have been fighting a furious rear-guard action for 25 years or so. They view their Pininfarina-designed, U.S.-assembled two-seaters as the Rodney Dangerfield of luxury cars ("I don't get no respect"). If you recall, however, Dangerfield usually got the last laugh.
Alan Galbraith, the driving force behind the popular Hagerty-sponsored Concours d'Lemons, chose the Cadillac Allante as the featured marque for the 2018 event in Seaside, near Monterey, last week. His decision was met with roars of outrage from aggrieved Allanteans. If I owned one, I'd see how many of the 21,430 roadsters I could round up and we'd take over the whole damn affair. Treat it like a Triumph TR6 gathering and round up one car from every year in every color. Break out the champagne. But Allante enthusiasts pushed back.
Galbraith was quite disappointed at the hostile reception his selection received. As the former owner of a 1990 model, he was sympathetic to the tarnished image and intimately familiar with ongoing problems.
"I had hoped Allante owners would enjoy showing off their nearly forgotten cars to adoring automotive enthusiasts, but it seems as though one must trade one's sense of humor for an Allante title," he said ruefully. "I've been accused of trying to drive down Allante values, which is impossible, since they honestly can't go any lower. One owner told me he tried to give his to a family member. They are no longer on speaking terms. I enjoyed driving my 1990 Allante, but I enjoyed watching someone else drive it away after they bought it even more."
At this point I should admit to owning a 1984 Cadillac Seville for several years. Covered in Palomino Sunfire (more like Pumpkin Metallic) paint with a tan "cabriolet" roof, gold leather interior, and shag carpet floor mats on top of shag carpet. It caused immense amusement whenever it appeared, but I didn't care. I liked the "Hooper Empress" styling, and I dealt with the inevitable mechanical and electrical woes with good humor—for as long as I could afford to. Besides, who wanted a 1959 Cadillac even a year later? Maybe I was ahead of my time.
The Allante was a remarkably bold response to a luxury two-seater market that was effectively owned by the Mercedes-Benz 560SL and Jaguar XJS. Both cars were statements of opulence, and neither was particularly sporty. The Mercedes was stodgy but reliable, and the Jaguar elegant but definitely not reliable. Surely there was a niche?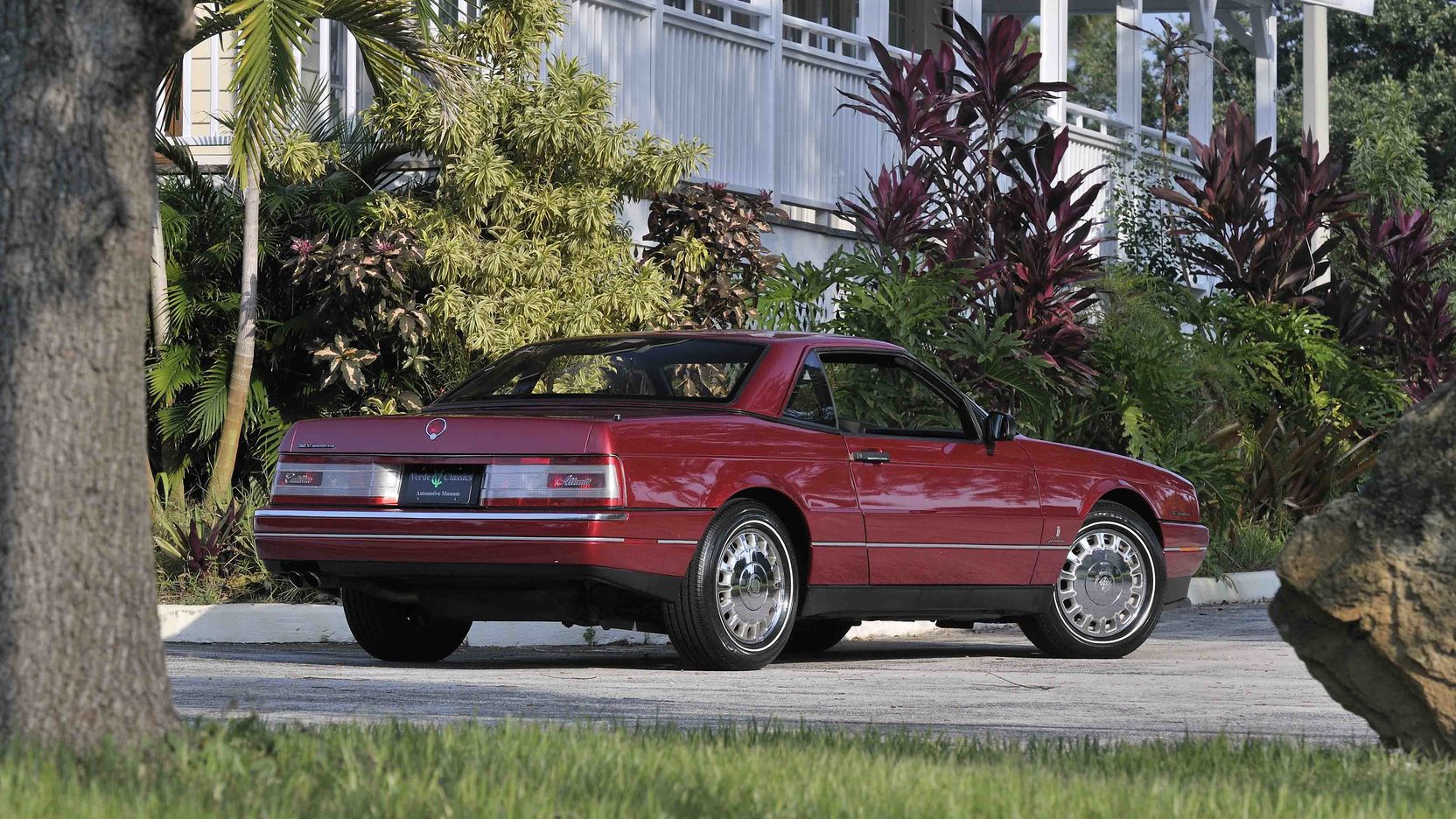 Cadillac's solution followed the same inspiration that led to Chrysler's Italian show cars of the 1950s—which, by the way were NOT to be sold in the U.S. as they upstaged every other Mopar product. What if such a car was built in Italy again, and could be sold in the U.S.? Pininfarina was hired to build Allante bodies in Turin and flew them, 56 at a time, 4600 miles on a Boeing 747 to Detroit to have the power trains fitted. Really.
Sound crazy? A similar idea was tried with Pininfarina's 1952–54 Nash-Healey coupe and roadster which were shipped by sea to the U.S. and much less successful (only 402 built), but are now worth $100,000. So there.
When the first Allantes arrived at dealer showrooms in 1987, they were fitted with a 170-horsepower transverse multi-port fuel-injection version of the 4.1-liter V-8 with roller rockers and tuned intakes. It had a four-speed automatic transmission, independent suspension, and four-wheel ABS disc brakes. Standard accessories included an excellent 60 pound aluminum hardtop, a Delco/Bose Sound System ($905 on any other Cadillac) and the first power AM/FM/cell phone antenna.
But the price was an eye-watering $54,700 ($121,336 in 2018 dollars), almost three times the cost of a Sedan De Ville. A total of 3363 were sold the first year, which was the highest total until the final 1993 model which gained the 295-hp, 4.6-liter Northstar V-8 and found 4670 buyers.
By and large the reviews were favorable, mostly applauding GM's idea to play in the big leagues and stressing the strong points of the car (fit and finish, reasonable performance, etc). The MSRP was referred to in comparison with the competition, rather than other Cadillac models. However Automobile Magazine called it overmatched and overpriced and compared its 0–60 mph in 10 seconds and 125-mph top speed to the 560SL's 8 seconds and 137 mph, and the Porsche 928S's 6 seconds and 150 mph. Meanwhile, complaints focused on leaking convertible tops and persistent electrical gremlins.
My road test of the Allante coincided with my taking over as Automotive Editor at The Oregonian newspaper in 1990. My tenure was almost cut short when the local Cadillac dealer canceled his advertising after I concluded that Allante money would have been better spent designing a $30,000 Coupe De Ville convertible. "Maybe that's why GM is offering dealers $7500 on the first Allante they sell and $8500 on each succeeding one?" I observed.
My complaints mostly concerned driveability. It simply wasn't user-friendly, with 54 switches on the dash and push-buttons you couldn't read without taking your eyes off the road. I called it an interesting mix of quality materials and bonehead logic. There were five switches for headlights, three for washers/wipers, 12 for climate control, eight for driver's service center, 18 for the stereo, and eight for the CD player.
I was also disappointed that no power top was available (although a one-button unit was rumored to be coming the next year) and doubted that wealthy older buyers would want to wrangle a seven-step manual top similar to the Camaro/Firebird. I found the Recaro seat hard and too flat for sporty driving, and the adjustable suspension soft enough at low speeds to spill your coffee.
The Allante's seven-year history was marked by regular introduction of new features, including a 200-hp, 4.5-liter V-8 in 1989, GM's pass-key security system, speed-sensitive shock absorbers, variable-assist power steering, and progressively more sophisticated sound systems. Price increases each year were invariably followed by mid-year price cuts, as unsold cars stacked up. But the car's warranty far exceeded other Cadillacs, at seven years and 100,000 miles.
I drove several iterations of Allante through the final 1993 Northstar V-8 model, which was certainly fast enough with 295 hp, though cowl shake remained problematic. However, many problems had been resolved—just too late.
Cadillac sold a record 4670 Allantes starting at $59,975 in the final year, with the hardtop an extra cost option. At 0–60 in 6.3 seconds and 150-mph top speed, the final Allante could pace the Indy 500 in stock form.
The high survival rate of Allantes stems from the high initial cost and careful use by older owners, while the car's complexity is surely the reason for modest prices. Hagerty rates a #1 1993 Northstar model at $25,100—that's 41 percent of its original MSRP—but you can pick up lesser cars for about $5000.
Most mechanics who were trained to repair them are retiring, and electrical issues that plagued all GM cars in that period can be daunting. The digital dash was notoriously unreliable, but there was an analog option from 1989 which is worth finding.
While the 1993 Allante is most desirable, its Northstar engine has a few issues, not least replacing the starter motor in the "V" underneath the intake manifold. That task requires disconnection of the fuel injection, but it's possible for an average mechanic to accomplish the task in a reasonable time, and several "how to" videos are encouraging.
As Cadillac fades slowly from the national consciousness, its ambitious past projects are attracting greater interest, and the Allante is likely to benefit. Good survivors will surely never be cheaper and, like the 1970s Eldorado, they will attract dedicated contrarians whose numbers belie the strength of their sheer conviction. And those owners are certainly dedicated—and proud. Just ask Alan Galbraith.