10 cars Porsche fans will be watching at Pebble Beach
The World Cup of car events, Monterey Car Week is nearly upon us. In addition to The Porsche Club of America's Werks Reunion, The Carmel Concours on the Avenue, Concorso Italiano, The Quail Motorsports Gathering, Concours d'Lemons, a ton of other stuff, and a little thing called the Pebble Beach Concours d'Elégance, the six major auction houses are bringing their A-game.
It's anyone's call as to how things will go, but a late 2017 change in the tax code (that no longer allows collectors to defer gains on the sale of collector cars by exchanging them for another) may have put a slight damper on high-end sales in Scottsdale. Now, the threat of a 25 percent tariff on imported cars possibly looming might have the opposite effect, motivating certain buyers and sellers. Pebble Beach has brought some predictably heavy-duty cars out of the woodwork including a Ferrari 250 GTO that will likely be the most expensive car ever sold at auction. And while Ferrari might dominate the headlines for the absolute high sale, by sheer number of cars consigned, Porsche is firmly in the driver's seat in the collector car market. Here are 10 Porsches in every price range that we'll be eyeing:
Lot 172 (Gooding & Co.)
Estimate: $80K-$120K
Low-mileage transaxle cars have been showing up at big-time catalog auctions recently, and they've been doing quite well. Coming on the heels of some big results for a superb (but ordinary spec) 944 in Scottsdale is this '89 Turbo. Arguably, this is the 951 that you want the most: It's the final year (with the horsepower of the S-spec '88 standard) in the iconic Guards Red/black livery with just 8400 miles. The pre-sale estimate is an ambitious $80,000 to $120,000. But it's being sold without reserve, so anything can happen. Anything but perhaps someone stealing this thing for 40 grand. Look for it to do at least the low estimate, but it's certainly possible that two determined bidders could push this museum-quality 944 Turbo well above $120,000. Either way, it's likely going to set a record for a production 944. As an aside, RM Sotheby's has a 15,000 mile '87 944S with a pre-sale estimate of $30,000 to $40,000.
1955 550 Spyder and 1958 550 A Spyder
Lot 051 (Gooding & Co.), Lot S91 (Mecum)
Estimates: $4M-$5M (Gooding), $4.5-$5M (Mecum)
550 Spyders are among the blue chippiest of blue chip Porsche collectibles. Bonhams in Scottsdale sold a 550 A last January for almost $5.2 million making it the high Porsche sale of the Scottsdale auction week, so not surprisingly, we're seeing more 550s head to market. Both the Mecum and the Gooding cars have fine if not stellar competition and ownership histories. The opportunity to put anything into your garage with a Fuhrmann four-cam engine doesn't happen every day, particularly when it's attached to Porsche's first real bespoke competition car. Assuming neither car has a story that makes the close-knit 550 community wig out, it's tough to imagine the market not being able to absorb two of these Porsche crown jewels in the same weekend.
Lot T159 (Mecum)
Estimate: N/A
If there's a 924 for the cognoscenti, this one is it. It's a 1988 model with 160 hp and the M756 Limited Edition package (one of 500) which essentially made it a 924 Club Sport, complete with the M030 suspension package of Koni dampers and stiffer springs. With cloth seats, manual mirrors and wind-up windows, it was a minimalist version of what was an already entry-level Porsche, (although the original buyer did add back A/C and power steering).
I even kind of like the 80s gray/mauve hell that is the interior. With just over 53,000 miles, the 924 looks extremely well-preserved. Only the murdered-out look imparted by the black phone dial wheels is off-putting. Easy fix. When you buy this thing, get your powder coater on the phone before you hit Del Monte Avenue. The significance of this car is probably lost on most Porschephiles, let alone most of the folks hanging out at Mecum on a Thursday afternoon. If I'm not around with a bidder's paddle, and this car gets picked up cheap by a dealer, you can catch me later in the week drowning my sorrows at the Crown and Anchor pub.
1968 Porsche 908 Short-Tail Coupe
Lot 139 (RM Sotheby's)
Estimate: $2.3M-$2.8M
RM Sotheby's has a big Porsche-only sale at the Porsche Experience Center in Atlanta coming up in October, but they can't afford to ignore Monterey, and so this weapons-grade Porsche racer crosses the block in California in a few weeks. Contrary to popular belief, the 908 wasn't replaced by the 917, the car actually outlived the 917 in competition and was eminently more suitable for shorter/twistier tracks than the larger and heavier 917. This car was a former Werks racer campaigned by Jochen Neerpasch and Vic Elford. It's extraordinarily pretty and with a pre-sale estimate of $2.3 to $2.8 million, it's about one-tenth the price of a 917K.
2009 RUF CTR3
Lot 56 (Bonhams)
Estimate: $700K-$900K
Strictly speaking, this isn't a Porsche, it's a Porsche-powered hypercar built on a totally bespoke platform developed by Multimatic Motorsports, the Canadian company that developed the latest Ford GT. Powered by a twin-turbo, 3.8-liter flat-six, it develops over 700 hp at 7000 rpm. It's a testament to RUF's reputation and the execution on this amazing car that it's expected to bring money that is essentially the equivalent of three-fourths of a 918 Spyder, the pre-sale estimate is $700,000 to $900,000.
Lot 80 (Bonhams)
Estimate: $40K-$50K
Another Porsche that isn't a Porsche, the 500E was what you bought before there was a Panamera if you wanted a Porsche V-8-powered four-door sedan. Hand-built in Zuffenhausen, the 500E was probably one of the best cars of the 1990s, mating the superb W124 E-Class platform with Porsche's 5.0-liter, four-valve, 326-hp V-8. With only subtle wheel-arch flares and badging to give it away, It's one of the ultimate sleepers. This one seems like the one to own—it's anthracite and not black and it shows a paltry 14,000 miles. Pre-sale estimates in Pebble Beach tend to be on the high side, this one, however strikes us as very conservative at just $40,000 to $50,000 and it's being sold without reserve.
Lot 81 (Bonhams)
Estimate: $50K-$75K
As the 964 celebrates its 30th anniversary, prices and interest seem to have exploded, particularly for coupes in rare and unusual colors. This car checks all the boxes. Freakishly low miles? Check (just 4830 miles from new). Unusual color? Check, it's Violet Blue metallic, a color that oddly enough, suits the car well. And who doesn't dig a purple Porsche? Like the 500E, the pre-sale estimate seems downright cheap at $50,000 to $75,000.
Lot 31 (Worldwide Group)
Estimate: $20-$30K
As we mentioned, super-clean, low-mileage 944s have been popping up at hoity-toity catalog auctions for the last year or so. Gooding has the best one in Pebble Beach with the frozen-in-Carbonite 944 Turbo, which we profiled at the top of the page. Worldwide has a humbler car, with a big challenge, that in its own way, might give a better indicator of the strength of the 944 market. This car is a first-year 944 (the only year with manual steering) with just 29,000 miles. The big catch? It's an automatic, not the box of choice for the 147 hp 2.5-liter four. Truth be told, the aftermarket giant reflector panel between the tail lamps is a bit of a buzzkill too, but if this car sells in the middle of it's $20,000 to $30,000 pre-sale estimate, then it's a barometer of how strong the 944 market may be getting. Those clean $7500 Craigslist 944s? Going, going and soon to be gone.
1959 Porsche 718 RSK
Lot 128 (Gooding & Co.)
Estimate: $3.6M-$4.1M
The 718 RSK marked a further step along the competition car continuum after the 550 A Spyder. Things seemed to move faster in those days, the 718 was itself a big leap from the 550, but it's hard to believe that just 10 years separate this rather dainty four-cylinder racer from the monstrous 12-cylinder 917 of 1969. Nevertheless, the 718 RSK was an important car for Porsche Rennsport and with just 35 built, a rare one to boot. This car was a privateer entry in the 1959 24 Hours of Le Mans and has never been offered for sale publicly before. The pre-sale estimate is $3.6 to $4.1 million.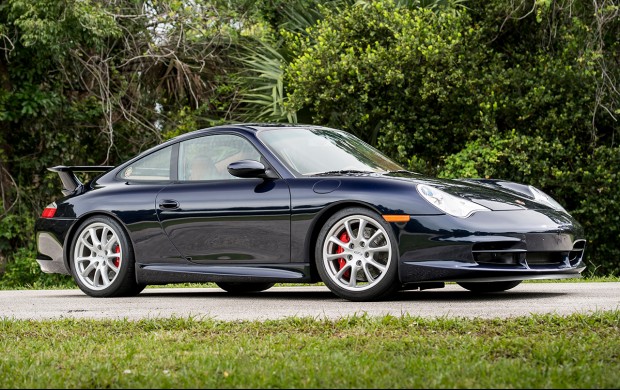 Lot 47 and Lot 109 (Gooding & Co.)
Estimates: $150K-$200K (GT2), $80K-$100K (GT3)
Lately, a good deal of the action in the Porsche market has been in the water-cooled cars. Gooding has two with possibly the biggest near-term upside—the current GT car loss leaders in the 996 GT2 and GT3. These are immensely appealing cars. The GT3 is a beautifully-balanced, lightweight (well under 3000 lbs.) naturally aspirated car that does nearly everything right, much in the spirit of the classic air-cooled 2.7-liter Carrera RS. The GT2 is a rear-wheel drive, twin-turbo monster. Along with the Carrera GT, it was one of the last of the great Porsche widowmakers. Both cars feature the work of legendary engine-designer Hans Mezger and therefore do not suffer from the intermediate shaft bearing issues that other 996-generation Porsche 911 models do.
Rob Sass is the Editor-in-Chief of Porsche Panorama, the official magazine of the Porsche Club of America. This story first appeared on PCA's website, www.pca.org.