Porsche's silent founding partner
German architect Peter Kaiser was the first to license any Porsche for road use on December 20, 1948. As we now mark nearly 70 years since the company's birth as a manufacturer of 356 coupes and cabriolets, set your way-back machine for 1930. Well before the VW Beetle or any sports car derivative existed in Ferdinand Porsche's fertile imagination, he opened small office in Stuttgart, Germany, ambitiously called 'Dr. ing. h.c. Ferdinand Porsche GmbH, Konstruktionsbüro fur Motoren und Fahrzeugbau (design office for engine and motor vehicle construction). Nine designers, including Porsche's faithful ally Karl Rabe and his son Ferry, manned the drafting boards.
Seed money came from three sources. Dr. Porsche put up 24,000 RM, roughly equivalent to $3500 in 1930 or $136,000 today. His son-in-law Dr. Anton Piech added 3000 DM to the kitty and served as the company's attorney. If that name sounds familiar, it's because Dr. Piech's son Ferdinand, born in 1937, climbed to the very top of the VW Group's ladder before he was ousted in 2015.
The forgotten investor (and racer)
The third almost-silent partner was Adolf Rosenberger, a wealthy German race driver who served as the budding Porsche design office's managing director. Like Piech, he contributed an initial 3000 RM followed soon by an additional 80,000 RM to sustain operations when initial customers were slow to pay their tabs.
Rosenberger's racing exploits were well known to Porsche and others. Born in 1900 in Pforzheim, Germany, his family's success in real estate and movie theaters provided the wealth needed to compete with the day's quickest motorcycles and sports cars. At the wheel of the Benz RH (Rennwagen Heckmotor) designed by aircraft engineer Edmund Rumpler and developed by Benz chief engineer Hans Nibel, more commonly call the Tropfenwagen for its tear-drop shape), Rosenberger won the Solitude race near Stuttgart in 1924 and 1925. The RH was the first ever successful mid-engine race car.
He and his arch rival Rudolf Caracciola drove Mercedes SS sports cars designed by that firm's technical director Porsche at the first German Grand Prix held at AVUS in 1926. Competing in the wet, Rosenberger was the quicker of the two. Unfortunately, a leak in the ether tank used to start his supercharged six-cylinder engine resulted in him passing out and crashing into a timing stand, resulting in the deaths of three course marshals.
The following year, Caracciola and Rosenberger faced off at the 1927 Eifelrennen, the first major sports car race held at the Nurburgring. Rosenberger, who had 40 victories to his credit, finished a close second to Caracciola who subsequently won three European Grand Prix Championships for Mercedes-Benz.
Porsche goes back to the drawing board
When Daimler and Benz merged in 1924 to form Mercedes-Benz, Porsche and Nibel were forced to compete for the combined management's favor. When Porsche lost that political battle in 1928, he returned to his homeland in Austria to work a few years at Steyr before returning to Stuttgart to open his design office.
In 1931, Porsche project number 12 was a rear-engined prototype for the German motorcycle manufacturer Zundapp, aimed at the mass market. Engineering student Bela Barenyi, who later invented crashworthy body structures for Mercedes-Benz, loaned the Porsche organization his Vienna Technikum thesis describing a second rear-engined economy car.
The most convincing voice stimulating Porsche's interest in locating the engine behind the driver was Rosenberger's. In a 1952 Griffith Borgeson interview he noted, "I happen to have been the first person to drive the Benz RH cars to success in racing in the mid-1920s. Though they had only 65 horsepower, we beat 125 horsepower blown Mercedes at the Solitude races. I had a good idea of their good and bad points. My experience driving that baby is what led Porsche to design a rear-engine car." (Today's "mid-engine" terminology had not yet been invented.)
Knowing that the Grand Prix formula was scheduled to limit cars to a maximum weight of 750 kilograms (1650 pounds, not including tires or fluids) beginning with the 1934 racing season, the Porsche design office began speculative project 22: a 4.4-liter V-16 mid-engine single seater blessed with 290 horsepower, an aerodynamic body, and a 180-mph top speed.
Rosenberger ousted
As luck would have it, Rosenberger was pals with Kaus-Detlev von Oertzen, board chairman of the new Auto Union combine (Audi, DKW, Horch, and Wanderer). Von Oertzen was intrigued by the promotional opportunities offered by the Porsche-designed racer especially after learning that sponsorship funds might be available from the German state.
Enter Adolf Hitler, a Dr. Porsche admirer, and the new German chancellor as of January 1933. The good news is that his eagerness to advance Aryan prowess in every form of sport resulted in an annual stipend of 250,000 RM for both Mercedes-Benz and Auto Union, pending cooperation between the two companies. The bad news is Hitler's renowned hatred of Jews which was about to make life untenable for Rumpler and Rosenberger.
During Nurburgring tests of the experimental Auto Union Type A, Rosenberger easily matched Hans Stuck's lap times. Unfortunately, Nazi officials denied Rosenberger's competition license. The point, after all, of these state-backed programs was to demonstrate Aryan superiority.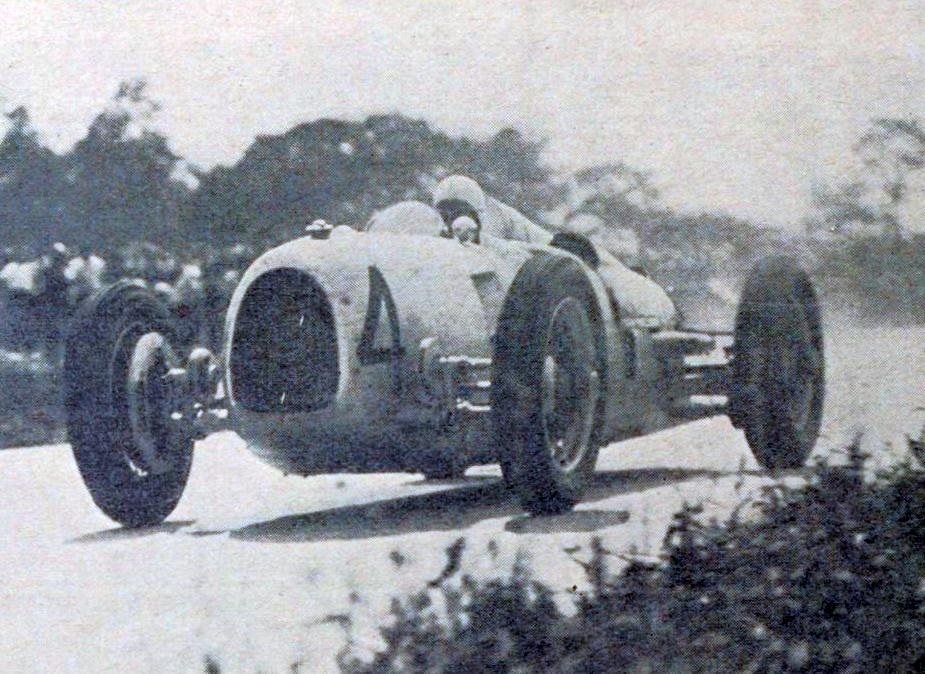 Rosenberger read the writing on the wall, transferred his Porsche ownership and management responsibilities to his close friend Hans Baron Veyder-Mahlberg, and moved first to France, then to Switzerland to represent Porsche's foreign interests. His tactical error was returning to Germany in 1935. Promptly arrested by the Gestapo for "racial disgrace"—relations with an Aryan woman—Rosenberger was tossed in a concentration camp.
Beatings ensued. But after only four days of internment, ally Veyder-Mahlberg negotiated Rosenberger's release for 953 RM. After relocating again to France, the hapless Rosenberger changed his first name to Alfred. As things heated up in Europe, he moved to New York and then Detroit, where he sought employment in the car business.
Since the U.S. government considered Rosenberger an enemy alien and restricted his movements, no car company would touch him. Desperate, he relocated to Los Angeles, changed his name to Alan Arthur Robert, and opened a gas station with other German escapees. When that venture failed, he became a day laborer, sold plastic products on the side, and was finally granted U.S. citizenship in 1944.
A new chapter
Rosenberger's life improved markedly in 1950 when he married Anne Metzger, a former secretary at the Porsche office. The happy couple founded Roberts of California to produce and sell premium home decorations. Relocating to Beverly Hills, they assisted Robert's mother and sister's immigration to America. The enterprising car enthusiast opened a shop installing exhaust system modifications and custom body work.
Things were still a mess in Europe. All of Robert's Pforzheim real estate holdings had been seized by the Nazis. His Porsche salary and communications ended when he relocated to America. Every attempt to maintain a dialogue with that company failed, in part because the French locked up both Porsches and Anton Piech for Nazi collaboration. When they were all released in 1946 after only six months of confinement, the former colleagues dispatched letters to Roberts begging for cash, chocolate, and coffee care packages.
Conditions in Germany soon improved and by 1949, some 46,000 Beetles had been produced, yielding a $1.25 per car royalty to the Porsche organization. Company assets rebounded to more than a million DM ($3.5 million today) which helped fund Porsche's 356 sports car production.
Getting his due
Roberts sued his former colleagues for 200,000 DM (about $480,000 today) in the German retribution tribunal. His 1950 award was a quarter that amount plus his choice of a Porsche 356 or a VW Beetle. Why, exactly, the retired racer picked the VW is anybody's guess.
In part due to the beatings inflicted by the Nazis, Robert's health failed and he died in California in 1967. In 2012, a German television series titled "Die Akte Rosenberger: Porsche's dritter Mann" (The Rosenberger File: Porsche's Third Man) paid him tribute. Unfortunately, his important role is barely acknowledged by Porsche's Stuttgart museum. Two years from now, when Porsche celebrates the original design office's 90th birthday, we'd love to see Rosenberger's life and times finally get its due.