These "Day 2" muscle cars have some quick stories to tell
The Muscle Car and Corvette Nationals (MCACN) puts its best foot forward every year. For 2019, Bob Ashton and his hoard of henchmen brought something for enthusiasts to appreciate and educate with the Day 2 Invitational.
While collectors of 1950s cars enjoy dressing their classics in period-correct accessories (akin to a rolling J.C. Whitney catalog of sorts), 1960–70s enthusiasts tend to use accessories that lean towards the high-performance variety. As evidenced by the first Speed Equipment Manufacturers Association (SEMA) convention in 1967, the automotive aftermarket experienced an explosion—not just mag wheels but headers, carburetors, and anything else to make a car go faster. Today, vintage vehicles with period mods—"Day 2"—are a rare twist to the factory stock status quo. Below are five dealer-prepped performance cars, old street racers with vintage speed parts, and even modern restorations veering off the stock path that caught our eye at MCACN.
1969 COPO Camaro
If Plymouth considered the 1970 Hemi Cuda the "Rapid Transit Authority," the 427 Camaro must be its older brother. Before 1969, there was no four-and-a-quarter pony car available from the factory—until this arrived. Chevy made a decent number of them too, despite being an under-the-radar vehicle that wasn't advertised, since it was breaking General Motors' rule of more than 400 cubic inches in a pony car, hence using the Central Office Production Order (COPO) ordering channel usually used for fleets. The one you see before you was bought new at Queen City Chevrolet, a go-to high-performance dealership in Cincinnati that had 10 COPOs in stock when this one was sold. For most of this Camaro's life, it has been a street racer, even adopting the cliche of Z/28 badges and stripes but always maintaining its 427 bits. Look in the below gallery for more Day 2 COPOs.
Yenko Stinger
Don Yenko's first foray in creating a branded vehicle began with the Corvair-based Stinger, born from a need to have a competitive Chevrolet in SCCA racing. Yenko requested a batch of 100 Ermine White 1966 Corvair Corsas using the Central Office Production Order channel, which was generally used for fleet and special orders. In the case of his Corvair, Yenko specified several special options not ordinarily available on Corvairs, such as 3.89 gears (ordered on half of them) and a Cadillac dual master cylinder. He then removed the rear seat, added a blue stripe, fiberglass sail panels, and decklid with integral spoiler, plus some other mods. The flat-six was available in four states of tune. Another 25 Corvair Monzas were ordered in 1967, this time in American (blue/white) and Canadian (red/white) racing colors. Besides the 3.89 Positraction, the other COPO options included wheel cover deletion and the turbo engine, as it had normally been discontinued for 1967.
1970 Buick GS Stage 1
It's now legend how Buick came from behind and produced the giant-killer 455 Stage 1 in 1970. Few showroom stock cars could be put in Drive and rip off consistent 13s with ease like the Stage 1.
This Flint Flyer has a vintage Day 2 story to tell as it is literally like no other: Joe Gusek was an engineer with Motor Wheel Corporation, the company famous for producing the Spyder. Joe owned a 1968 Z/28 but found it difficult driving in Michigan winters. Through work, Joe had associations with Buick and was privy to some of the experimental sides of engineering, which influenced him to order a 1970 GS Stage 1. He special-ordered it in Cadillac Cinnamon Firemist and 3.91 rear (one of 47 coupes built with special-order rear), while the four-speed and other options were regular-production. Joe then mounted custom 15×8.5 Spyder wheels and added a Kenne-Bell camshaft, Mickey Thompson headers, Goodyear G60x15 Polyglas tires, Lakewood padded roll bar, and turbo Corvair mufflers.
1969 Baldwin-Motion Camaro x 2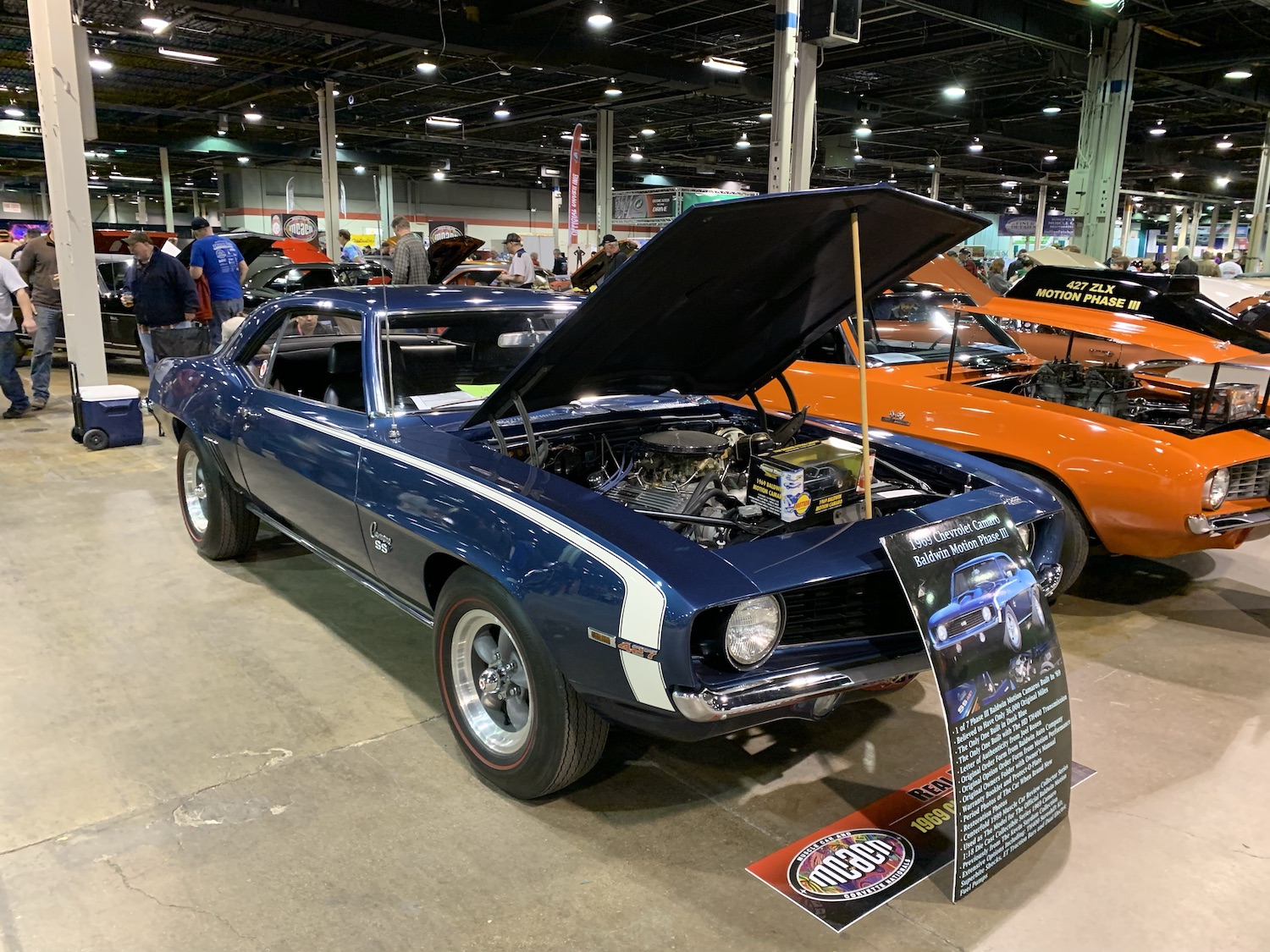 When it comes to Baldwin-Motion Supercars, none were as wild as Long Island's Motion Performance. When Motion teamed up with Baldwin Chevrolet, street machines were limited only by an enthusiast's imagination, from super-tuned 427 Biscaynes to Phase III big-block monsters that toed the line between the street and the track. Despite Chevrolet producing almost 1000 COPO Camaros, most Baldwin-Motion big-blocks were transplants. The Dusk Blue Camaro SS 427 here is one of the more subdued Phase III cars built, unusual in that it features a heavy-duty TH400 automatic with ShureShift kit. Other options include Motion SuperBite shocks, ET traction bars, and dual electric fuel pumps.
On the wilder side was this Hugger Orange Camaro Phase III ZLX with 739 miles. It was ordered as a Z/28 from Curtis Person Chevrolet of Millington, Tennessee, and raced through 1974. That's when the owner took it to Motion Performance for an infusion of 427 power with special "ZLX" open-chamber aluminum heads, tunnel ram intake with dual-fours, plus a Liberty transmission and suspension upgrades—to the tune of $12,000. One of two ZLXs built, it also was done during Motion Performance's swan song, as the company would find itself at odds with federal regulators.
Have a Day 2 car of your own, or just a favorite? Share it in the Hagerty Forums below.