Before Iacocca saved Chrysler, the quirky Sno-Runner made a valiant, ill-fated effort
From John DeLorean's ill-fated drug buy to Ford mortgaging its Blue Oval logo, the people running car companies have taken some desperate measures to stay in business.
In the late 1970s, the Chrysler corporation was in such desperate financial straits that company managers seriously thought that salvation could lie in a one-passenger motor vehicle that was essentially a cross between a mini-bike and a snowmobile. What's even crazier? The Chrysler Sno-Runner actually made it to production.
According to some sources, the concept started when an inventor approached the American division of the Japanese Kioritz company (maker of Echo-branded chainsaws) about using one of its two-cycle engines on his design for a simple snowmobile. "Snow-bike" was more accurate, really; the design had a single ski up front and a three-inch cleated rubber tread in back. After building and selling just a few thousand—far fewer than expected—Echo and the owner of the intellectual property parted ways and the idea ended up at Chrysler.
It should be noted that Chrysler did have some serious experience designing and making tracked vehicles, albeit those with a slightly higher gross vehicle weight than the Sno-Runner: Chrysler built more than 25,000 M3, Sherman, and Pershing tanks during World War II.
However, the second World War was a fading memory in 1975 when engineer Steve Quick entered the picture and proposed the "snow bike," as his children remember him calling it. Quick hired in at Chrysler and within a year he was appointed engineering project manager for the personal snowmobile. The project was given a hard deadline for the start of production, something that would lead to an almost fatal flaw for the project.
Part of Sno-Runner lore is that the project at Chrysler was supposedly launched with an eye towards potential sales to the U.S. military, which was then looking for a snow machine that could be broken down to fit in a carry-sack, air-dropped, and then easily assembled in the field without tools. There is a period photograph of a number of production Sno-Runners that were painted with "Experimental USMC," but that may well have been thought up after Chrysler's version of the Sno-Runner was already developed for consumer sales.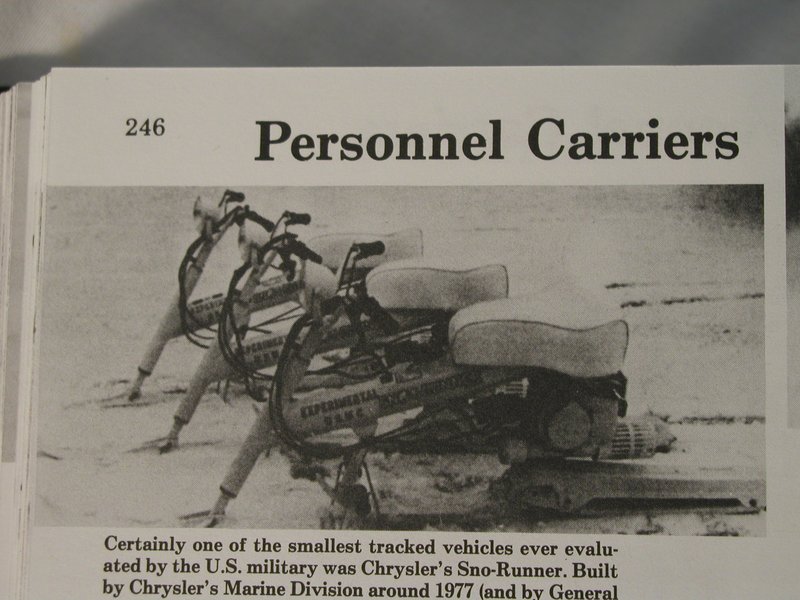 Fortunately for Quick's team, Chrysler actually had an appropriate engine already sitting on the corporate shelf. Chrysler had bought the West Bend company in the 1960s, which was manufacturing an 8-horsepower, 134cc (8.2-cubic-inch) two-cycle single-cylinder engine, the Power Bee 820, for its own brand of chainsaws. Variants of that engine were also apparently used in period go-karts.
The Chrysler Marine division was tasked with Sno-Runner production. The Power Bee was mounted under the rear of a tubular welded aluminum frame with an integral 1.33-gallon fuel tank. To my eyes, the styling evokes the Honda ST70 mini bike introduced in the late 1960s. The front ski is suspended with something akin to a single telescoping motorcycle fork. A second ski, apparently to improve stability, is fixed below the rider, who has foot pegs to keep their feet out of the snow. The track and drivetrain are suspended with steel coil springs.
The 71-pound Sno-Runner could be disassembled with just five quick-release pins and stored "easily, even in a subcompact car," according to Chrysler advertising.
Back then, even full-size snowmobiles had recoil starters, so there's no electric start on the Sno-Runner. It had motorcycle-style controls, with a twist-grip throttle on the right of the handlebars and a brake lever on the left, plus a working brake light. The electrical system also included capacitive discharge ignition, a 90-watt alternator, a taillight, a headlight with high and low beams, and a kill switch next to the throttle.
A single-speed gearbox with a centrifugal clutch put power via a chain to the 63-inch long, metal-reinforced rubber track. The handlebar lever operated a friction band brake around the clutch housing to slow and stop the Sno-Runner. Power was rated at 7 horses, with a top speed of about 25 mph and a range of about three hours on a full tank of gas.
The Sno-Runner went on sale in 1979 at a price of $699 (roughly $2400 today), which was significantly less than the cost of a full-size snowmobile—but perhaps a bit pricey for a toy that could be used just a few months of the year in only some of the United States. It doesn't look like any attempt was made to export the Sno-Runner to other markets.
Unfortunately for the little snow machine's chances of success, because of the rush to finalize design Chrysler managers chose a relatively restrictive header and muffler, which cut power from 8 hp. While a drop of a single horsepower doesn't sound like much, with only 8 hp to start with, that's about a 12-percent cut. Coupled with such a narrow track, that meant the Sno-Runner did not have enough power to take on deep powder snow. It was most suitable for flat, well-groomed trails, a limitation that further restricted its market potential. The restrictive gas flow also hampered the Sno-Runner's performance at altitude, which hurt sales with ski resorts; precisely the venues where Chrysler had hoped to sell fleets of Sno-Runners.
As with any other of their motor vehicles, Chrysler supported Sno-Runner sales with full page ads in glossy magazines, colorful brochures, and even a promotional video. ("It's the super sizzlin' ultra new winter thing to do!")
According to Steve Quick's family, Chrysler had taken a late prototype with a less restrictive exhaust system to a snowmobile exposition in Alaska to promote the Sno-Runner. When a Yamaha snowmobile crashed out of an obstacle course set up to demo the machines, Quick supposedly used the Sno-Runner to tow the full-size Yamaha back to the home base. The many national dealers in attendance were impressed and initial orders were promising.
While early sales were good, production ceased within two years, and fewer than 30,000 were made. The restrictive exhaust system proved to be the Sno-Runner's fatal flaw from both a performance and marketing standpoint. Chrysler offloaded surplus Sno-Runners to distressed merchandise liquidator COMB, which rebranded the snow bikes as Snorabbits and sold them for just $299.
With roughly 28,000 made, you can still find these quirky contraptions and, of course, there is an enthusiast community. Performance mods like a bigger carburetor, free-flowing exhaust, and a thinner head gasket to boost compression can increase power by 60 percent, adding 10–15 mph to Snow-Runner's top speed (up to 40 mph).
From the videos posted on YouTube, under the right conditions they look like great fun and seem to be capable of handling snow as much as four to six inches deep—though it's not clear if those are stock Sno-Runners or if they have performance upgrades.
You can still buy NOS parts from snorunner.com. If you're a Mopar completist, the website has a brand-new-in-the-crate Sno-Runner advertised for $2990. That might be a good deal, since a mint Sno-Runner sold recently for $4600 on Bring a Trailer. If you're really enthusiastic about the Chrysler Sno-Runner, you can even buy snorunner.com, whose owner is apparently looking to retire after two decades of Sno-Runner enthusiasm.
As you know, Chrysler survived; but it wasn't due to the Sno-Runner program, which may never have turned a profit. Chrysler survived because of the K-car and Lee Iacocca's salesmanship. Who knows? Maybe if Lee had made a few "If you can find a better snowmobile, buy it!" commercials, the Chrysler Sno-Runner would have been more than just an fascinating footnote in the company's long history.