Vancouver expert built some of film's most spectacular cars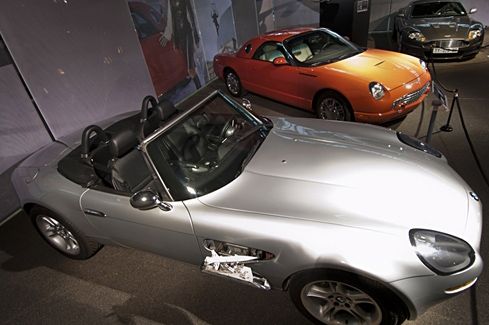 James Bond can thank a Metro Vancouver man for some of the wheels he has squealed in scenes from the 007 movies.
Andy Smith was born and raised in England, where he studied and achieved a degree in electrical and mechanical engineering at the University Buckinghamshire. His desired career path was to enter the world of Formula One racing, but none of the teams scattered around central England were accepting applications at the time.
So, Smith opened his own business building and preparing AC Cobras for customers who entered them in historic racing and others in Concours shows. A chance meeting during the mid-'80s led to a job in the movie industry, which led to a career building movie cars. The first was the 1989 Batmobile for the Tim Burton/ Michael Keaton film, "Batman."
In early 1999, Pinewood Studios came knocking on his door to build two BMW Z8s for the Bond movie "The World is Not Enough." The BMW Z8 was not due to go into production and be released until late 1999; consequently, BMW only had a prototype shell and one running test car ready, so they loaned Smith and his team the shell and the designs to make a replica cars for the film. The bodywork was molded from BMW's prototype shell and placed on a Cobra kit car chassis using a 350 cid Chevrolet V-8 ZZ4 crate motor, a Tremec 5-speed manual gearbox, and Jaguar front and rear suspension with inboard rear disc-brakes. The narrow V-8 engine made room in the engine bay for some of the gadgets that came out of the fender intakes.
Smith's next Bond project was "Die Another Day," as his team was asked to build all-wheel-drive Aston Martin Vanquishes and Jaguar XKR8s for a chase scene on a frozen lake in Iceland. The cars also had to be capable of climbing up a flight of stairs.
They built a total of four examples of each car, which involved gutting them of their original powertrain and modifying them to accept the Ford V-8 engine, automatic transmission and four-wheel drive sub-frame systems from a Ford Explorer.
Smith fitted a manual hydraulic handbrake lever, similar to today's WRC rally cars, which enabled the stunt drivers to lock the rear wheels for sharp turns and slides.