This 1952 Jaguar XK120 barn find is shaking off its dust
Have you ever experienced the joy of uncovering the 1952 Jaguar XK120 that you somehow misplaced 30 years ago? We haven't either. But someone did.
A dust-covered XK120 fixed head coupe that has been in hibernation since 1992 is about to find a new home (and maybe even a bath). The well-rested British sports car is one of more than 100 collector automobiles set to cross the block at Bonhams' Greenwich Concours d'Elegance auction on June 3. It carries a $30,000–$40,000 estimate and will be sold without reserve.
According to Hagerty Valuation Tools, a 1952 Jaguar fixed head coupe in #3 (Good) condition carries an average value of $74,300. Valuation analyst Jesse Pilarski says XK120 values rose alongside E-types in 2014–15, slid through 2016, and for the last year or so have been steady. So why does he believe the barn-find Jag is headed to auction at just the right time?
"Less than 15 percent of our insurance quotes come from Millennials and Gen-Xers," Pilarski says, "which isn't a good sign for long-term value growth. If I owned an XK120, I'd be looking to sell it before Boomers start unloading their cars."
The introduction of the XK120—designed by William "Mr. Jaguar" Lyons—took place at the 1948 London Motor Show. Those in attendance were flabbergasted by the car's jaw-dropping beauty and the performance promised from its 160-horsepower, straight-six XK engine. (A heavily-modified XK120 did, in fact, set a speed record with a pair of 172-mph runs in 1953.)
"Design on that engine started during WWII, but it was built by Jaguar into the 1990s, so it's obviously a pretty significant engine," says Hagerty valuation auction editor Andrew Newton. "The XK120 is also special because it introduced the sports car to postwar America and was pivotal in the sport of road racing becoming popular in the U.S. in the 1940s and '50s."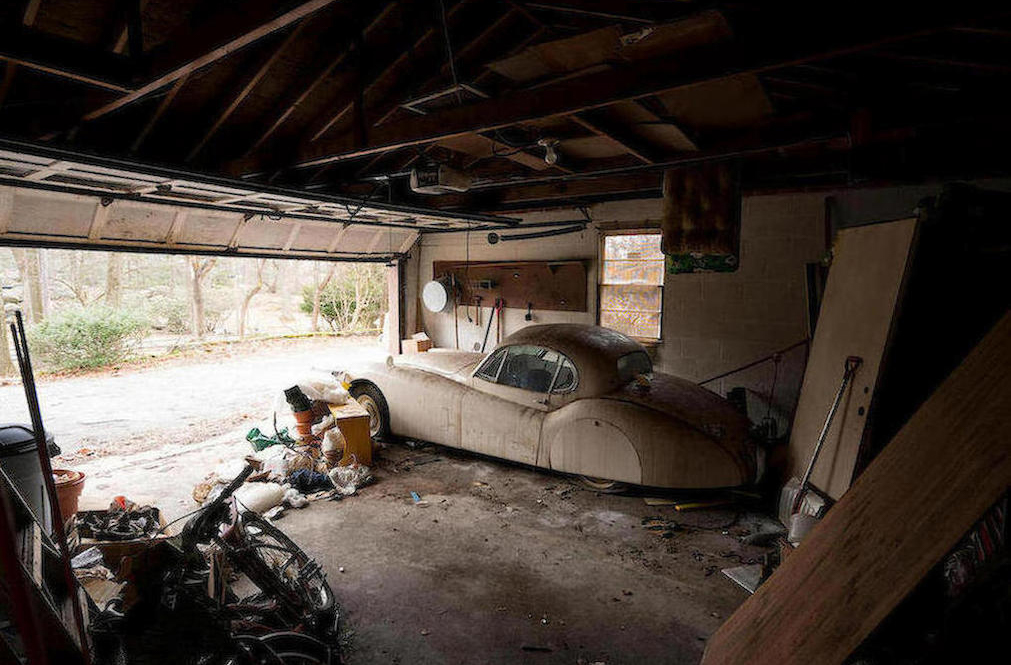 According to Bonhams, the left-hand-drive '52 XK120 on offer was built on January 23, 1952 and left the factory in Coventry, England, on February 15, bound for Hornburg Jaguar in Los Angeles. Originally finished in Pastel Blue with blue leather, the car received a white paint job and black leather upholstery at some point in its life. Factory records do not contain information about its original owner, and little is known about its history.
It carries its original 3442-cc DOHC inline six-cylinder engine (with twin SU carburetors), mated to a four-speed manual transmission. It features independent front suspension, rear semi-elliptical leaf springs, and four-wheel drum brakes.
The XK120 carries a Jaguar Daimler Heritage Trust Certificate and is eligible for a number of rallies and events, including the California Mille, Colorado Grand, and New England 1000. It just needs a little work—and a bath.