Get your Abarth on with these 3 barn finds (and a track-ready beauty)
Abarth might not be a well-known name today, but there was a time in the late 1950s and early 1960s when the company's Fiat-based competition cars were a force to be reckoned with in sports car racing. Carlo Abarth grew his namesake brand from being a mere supplier of performance components and kits to a producer of race and production vehicles, and in doing so cemented his black scorpion logo into the automotive history books.
Bonhams will be highlighting some choice survivors of Abarth's legacy at the Greenwich Concours d'Elegance auction this weekend, three of which are barn finds discovered by Wayne Carini on his show Chasing Classic Cars. All would be major labors of love, to say the least. On the other end of the spectrum is a choice, beautifully restored Abarth that looks like it would be a hell of a candidate for turn-key vintage race shenanigans.
Estimate: $30,000–$40,000
Likely the most desirable of the three project Abarths headed to the auction block in Greenwich this weekend, this circa 1959 750 Record Monza was designed by Pininfarina and produced by Zagato. This is the GT car that basically dominated small-displacement sports car racing in the late '50s and early '60s. Its aluminum body makes it both light and impervious to rust, and its low weight means the 44-hp, 747cc four-cylinder pushrod engine is enough to make the Record Monza feel lively. A four-speed transaxle is mated to the little engine for the driver to manage cog-swapping. Despite the condition, it's a fairly complete car, and aside from some interior trim pieces that might be a pain to source, a restoration would be a simple affair. As of now, it even runs.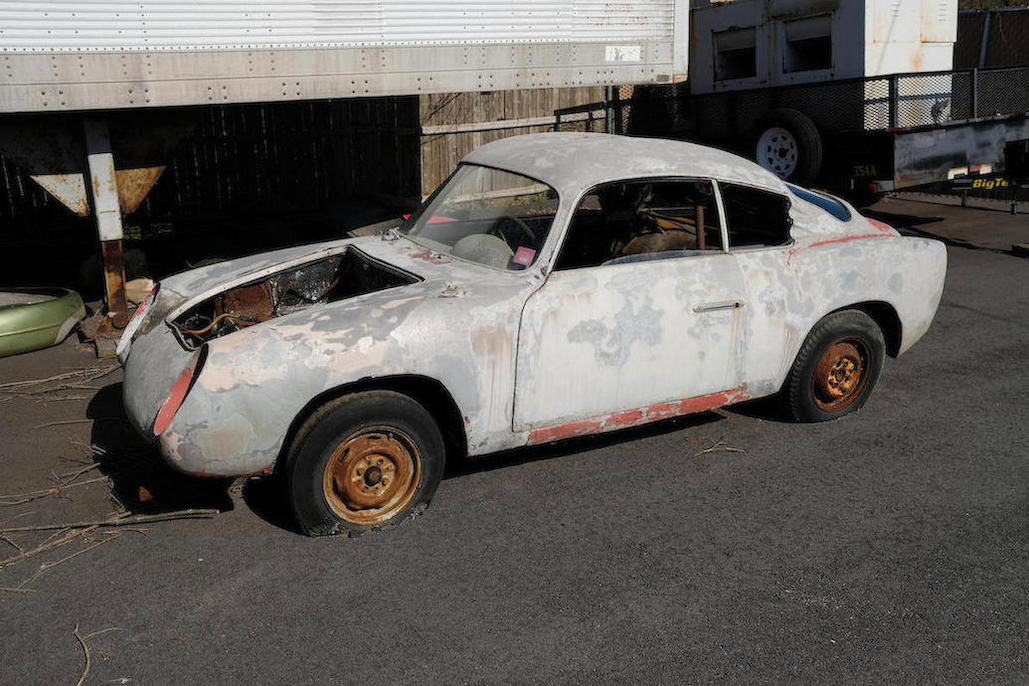 Estimate: $10,000–$20,000
Based on the Fiat 600, all Abarth 750 models (first arriving in 1956) benefited from upgraded, twin-leading-shoe drum brakes and four-wheel independent suspension. Before the standard roof used on the Record Monza, Zagato used a "double bubble" top for the 750's initial run. Like the Record Monza above, this car is a great restoration candidate, and in this case the engine isn't in the car but it is included with the sale. Assuming this gets cleaned up to full-on concours-worthy condition, it could be worth as much as $112,000.
c.1957 Fiat-Abarth 750 Zagato "Double Bubble"
Estimate: $10,000–$20,000
This is the last of the Abarth trio discovered by Wayne Carini on Chasing Classic Cars. One curiosity of this car is the enlarged fuel tank, which could be a sign it was raced in the past. Like the other '57, the advantage of this car versus the Record Monza is that it is eligible for participation in the Mille Miglia, whereas cars built after 1957 are not.
1963 Fiat-Abarth Monomille GT (with Bialbero upgrade)
Estimate: $150,000–$180,000
Although Carlo Abarth had proven the brand's racing mettle with the 750, he was determined to branch out with a car that was more suitable for practical, everyday use. The single-cam, 1.0-liter Monomille coupe was the ticket, once again (like the 750 Record Monza) featuring a handmade aluminum body. No more than 100 were made, and Bonhams notes that the cars were pricey, costing 30-percent more than a contemporary Porsche 356. Aside from the lightweight competition version with no bumpers, two bumpered street versions were offered—one with exposed headlights (like the car featured here) and one with Plexiglas cowls over the headlights.
Featuring a documented provenance and full restoration before it entered vintage racing, this Monomille GT also received a dual overhead cam Bialbero head that surged output to 102 hp from the original 60. This DOHC head was famously used on the upgraded engine in the 750 Record Monza during its reign of terror in competition. Between the seats is a five-speed manual transmission, and the car is ready for track duty thanks to its specially cast cylinder block and four-wheel disc brakes. If there's a car that represents diminutive Abarth's David vs. Goliath legacy, this is it.