The second-generation M5 is an underappreciated bargain
BMW didn't invent the sport sedan; the automaker just gets credit for perfecting it. Remember, in the 1950s BMW attempted to lure moped riders through the front-mounted door of its Isetta while Alfa Romeo was serenading speed-craving drivers with its 100-mph Giulietta Ti. The Munich-based firm made up for lost time during the 1960s and '70s, establishing itself as "The Ultimate Driving Machine" years before that phrase became an official tagline, and it hopped well ahead of its rivals by releasing the original M5 in 1985. The M5 was the fastest production sedan in the world thanks in part to a straight-six engine injected with a large dose of the mid-engine M1's racing DNA. Its successor, the E34-generation M5, was better than the original in just about every way, yet it's not nearly as popular on the collector car market. Heresy, we say! We got our hands on a European-spec 1992 M5 sold new in Germany and came away convinced it has stood the test of time.
Despite the 1985 M5's greatness, the Mercedes-Benz W124 released in late 1984 made the E28-generation 5 Series look like it came from a past geological epoch. BMW finally fired back in 1988 with the E34 5 Series. It was much bigger than its predecessor, and it wore a cohesive, timeless design that perfectly embodied the assertive-yet-unostentatious styling language that permeated through the BMW lineup during the 1980s. BMW Motorsport naturally saw the E34 as a sturdy starting point on which to build a follow-up to the original M5, which enthusiasts on both sides of the Atlantic spoke about with near-superstitious awe.
The E34 M5, released in Europe in August of 1988, was easily mistaken for a humble 525i. It received a discreet body kit that added deeper bumpers on both ends, and M System alloy wheels with a built-in fan that channeled cooling air to the brakes. This solution worked, it kept the brakes cool, but it made the M5 look like it was riding on whitewall tires, which summoned a dark cloud of indignation from period road-testers. There were no wings, vents, or diffusers out back. There was just one major visual hint to the M5's performance, a pair of medium-sized exhaust outlets accenting a smooth, spoiler-less rear end. Low-key, indeed.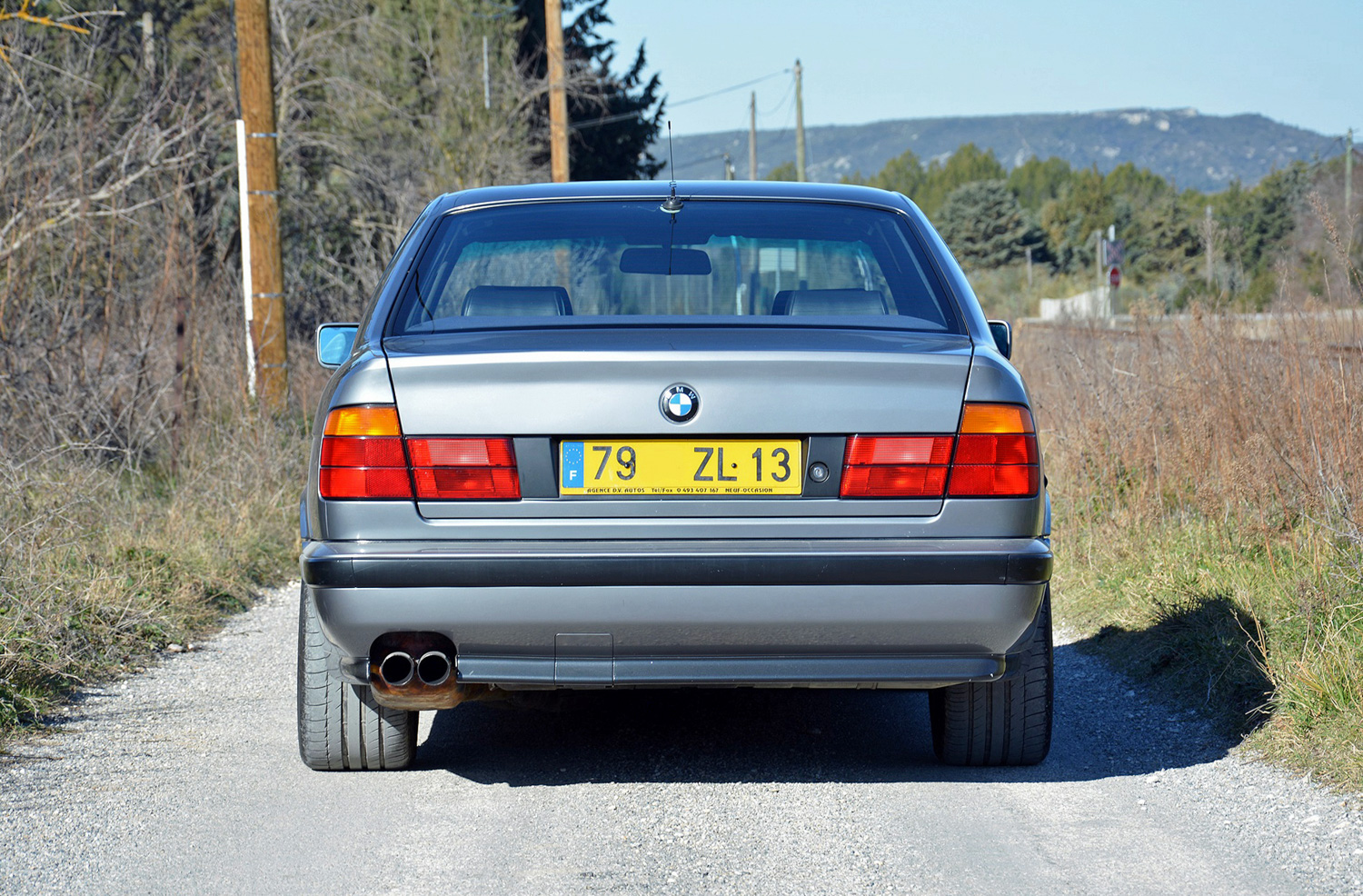 From inside, passengers unfamiliar with the M5's intricacies likely weren't able to tell it apart from a 525i, either, but drivers knew exactly what they were at the helm of. BMW fitted sport seats for the front passengers and installed an easy-to-read instrument cluster with four analog gauges accented by red needles. Fit and finish both approached excellence, and the company's attention to detail was impressive. The M5 was expensive; it started at $57,600 in 1991 (about $107,000 in 2019), so BMW ensured buyers felt like they were getting their money's worth by crafting an upmarket, feature-rich interior with leather upholstery and power for almost every accessory. Even the trunk was fully lined with carpet; that was a big deal at the time.
In Europe, the second-generation M5 went on sale with a 3.5-liter, straight-six engine tuned to deliver 315 horsepower at a screaming 6900 rpm and 265 pound-feet of torque at 4750 rpm. European-spec cars received a 340-horsepower, 3.8-liter six in 1992, but American-spec models carried on with the smaller engine to comply with emissions regulations. The six spun the rear wheels through a five-speed manual transmission, though BMW replaced it with a six-speed manual later in the production run.
While 315 horsepower sounds puny in 2019, the Chrysler Pacifica approaches that figure, and the current sixth-generation M5 tantalizingly makes 617 horses in its most powerful configuration. But, as is often the case, numbers only tell part of the story.
Even today, the first impression you get after slipping behind the wheel of an E34-generation M5 is that it's well built. The materials are nice to look at and touch, and everything the driver operates feels solid and analog. It's a little bit drab in the gray and black combination of our test car, and the armada of buttons tacked onto the center console are an unquestionable throwback to the 1980s, but it remains a pleasant place to be.
Your right hand naturally gravitates towards the gear lever after your left foot pushes in the relatively heavy clutch. You don't have to look for it; that's where the effort BMW put into maximizing driver ergonomics begins to shine through. The stick easily slides into first gear with the semi-rubbery, semi-mechanical kind of feel that's often lost in the ever-shrinking number of modern cars fitted with a manual transmission. One thing is clear right off the bat: The M5 is the epitome of old-school BMW.
It's quick off the line and builds up speed in an impressively smooth and linear manner, but the six truly comes to life after the tachometer needle crosses the 3500-rpm mark and begins racing towards the redline. The engine makes its peak power at nearly 7000 rpm so getting there requires burying your foot in the throttle—and finding a suitably long stretch of tarmac. The engine sings a lovely tune as it explores the upper echelons of its rev range, but the exhaust note is not overly aggressive or unduly ferocious. It states its business in a classy, elegant way that makes a modern-day M5 sound like a Captain Morgan-swigging frat boy interrupting your grandparents at dinner.
The M5 weighs 3681 pounds, which was heavy back in the day and no lightweight in modern terms, but it dances like a slimmer car when you throw it into a corner. BMW's suspension wizards get full credit for masking the mass. But while it generally feels planted to the ground, wet roads can easily overwhelm the rear axle and send the trunk lid chasing the hood. The power steering is precise and well-weighted, and the suspension largely keeps body roll in check. There are, of course, no electronic driving aids but the M5 remains an approachable sport sedan, especially when fitted with a good set of tires. You don't need to visit a race track to enjoy it; in fact, it's more at home on a twisty country road.
While there is no mother-in-law-friendly comfort mode built into the suspension, the M5 knows how to be docile when the occasion calls for it. On the highway, it happily cruises at 80 mph for miles on end without shattering spines or puncturing eardrums. The bigger dimensions make it more comfortable and usable on long-distance trips than the E28-generation M5, and its straight-six delivers typical Teutonic reliability when properly maintained. So, why is a clean, documented E34 M5 worth about as much as an E28 M5 in fair condition? In one word: Rarity.
BMW made 12,254 examples of the E34 M5 from 1988 to 1995, and it sent 1,678 of those to North America between the 1991 and 1993 model years. To add context, production of the original M5 stopped after BMW manufactured 2,241 units. 1,340 cars were shipped across the Atlantic. Globally, the E28 is much more rare than its predecessor, which partially explains the price difference between the two cars. Hearing "one of 2,200 built" is more compelling than being told "one of 12,200 built." In America, however, the difference is not immense; both M5s are uncommon at best.
As E28 and E39 prices leave the stratosphere, the E34 M5's hazy image is finally beginning to clear. Hagerty pegs the value of a car in Good (#3) condition at $22,000. Excellent (#2) and Fair (#4) cars are worth $34,700 and $14,200, respectively. Prices are creeping up, according to our research, but enthusiasts more concerned with driving dynamics than exclusivity still have time to bag one of the best sport sedans of the early 1990s for a sum that will be enviously considered a bargain a decade from now. Buyer beware: Finding one that hasn't been driven into the ground by a succession of owners channeling their inner Keke Rosberg during their commute is easier said than done.