Save a different kind of driving with this lifted Ford Econoline
Cynics, pound sand—van life can be cool. Case in point: This 2001 Ford Econoline 4×4 van currently for sale on Bring a Trailer. The rig was built by Ujoint Off Road, a North-Carolina-based firm that specializes in 4×4 conversions for the workaday E-Series chassis Econoline van. The company has done some Econoline-based RV conversions, but its bread and butter is the same ride your electrician used to rock before he bought a Transit.
Whereas most folks conjure up illusions of chugging VW vans and sun-kissed horizons, this monster serves as the antidote.
Take, for starters, that front end. There's a massive bash bar sporting an LED light rack, Hi-Lift jack mount, a Warn winch, and some meaty tow hooks.
Moving on from the snout, there's a massive roof rack atop the towering van, which sports a ladder on one side and a fold-out awning on the other. The side with the awning wears LED light bars for see-anything visibility to match the go-anywhere attitude. There's a massive 37-inch spare tire fitted to a custom swing-out carrier, should any of the four in contact with Mother Earth complain. Extra jerry cans and a storage locker are hard-mounted to the custom steel bumper.
The excellence continues inside, where mid-mounted reclining leather seats with footrests are the perfect afterglow for a day hike from "out there" to "nowhere in particular." There's space in the rear for a bed as well.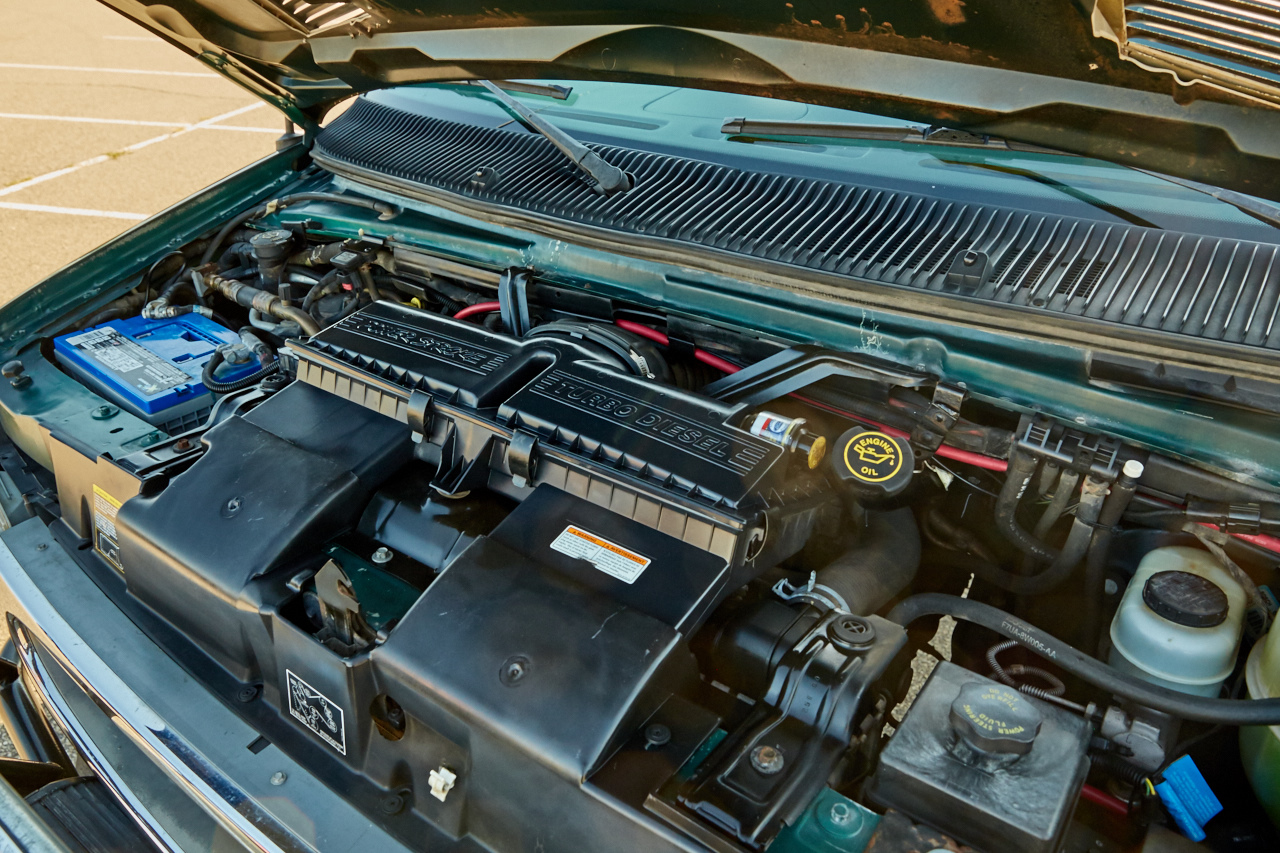 Actually getting out there looks like it would be rather easy, given the robust nature of this build. For starters, the 'venture van's got a torquey, 7.3-liter turbodiesel under the hood, churning through a four-speed transmission. The front axle features locking hubs and a limited-slip differential, while the rear features an air-locker differential and air-bag suspension over the leaf springs.
It's no doubt a wildly capable vehicle, and based on the pictures in the listing and the description of the paint condition, it appears that capability is being put to good use.
We had a chance to speak with Chris Steuber, president of Ujoint Off Road, about the choice to build exploration vehicles out of something as massive as the Econoline.
"Most guys want the [four-wheel-drive] van for the interior room, versatility, durability, and power. These vans get [approximately] the same mileage as an outfitted 4Runner/Tacoma or similar," he explains.
But what about all that lift and tire? Won't that combination ruin the ride of something that, historically, isn't exactly a poster child for on-road manners? A common misconception, according to Steuber.
"People think the van will flop in its side in every curve, which is 100-percent false," he explains. "I scare people in my demo van often. We use properly spec'd springs, good shocks, and proper geometry to make the vans handle 100-percent better than stock."
When we talk about saving driving, we're talking about more than just a classic car on a twisty backroad. A rig like this begs for road trips, often those that reach summits far from the realms of asphalt. With three days left to go on BaT, this is going to be a fun one to watch the gavel drop on. Get your bids in now—we'll see you off the beaten path.