8 of our favorite engine names
For many automakers, it isn't enough to engineer a powerplant that's smooth and reliable; the block needs a name that inspires. Engines from yesterday and today often invoke themes of long-lasting economy, like Thriftmaster, Thriftpower, Ecotec, or Duramax. That's all well and good, but what about power?
Some of our favorite engines brag about their power not only by way of output figures emblazoned on air cleaners, but also with bold names alluding to how violently they could propel a car forward. Many of the most colorful engine names represent the Space Age, with all of the rocket-related nomenclature you'd expect.
Of course, not all engines had flashy names—and even some of those found in wild muscle cars were only known by displacement. Surely names didn't make engines any more powerful, but did they make their respective models cooler and more desirable? AMC didn't have interesting names for its 390 and 401, and where are they now?
Here are some of our favorites, with apologies to AMC fans.
Sonoramic Commando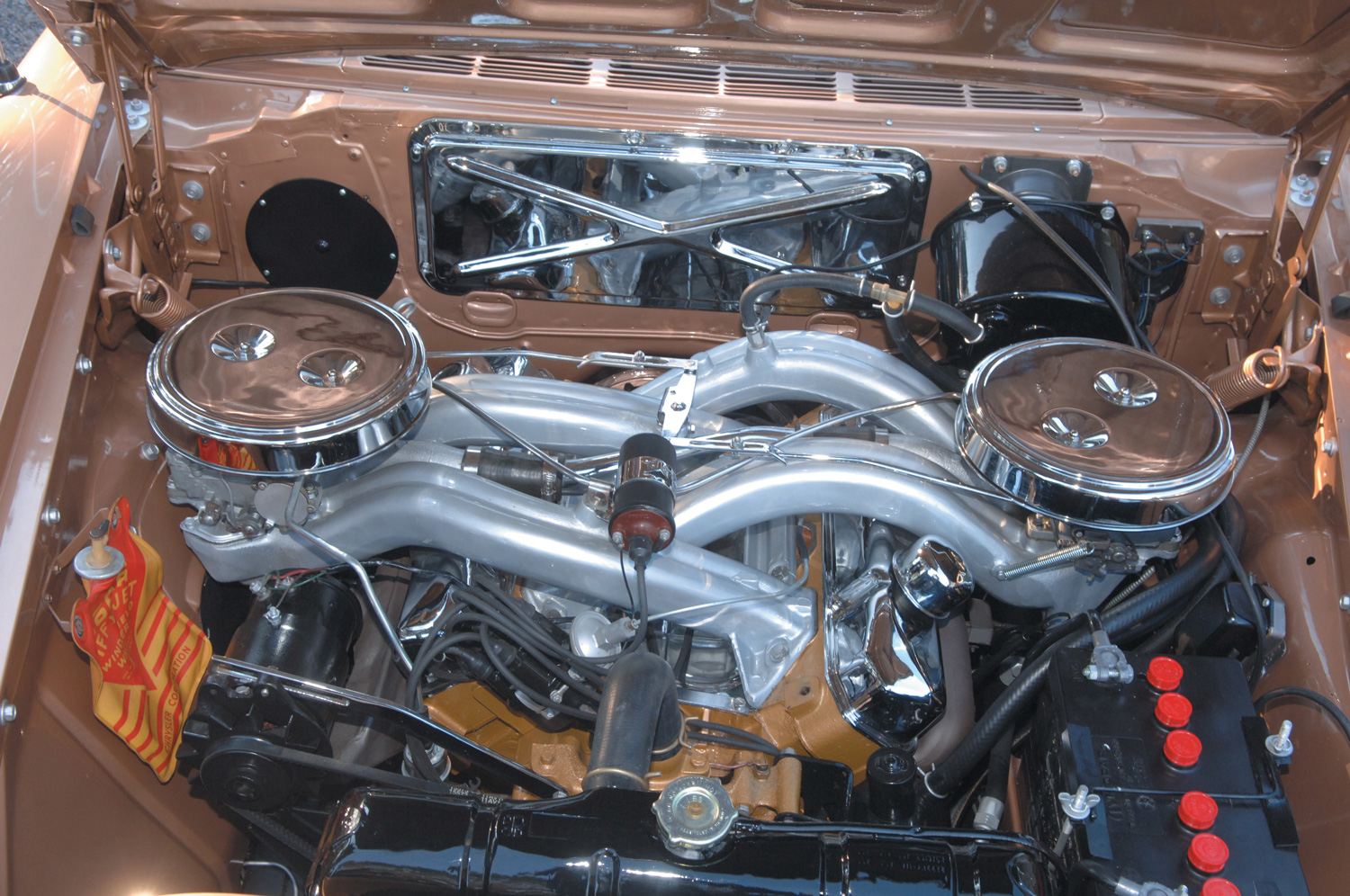 Plymouth's long-ram intake manifolds are among the most bizarre induction systems ever installed at the factory. You can thank Chrysler engineers and racers for the offset carburetors and long intake runners, as the Ramcharger racing team experimented with tunnel rams and lengthened intake tracts to create a mild supercharging effect based on pressure waves inside the port.
The 383 wedge-head big-block Plymouths found in the 1960 Fury used the long intake runners to make 460 lb-ft of torque, more than the 392 Chrysler Hemi that ended production in 1958. Its strange name came from its tuned intake ports, but "Sonoramic Commando" sounds like a militia member from Mad Max: Fury Road strapped to the front of a post-apocalyptic Plymouth Fury and shredding on an electric guitar—perhaps, like an operatic Green Beret. Either way, it's a great name for a beautiful and powerful engine.
Super Hurricane
We all know that engines are just glorified air pumps and that more air equals more power, right? And what moves more air than a hurricane? A super hurricane! The six-cylinder Super Hurricane built by Continental and used in Willys wagons produced only 105–115 horsepower. It doesn't sound like much, but it was a big improvement over the 70-or-so horses powering the contemporary CJ-3B.
Turbo-Rocket
Oldsmobile used a Garrett turbo to boost its all-aluminum 215-cubic-inch V-8 in the compact 1962 Cutlass Jetfire to 215 horsepower. The high-compression engine needed all the help it could get to avoid detonation, so Oldsmobile gave it a water/alcohol injection system that was refilled with "Turbo-Rocket Fluid."
So let's get this straight: Oldsmobile built a compact car with a turbocharged V-8 that runs on "Turbo-Rocket Fluid" and it still got branded as a boring car company? How did it go so wrong?
Turbo-Jet
When the Mk IV 396 big-block went into production, it needed a moniker that told buyers it was serious. Chevrolet had already christened the Corvair's flat-six "Turbo-Air," even the naturally aspirated versions, so the big-block had to one-up the Corvair with "Turbo-Jet." The big-block's fender emblems would carry the Turbo-Jet name along with engine displacement and the name also became a staple on Chevrolet SS models through the '60s.
Hyper Pak
The venerable Slant Six is not the most awe-inspiring engine. Known for longevity and not for power, they may seem like an odd choice for the basis of a race engine; yet Chrysler engineers put their know-how into the Hyper Pak upgrade package that helped turn Plymouth Valiants into compact racers. The Hyper Pak kit contained two-piece cast-iron exhaust manifolds, camshaft, Carter four-barrel carb, and a huge cast aluminum intake manifold with long runners. The Hyper Pak helped factory-backed teams dominate NASCAR's fledgling compact car class in 1960 and 1961.
Cobra Jet
Ford's solution to big-block Camaros and Barracudas, the 428 Cobra Jet gave Mustang a big wallop of torque and instantly made a name for itself on the dragstrip, giving Mustang a Super Stock class win at the 1968 NHRA Winternationals amongst a stacked field of talented drag racers.
Combining the cobra's quickness with the pure speed of a jet, the name got the point across—although if you grew up in the '80s, you may conjure up images of G.I. Joe's enemies streaking across the sky rather than a rowdy Ford FE V-8. Appropriately, the name has been adopted by Ford's dragstrip-only Mustangs, so the Cobra Jet moniker has reestablished itself on the quarter-mile where it belongs.
Hellephant
Mopar could have called its 1000-hp 426-cu-in Gen III Hemi crate just about anything and it still would have been amazing… because it's a 1000-hp crate engine. The 426 Hemi's nickname was "Elephant," and, when you combine its displacement with the platform used for the Gen III Hemi Hellcat and Demon, you get "Hellephant." Makes sense to us.
Voodoo
Ford's 5.2-liter flat-plane-crank V-8 used in the S550 Mustang GT350 was all the automotive community could talk about when it was released in 2015. Its high-revving exhaust note is a siren song for many engine buffs and its 525-hp output—more than 100 hp per liter—is impressive to just about anyone.
The Voodoo name might imply that Ford used some sort of black magic to get that kind of output from its Modular V-8 engine, but it's all in the cylinder heads. The already great heads from the Coyote 5.0-liter didn't move quite enough air, so the Voodoo got bigger valves and CNC chambers and ports to increase the potential for power. Wring the Voodoo out to its 8200-rpm redline and you'll be under its spell.
Did we miss one of your favorites? Let us know below.