El Camino is more than a car, it's a Breaking Bad movie
"Start over. Start fresh. Put things right," Jesse Pinkman tells Mike Ehrmantraut in the flashback that kicks off Vince Gilligan's El Camino: A Breaking Bad Movie. Mike counters, "No. Sorry, kid, that's the one thing you can never do." From the get-go, the film establishes that Jesse's journey isn't about redemption, and Mike makes it clear that's not even an option for him. El Camino is an epilogue to the Breaking Bad story, a chance for us to find out what becomes of Jesse, and whether or not he can put the past behind him when he's finally out of the meth-making business.
Breaking Bad played with some western conventions, but El Camino, recently released on Netflix, goes full western with Jesse Pinkman (Aaron Paul) as its sympathetic outlaw hero. Jesse is a wanted man, and he can't go back home even if he wanted to, so he's on the run in a kind of reverse Odyssey.
The film begins where the series ended, with Jesse fleeing his neo-Nazi captors in a 1981 El Camino. From the very beginning of Breaking Bad, which originally aired on AMC from 2008–13, Gilligan has thoughtfully, meticulously chosen cars for his characters with the help of the show's transportation coordinator, Dennis Milliken. Milliken explained Gilligan's process to Motor 1: "As much as I'd like to take all the credit for this, I have to proudly admit that the cars on Breaking Bad have Vince Gilligan's fingerprints all over them. The process always started with the script. At times he would be very specific about what he wanted for a character. When the description wasn't defined, I would post a variety of options for him to consider via the Internet and he would choose from those options presented him."
Through this collaborative process, Gilligan and Milliken selected the show's vehicles—most of these are decidedly not cool, but they all have personality and reflect the characters who drive them, even transforming when their drivers start to change. The Pontiac Aztek is considered by many to be the worst car ever made, so terrible that it arguably ended Pontiac, and it suits the initially passive Walter White. Former Edmunds.com editor-in-chief (and current Hagerty contributor) Scott Oldham once wrote, "It's undeniable that the Aztek's utter hideousness drove the biggest and last nails into Pontiac's heavily side-clad, plastic coffin." When Walt becomes Heisenberg, he upgrades to the sexier, more powerful Chrysler 300 SRT8.
Walt gifted Walt Jr. a Dodge Challenger that he had to replace with a more appropriate, uncool PT Cruiser. (Walt ultimately gives his son two Dodge Challengers.) Gus Fring's Volvo V70 was eerily inconspicuous. Milliken said, "In my opinion there was only one car for Gus, and Vince nailed it with this. [ . . . ] It screams family, safety, and, more importantly, law abiding." Skyler White drove the family-friendly Jeep Grand Wagoneer with custom paint and interiors per Gilligan's specifications, since Gilligan didn't just want an SUV for her, he wanted a New Mexico SUV. Saul Goodman had a sleazy '97 Cadillac DeVille, and in Better Call Saul, when Saul was Jimmy McGill, he had the incongruously named Suzuki Esteem.
A lowrider Monte Carlo was just right for Jesse when we first met him, but he gave up that ride for a Toyota Tercel when his character began to evolve and require something that would help him blend in. After using the El Camino for his getaway, he visits Skinny Pete (Charles Baker) and Badger (Matt Jones), who help him out when the police activate its LoJack. He trades it in for Badger's 1986 Pontiac Fiero. GM marketed the Fiero like a poor man's Ferrari and only produced the troubled car from 1984–88. In its early years, it didn't perform that well, wasn't particularly practical, and it had reliability issues (first-year models were prone to overheating, and there was a recall when they started catching fire). In spite of its issues, the Fiero still has devotees today who consider the car misunderstood. Though it may have character, it's an unlikely getaway car. Skinny Pete explains why the Fiero is ideal for the fleeing Jesse: "That right there is a clown car. No self-respecting outlaw would ever get caught dead in that thing. That's why it's perfect, yo. Deep cover."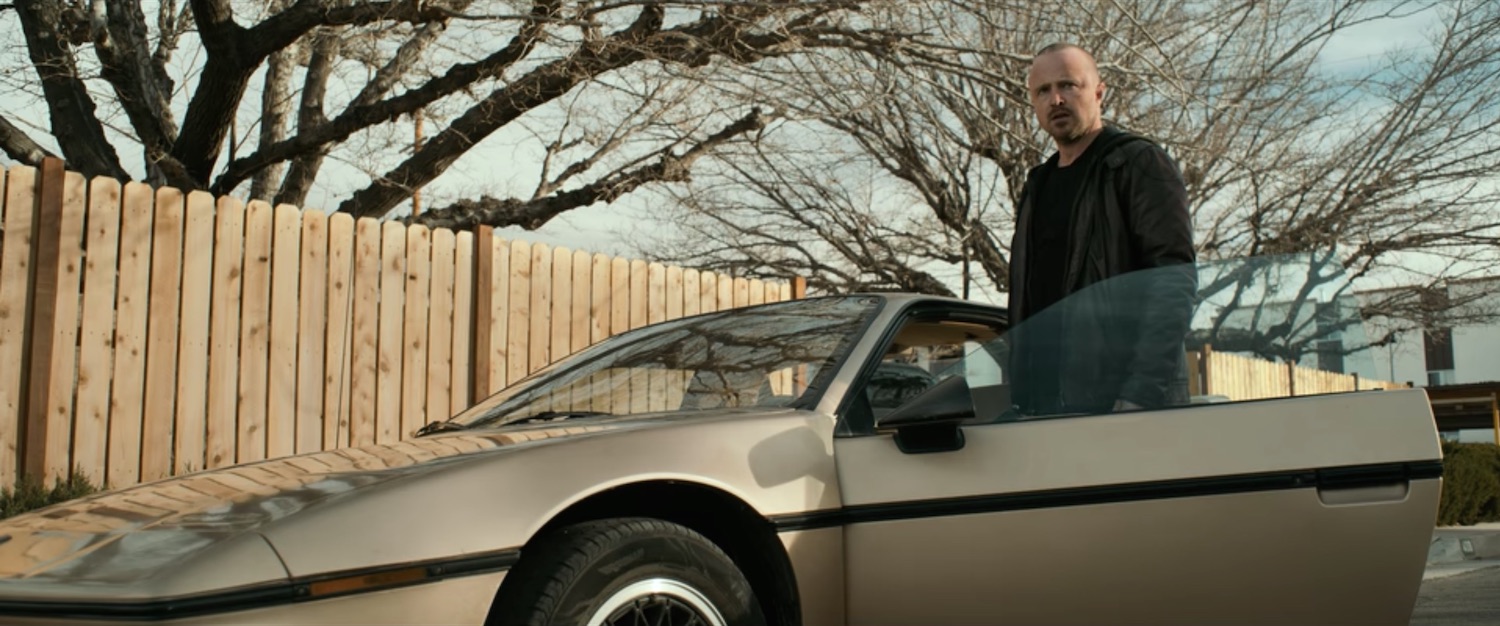 As for the film's other star, the titular El Camino was a Frankenstein's monster of a vehicle, a sedan melded with a pickup truck and built on the body of an Impala. The El Camino belonged to the criminally psychopathic Todd. The chameleonic car that thinks it's a truck is the perfect ride for a killer who considers himself polite young man and who can occasionally pass for one. In one of Jesse's flashbacks, we see Todd freeing Jesse from the neo-Nazi compound so he can help him place the truck cap on his El Camino, and then go to his apartment to remove a body and drive it to the desert. On the way there, Jesse's forced to share the back of truck with the body, and with its cap on, the El Camino looks more like a hearse than a car or a truck. Though Jesse has given the El Camino to Skinny Pete, he's still haunted by the memory of it and what Todd tasked him to do in it.
Flashbacks are seamlessly woven into the film's narrative: the past and the present merge, and it becomes clear that the car represents Jesse's painful past. It's baggage, a reminder of his captivity, torture, humiliation, and more specifically, a moment in the film when Jesse was so beat down and overwhelmed by his trauma that he lost his dignity and, more importantly, his will to live. The film's title doesn't just refer to the car, but to the meaning of El Camino: "the way." In 2013, Vince Gilligan told Entertainment Weekly that Jesse's "got a long road to recovery ahead… All these terrible things he's witnessed are going to scar him as well."
El Camino is ultimately about whether or not Jesse Pinkman can find his way, forge a new path forward, and heal.