How Speedkore makes carbon fiber muscle car parts
The Speedkore Performance group made a name for itself by building classic Mopar restomods featuring bodies that were almost entirely made of carbon fiber. Speedkore most famous creations are 1968–70 Chargers, but it's also making waves with its late-model performance cars, including Mustangs and Challengers.
The company recently invited us to its facility in Grafton, Wisconsin, where it produces its carbon fiber parts and also builds custom muscle cars. Speedkore's Senior Business Development Manager Tom Porter gave us a behind-the-scenes tour to see how it all comes together.
Some of the processes are more secretive than others, and some of the modeling that goes on isn't an everyday occurrence at the shop—yet we were able to capture most of the major processes.
The first step in creating a new body panel is scanning a car into a 3D model. Speedkore can use data gathered from a measuring session, which is done by SEMA, but also does its own. For example, second-generation Chargers and Super Bees were scanned to help not only with bodywork but also in creating full-length frames that make the formerly unibody cars much more rigid. Here you can see the frame that ties into the cage of a stripped-down Charger. This is all of the original metal that will remain.
The custom-designed frame is cut from sheet steel with tabs and notches that help aid fabrication. Before the four sides of the boxed frame are welded in, fuel lines and fuel tank breather lines are plumbed in. They will be hidden and protected inside one frame rail, while the brake lines are tucked away in the other frame rail.
Speedkore orders carbon fiber material in 100-yard rolls that are 50 inches wide. It is processed into individual pieces on a Zund digital cutter that uses an oscillating blade that can zip through the carbon fiber at up to 40 inches per second. The visible exterior pieces are cut first, with the grain of the material in mind, and the remainder of the material is then used as efficiently as possible with backing layers cut out to leave minimal waste. Because all the carbon fiber used in Speedkore parts comes impregnated with resin from the factory, it only has a one-year shelf life. Pieces that are cut for a future run are placed into a freezer to keep the resin from curing.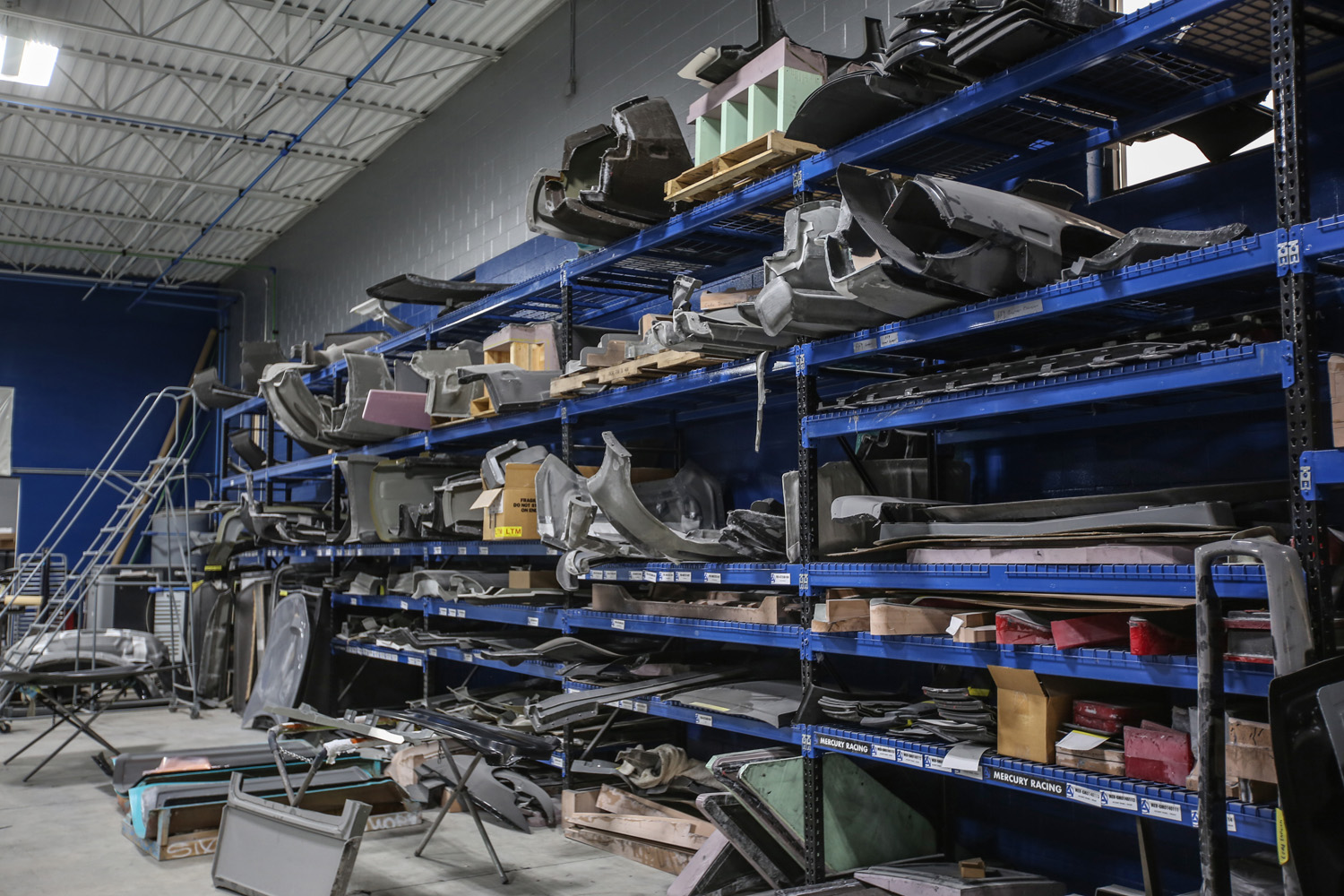 Nearly all of the molds used by Speedkore are made from carbon fiber. It's more stable during the curing process than fiberglass. The molds are stored on racks in the same room where Speedkore's team does all its carbon fiber layup.
Some smaller pieces use billet aluminum molds, like this accent panel that will be used in a boat. A two-part mold makes for faster fabrication, but the large sizes of automotive panels and their complex curves mean Speedkore has to use a different method than billet molds.
This door panel mold shows several layers of carbon fiber that have already been laid in. Because all of the material already has resin applied at the factory, this is a clean and odorless process.
With six to seven layers of carbon fiber in the mold, the next important materials come from these rolls. First, a thin plastic sheet goes onto the carbon fiber to help create the surface finish. Depending on whether the part will be bonded to another piece or is a smooth exterior panel, the film is either crosshatched like a finely woven fabric or perfectly smooth. Then a layer of batting, which looks like quilting material, is placed on top before it's all sealed in a vacuum bag.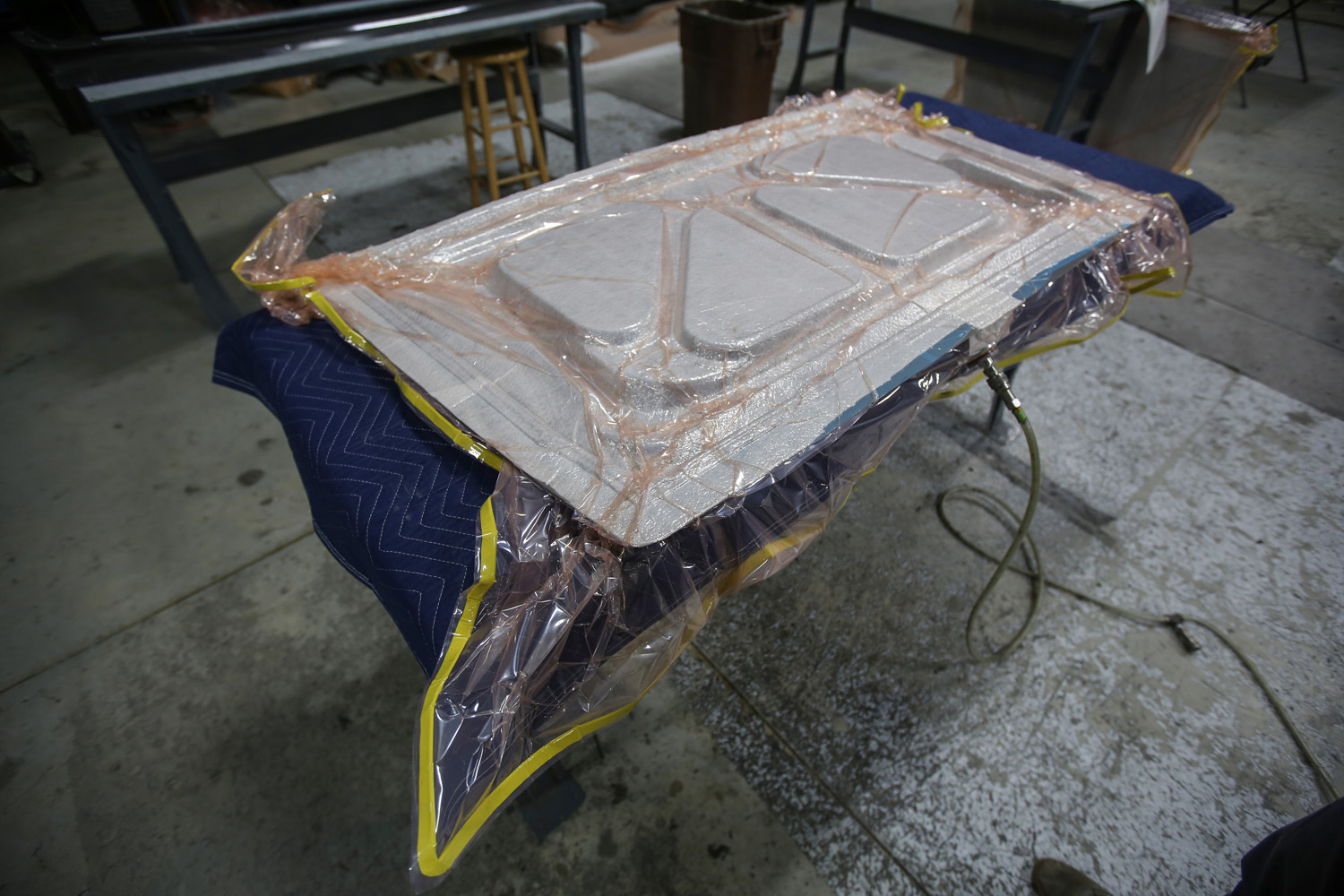 The batting helps pull air from all of the nooks as air is sucked from the bag in a process called debulking. The part is left in this vacuum bag for at least a day before the next step.
Speedkore's massive autoclave can just barely accommodate the longest panels that they build. Parts are placed inside and the temperature and pressure are ramped up slowly, held steady for several hours, and then slowly cooled. Inside the autoclave is a manifold that allows the vacuum bag to be attached. The vacuum pump pulls nearly 30 psi, while the autoclave supplies up to 175 psi.
When the parts come out of the autoclave, they are removed from their vacuum bag and debulking material and sometimes head back in for one more curing session before they're ready for paint. Speedkore sprays PPG clear to give the parts either a matte or glossy finish.
Tom Porter is holding Speedkore's largest carbon fiber body panel, a 1968–70 Charger quarter/sail/pillar. This would have been several different pieces of steel in the original car. As you can see, it's also incredibly light.
The panel in place shows how much of an impact a perfect carbon fiber panel can make. The panels are bonded to the interior structure in the same places as they were from the factory, whether that's a classic or a late model. With six to seven layers of carbon fiber in these panels, there's no shadowing of the underlying structure, and the result is a lighter car with a more seamless look.